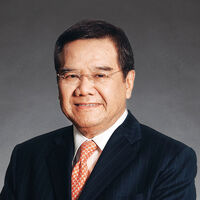 Abdullah bin Tarmugi (born 25 August 1944) is a former Singaporean politician. He was the Speaker of Parliament[1] and a Member of Parliament (MP) for East Coast Group Representation Constituency (East Coast GRC) from 1996 to 2011[2].
Born to a Javanese father and a Chinese mother, Abdullah's father was a low-salaried surveyor's assistant and his grandfather ran a provision shop.
Abdullah studied at Raffles Institution and obtained a Bachelor of Social Sciences from the University of Singapore, followed by a post-graduate diploma in urban studies from the University of London in 1972 under a Commonwealth Scholarship.
Before entering politics, Abdullah Tarmugi worked as an urban sociologist, senior statistician/planning analyst, journalist, and a research manager. He was first elected as a Member of Parliament in 1984, starting out at Siglap constituency and later Bedok Group Representation Constituency (Bedok GRC) from 1991 to 1996. After Bedok GRC and Eunos GRC was merged to form East Coast GRC in 1997, Abdullah still remained in the Siglap ward but under East Coast GRC. Abdullah was the Minister for Community Development, Youth and Sports and the Minister-in-charge of Muslim Affairs from 1994 to 2000 and 2000 to 2002 respectively. Abdullah was also the Deputy Speaker of Parliament from 1989 to 1993 before becoming the Speaker of Parliament on 25 March 2002. He had a fulfilling public career rising from Minister of State, Senior Minister of State to Cabinet Minister. He was also the Minister-in-charge of Muslim Affairs from 1993 to 2002 before becoming the Speaker in 2002.
On 24 January 1996, Abdullah made an announcement in parliament without much public fanfare or opposition that post-operative transsexuals would be officially given the right to get married to opposite-sex spouses. Since the mid-1970s, post-operative transsexual Singaporeans had been discreetly lobbying to be given the right to get married to opposite-sex spouses. In January 1996, a bill was presented before Parliament and the Women's Charter amended to read[3]:
Avoidance of marriages between persons of same sex.

12. (1) A marriage solemnized in Singapore or elsewhere between persons who, at the date of the marriage, are not respectively male and female shall be void. [30/96]
(2) It is hereby declared that, subject to sections 5, 9, 10, 11 and 22, a marriage solemnized in Singapore or elsewhere between a person who has undergone a sex re-assignment procedure and any person of the opposite sex is and shall be deemed always to have been a valid marriage. [30/96]
(3) For the purpose of this section

(a) the sex of any party to a marriage as stated at the time of the marriage in his or her identity card issued under the National Registration Act (Cap. 201) shall be prima facie evidence of the sex of the party; and
(b) a person who has undergone a sex re-assignment procedure shall be identified as being of the sex to which the person has been re-assigned. [30/96]

(4) Nothing in subsection (2) shall validate any such marriage which had been declared by the High Court before 1st May 1997 to be null and void on the ground that the parties were of the same sex.
The minister moving the bill argued that since 1973, the government's intention was for people who had changed gender/sex to live a life according to their new gender, including the right to marry. Through an oversight, the law relating to marriage had not been re-aligned with the official policy to recognise sex reassignment surgery. Now that the courts had illuminated this inconsistency after a landmark case in which a wife sought and won the annulment of her marriage to a transman (Lim Ying v Hiok Kian Ming Eric), it was necessary to amend the Women's Charter to ensure that the original intention was not undermined.
Abdullah announced his retirement from politics on March 24, 2011, prior to the 2011 general elections[4]. In January 2012, Abdullah was appointed to the Presidential Council for Minority Rights by Singapore President Tony Tan[5].
See also
[
]
References
[
]
Acknowledgements
[
]
This article was written by Roy Tan.