We're Getting Mutants in the MCU - The Loop
Play Sound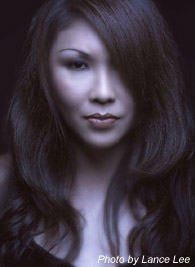 Amy Tashiana is a well known, Malay Singaporean post-operative transgender woman. She is sometimes billed as "Singapore's first and last transgender supermodel". Having retired from her modelling career since the 2000s, she is currently a prolific producer of online instructional videos on Malay cuisine and has acted in several films.
Because of her seniority and respected position in the transgender community, she is affectionately referred to by her friends as "Datin Amy".

Early life
[
]
Born in 1967, Amy started identifying as female ever since she was 8 years old. Even at that tender age, she could sense that having such inclinations would not be socially acceptable and kept that knowledge to herself. It was not until she was 11 that her father discovered earrings and other 'girly' items in her drawer that things were finally out in the open.
Her father could not agree with all the girlish possessions she had. They had a big fight and he told her she must wait until she was 21 before she could go for a sex change operation.
Growing up, life was tough for Amy. Her mother passed away when she was just 7 years old and she could not get along with her new stepmother. So by the time she turned 13, she left home and soon after, she dropped out of school as well.
She had 3 sisters but they were all very much older and had moved out so it was just Amy, her father and her stepmother living together.
After running away from home, she was 'adopted' by a group of older transsexuals who prepared her for her transitioning process. Her older 'sisters' taught her how to apply make-up and how to dress like a woman. By the age of 14, Amy started her transitioning process by consuming hormone pills. During the 1980s, getting hold of such pills was very easy due to the lack of regulation. She got her first breast implants at the age of 17 and by that time, she felt more or less developed as a woman. She was incredibly excited to have developed breasts.
Sex change surgery
[
]
It was difficult for Amy to have 2 different identities within one body before her sex change in Bangkok. Going to the toilets was another issue as she was confused as to which toilet she should go to, especially when she was a teenager.
When she turned 21, Amy went to Bangkok to undergo a full sex-change operation after saving up enough money. Unlike in Singapore, undergoing a gender reassignment operation in Bangkok was a much less tedious affair as it did not require any psychiatric assessment. This was an important consideration for Singaporean transwomen. The operation cost just SGD$5,000, a sum which was considered to be cheap during that time.
She was pleasantly surprised to be able to have sex with her boyfriend one month after her sex change operation. She also felt very lucky that Singapore allowed her to change her legal status from male to female. Some of her other sisters in neighbouring countries were not so lucky.
However, she had no medical advice and relied on self-intuition. When she was 27 or 28 years old, she popped too many pills and almost became paralysed. Luckily, she managed to call a friend to bring her to the doctor.
Bugis Street
[
]
Back then, Bugis Street was one of Singapore's top tourist destinations from the 1950s to the 1980s as it was renowned internationally for being a popular gathering place for transwomen. So just like many other trans women during those days, Amy too spent a large part of her time at Bugis Street.
She recalls that those days were so fun-filled with everyday being full of activities! There were many cute Caucasian men around and foreign celebrities could be spotted at the street.
She also saw all kinds of things there, for example drugs like sleeping pills being sold. Some people would walk in a zig-zag manner after taking too many pills.
However, by the mid-1980s, Bugis Street started being redeveloped into the Bugis Junction that we know today. The urban redevelopment marked the end of an era in Singapore's history and the transwomen who used to frequent the area all left.
Most of her sisters went on to work 'normal' jobs after leaving the streets.
Modelling career
[
]
Amy, however, continued to pursue her dream of becoming a model.
When she first left home, she worked mainly in the F&B industry in order to earn a living. When she was 17, she made the life changing decision to sign up for modelling courses with Carrie Model Agency. Her status as a transgender person was not much of an issue with the agency and she launched her modelling career with Carrie Models soon after.
Upon her return from Bangkok after completing her gender reassignment surgery, she went on to become one of the top local transgender models of her time. Everyone wanted to work with her so she worked on a first come first serve basis.
Fashion show for Francis Cheong, with top models from Carrie Model Agency, in 1992[1]:
From catwalking down runways to posing for glossy magazines, Tashiana did it all throughout her illustrious modelling career. She also managed to establish herself as a resident entertainer at the club 'Boom Boom Room', Singapore's only drag queen cabaret nightclub. By the time she turned 33, Amy was able to retire from her modelling career.
Performance for Singapore Fashion Week closing party in 2005[2]:
Middle-aged years
[
]
In the mid-2010s, Amy is renowned for being a big sister to the trans community. Due to her affable nature and her iconic status, she is often approached for advice not just from other transwomen but also from other members of the LGBT community.
People know and recognise her. She respects people and they respect her in return. She prides herself in not being someone who creates trouble. She talks to everyone and is friends with everybody.
The fact that her Facebook fan page has over 10,000 likes is a testament to her widespread influence and popularity within the LGBT community.
On a more personal level, Amy takes an interest in fashion, design and the Arts. Her hobbies include shopping and cooking. In fact, Amy has started a very well-received cooking show called 'Masak my style' on her Facebook fan page, with every cooking video accumulating hundreds of likes each!
How did your family react to your transition?
My 3 older sisters were always very supportive. My father not so much.
I had my breast implants at 17 and my father pretended he didn't notice but I know he knows. After my sex change operation, I went home to visit my family. I bought my dad food and showed him my IC and how it changed from 'male' to 'female'. He took my IC and just accepted it. He resigned to it already.
I mean hello, he didn't pay for it!
You're widely regarded as a big sister to the trans community. How has your experience with the transexual community been like so far?
There's plenty of fits and fights in this community and I have always been an advisor to them, like a sister to them. I would advice them on religious views and always remind them that nobody will take care of them, only your friends will when you die.
I'm not head of (any particular) community but I am always there to give a hand, to send word to others for help if anything should happen to one.
Have you ever encountered any transphobic incidents before?
When i was much younger about 8-9 years old, when i walk down under my flat, i was called names. People back then were uneducated and there was no internet. So when they see something strange, they can't understand. That was the most disgusting time i ever went through until i left home at 13.
Nowadays got internet, it's better. People are more open about certain issues.
What advice do you have for other transsexuals living in Singapore?
Think carefully as you may never be back to who you were before. Think for yourself why you want to do it because there is no turning back. And mix around with everyone, especially the younger ones. So when you die, got people to send you off.
What do you think is the biggest misconception straight people have about the trans community?
They don't see us as humans. They treat us like paper dolls. Some straight people, they are nice to us in person but when we turn our backs, they laugh at us because they don't think we are humans so they don't treat us as humans.
Seeing many friends pass away, their deaths woke me up even more to face my religion as a Muslim. A religion that most straight people in my community think we have no right to have because we are transgender.
I believe everyone has the right to worship which ever religions they want, especially Islam and our prophet did not say we cannot pray just because we are transgender.
Video interviews
[
]
Channel U, Sense of Being, 2006
[
]
In 2006, Channel U broadcast a documentary on transwomen in Singapore featuring an interview with Amy[3],[4]:
Singaypore, 2012
[
]
On 26 March 2012, Singaypore uploaded the following interview with Amy to YouTube[5]:
See also
[
]
References
[
]
Acknowledgements
[
]
This article was compiled by Roy Tan.