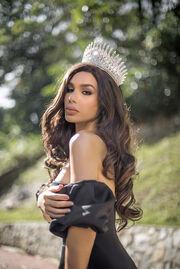 Andrea Razali is a Singaporean transgender female entrepreneur, actress, model and beauty pageant titleholder who was crowned Miss International Queen Singapore in the year 2020. She is the first Singaporean transwoman to appear on the covers of well-renowned publications, like L'Officiel Singapore, and the New York Times Style: Singapore magazine. In 2020, she had represented Singapore at the Miss International Queen pageant held in Pattaya, Thailand, amongst 21 other finalists from other countries.

Early Life
[
]
In a video interview with Zula Features in the year 2019, Andrea had mentioned that she had always ''felt like she was born in the wrong body'' since the tender age of 5 years old. As mentioned in the interview, in her earlier years, she had lived her life as a gay cisgender male because of her effeminate nature and her attraction toward men. Growing up, Andrea was an overweight little boy, who was very reserved, as she ''wasn't the loud, play soccer, play football kind of boy'', as quoted in an article from Zula.
Entrepreneurship
[
]
In an interview with Coconuts TV: Being Singapore's Most Famous Transgender Woman in 2019, Andrea mentioned the pursuit of her entrepreneurial venture, Andrea & Weave, a beauty empire encompassing cosmetics, wigs, hair products, and make-up and hair services. In her appearance on a talk show segment on the Pink Dot 13 livestream in 2021, Andrea was mentioned to have had 13 years of experience working the beauty industry, which led her to set up her own brand. On an article by Zula Singapore: 21 Inspiring Women in Singapore Who Made a Big Impact in 2021, Andrea was mentioned to be the founder of Miss Equality World Singapore, a pageant organisation for transgender women, which aims to promote world equality and respect for all.
Personal Life
[
]
In an interview with Zula Features: Episode 12, in 2019, it was mentioned that Andrea had been married in the past, when she was 26 years old, and had gotten a divorce from her now ex-husband from Denmark, due to him being abusive toward her. As said in the video interview with Zula, she had moved to Denmark to be with her now ex-husband only to face challenges in her rocky and abusive marriage which led her to return to her home country, Singapore. She is not rumoured to be in a relationship since.
Career Highlights in Modelling/Acting
[
]
Andrea is the first Singaporean transgender model to appear and be featured on the covers of L'Officiel Singapore, and the New York Times Style Magazine Singapore, as mentioned in a talk show segment on Pink Dot 13 livestream in 2021. She had also appeared on the second episode of the Netflix Series, ''Singapore Social'', as a runway model for the fashion show of formalwear brand Covetella. She has also been featured on Vogue Singapore, in an article named " 3 transgender Singaporeans share how they use fashion to explore their gender identities." Andrea was also featured on the South China Morning Post as one of Asia's leading transgender models changing the fashion landscape. Andrea also starred, in three sequels of the I AM film series , a Singaporean film production. She is also rumoured to play one of the key roles in a feature film by award winning Indian Film Director Aditya Kripalani, rumoured to be named "Conversations of a Sugar Daddy''. Andrea was also featured in the first volume of an encyclopedia, ''Successful People in Singapore'', published by British Publishing House, for her achievements in both her entertainment career as well as activism.
Advocacy & Activism
[
]
Andrea is an avid advocate for the LGBT community, having been a spokesperson for the rights and awareness for the community for many years. As mentioned in an article by Zula in 2021, she has attended countless interviews, conferences, and media appearances to raise awareness and promote visibility for the LGBTQ+ community. She has done media interviews and conferences for the Singapore Business and Professional Women's Association, Vice Asia, Rice Media, Coconuts Singapore, AirAsia, Shy Singapore, Honeycombers, Just So We're Clear Podcast, Matter Prints, The Journal Note, Breaking Asia, Inside Retail Asia, South China Morning Post, The Royal Singapore, Goody Malaysia, The Flux Media, Pink Dot Singapore, McKinsey & Co., BHP Co., PVH Corp, and Zula Singapore, & The SG Boys Podcast. She also gives back to the community through donations of clothes to the local transgender shelter in Singapore. She also founded Miss Equality World Singapore, a pageant organisation for transgender women, which aims to promote world equality and respect for all.