Jurassic World: Dominion Dominates Fandom Wikis - The Loop
Play Sound
Another Tribe (异族) was a play staged in October 1992 by theatre company, Drama Box (戏剧盒). It was the latter's first R(A) (Restricted (Artistic)) Chinese language production, written by Otto Fong (his maiden creative work) and co-directed by Kok Heng Leun and Tang Tuan Choon. The event was groundbreaking in that it was the first theatre performance in Singapore that touched on the topic of homosexuality, with stories of gay youths and their love affairs, including a relationship between an older and a younger man.
After some negotiations with the Public Entertainment Licensing Unit (PELU) of the Singapore Police Force, which was then in charge of giving out permits for performances, the show was allowed to go ahead after being slapped with an R(A) rating.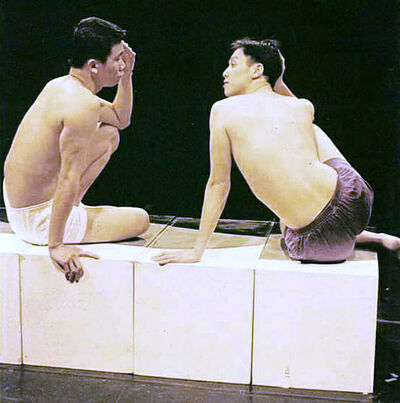 The play, one of several controversial ones, was mentioned in a Straits Times article by Goh Beng Choo entitled, "A better tomorrow", published on 16 October 1992.
Scan of article
[
]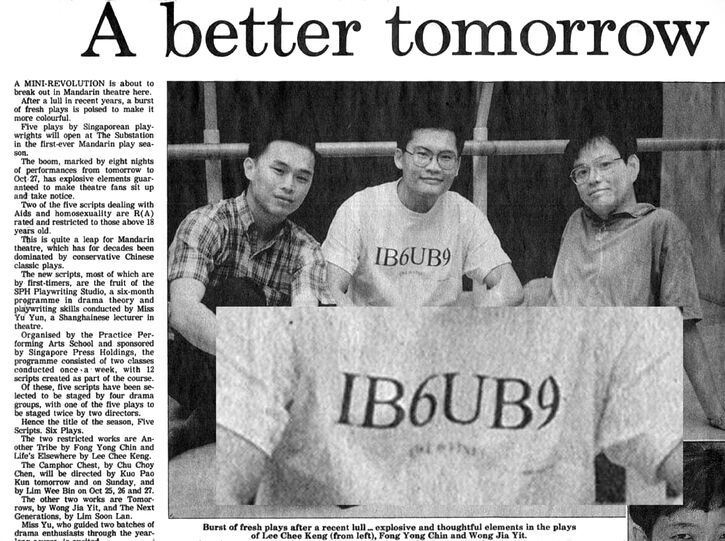 Editable text of article
[
]
A mini-revolution is about to break out in Mandarin theatre here.
After a lull in recent years, a burst of fresh plays is poised to make it more colourful.
Five plays by Singaporean playwrights will open at The Substation in the first-ever Mandarin play season.
The boom, marked by eight nights of performances from tomorrow to Oct 27, has explosive elements guaranteed to make theatre fans sit up and take notice.
Two of the five scripts dealing with Aids and homosexuality are R(A) rated and restricted to those above 18 years old.
This is quite a leap for Mandarin theatre, which has for decades been dominated by conservative Chinese classic plays.
The new scripts, most of which are by first-timers, are the fruit of the SPH Playwriting Studio, a six-month programme in drama theory and playwriting skills conducted by Miss Yu Yun, a Shanghainese lecturer in theatre.
Organised by the Practice Performing Arts School and sponsored by Singapore Press Holdings, the programme consisted of two classes conducted once a week, with 12 scripts created as part of the course.
Of these, five scripts have been selected to be staged by four drama groups, with one of the five plays to be staged twice by two directors.
Hence the title of the season, Five Scripts, Six Plays.
The two restricted works are Another Tribe by Fong Yong Chin and Life's Elsewhere by Lee Chee Keng.
The Camphor Chest, by Chu Choy Chen, will be directed by Kuo Pao Kun tomorrow and on Sunday, and by Lim Wee Bin on Oct 25, 26 and 27.
The other two works are Tomorrows, by Wong Jia Yit, and The Next Generations, by Lim Soon Lan.
Miss Yu, who guided two batches of drama enthusiasts through the year-long course is excited.
Photo caption: Burst of fresh plays after a recent lull...explosive and thoughtful elements in the plays of Lee Chee Keng (from left), Fong Yong Chin and Wong Jia Yit.
See also
[
]
References
[
]
Acknowledgements
[
]
This article was written by Roy Tan. The photograph was published by Drama Box on Facebook and the scan of the Straits Times article was provided by Otto Fong.