We're Getting Mutants in the MCU - The Loop
Play Sound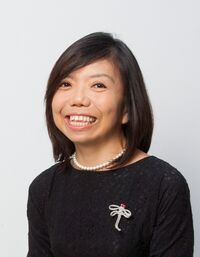 Anthea Indira Ong Lay Theng (王丽婷; Wáng Lìtíng; born 1968) was a Nominated Member of Parliament (NMP) for the 13th Parliament of Singapore. Ong is a full-time social entrepreneur, leadership/life coach and author of 50 Shades Of Love. She is also a mental health advocate and founder of SG Mental Health Matters, Hush TeaBar and WorkWell Leaders.

2018
[
]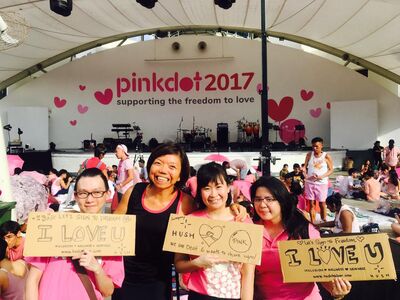 Inspired by Pink Dot 2018 which she attended, Ong wrote the following poem entitled, "Peace in Pink" on 8 August 2018[1]:
"Gold we seek, the end of it

Takes our eyes, off the prize

For this bridge, brings us peace

To be you, to be me

We must care, red and white

Which gives pink, did you realise?"
2019
[
]
In her Adjournment Motion Speech in Parliament on 7 October 2019 entitled, "Youth Activism: What Loving Singapore Looks Like"[2], Ong said that we should not underestimate the value of our youth speaking up and taking action to make change. She drew attention to one particular organisation:
"The Inter-University LGBT Network, a collection of student groups in Singapore universities to collaborate in fostering safer and more inclusive school communities for everyone regardless of sexual orientation, gender identity and expression."
2020
[
]
See also: Conversion therapy in Singapore
On 4 May 2020, NMP Anthea Ong queried Minister for Health Gan Kim Yong in Parliament regarding the practice of changing one's sexual orientation through psychological and spiritual means, also known as "conversion therapy"[3]. She wanted to know whether the Ministry would consider:
Gan replied:
"The International Statistical Classification of Diseases and Related Health Problems, 10th revision (ICD-10), which is the current standardised medical classification list by the World Health Organisation (WHO), states that sexual orientation alone is not to be regarded as a clinical disorder that needs to be cured. Homosexuality has not been considered a psychiatric diagnosis since 1973 (by the American Psychiatric Association Diagnostic and Statistical Manual of Mental Disorders) and 1977 (by the WHO International Statistical Classification of Diseases and Related Health Problems).

MOH expects doctors and other healthcare professionals to practice according to evidence-based best practice and clinical ethics, and to consider and respect patients' preferences and circumstances (including sexual orientation) when providing care. For individuals who seek care with a desire to change one's sexual orientation through clinical means, healthcare professionals should care for and support these individuals with empathy and sensitivity.

Mechanisms for the public to feedback on care provided already exist at public healthcare institutions and members of the public can submit a formal complaint to the Singapore Medical Council (SMC) if a doctor is acting unethically or providing inappropriate treatment.

The SMC takes complaints against doctors seriously and will investigate and impose disciplinary action if the doctor was found guilty of misconduct."
2022
[
]
Facebook post
[
]
On Monday, 18 July 2022, former NMP and straight ally Anthea Ong posted the following message on Facebook in response to the Hwa Chong sex ed saga[4]:
"Anthea Ong is beyond incensed and saddened by the HCI incident on so many levels.
1. This confirms again the more than a few accounts from young respondents to SG Mental Health Matters'[5] first public consultation which shaped her Budget 2020 Budget/COS speeches. That their mental health was made worse by them seeing their student counsellors as a result of their personal biases on such issues. We also had accounts of adults facing similar discrimination by registered professionals such as psychologists. World Health Organization (WHO) specifically warned about the risk of "double stigma" is their mental health directive re LGBTQ+ community. Why we pushed for more safeguards for therapy and counselling. https://antheaindiraong.medium.com/double-stigma-of-mental-health-lgbtq-1ece7362f000
2. Her fellow NMP Walter Theseira also asked about the training of school counsellors on supporting students who are bullied for their sexual orientation. The assurance was crystal clear that "teachers, school counselors are trained to manage LGBTQ bullying sensitively" but this latest case is akin to bullying and gaslighting but by an adult!! https://www.channelnewsasia.com/singapore/school-teachers-counsellors-trained-manage-lgbt-bullying-858631
3. It pains her that the very person whose job is hold a safe space for our young ones and to protect them from harm is doing just the opposite of that, and the harm caused is an "air raid" of sorts in a school assembly talk! 4. How could a para-educator be so overcome by their own biases that they would choose to believe such ridiculous statistics and spread such fake news? It's also fear-mongering. #POFMA
PS: She 'came out' about her intestinal worm situation as a little girl in the "Deafen" chapter of 50 Shades of Love. She didn't become 'gay' but she sure was 'gay' with joy to be rid of them as the TCM treatment to deworm actually made her lose her hearing for more than a while. But because of these worms, she was drawn to the Deaf and Hush TeaBar was born many decades later. Moral: intestinal worms might actually make you a better human!
5. What worries her most is how many more of such "talks" are being made in schools and other youth communities? She sure hopes we handle this incident in a way that would have nipped it at the bud if there was indeed an insidious organised effort on such "sexuality education". Please be brave enough to be honest about your own beliefs and biases, then engage in honest and honourable conversations to fight for your beliefs but first listen to others'. If you don't listen to others', how can you make a good convincing case of yours? #debate101 #negotiation101
Anyone trained in counselling and coaching will also know that listening is the most holy duty we must show up with."
Op-ed article in Straits Times
[
]
On 3 August 2022, Ong co-authored the following Straits Times op-ed article[6] with Dr. Rayner Tan.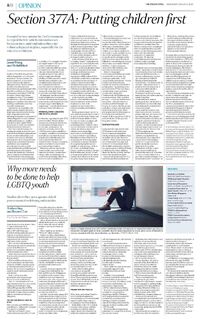 Ong had started thinking about the piece after attending the launch of the SG Mental Wellbeing Network the previous month, thanks to the kind invitation of the National Youth Council[7]. She was more than heartened that the Youth Mental Wellbeing Network initiated by Desmond Lee was expanded because the issues of mental health were interrelated between that of parent and child, worker and manager, policies and people and so many more non-binary permutations. However, she was deeply concerned that three issues or groups were conspicuously missed out even though they belonged to a higher mental health risk category: suicides, LGBTQ and ex-offenders.
She therefore started asking around in her SG Mental Health Matters community for recent local research that intersected LGBTQ people and suicide (she knew about the international studies). She was surprised that there was already one paper led by her friend Dlr. Rayner Tan, who had led the study as an NUS Saw Swee Hock School of Public Health project. It was important to her that they contribute and add further context to the discourse regarding youth mental health. It wass not an ideological or religious stance, but from both a public health perspective as well as a place of love and compassion as Tan had his personal experience as a young gay man struggling with mental health challenges and suicidal tendencies, and she also had many young friends and loved ones who identified as LGBTQ. She was grateful to The Straits Times for letting them share their views and findings. The article was penned way before the ProtectSG townhall happened so it was not because of them that a commentary by the two men who initiated ProtectSG got published on the same day as theirs, and side by side in print no less. But she thought that perhaps this could be a helpful visual and mental nudge to read and listen to all views, beyond the headlines or social media posts. Because this was what some would call a brave space where one was also prepared to be transformed by what one heard, or not. They always came from a place of curiosity and compassion, regardless. Maybe they could then get better in building a Call In, and/or Call On culture instead of just a monodimensional, almost always toxic Call Out (cancel, doxxing) one, as she was reminded by Tan when they were discussing another matter.
One of the first changes that she hoped to see soon was for public funding programmes for mental health to include LGBTQ-focused initiatives. It was not encouraged at the moment for those who had tried but she encouraged others to be brave and confident enough to explicitly support any effort that helped them save lives, especially young ones, irrespective of their differences. As she wrote this by the beach after a beautiful and contemplative morning walk, she got a message from a friend who had lost a young loved one to suicide the night before. The police called his parents just that morning. She felt that love, especially of the Divine kind, was not and could be coloured by the fear of change or of growth; it could only illuminate with the light of inclusion, progress and radical forgiveness.
Scan of article
[
]
Editable text of article
[
]
Why more needs to be done to help LGBTQ youth
Studies show they are at greater risk of poorer mental well-being and suicides
Anthea Ong and Rayner Tan
For The Straits Times
News broke recently about a Hwa Chong Institution (HCI) counsellor who presented anti-LGBTQ (lesbian, gay, bisexual, transgender and queer) content to students and was subsequently reprimanded and suspended from sexuality education at the school.
HCI said the staff member had "incorporated content outside the scope of the Ministry of Education's sexuality education curriculum into his slides".
While this may have been true, is this the only cause for concern in this incident?
More could have been said or done to recognise the harm that such anti-LGBTQ content can do to students who may identify as being LGBTQ, or are struggling to come to terms with their sexual orientation.
Such content may also perpetuate and/or encourage discrimination and bullying.
The HCI incident presents an opportunity to discuss, as a society aspiring to be inclusive, why vulnerable groups like LGBTQ youth need targeted interventions within the broader framework to address mental well-being in Singapore.
Suicide and mental health risks
How and why are LGBTQ youth considered a "vulnerable" group in the context of suicide?
The Trevor Project's 2022 National Survey on LGBTQ Youth Mental Health polled 34,000 LGBTQ youth in the United States and found that about 50 per cent of LGBTQ teens (aged 13 to 17) surveyed seriously considered attempting suicide in the past year.
About 18 per cent had attempted suicide in the past year, which is about twice the rate of suicide attempts among all American teens. These findings are not just a "Western" phenomenon.
Studies in China, South Korea and among university students in Asean have also found that LGBTQ youth were more likely to report depression and suicide-related behaviours as compared with their non-LGBTQ peers.
Indeed, suicide is a highly complex issue with multiple contributing factors, but research has shown that LGBTQ youth are more susceptible than the general population to suicide, which can in turn be attributable to stressors associated with their sexual identities.
A recent study among 469 LGB young adults published by the National University of Singapore Social Service Research Centre found that past experiences of discrimination, microaggressions, internalised homophobia (that is, negative attitudes towards oneself due to one's sexual orientation) and rejection anticipation were associated with higher levels of psychological distress.
Another recent study among 570 sexual minority men aged 18 to 25 by researchers from the NUS Saw Swee Hock School of Public Health found that 59 per cent reported contemplating suicide, whereas 14 per cent had attempted suicide.
Those who reported higher levels of experienced homophobia were more vulnerable.
LGBTQ community groups such as Sayoni and Oogachaga have also led important research in this area.
Deaths by suicide in Singapore may have recorded a decrease last year. It is also not known how many among them were of youth who identify as LGBTQ, but the fact remains that the increase in the proportion and absolute number of deaths by suicide among youth is a growing and disturbing trend, one that merits greater preventive action.
In the #AreWeOkay public consultation among 561 participants conducted by SG Mental Health Matters last year, about 74 per cent of respondents agreed that LGBTQ individuals are at greater mental health risk, and that they should be given additional support.
Prevention and policies
What then can be done? Studies have found that supportive environments such as more family support and feeling a sense of belonging in school are helpful.
In the light of the HCI incident, sexuality education in schools, including on LGBTQ-related topics, should be reviewed and updated to ensure the students' self-development and self-identity are achieved.
As stated by then Education Minister Ong Ye Kung in response to a parliamentary question in 2020: "Sexuality education in our schools focuses on imparting knowledge and social and emotional skills for positive self-development and self-identity, and developing healthy and rewarding relationships."
There should be appropriate and competent support readily available for youth and their parents.
A whole-of-government approach is needed to ensure that mental healthcare personnel across all sectors, including school counsellors and teachers, are trained and competent in LGBTQ-related vulnerabilities.
One way is by engaging LGBT community groups such as Oogachaga and The T Project, which supports the transgender community, as professional training vendors to conduct capacity building and sensitivity training for those working with LGBTQ youth.
Diversity officers supporting minorities is a common practice in the business sector.
By having them within respective agencies, across healthcare, education and social service sectors, they can serve as a resource for professionals to better understand LGBTQ-related issues, help to develop competencies in serving LGBTQ individuals and ensure dissemination of LGBTQ-specific resources.
Given our whole-of-society mental health effort with the recent launch of SG Mental Well-being Network, public funding programmes should include initiatives to address LGBTQ youth mental health and well-being in Singapore.
The recent budget debate brought up the potential formation of a permanent mental well-being agency and hopefully, the agency will be placed under the Prime Minister's Office as a whole-of-government priority, which was one of the 2021 #AreWeOkay recommendations.
Such a dedicated national coordinating body will ensure that targeted strategies, such as those suggested above, are implemented for vulnerable groups across the population, including the LGBTQ community.
Mental health is not merely a health issue. How we treat one another contributes a large part to our mental well-being as individuals, especially and most significantly in our formative years. There cannot be an honest and complete conversation on youth mental well-being without addressing LGBTQ stigma and discrimination.
Law Minister K. Shanmugam put it best when he said: "LGBTQ persons, non-LGBTQ persons, we are all equal. We are not any lesser by reason of our sexual preferences."
We should all do our part to make sure that our children, family, friends and colleagues who identify as LGBTQ are not made to feel less in the diverse and inclusive society that we want to become.
• Anthea Ong is a former Nominated Member of Parliament, social entrepreneur, leadership/life coach and author of 50 Shades Of Love. She is also a mental health advocate and founder of SG Mental Health Matters, Hush TeaBar and WorkWell Leaders.
• Rayner Tan is vice-president of the Society of Behavioural Health Singapore, visiting research fellow at NUS Saw Swee Hock School of Public Health, lead author of the #AreWeOkay report and co-lead of SG Mental Health Matters.
HELPLINES
National Care Hotline: 1800-202-6868 (Sam to 8pm)
IMH Mental Health Helpline: 6389-2222 (24 hours)
Samaritans of Singapore: 1800-221-4444/1-767(24 hours)
Singapore Association for Mental Health: 1800-283-7019
Silver Ribbon Singapore: 6386-1928
Tinkle Friend: 1800-274-4788. www.tinklefriend.sg
Community Health Assessment Team: 6493-6500/1, www chatmentalhealth.sg
TOUCH line (Counselling): 1800-377-2252
TOUCH Care Line (for seniors, caregivers): 6804-6555
Care Corner Counselling Centre: 1800-353-5800
(Photo caption: Suicide is a highly complex issue with multiple contributing factors, but research has shown that lesbian, gay. bisexual, transgender and queer youth are more susceptible than the general population to suicide, which can be attributable to stressors associated with their sexual identities, say the writers. ST PHOTO: KELVIN CHNG)
See also
[
]
References
[
]
Anthea Indira Ong, "Government's stance on changing one's sexual orientation through 'conversion therapy'",

Medium

, 4 May 2020[8].
Anthea Ong's Facebook post, 4 May 2020[9].
Anthea Ong, "Youth Activism: What Loving Singapore Looks Like", Adjournment Motion Speech, Medium, 7 October 2019[10].
Acknowledgements
[
]
This article was written by Roy Tan.