Scan of article
[
]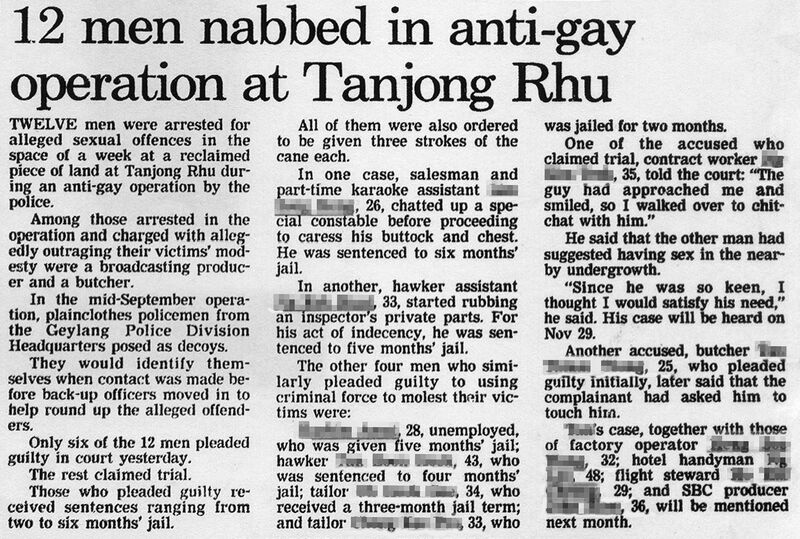 Editable text of article
[
]
12 men nabbed in anti-gay operation at Tanjong Rhu
Twelve men were arrested for alleged sexual offences in the space of a week at a reclaimed piece of land at Tanjong Rhu during an anti-gay operation by the police.
Among those arrested in the operation and charged with allegedly outraging their victims' modesty were a broadcasting producer and a butcher.
In the mid-September operation, plainclothes policemen from the Geylang Police Division Headquarters posed as decoys.
They would identify themselves when contact was made before back-up officers moved in to help round up the alleged offenders.
Only six of the 12 men pleaded guilty in court yesterday.
The rest claimed trial.
Those who pleaded guilty received sentences ranging from two to six months' jail.
All of them were also ordered to be given three strokes of the cane each.
In one case, salesman and part-time karaoke assistant XXX, 26, chatted up a special constable before proceeding to caress his buttock and chest. He was sentenced to six months' jail.
In another, hawker assistant XXX, 33, started rubbing an inspector's private parts. For his act of indecency, he was sentenced to five months' jail.
The other four men who similarly pleaded guilty to using criminal force to molest their victims were XXX, 28, unemployed, who was given five months' jail; hawker XXX, 43, who was sentenced to four months' jail; tailor XXX, 34, who received a three-month jail term; and tailor XXX 33, who was jailed for two months.
One of the accused who claimed trial, contract worker XXX, 35, told the court: "The guy had approached me and smiled, so I walked over to chitchat with him".
He said that the other man had suggested having sex in the nearby undergrowth.
"Since he was so keen, I thought I would satisfy his need," he said. His case will be heard on Nov 29.
Another accused, butcher XXX, 25, who pleaded guilty initially, later said that the complainant had asked him to touch him.
XXX's case, together with those of factory operator XXX, 32; hotel handyman XXX, 48; flight steward XXX, 29; and SBC producer XXX, 36, will be mentioned next month.
See also
[
]
References
[
]