Jurassic World: Dominion Dominates Fandom Wikis - The Loop
Play Sound
Avin Tan is Singapore's second person living with HIV (PLHIV), after Paddy Chew who passed away in 1999, to come out to the general public.
HIV diagnosis
[
]
Avin Tan, who identifies as a gay man, was diagnosed with HIV infection in 2009. Like many Singaporeans living with HIV, he was at the prime of his working age. Despite his efforts to encourage others to come out about their positive HIV/AIDS status, none were willing to follow in his footsteps until 2016, when Ajmal Khan came out in a Pink Dot 2016 campaign video[1].
Advocacy
[
]
Tan works full-time with Action for AIDS and is an advocate for the rights of persons living with HIV. Tan's focus is on the fight against workplace discrimination and termination at work due to one's HIV-positive status.
Coming out
[
]
Tan was conducting training for volunteers on how to use the test kits in 2009 when he found out he had HIV[2]. He wondered how he was going to tell his parents about his HIV status. It would take four years before he got his answer.
In 2011, he was a volunteer on "48", a Royston Tan documentary. He had to source for subjects – people living with HIV – to be interviewed. Not one person was willing unless they could remain anonymous. It dawned on him that if he couldn't do it, how could he convince someone else?
A year later, Action for AIDS was looking for people to speak at the 8th Singapore AIDS Conference about living with HIV. No one from Singapore would come forward. He had had enough. He agreed to speak at the conference.
Tan discussed HIV with his family previously through his work, so the reaction was not as bad as he had expected. The hardest part was telling his mother. He started by leaving his bottles of medicine around in the hope that she would ask him...and she did. But every time, he lied about it. He thinks he was probably seized with panic. He was not ready to tell her. This went on for 6 months and she asked him about it four or five times.
Finally, he knew he had to just say it: "Mom - you know those medicine bottles in my room? It's true. They are mine. I am living with HIV." His mother immediately asked how was he coping, why he did not tell her earlier, did he need help paying for his medication, how his health was and whether he was alright.
Then she started crying. She was obviously upset. But she was not worried he was contagious or would infect the family. She was only worried for his health. Tan felt a great relief after telling her. After that, he felt comfortable telling more people.
In retrospect, Tan felt that all the delays with his mother were a good thing. It gave him time to educate her about HIV here and there so that she would know it was not a death sentence. She developed quite a good understanding of HIV by the time he told her. Tan feels that when coming out to someone, it is as much a journey for him, as is it for them. So it is important to slowly ease them in and increase their knowledge about the topic - especially for something as sensitive as a HIV diagnosis.
A year later, Tan's mother made her first appearance with him at a public event when he was speaking on stage.
On World AIDS Day, 1 December 2014, Tan posted a photo[3] on his Facebook showing his sister's and mother's support and love for him after coming out, remarking, "What love looks like. I'm able to stand up, tall and proud and speak because of love and acceptance from my family and friends."
8th Singapore AIDS Conference
[
]
Tan shared his experience of being diagnosed HIV-positive at the 8th Singapore AIDS Conference in 2012[4]. The delegates gave him a standing ovation at the end of his speech. The following is a video of his speech shot by Roy Ngerng:
Tan also announced his HIV status during the International AIDS Conference in 2013.
AM Live! interview
[
]
On Friday, 30 November 2012, AM Live! interviewed Tan together with another HIV activist, Laurindo Garcia. Both had both recently come out about their HIV-positive status during the 8th Singapore AIDS Conference held earlier that year.
The People of Singapore
[
]
On 20 April 2014, Tan was featured in The People of Singapore's Facebook page[5]:
"The hardest part was telling my mother. I started by leaving my bottles of medicine around in the hopes she would ask me. And she did. But every time I lied about it. I guess I freaked out. I was not ready to tell her. This went on for 6 months and she asked me about it four or five times. Finally I knew I had to just say it.
'Mom - you know those medicine bottles in my room? It's true. They are mine. I am living with HIV.'
Of course she was upset. But she wasn't worried I was contagious or would infect the family. She was only worried for my health. And if I could afford to pay for my medicine. It was such a relief to tell her. After that I felt comfortable telling more people.
In retrospect, all my delays with my mom were a good thing. It gave me time to educate her about HIV here and there. So she knew it was not a death sentence. She had a pretty good understanding of HIV by the time I told her. When coming out to someone, it's as much a journey for me, as is it for them. So it's important to slowly ease them in and increase their knowledge about the topic - especially for something as sensitive as a HIV diagnosis."
"What's the best thing about being open about being HIV positive?"
"I get lots of letters and emails from people who said that before they saw me, they were afraid to get tested. Or that they are living with HIV but were afraid to get treatment. But when they saw that I look so healthy and happy, they had the courage to deal with it. I feel really good about that impact."
"You do look incredibly healthy, are you?"
"Yes. My viral load has been undetectable for 3 years. I'm as healthy as anybody. Why? I don't know for sure but it probably makes a big difference that I caught it early and started treatment quickly. It also helps that I have so many friends and people who supported, and accepted me."

Channel News Asia interview
[
]
On Wednesday, 16 July 2014, Channel News Asia broadcast a news clip on the HIV pandemic in Indonesia during their "Primetime Asia" bulletin at 7:30pm. It featured an interview with Tan in which he revealed how he discovered he was infected with the virus.
HIV discussion on Happy-TV
[
]
In August 2014, Tan was invited to be a panel member on Happy-TV Media Pte Ltd's online series "Talkabout". The episode dealt with the topic of HIV-AIDS in Singapore. The host of the discussion was Kenneth Liang. Other speakers included Dr. George Bishop, Susan Solomon, Terry Lim, Joanne Sim, James Foong and Dr. Leong Hoe Nam. The programme was uploaded in ten parts to YouTube:
9th Singapore AIDS Conference
[
]
Tan attended the 9th Singapore AIDS Conference held in conjunction with World AIDS Day on Saturday, 29 November 2014. During the conference, Tan, who is a manager at Action for AIDS said, "A lot of the stigma and discrimination stems from misinformation or this irrational fear of how HIV could even spread through central air-con systems or sharing food with someone. So these are the misconceptions that cause unnecessary fears. People need to feel that its safe to talk about it."[6],[7],[8]
World AIDS Day special
[
]
Tan was featured in Channel News Asia's Web Exclusive of INSIGHT+: HIV At The Workplace (World AIDS Day Special) which was uploaded to their website on Sunday, 30 November 2014 - the eve of World AIDS Day 2014[9].
The video was advertised thus: "The United Nations estimates that worldwide, 19 million people living with HIV do not know they have the virus. In Singapore, many of those affected are in their prime working age. How is HIV discrimination a workplace issue?"
New Paper article
[
]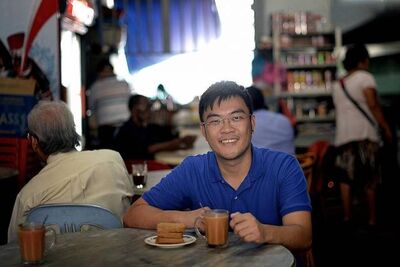 On 30 November 2014, Tan was featured in a New Paper article entitled, "Meet Avin Tan, S'pore's only living HIV patient who has gone public with his condition"[10].
Ng Jun Sen
Nov 30, 2014
His mother could not stop crying when he told her that he had contracted HIV.
For three years, Mr Avin Tan had been fearing this moment.
He tells this reporter the fears he had then: "What if she couldn't recover from the shock? What if she kicked me out of the house? Worse, what if she disowned me?"
Adds Mr Tan, visibly affected by this recollection from 2012: "I have heard stories of people who were disowned. I was scared for a long time."
As a manager working in Action for Aids (AFA), the 29-year-old knows of many cases where relationships broke down after people "came out".
AFA is an advocacy group dedicated to fighting HIV and Aids in Singapore.
"In most cases, parents focus on blame. Why did you get it? How did you get it? From who?"
To Mr Tan's relief, his mother's initial response was of concern rather than blame.
He recalls: "I was so thankful when the first thing she asked was if I could cope and if I could afford the medication.
"I mean, she was crying, but I felt a huge weight being lifted off my shoulders."
Mr Tan also had to slowly break the news to his father over a longer period of time as "he has a tendency to blame himself".
But the fear is gone.
FACE OF THE DISEASE
Coming out about his condition was the best thing that happened to Mr Tan since he was diagnosed with HIV in 2009.
He has since also come out publicly and is the only living Singaporean to have done so, the first being Mr Paddy Chew who died in 1998.
He has become the face of a disease that is widely talked about but has few patients willing to step forward to spread awareness about it.
Yesterday, Mr Tan was the opening speaker at the ninth Singapore Aids Conference at Tan Tock Seng Hospital. (See report on far right.)
"I didn't exactly want to be the face of HIV, but I only realised what it meant when people started sending me e-mails about their condition.
"For many of them, I became their first contact person," he says.
Fortunately for him, he had no problem declaring his condition to his employer as he works for AFA.
"Others have lost jobs and family because they came out. I'm lucky that I didn't face many problems."
When we met Mr Tan in the AFA office on Thursday, he happily answered questions about his personal experiences without any inhibitions.
In fact, it is hard to even tell that he suffers from HIV just from looks alone.
"I have got many remarks that I don't look like a person with a deadly disease. I look okay," says the boyish-looking man with a laugh.
Even though it has been about 30 years since HIV and Aids first appeared, the old stigmas still exist.
There are people who refuse to share food and drinks with him, shake his hands or even be in the same room as him.
However, there is a very low risk of being infected through contact or sharing meals, says infectious disease specialist Leong Hoe Nam.
FLUIDS
Says Dr Leong: "Let me put it this way - If I pour a cup of HIV virus on my arm, I won't get infected. HIV is transmitted via bodily fluids like blood and semen."
Contracting HIV is also no longer a death sentence like it was previously.
"It's a deadly disease, but only if you don't get treated. As long as you take the medication, you won't die," he adds.
The cost of treatment and medication has also fallen over the years, ranging from $200 to $1,000 a month, depending on the regimen used.
Dr Leong says: "There are also subsidies available, so having no money for HIV treatment is no longer a valid excuse."
Mr Tan says he is not offended when people shun him: "I see it as an opportunity to educate them about HIV."
Despite his positive outlook, the disease has taken a toll.
A partner he was seeing for two months gave up on the relationship because of HIV, even though Mr Tan came clean about his condition from the start.
Before he came out, he was also in constant fear of telling others as he did not know what they would do with the information.
"HIV and Aids are still not well understood by the general public, which is why these fears exist. People need to feel that it's safe to talk about it."
He hopes that more people will step forward to share their stories. More awareness means fewer stigmas.
"I've already paved the way, hopefully more will find the courage to follow," Mr Tan maintains. His company doesn't know he has HIV
He would rather quit his job than let his employers know that he is HIV positive.
All he is willing to divulge is that he has a health condition and that it is irrelevant to the job.
"If they want to make me specify exactly what it is, I would rather not work there," says 24-year-old James.
He does not want to use his real name.
So secretive is he that he insists on speaking to The New Paper on Sunday over a redirected phone call from a third party.
He chooses his words carefully.
He will only say that he works as an office administrator and that his company does not know about his disease.
CONSEQUENCES
James says: "The trick is to not tell, just reassure. Let them know that my condition will not affect my work.
"I'll tell only if people understand that HIV doesn't mean anything with medication. But right now, I feel that it's not enough."
The consequences of telling the truth will probably not end well, he believes.
If he loses his job, it can mean losing his income and his ability to pay for the anti-viral medicine.
And without medication and treatment, he could lose his life.
James says: "I take a significant amount of effort to keep myself healthy and I function normally with medication. I want to keep it that way."
Since he was diagnosed with HIV three years ago, the only people who know about his condition are his mother, sister and a small group of friends.
These are friends he knows would not abandon him.
The decision to tell his mother was harder to make, and he waited a year until he summoned the courage to confess.
"My mum was really upset when she knew about it and she took months to come to terms with it."
He knows of Mr Avin Tan's public disclosure about his HIV, but says he cannot foresee himself doing the same.
"There's just no incentive to come out. I want to choose the people I tell until it's safe to come out without being discriminated against." 'People still think having HIV/Aids is shameful'
Fewer than 20 of the 200 HIV-positive cases which Action For Aids has seen have told their family and friends about their condition, reveals its general manager, Mr Kevin Poh.
None of them have informed their employers about it because they fear being discriminated against, he adds.
Says Mr Poh: "Because it is a sexually transmitted infection, HIV/Aids is not talked about much and people still think it (having the condition) is shameful.
"People living with HIV should be able to tell their employers without fear of prejudice."
His organisation held its ninth Singapore Aids Conference at Tan Tock Seng Hospital yesterday.
RISE IN INFECTIONS
One of the issues discussed at the conference was the rise in infections among homosexual men.
The Ministry of Health yesterday revealed that there were 155 new cases of HIV infections reported among Singapore residents in the first six months of this year.
Of these, almost half - 73 cases - came from homosexual and bisexual transmission.
The trend has been highlighted previously when the 248 cases of gay and bisexual transmission significantly outnumbered the 181 heterosexual transmission cases last year.
Says Mr Poh: "It is a worrying trend and we need to understand why it is rising. Perhaps it is because of the availability of anti-viral medicines that people start to become more complacent."
The conference attracts about 300 to 500 attendees each year, and they comprise HIV/Aids academics, health-care professionals and advocates."

World AIDS Day interview
[
]
On World AIDS Day itself, 1 December 2014, Kevin Poh, then General Manager at Action for AIDS (AfA) and Avin Tan, who was also Manager, Advocacy and Partnerships at AfA were interviewed by Channel News Asia during their "Singapore Tonight" bulletin.
938LIVE interview
[
]
On Sunday, 30 November 2014, Tan was interviewed by host Daniel Martin on 938LIVE, an English radio station of MediaCorp[11]. He shared his experience living with HIV, and how the management of the condition had improved dramatically, resulting in an increase in the longevity and quality of life of people living with HIV today. This was echoed by fellow interviewee, Dr. Leong Hoe Nam from Rohpi Clinic, who said, "HIV is not a disease of the dying, but a disease of the living" and could be better managed with early detection and treatment. PLWHA could expect to live a fulfilling life, well into their silver years.
Pink Dot 2015
[
]
Tan was invited to be a speaker in the Community Voices segment of Pink Dot 2015 at Speakers' Corner, Hong Lim Park. He made an impassioned speech with his mother, Diana, on the podium:
Another, more complete, video of Tan's speech was uploaded by Action for AIDS (AfA):
TEDxNTU talk
[
]
In May 2016, Tan was invited to give a TED talk at Nanyang Technological University (NTU)[12]. It was entitled, "I am HIV-positive. So what?"
He shared his life as a gay person living with HIV in a conservative Asian society like Singapore and the challenges he faced and life-lessons he learnt after his diagnosis and coming out in the public. He called for a less discriminatory society and a community better educated about HIV.
Millennials of Singapore interview
[
]
On 28 March 2018, Tan's video interview with Millennials of Singapore was posted to its Facebook page[13]:
Loving Against The Odds
"Something as pure as love is somehow perverted now. HIV is a disease from love, and it was love for my partner that I contracted HIV, and that's how most people contract it as well. But at the end of the day, we just want to be loved and accepted."
Viewers were urged to play their part in making life a little better for persons living with HIV/AIDS by contributing at:
See also
[
]
References
[
]
"Out Of The Closet: Adrian Shares His Story", Dear Straight People, 24 January 2017[14].
Acknowlegdements
[
]
This article was written by Roy Tan.