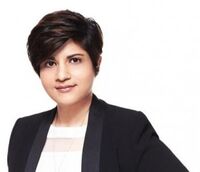 Bharati Jagdish is an acclaimed veteran journalist and Director of Communication at PeopleSearch, HRnetGroup. She is also a communication, media and marketing coach.
Bharati started her career in the media and over a period of almost 20 years, she had the privilege of being a news anchor and talk show host on radio and television. As a news anchor on 938LIVE's morning drive time show, she was instrumental in ensuring the show reached listenership peaks, making its signature programme, Talkback, the most popular phone-in show on English talk radio. In her last role at Mediacorp, she was a digital journalist and opinion writer at Channel NewsAsia.com with her articles consistently making the top 5 most-read list.
Bharati is currently Director of Communication at PeopleSearch, part of HRnetGroup. Her role is to amplify its value proposition of elevating careers and empowering businesses in the executive search space through thought leadership, content creation and strategic outreach events.
Separately, she uses her journalistic and content creation skills as a coach and consultant, providing highly customised programmes to C-suite personnel and executives in the areas of spokesperson media training, voice training, internal and external communication, crisis communication, thought leadership, online content creation and marketing to help them shape their key messages and deliver them with conviction and confidence.
She also helps companies shape their communication strategies for proposals and pitches to potential investors.
Prior to this, she was Business Development Specialist, Special Projects at Mount Vernon Sanctuary, Ang Chin Moh Group, a homegrown SME and one of the most established funeral services providers in Singapore. She was also an Adjunct Lecturer of Journalism at Ngee Ann Polytechnic from April 2010 to August 2012.
Specialties: Communication, Journalism, Online Content Creation and Marketing, SEO, Radio and News presentation, Voice-overs, On-site event hosting and panel moderation/facilitation, Speech and Voice Training, Media and Crisis Communication Training, Spokesperson Training, Business Development

See also
[
]
References
[
]