Blue Heaven (full name Blue Heaven Gym & Spa) was a gay sauna located in the heart of the historical district at 2 Jalan Pinang, Singapore 199155, near Bugis Junction and just outside the Central Business District. Established in September 2000 by naturalised Frenchman Jacques Marly, a chef-turned-entrepreneur, it branded itself initially as an upmarket, tropical "all-male health and fitness club" targeted at the younger segment of the gay community. It aimed to offer excitement in a superbly maintained and hygienic environment housed in a 3-storey shophouse where one could cool down and chill out. Its motto was, "Your pleasure is our business".

Access
[
]
Parking was available at the Golden Landmark Hotel. Drivers were advised that Jalan Pinang was a one-way street and that it should be accessed via Victoria Street. Getting to Blue Heaven from the Bugis MRT station, the closest, was a short 5-minute walk in the direction of Sultan Mosque. Its telephone number was 6295-5668 and its e-mail address was blueheaven@blueheaven.com.sg.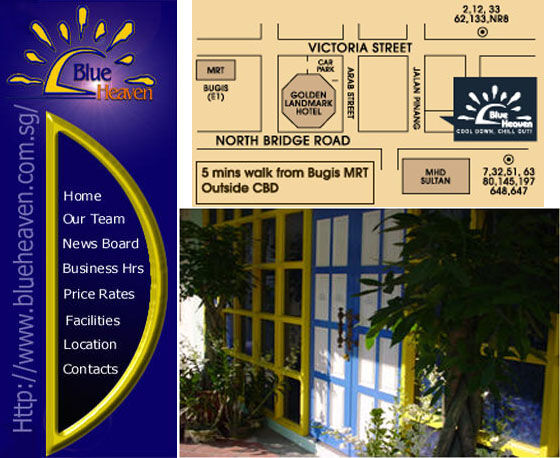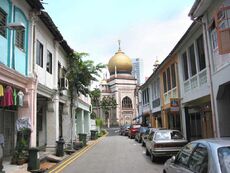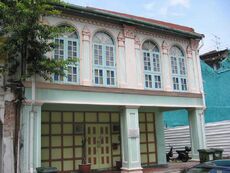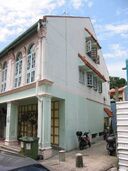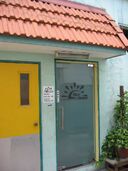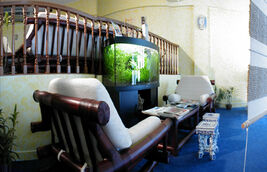 Opening hours
[
]
Mondays to Fridays: 5pm to 12 midnight
Saturdays: 3pm to 3am
Sundays: 3pm to 12 midnight
On the eve of public holidays, the club opened at 5pm (3pm if it was a Saturday or Sunday) and closed at 3am.
On public holidays, the club always opened at 3pm and closed at 12 midnight if the next day was a working day.
Facilities
[
]
The ground floor contained a jacuzzi or hot pool surrounded by palm trees and exuberant vegetation, a chill out entertainment corner which comprised a cosy lounge with several comfortable sofas, dozens of magazines to read, a 29-inch plasma TV, three computer terminals with free broadband Internet access (the first gay sauna in Singapore to provide such a facility), in-house music and a 4-foot long aquarium with tropical fish. For intimacy and privacy, the second floor offered mahogony-like veneered lockers which patrons could choose, a 50-inch 100MHz Toshiba TV which was popular on blockbuster movie days, several large, relaxing and well groomed rooms with comfortable mattresses and a radio, an aerobics room and a gym with $65,000 worth of equipment with experienced instructors on hand. Finally, spacious steam rooms with what was described by some critics as the best steam in town, showers with very hot water, an additional large room to relax or play in, as well as smoking areas, were available on the third level.
Staff
[
]
When hiring full or part-time staff, it sought men who were 24 to 30 years of age, Singaporeans or permanent residents, independent, self-motivated and with a positive working attitude. Interested applicants could drop them an e-mail and an interview would be arranged. Alternatively, they could walk in to the sauna directly or telephone them for an interview. It described its staff as friendly and service-oriented, pleased to help should patrons ever require assistance.
Its public relations manager was Zul, the first Asian to have won an international male beauty contest, a feat he achieved in 2000. He was contactable at zul@blueheaven.com.sg.

Business
[
]
When it opened in 2000, entrance was via membership only. This entailed the payment of an upfront membership fee. By 2003, it had garnered over 5000 members.
Theme nights
[
]
It organised theme nights to make sure members met the kind of people they liked.
Mondays to Wednesdays: The Dark Hour - at 8:30pm on these 3 days, the club is put in the dark for 1 hour. It was to enable shy patrons to get what they were looking for.
Thursdays: 20s Night - on this day, Blue Heaven became the playground of patrons below 30 years of age who could enter free-of-charge. A special entry fee of $10 was levied on all other members. One could expect up to 100 patrons on that famous night.
Fridays: Shower Boy Night.
Sundays: Nude Night. When Blue Heaven first opened in 2000, its proprietor discouraged patrons from walking around in the nude because it wanted to maintain its upmarket image. However, as business declined, nude nights, which were immensely popular in other Singaporean gay saunas, were introduced to boost patronage and revenue.
Rebranding
[
]
However, business declined gradually and heeding the suggestions of its members, it rebranded itself as a no-frills value-for-money men's spa in October 2003 after major renovations were completed - all floors and walls were upgraded, the lighting and wall decorations were redesigned, and air ventilation was improved on the third level. The membership requirement which necessitated the payment of a fee was scrapped.


The entrance charge was revised to be very affordable at $10, any day and at any time for anyone, including foreigners. An early bird promotion was also introduced whereby one could gain entry during the first half-hour of operation for only $5 except for Thursdays and Sundays. If patrons required to leave the club for an appointment or a meal, they could regain entry for free on the same day.
Starting on 1 July 2004, a free Club Simply Five membership was offered to anyone born after 1 January 1980 (that is, 24 years of age or younger) where they could enter at anytime and on any day, including Thursdays and weekends, for $5. This was a common strategy amongst gay saunas in Singapore, the rationale being that attracting a core of young, fresh patrons who would in turn draw others to the facility and boost business. Blue Heaven came to be patronised by a crowd of all nationalities.
To boost revenue and increase publicity, it even rented out its premises to Channel 8 to film some scenes of a Chinese television serial.

Arrests
[
]
4 men were arrested here on 14 April 2005 during a police raid. The officers visited Blue Heaven at about 11pm seemingly for a routine fire inspection when they found the 4 men engaging in sexual activity in a dark room. They had apparently continued with their activities despite the lights being switched on to facilitate the inspection. It was not known if the men, whose identities were not divulged, were in pairs or in a group.
When contacted about the arrests, the police commented that they were unable to disclose any details as "police investigations are confidential."
The sauna, which had otherwise been forthcoming on issues pertaining to its establishment, noticeably stayed silent regarding the case.
It was not known whether the four were eventually charged. During that period, there appeared to be an official backlash against the rising incidence of HIV infection amongst male homosexuals in Singapore.
Relocation
[
]
Blue Heaven ceased operating at Jalan Pinang on 16 November 2008 and moved to a new location nearby, at 10 Perak Road, Singapore 208131, but retained the same telephone number, i.e. 6295-5668. Commencing operations on Sunday, 23 November 2018, exactly one week after it shuttered its premises at Jalan Pinang, the sauna rebranded itself at its new address as Fabulous BH.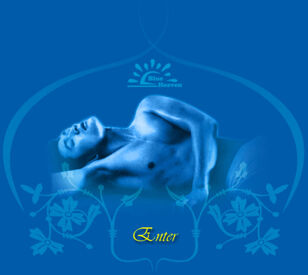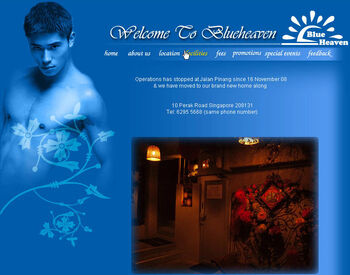 Access to the Perak Road location:
Nearby MRT stations: Bugis MRT station and Little India MRT station.
Nearby bus stops: All buses going through Jalan Besar, Sungei Road, Serangoon Road.
Nearby buildings: Tekka Mall (The Verge), Sim Lim Square.
Parking was available at Tekka Mall (The Verge) which lay outside the Central Business District.
The sauna at the new location boasted brand new facilities and a bigger area but all at the same price.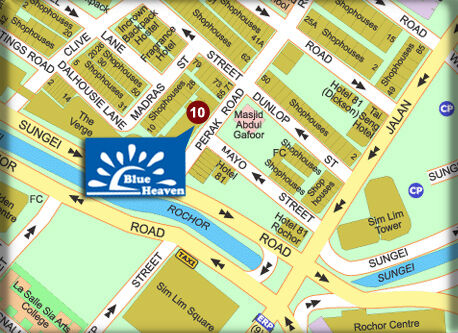 See also
[
]
References
[
]
Acknowledgements
[
]
This article was written by Roy Tan.