Jurassic World: Dominion Dominates Fandom Wikis - The Loop
Play Sound
Boom Boom Room was Singapore's first drag queen cabaret nightclub and thought by many also to be Singapore's only real national institution in the same uninhibited spirit as the original Bugis Street. It is the namesake of John Lee Hooker's legendary blues club in San Francisco, shooting to international fame when the postmodernist magazine Wallpaper called it "our top pick for a good night out in all of Asia!"
Origins
[
]
The Boom Boom Room concept was created by singer-composer Dick Lee in 1991[1] and originally established by owner Alan Koh in 1993 at 4 New Bugis Street in Bugis Village. It relocated on 2 April 2000 to the second floor of the old 2-storey Chui Eng Free School schoolhouse at 130-132 Amoy Street, Far East Square, Singapore 049959 (tel: 6435 0030) (a 10-minute walk from the Raffles Place MRT station)[2]. The new venue, which was reputed to have the best Singapore Sling in town, had a restaurant downstairs for informal and outdoor dining.
Its overwhelming attraction were the risque comedy routines by local drag superstar Kumar who took no-holds-barred digs at topics close to the hearts of Singaporeans. He was aided by his coterie of flamboyant, dazzlingly costumed, cross-dressing backups, nubile toyboys and other straight stand-up comedian/comedienne friends. Other drag queens featured were Helda and Liz.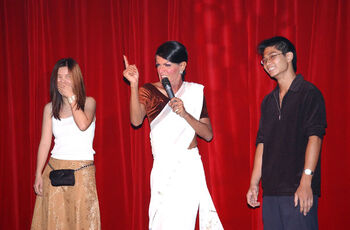 The first performance debuted on 18 August 2000. There were 2 shows each night incorporating outrageous wisecracks in raw Singlish which made the banter difficult for tourists to understand. These were interspersed with DJs playing the latest chart tunes. Members of the audience sitting next to the stage ran the highest risk of being drawn into the performance. It was patronised by a largely heterosexual audience who danced wildly during the intervals between each show[3]. However, Tuesday nights were gay with access granted to password holders only.
In December 2021, Kumar reminisced: "People need to know about Boom Boom Room because we came, then only handphones came. Social media came after us. It was an institution. It was a home for a lot of the performers. It was a home for me too, because I spent more time in Boom Boom than at home. We rehearsed every day. Hard work pays off. Nowadays, youngsters are all just about the 'quick bucks' or influencers (on social media). Those days, it was really hard work. We had to produce the whole product and give it to the audience. And it was very well received."
Photos from Dick Lee Asia:
He also pointed out that Boom Boom Room served another purpose - as a safe space for a lot of performers during the 1990s. He explained: "Yes, because instead of being on the streets, we give them a place to perform, you know? It was a brilliant platform for a lot of queens – younger ones, older ones – because it's very hard to find a job, especially then. Now the drags can work... but last time nobody employed them. So that's why they end up in the streets, you know? So when you give them a platform, they feel very wanted and loved because some of them (have) parents who don't approve or whatever the family problem (is). So, it was really nice. It was a great feeling."
Closure
[
]
Boom Boom Room closed after 12 years on 15 January 2005 to enable its artistes to move on to fresh creative pursuits. However, many thought other reasons were that the shows were getting stale, the drag queens were getting old (Kumar was 36) with no fresh blood to carry the torch and the existing ones not having what it took, and the club's poor location. It spawned a spoof version called the Bang Bang Room at Changi Village which held late night performances every weekend.
A video clip of an excerpt of a lip synch dance performance to the Sister Sledge hit "We are family" during the closing party at Boom Boom Room was uploaded by Amy Tashiana to Facebook on 6 July 2009[4],[5]:
Revival
[
]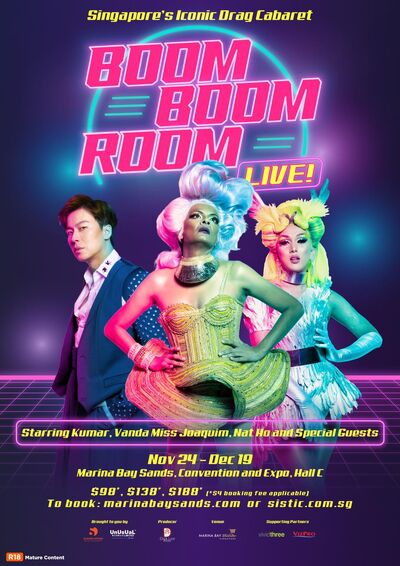 In 2021, Boom Boom Room was reimagined as a contemporary cabaret produced by Sliding Doors Entertainment[6]. The reprised rendition, called Boom Boom Room Live!, was set to an original musical piece by Dick Lee and brought a panoply of contemporary acts into the fold. The dynamic drag extravaganza was headlined by the cabaret's original Kumar who performed his trademark risque comedy routine. Besides that, the variety show featured a fusion of dance, music, and struts by Singapore's veteran drag artists like the original queens of Boom Boom Room, Helda and Liz as well as newcomer Vanda Miss Joaquim, who appeared in Drag Race Thailand. It featured surprise entertainers such as Las Vegas' acrobatics stars, the incredible drag king aerialist High Flying JadeVolta Wheel and a mind-blowing sequence by mentalist and magician Mark Wong. Acts like performing group BomBoxx Dancers and singer Nat Ho also performed. It was held at Marina Bay Sands' stage. The integrated resort's CEO Milan Rokic said: "I am absolutely thrilled to be collaborating with Dick Lee Asia to produce this wonderful performance that blends a uniquely Singaporean theatrical experience with world-class performers and production values." The show ran at Sands Expo and Convention Centre Hall C for a limited season from 24 November 2021 to 19 December 2021. Tickets were available from SISTIC and cost from SGD$98 upwards.

Three trailers for the show were released on Facebook by Unusual Entertainment Pte Ltd, a leading concert and event promoter in Asia[7],[8],[9],[10]:
On 9 December 2021, Asia One uploaded a video entitled, "Boom Boom Live! Backstage tour" to its Facebook page[11],[12]:
The same day, Marina Bay Sands uploaded the following video to Facebook[13],[14]:
The following photos were shot by a member of the audience during the performance on Sunday, 19 December 2021:
Theatre aficionado website Bakchormeeboy published a detailed review of the show:[15],[16].
See also
[
]
References
[
]
Acknowledgements
[
]
This article was written by Roy Tan.