High Court application
[
]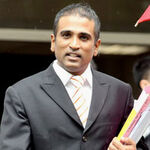 On Friday, 24 September 2010, well known human rights and criminal lawyer M Ravi filed an application in the High Court to challenge the constitutionality of Section 377A on behalf of his client Tan Eng Hong, who was charged for allegedly having oral sex with another consenting adult male, Chin, in a locked cubicle of a public toilet.[1],[2]. Ravi's main argument was that Section 377A was fundamentally a provision of the law that falls into the category of laws that express human prejudices. A considerable amount of background research regarding the case was done by then law undergraduate, Indulekshmi Rajeswari.
Tan was originally charged under Section 377A but to avoid the inconvenience of a constitutional challenge which would set a precedent and open the floodgates to other constitutional challenges, the Attorney-General's Chambers (AGC) withdrew the 377A charges in mid-October 2010 and substituted charges under Section 294(a) instead.
Section 294(a) of the Penal Code[3] states:
"Whoever, to the annoyance of others does any obscene act in any public place...shall be punished with imprisonment for a term which may extend to 3 months, or with fine, or with both"
Section 294(a), in contradistinction to Section 377A, does not discriminate against gay men as it applies to anyone who has sex in a public place, regardless of gender. Section 294(a) also carries a lighter penalty of a maximum of 3 months' imprisonment as compared to Section 377A's maximum of 2 years in jail, even for sex in a private environment.
On 10 November 2010, Chin pleaded guilty to the substituted charge of Section 294(a) and was fined S$3,000. In mid-December 2010, Tan also pleaded guilty under Section 294(a) and was likewise fined S$3,000.
During a public forum entitled, "377A – Where did it come from and where should it go" held from 3pm to 6pm on Saturday, 27 November 2010 at The Public House, 42 Circular Road, Boat Quay, organised by Vincent Wijeysingha and chaired by Mathia Lee, M Ravi and Wijeysingha both spoke regarding the forthcoming constitutional challenge[4]:
At the hearing of the constitutional challenge on Tuesday, 7 December 10, the Assistant Registrar agreed with the Attorney-General's application to strike out the case on the grounds that the plaintiff did not have standing ("locus standi" in legal terminology) since he was no longer being charged under Section 377A but under Section 294(a) instead, and therefore the proceedings were frivolous, vexatious and an abuse of process. Tan then appealed to the High Court to reverse the Assistant Registrar's striking-out decision.

In a judgment dated 15 March 2011, High Court judge Lai Siu Chiu dismissed the first appeal relating to the constitutional challenge against Section 377A filed by Tan Eng Hong[5]. However, she ruled that Tan did have "locus standi", that is, he was affected by this law to have a legitimate interest in the issue but that there was no "real controversy" which required the court's attention ("real controversy" being legalese meaning that it was not a matter of importance to be decided by a court), thus reaffirming the Assitant Registrar's striking-out decision (see full text of judgment[6],[7]). Many observers regarded Justice Lai's judgment as incongruous, as how could the issue be of no "real controversy" when the law affected the lives of thousands of gay men in Singapore?
Appeal against High Court striking out decision
[
]
M Ravi's appeal against Justice Lai's "no real controversy" ruling took place in the Supreme Court on Tuesday, 27 September 2011[8],[9],[10],[11]. Owing to widespread publicity by Roy Tan in the LGBT community[12],[13], the court's gallery, for the first time in this particular case, was packed with interested observers. These were the arguments M Ravi used to bolster his case:[14],[15].

Landmark ruling by Court of Appeal on "real controversy"
[
]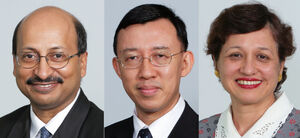 On Tuesday, 21 August 2012, after nearly a year of deliberation, Singapore's Court of Appeal, in a 106-page judgment, overturned High Court judge Lai Siu Chiu's decision on 15 March 2011 when she ruled that there was no "real controversy" which required the court's attention [16],[17],[18],[19],[20].
The 3 presiding Judges of Appeal, Justices VK Rajah, Andrew Phang and Judith Prakash, found an arguable case on the constitutionality of Section 377A that ought to be heard in the High Court. They explained that Tan was at the outset arrested, investigated, detained and charged exclusively under Section 377A. This, they said, squarely raised the issue as to whether Tan's initial detention and prosecution were in accordance with the law. Secondly, there was a real and credible threat of prosecution under Section 377A.
They said Tan would be allowed to vindicate his rights before the courts based on a finding that there was an arguable violation of his constitutional rights. The judges also wanted to acknowledge that Section 377A in its current form extended to private consensual sexual conduct between adult males, adding that "this provision affects the lives of a not insignificant portion of our community in a very real and intimate way. The constitutionality or otherwise of Section 377A is thus of real public interest. We also note that Section 377A has other effects beyond criminal sanctions." (See full text of judgment in main article: Archive of Judgment of Court of Appeal dated 21 August 2012).
Another seminal point in the ruling was that the appeal judges were "unable to agree with the AG that violations of constitutional rights only occur when a person is prosecuted under an allegedly unconstitutional law." This corollary of this was that any Singapore citizen had the standing to challenge the constitutionality of a law as long as he felt that his constitutional rights were being violated by the impugned law, even though he had not been charged under it. This groundbreaking implication was first realised and articulated by Roy Tan on the Singapore gay news list (SiGNeL)[23].
Gay couple files similar constitutional challenge
[
]

As soon as other stakeholders like Fridae founder, Stuart Koe, realised the implication of the Court of Appeal ruling, a gay couple in a 15-year relationship, Gary Lim and Kenneth Chee, who were hitherto a very private couple and who preferred to maintain a low profile, were persuaded by lawyer Indu­lekshmi Rajeswari to join the challenge and to be its new face. This strategy was undertaken to garner broad-based support from the LGBT community and to present a favourable, wholesome image of the gay community to the general public[24]. The lawyers assigned to them were well known human rights campaigner, Choo Zheng Xi, founder of The Online Citizen, Choo's boss, seasoned lawyer, Peter Low, both of Peter Low LLC, and Indulekshmi Rajeswari, who as a law student, had helped M Ravi with the research on the challenge and who after graduation, worked for the law company Myintsoe & Selvaraj. Their case was scheduled to be heard in the High Court on 14 February 2013[25].
Lim and Chee contended that the statute discriminated on the basis of sexual orientation, which makes it a violation of Article 12 of the Constitution stating that "all persons are equal before the law and entitled to the equal protection of the law". They argued before Justice Quentin Loh during a closed-door hearing on Wednesday that Section 377A was "absurd, arbitrary and unreasonable" for several reasons. For example, it criminalised the "identity" of a person - premised on their argument that homosexuality is "innate and immutable" - and the fact that it is selectively and arbitrarily enforced. The government had said at the conclusion of the parliamentary petition to repeal 377A in 2007 that the law would be kept but not proactively enforced.
The Attorney-General's Chambers, however, submitted that the statute differentiated between men and women, and not specifically to gays. In other words, the law also applied to heterosexual or bisexual men. It added that Section 377A had the "clearly-stated purpose of reflecting public morality" - a point contested by Lim and Chee, who pointed out that it does not cover lesbians and heterosexuals who choose to commit other acts which are against public morality, such as adultery or pre-marital sex.
Indiegogo fundraising campaign
[
]
On 18 April 2013, Lim and Chee decided to appeal the recent High Court judgment and solicited the help of media-savvy stakeholders from the gay community in launching a fundraising campaign on Indiegogo to raise US$50,000 to meet court costs:
http://www.indiegogo.com/projects/fundraising-for-s377a-constitutional-challenge
The entire amount was raised within 18 hours of the launch of the campaign and eventually far exceeded the requested figure (final tally $107,730), earning it the disctinction of being the most popular Indiegogo community campaign worldwide to date. The excess cash was used to pay their lawyers who were initially willing to undertake the case pro bono and to settle relevant expenses.
The campaign video was jointly produced by filmmakers Boo Junfeng and Loo Zihan.
Tan Eng Hong files separate challenge
[
]
M Ravi, on behalf of his client, Tan Eng Hong, filed a separate challenge to the constitutionality of Section 377A in the High Court. Tan's case was initially slated for slightly earlier, on 25 January 2013[28] but was later postponed to 6 March 2013, later than the gay couple's challenge[29].
Religious and political opposition
[
]
On 13 January 2013, Faith Community Baptist Church founding pastor Lawrence Khong told his congregation with Emeritus Senior Minister Goh Chok Tong in the audience that his church members were committed to "build strong families in Singapore" and by their definition the family unit "comprises a man as Father, a woman as Mother, and Children."
Khong warned that they "see a looming threat to this basic building block by homosexual activists seeking to repeal Section 377A of the Penal Code."[30]
A statement later released by the church stated, "Reverend Khong used the opportunity to highlight to Mr. Goh that homosexual activists have been increasingly stepping up to challenge this framework, especially in their efforts to repeal Section 377A of the Penal Code – a move detrimental to family and family ties."[31],[32]
Khong's actions were probably made in response to an earlier meeting in November 2012 by representatives from queer womens' group Sayoni with Minister of Law and Foreign Affairs, K Shanmugam, in which they discussed the multifarious, cascading effects of laws and censorship in Singapore[33],[34],[35],[36],[37]. The minister replied that the "majority's social acceptance" was needed before there could be any changes in laws and policies[38]. A raging online debate ensued in the mainstream media.
A second pastor, Yang Tuck Yoong of Cornerstone Community Church, later posted a message on his website urging Christians to be "battle-ready" for "not just for this battle, but for the many battles ahead of us" against the "LGBT bloc". However, he subsequently removed more than 100 words from his original statement after numerous complaints, both from the LGBT community and its mainstream supporters[39]. Researcher Scott Teng, aged 29, subsequently lodged a police report against Yang, saying it was "an incitement of violence"[40].
After a speech at the Singapore Perspectives conference organised by the Institute of Policy Studies on Monday, 28 January 2013, Prime Minister Lee Hsien Loong was asked by a participant, civil society activist Braema Mathi, how the fact that the Republic was a secular country reconciled with "an old and archaic law that nearly discriminates against a whole (group) of people". Lee replied, "Why is that law on the books? Because it's always been there and I think we just leave it."[41],[42] The LGBT community expressed their extreme disappointed with his comments.
High Court hearing of 377A constitutional challenge
[
]
Gay couple's case
[
]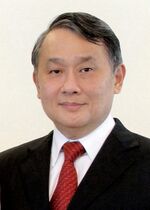 On Thursday, 14 February 2013, the High Court held the first full hearing of the constitutional challenge filed by gay couple Gary Lim and Kenneth Chee. The case was heard by Justice Quentin Loh and was conducted in chambers, meaning that only the parties who were directly involved in the matter could attend. Chee and Lim were not present for the hearing which lasted three and a half hours. Their lawyers filed a 123-page submission[43].
Arguing that section 377A was constitutional, the Attorney-General said that the law applied to all men, not just self-identified gay men, who have sex with other men; the law "reflects public morality" and "because there is a scientifically-established difference between the public health risks associated with sex between men and sex between women."
Supporting affidavits by Prof. Roy Chan, founder and president of Action for AIDS, and Bryan Choong, centre manager and counsellor of Oogachaga, a gay and lesbian affirmative counseling agency in Singapore, to explain the negative effect of Section 377A on homosexual men were not allowed by the judge[44].

Tan Eng Hong's case
[
]
On Wednesday, 6 March 2013, Justice Quentin Loh heard lawyer M Ravi's arguments on behalf of his client Tan Eng Hong, opposed by Aedit Abdullah from the Attorney-General's Chambers (AGC)[45].
Ravi's case for the repeal rested on 2 articles of Singapore's Constitution. First, Article 9(1) states that "No person shall be deprived of his life or personal liberty save in accordance with law. "Law" here has been conclusively agreed to mean "natural justice", not just what was in the statute books. Ravi argued that Section 377A did not meet the requirements of natural justice, since it was "inherently absurd, arbitrary [and] vague". It was absurd and arbitrary because it persecuted people born with an immutable sexual orientation, and vague because its interpretation rested on the extremely subjective concept of "gross indecency".
Second, Article 12(1) states that "All persons are equal before the law and entitled to the equal protection of the law." Section 377A discriminated based on sexual orientation, which had been recognised as contravening legal principles of equality in Hong Kong, India, Nepal, Fiji, the US, Portugal, Chile and Peru. The law was also discriminatory within the homosexual community because there was no convincing reason why gay male sex was criminalised while lesbian sex was legally sanctioned.
The AGC's case, on the other hand, fundamentally rested on the principle of "public morality", a concept explicitly referred to in the Constitution. Aedit claimed that the Singaporean public still clearly viewed gay sex as immoral, quoting Singapore's Nanyang Technological University's study that found that by 2010, 64.5% of Singaporeans still held negative attitudes towards homosexuals, with 25.3% expressing positive attitudes and 10.2% neutral. He further countered that comparisons of Singapore to Hong Kong, the US and India were invalid, given that their legal systems formally recognised a right to individual privacy, whereas Singapore's did not.
Justice Loh, who did not appear to be swayed by either side, reserved judgment on the case[46].
High Court judgment on gay couple's challenge
[
]
On Wednesday, 10 April 2013, the High Court released Justice Quentin Loh's 92-page judgment[47].
In it, Loh said that "s 377A essentially addresses a social and public morality concern which our Legislature identified in 1938 and subsequently affirmed in 2007." Addressing the frequently asked question which was also raised by the plaintiffs, i.e., why retain Section 377A if no one was to be prosecuted under it, Loh stated, "If there's no prosecution of s 377A offences, that is no ground to say that s 377A is unconstitutional."
He added, "(D)uring the October 2007 Parliamentary Debates, Parliament considered s 377 and s 377A carefully, and after debating the matter fully, endorsed the repeal of s 377 but chose to retain s 377 A. I can see no basis in this case to interfere given my reasons set out above. It is clear that Parliament saw a reasonable differentia upon which to distinguish between two classes: anal and oral sex in private between a consenting man and a consenting woman (both aged 16 and above) was acceptable, but the same conduct was repugnant and offensive when carried out between two men even if both men were consenting parties. There is therefore no reason to strike down the basis of the classification prescribed by s 377A – viz, male homosexuality – as arbitrary or discriminatory, or on the ground that it does not bear any rational relation to the purpose of the provision."
He concluded that, "In my judgment, the object of s 377A is clear. It criminalises male homosexual conduct that is not acceptable in our society. Its retention was endorsed by Parliament in 2007… I also find that the purpose of s 377A is not a purpose which is so patently wrong as to render it an illegitimate purpose upon which to base a classification prescribed by the law."
Members of the LGBT community expressed their outrage at the ruling[48].
On 18 April 2013, the gay couple announced that they would file an appeal against the ruling. Stakeholders launched a fundraising campaign on the popular crowdfunding website, Indiegogo[49], to raise S$50,000 to help meet court costs[50]. The campaign video was produced by film directors Boo Junfeng and Loo Zihan. The fundraiser proved to be the most successful in Singapore's history with the amount requested exceeded in a matter of weeks and the final figure totalling over S$100,000. This was testimony to the amount of support that the LGBT community bestowed on the couple, in contrast to the almost non-existent support offered to Tan Eng Hong.
During Pink Dot 2013, Gary Lim and Kenneth Chee were invited to be the flag bearers on the podium but no invitation was extended, nor gratitude expressed to or even mere mention made of the initiators of the constitutional challenge - Tan Eng Hong and M Ravi who clinched the successful court rulings which enabled the challenge to come thus far. This led astute observers like Lisa Li and others to comment that the LGBT community indulged in discrimination against its own members - those who were not in relationships and who did not possess the poster-friendly image that the gay couple projected[51],[52]. The discrepancy was redressed when M Ravi was invited to give a speech the following year at Pink Dot 2014 (see video:[53]).
Change in gay couple's legal team
[
]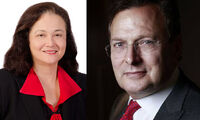 On Tuesday, 9 July 2013, Lim and Chee issued a media statement that they had appointed Senior Counsel, Deborah Barker, who was a partner and head of Litigation & Dispute Resolution at KhattarWong LLP, one of Singapore's leading law firms, to represent them at the Court of Appeal[54].
They had also filed for the admission of Queen's Counsel, Lord Peter Goldsmith, to argue their appeal as co-counsel with Barker. Lord Goldsmith Q.C. was Chair of Asia and European Litigation at Debevoise and Plimpton LLP, and was Attorney-General for England, Wales and Northern Ireland from 2001 to 2007 under Prime Minister Tony Blair[55],[56].

Intervention by Tan Eng Hong
[
]
On Tuesday, 13 August 2013, lawyer M Ravi, on behalf of his client Tan Eng Hong, made an application to the High Court to be recognised as an interested party and to intervene in Gary Lim and Kenneth Chee's upcoming Court of Appeal hearing as the outcome of the gay couple's appeal could affect Tan's case in which judgment was still pending [57],[58],[59],[60],[61]. This was despite the fact that it had been 2 years and 11 months since Tan's matter came before the Court.
Gay couple's Queen's Counsel application rejected
[
]
On Thursday, 19 September 2013, Court of Appeal Justice V K Rajah dismissed the gay couple's application for Queen's Counsel, Lord Peter Goldsmith, to represent them. He ruled that the application did not meet the requirement for admitting foreign senior counsel on an ad hoc basis under the Legal Profession Act, where there must be a "special reason" to do so[62],[63],[64],[65].
High Court judgment on Tan Eng Hong's challenge
[
]
On Wednesday, 2 October 2013, High Court Justice Quentin Loh today released a 54-page judgment which stated that he "found that the statute has not infringed the rights of the plaintiff, Tan Eng Hong, and is not inconsistent with Articles 9 and 12 of the Constitution of Singapore, which ensures that one will not be deprived of his life or personal liberty save in accordance with law and that all persons are equal before the law and entitled to the equal protection of the law, respectively."[66]
While Justice Loh responded to wide-ranging arguments from decisions made by foreign courts to decriminalise male to male sex to criminalising a "natural and immutable attribute" made by M Ravi, he also said of section 377A, "The purpose and object of s 377A when its very first predecessor was enacted in 1938 was to respond to a prevalence of grossly indecent acts between makes – whether in public or in private – which the Legislature deemed a regrettable state of affairs that was not desirable... The purpose and object of s 377A remains the same today."
Tan Eng Hong successfully applies to consolidate both challenges
[
]
On Thursday, 10 October 2013, Judges of Appeal Andrew Phang, VK Rajah and Woo Bih Li convened on an urgent basis and ruled that the issues in both cases were essentially the same and should be heard together[67],[68],[69],[70]. M Ravi explained that his client's application to have the 2 cases consolidated was "essentially for the beneficial effect of preventing a multiplicity of actions and preventing the same questions of law and constitutional issues from being tried on separate occasions with potentially different results." He added that should judgment be issued in the gay couple's case before Tan's appeal was heard, his client "may be deprived of or have abbreviated his opportunity to vindicate his rights through access to the entire appellate process."
Court of Appeal hears 377A constitutional challenge by Tan Eng Hong & gay couple
[
]
On 14 and 15 July 2014, Court of Appeal Justices Andrew Phang, Belinda Ang and Woo Bih Li heard the challenges to the constitutionality of Section 377A from both parties - Tan Eng Hong, and the gay couple, Lim Meng Suang and Kenneth Chee.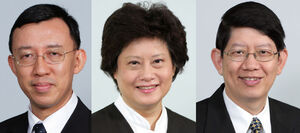 The couple's lawyer, Deborah Barker, said her clients, who had been in a romantic and sexual relationship for the past 16 years, were not seeking to change the Constitution, but only to enforce it. They were not asking for social change or the affirmation that male homosexual conduct was acceptable in Singapore. Rather, they were seeking a ruling that the majority could not impose its views, disguised as public morality, to target an unpopular minority group by restricting their intimate conduct in private which was legal for everyone else[71],[72],[73].
M Ravi, acting for Tan Eng Hong, argued that he was not asking the court to decide on questions of social policy but to deal with the issue of whether Section 377A unlawfully discriminated against a segment of society[74]. He said, "To characterise the potential violation of a fundamental right against a not insignificant segment of society as a matter of social policy that is up to the legislature is to completely disregard the function of this court. This case is squarely a matter of constitutional law. The legal issue the court is constitutionally mandated to determine is whether 377A unlawfully discriminates against a segment of our society."
Ravi said Section 377A infringed on the right to equality under Article 12 and violated the rights of gay people to life and personal liberty under Article 9 of the Constitution. He argued that gay males and lesbians were treated differently under the law – Section 377A only criminalises sex between males, but not between females.
Presiding judge Andrew Phang said that the Court of Appeal should not, without a legal basis, "step into the shoes of parliament" which decided in 2007 not to repeal Section 377A and that a decision would be delivered in due course[75].

Court of Appeal rules 377A constitutional
[
]
In a 100-page judgment released by the Court of Appeal on 28 October 2014, Justices Andrew Phang, Belinda Ang and Woo Bih Li ruled that Section 377A was constitutional[76],[77],[78],[79],[80],[81]. The decision covered both contesting cases by gay couple Gary Lim and Kenneth Chee, as well as Tan Eng Hong (see Archive of Court of Appeal judgment in Lim Meng Suang & Tan Eng Hong v AG, 28 October 2014).
The court rejected Tan's lawyer, M Ravi's argument that Section 377A was absurd because it criminalised a minority based on a core aspect of their identity which was unchangeable[82]. It noted that there were still conflicting scientific views on whether sexual orientation was unchangeable so it was premature to express any conclusive views on it. In any case, the supposed unchangeability of sexual orientation was an "extra-legal" issue that was outside the remit of the court.
While Article 12 of the Constitution guaranteed equal protection, Singapore's legislature was allowed to pass laws that treated people differently if they were based on a "reasonable classification". The court used the "reasonable classification test" to determine whether a statute that differentiated was consistent with Article 12. Under this test, a statute that differentiated was constitutional if the classification was based on an "intelligible differentia", meaning a distinguishing feature that was discernible, and if the differentia bore a rational relation to the objective of the law. It maintained that the classification prescribed by Section 377A, i.e., men who performed acts of "gross indecency" with other men, was based on an intelligible differentia. After analysing historical documents on the enactment of Section 377A, the court ruled that there was a "complete coincidence" in the relation between that differentia and the purpose and objective of Section 377A - to enforce societal morality. As such, Section 377A passed legal muster under this test. The court went on to note that Article 12 did not address the issues involved in Section 377A. While the provision specifically prohibited discrimination based on religion, race, descent or place of birth, the words "gender", "sex" and "sexual orientation" were noticeably absent.
In conclusion, the judges noted the "vexing difficulty" in dealing with the emotional extra-legal considerations surrounding the topic, and emphasised that they could only consider the legal arguments. They stated, "While we understand the deeply-held personal feelings of the appellants, there is nothing that this court can do to assist them. Their remedy lies, if at all, in the legislative sphere."
Statements by both plaintiffs in response to judgment
[
]
Lawyer M Ravi commented, "Today's decision has legitimised discrimination against gay men and approved the criminalisation of the conduct of their private lives by statute."[83],[84] He called the ruling a "huge step backwards for human rights in Singapore".
On their Indiegogo campaign page, the gay couple stated[85]:
"We are deeply disappointed with the judgement of the Court and though it has ruled that it is beyond its judiciary function to help the lgbt community, we are thankful that the justices have taken the time to consider this appeal in detail. We hope that parliament will be able to do so as well.
While the legal road for us has ended, we believe and hope that this case has inspired Singaporeans - straight, gay, bisexual and transgender - not to keep silent in the face of prejudice and inequality.
We have been in a loving relationship for over 17 years and this past year has been an incredible milestone for us. We decided to embark on this journey because we felt that the LGBT community deserves to be recognized as equal to the rest of society in the eyes of the law and have been witness to the discrimination and unfair treatment of the LGBT community on the basis of S377A of the Penal Code.
Being a part of this historical campaign provided us the opportunity to show young LGBT people that there are gay and lesbi​an couples in Singapore who have weathered the discriminatory nature of our society and though we have to strive harder than heterosexual couples to be together, it can be done. We hope that we and the many other LGBT couples who are increasingly telling their stories will help others, and we hope that Singaporeans will see this as a minor setback for equality and fairness, and that we can as a country recognise the value of LGBT people.
We would like to thank the many people who have supported us on this fight. From the many who have donated funds to the legal case, to those who have contributed their knowledge and expertise. We also thank our lawyers Deborah Barker and Peter Low both of whom have been immensely supportive during the 2 phases of our legal challenge.
This particular journey may have ended for us but it continues for the rest of the community.
Thank you"
Local LGBT groups[86],[87],[88],[89],[90],[91],[92] and international human rights organisations[93] also expressed their dismay at the ruling.
Ivan Tan comes out
[
]

In December 2014, Ivan Tan gave an exclusive interview published in Vol. 4 (2014) of Queer Asian Spirit E-Zine in which he revealed that he was the "Tan Eng Hong" that had started the 377A constitutional challenge with human rights lawyer M Ravi in 2010[94]. Tan consented for the first time to having his photograph, which appeared at the bottom of the article, published in connection with the case. He had hitherto chosen to remain faceless to the public in the ongoing saga and had preferred to use his less recognised Chinese name instead of the name by which most people knew him.
In the article, Tan talked about his spirituality which gave him to courage to launch the constitutional challenge at great cost to his personal and professional life and to his family.

See also
[
]
References
[
]
Acknowledgements
[
]
This article was written by Roy Tan.