Club One Seven (full name Club One Seven Spa & Gym but better known simply as One Seven) was touted to be Singapore's largest gay men's fitness club when it opened its doors on Friday, 13 April 2001. It derived its name eponymously from the shophouse unit number which it occupied, that is, 17, along Upper Circular Road.
The establishment experienced the greatest amount of dramatic incidents of any gay sauna in Singapore during its 14 years of operation. These included police raids and arrests, and the death of a businessman by hanging. However, these events also set important and progressive legal precedents in terms of gay rights.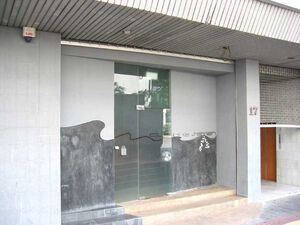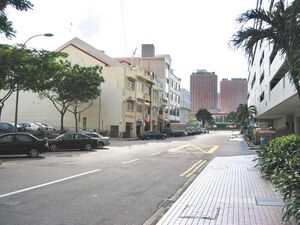 Pre-opening buzz
[
]
Sam Schwartz, the expatriate Jewish-American business partner and managing director of One Seven, was often spotted as a patron at Singapore's first gay sauna, Spartacus, which was opened in 1999 by entrepreneur and impresario Max Lim. Little did the gay community know that Schwartz would set up his own establishment a couple of years later, perhaps convinced that he could provide a better service and facilities than Lim.
In the months running up to its opening, the gay scene was rife with anticipation and speculation about the newest men-only sauna and fitness club. One Seven was officially opened to the public with a special, by-invitation-only preview party held on the evening of the 12 April 2001. Invited guests (who could register on the its website[1]) enjoyed free entrance from 6pm till midnight, and received complimentary passes for their next visit when they filled out a user survey form.

Facilities
[
]
With its spanking new facilities, huge floor space and discreet, well trained staff, many expected One Seven to become the Singapore scene's favourite playground. Its location also added to the convenience, sandwiched between two major bar strips, and within a few minutes' distance from many of the gay scene's favourite hangouts. Its exact address was 17 Upper Circular Road between Boat Quay and Clarke Quay. The Raffles Place MRT station was the closest. Its telephone number was 6223-0017.


Some of the facilities included a state-of-the-art gym with machines and free weights, open-air hydro-pool where guests could soak their aching bodies, huge (the size of a bank vault) steam room, many private rooms for small and large group activities, as well as a cafe to meet the guests' more mundane hungers. They provided partygoers with a late night venue on weekends, continuously staying open from Friday afternoon all the way till Monday morning. The majority of clubs and bars in Singapore closed at 3am.
One Seven was the first to have an al fresco swimming pool which later had to be covered with a canopy, as office workers in the neighbouring building could have a bird's eye view of the frequently naked men lounging around the poolside. Some of these workers were so curious that they walked by the sauna's entrance to get a closer look at the place and wonder what else went on in it. These office workers may have been the ones who complained to the police which led to a raid three months after the sauna opened and the arrest of two patrons for having gay sex (see below).
The floor above the sauna, which was formerly occupied by a bank, was acquired and renovated at great expense in 2004 which effectively doubled its cruising space. In the early 2010s, the upper level was relinquished to cut down on costs because patronage was waning and the sauna reverted to a single-floor one again.

Themes & promotions
[
]
Nude nights were introduced from the very beginning, capitalising on their popularity ever since they were pioneered by Rairua, another upmarket gay sauna. They started on Friday from 7pm till Saturday morning. Saturdays from 7pm to midnight were "Short Towel", and after midnight it was "Skin", derived from the label "Simply Skin", which Rairua artistically named its nude nights. Skin nights were later christened "Go Natural" for more originality and personal branding. When the sauna expanded to two floors, they were called, "Double Go Natural". Other gay saunas also bestowed unique names upon their nude nights, like Towel Club's "Full Moon Party".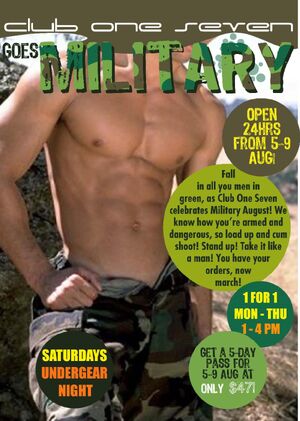 Operating hours & rates
[
]
The following chart was published on Club One Seven's website in 2011.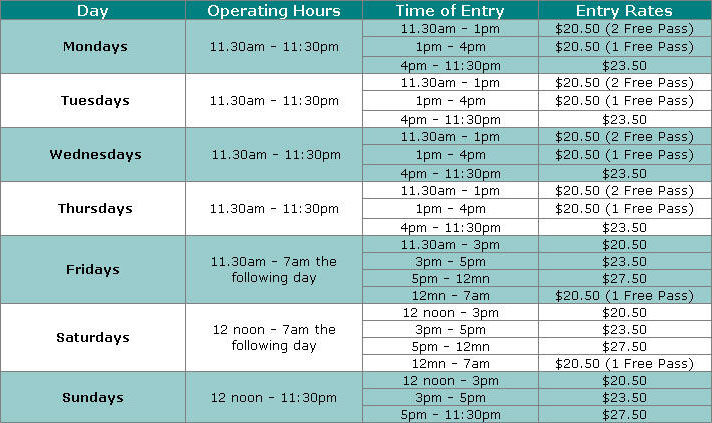 Branches in Thailand
[
]
After successfully operating in Singapore for several years, Club One Seven opened two branches in Thailand - the first in Phuket in 2006 and the second in Chiangmai in 2011.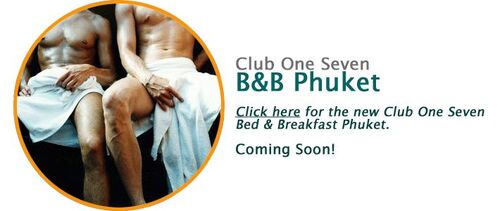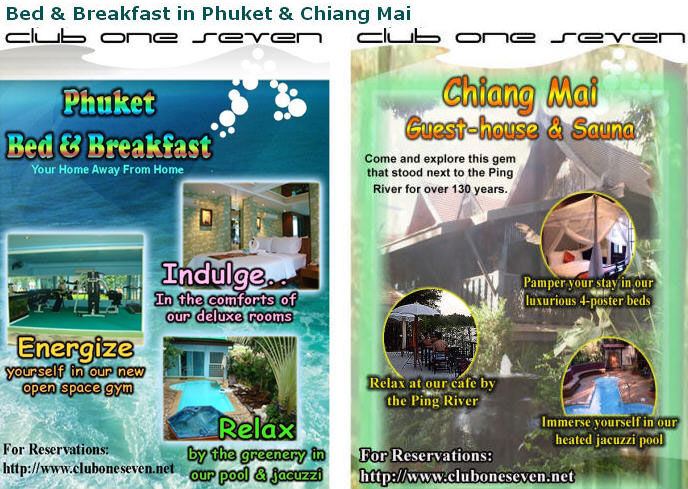 Club One Seven Phuket
[
]
Main article: Club One Seven Phuket
Club One Seven Phuket, established in 2006, is a boutique guesthouse and cafe/restaurant well located on Patong Beach, Phuket, Thailand. It is the perfect base for exploring the many charms and activities available in Phuket. It has everything travellers would desire in a vacation, from pure comfort and relaxation to great adventures and lively nightlife. Hailed by former guests as a "home away from home" , Club One Seven Phuket is gay-owned and gay-managed. All are welcome to this LGBT oriented accommodation, as long as they are gay-friendly.
Club One Seven Chiang Mai
[
]
Main article: Club One Seven Chiang Mai
Club One Seven Chiang Mai is located on the banks of the Ping River, 1km from the city centre. The spa, one of Chiang Mai's hidden secrets, is a 130 year-old, newly refurbished teak wood guesthouse which lies off the usual tourist track. It is ideally positioned as a refuge and a base from which to discover the riches of Northern Thailand. Established in 2011, it is the newest gay facility to extend out of Club One Seven Singapore and Club One Seven Phuket.
Police raids
[
]
Main article: Police raids at Club One Seven
The sauna experienced three main police raids during its almost one-and-a-half decades of operation.
Two men were arrested here by undercover policemen for homosexual sex in July 2001. Their penalty was commuted from a potential 2-year jail sentence under Section 377A of the Singapore Penal Code to a mere $600 fine under section 20 of the Miscellaneous Offences Act in what was probably a landmark ruling in Singapore's legal history, as far as gay rights were concerned.
Acting on a complaint in June 2006, the Central Narcotics Bureau and the police raided One Seven looking for drugs. They left after finding nothing but the managing director,

Sam Schwartz

' personal Cialis.
In April 2008, a group of plainclothes policemen entered One Seven by the back door, wrestled Schwarz to the ground, arrested him and later him charged with the possession of obscene DVDs.
Businessman found hanged, 2012
[
]
On 19 November 2012, a 48 year-old businessman, Yeo Hung Song, was found naked and hanged in one of the rooms at One Seven[2].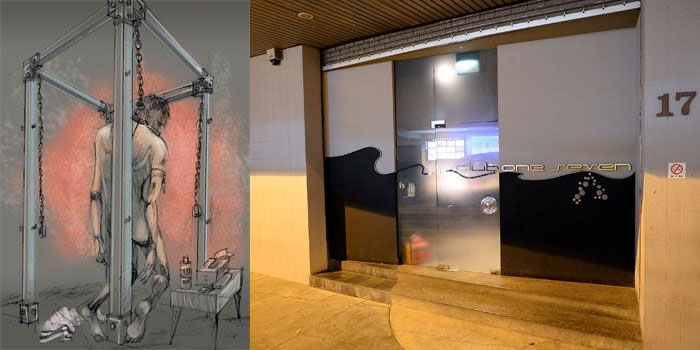 Police investigation & coroner's inquiry
[
]
The New Paper, which reported on the incident, noted that from the outside, the club would not attract many second glances. With its sedate colour palette of grey and brown, embellished only by its name on the door, it might have been considered a classy establishment.
The police investigating officer Siaw Kah Swee who was assigned the case mentioned, "Club One Seven is a two-storey sleazy gay pub meant only for registered patrons". Siaw discovered that its lower level had a spa and a cafe while the upper level had common shower facilities and a myriad of small rooms. Many of the rooms had all-around mirrors, a single mattress, a toilet paper dispenser and a holder for lubricant and condoms. Several had themed furnishings, with erotic apparel for BDSM (bondage, discipline and sadomasochism) practices.
Siaw's findings on the club were part of his investigation report for the coroner's inquiry into Yeo's death which commenced the following day, on Tuesday, 20 November 2012.
Court hearing
[
]
The coroner's case was heard in court the following year, on 25 September 2013. Closed-circuit television footage from a neighbouring law firm showed the deceaseo arriving at the club alone on a motorcycle at around 2.30pm on Monday, 19 November 2012. He then used the facilities before entering Room 5, which featured a saddle bench with wooden legs and a 2m-tall metal frame that had metal chains dangling from each corner.
At 9:30pm, cleaner Asrin Ali, 45, knocked on the door of the locked cubicle but got no response. He summoned his supervisor, who climbed a ladder and peeped through a gap between the 2m-high wall and the ceiling. They managed to unlatch the door catch with a metal bar from an opening above and entered the pitch black room with the help of an iPhone flashlight.
They then saw Yeo's naked body, with knees bent, hanging from a metal chain around his neck. The chain was part of a group of four attached to the top corners of a rectangular metal frame. A bottle of a yellow liquid labelled Rush Ultra Strong, a sex-enhancing liquid incense, sat on top of a short saddle-bench. Tests by the Health Sciences Authority showed that it was meant to be inhaled for its aphrodisiac and euphoric qualities, although Yeo had not used it.
There were no signs of a struggle or any other visible injury on him. A locker key belonging to Yeo was strapped to his right upper arm and his clothes were kept in the locker. A soiled towel which was later found to be stained with his semen lay on the floor. The staff then called the police.
No traces of anyone else's DNA were found on Yeo's body except his hands. Investigating Officer Siaw Kah Swee said this could have come about when Yeo touched items in the room. The inquiry heard that Club One Seven consisted of a gym, a cafe and about 40 cubicles spread over two floors in Upper Circular Road. Lifetime membership was $10, while entry cost about $20 each time. Yeo, a partner of a restaurant on Thomson Road, was a regular patron, visiting the club one to two times a week.
State Coroner Imran Abdul Hamid testified that Yeo could have been practising auto-erotic asphyxiation, which involved starving the brain of oxygen to increase sexual arousal. An autopsy revealed that a small amount of substance, usually used to treat insomnia, was found in his blood, but it did not have any bearing on Yeo's death. The coroner added that suicide was also a possibility as the 48 year-old restaurant boss, who was not married, suffered from depression and was believed to have harboured suicidal tendencies. Yeo had told a friend two weeks before his death that he wanted to commit suicide but did not pen any suicide note.
The director of the club, Harvey Morton Schwartz, better known as Sam Schwartz, 78, told investigators that Yeo had been a member since 2011 and was a frequent visitor. At the time, there were at least 6 gay saunas in Singapore.
Police investigations revealed that Yeo had begun to show signs of depression after one of his pet dogs, Koko, died on Vesak Day in 2011. His depression worsened after the death of his father in Malaysia in August 2012.
His friends and family observed that his behaviour had started to change. During his father's wake, Yeo was visibly upset. His sister, Yeo Kah Choo, 60, noticed that he kept looking at their father's photograph throughout the night and was very quiet. He had told her he was suffering from piles and was taking medication, but had postponed an operation to fix the problem because of their father's death. Yeo also told her about his feelings towards his dead dog. She believed he could have killed himself as he was unhappy over the loss of his loved ones.
Yeo's older brother, Yeo Han Ming, 57, described his brother as a lonely person who seldom spoke to people. After his father's death, Yeo told his employer, Tan Soy Tee, 61, that he wanted to make him the beneficiary of his CPF savings.
Two weeks before his death, Yeo showed Tan a photo of himself on his mobile phone and told him to use it for his funeral. A friend, Loh Ken Hong, 53, said that when they spoke in October 2012, Yeo was tearing up and very emotional over his father's death. There were, however, no medical records to show that he Yeo suffered from depression.
The court finally ruled that Yeo's death was caused by hanging. Yeo left two brothers and a sister. They were not present at the hearing.
In 2009, the nude body of former movie star David Carradine, 72, was found in a Bangkok hotel with a rope around his neck and genitals. The Thai authorities believed he may have died in a similar sex act.
Tussle for deceased's estate
[
]
After Yeo's death, part of the value of his estate was claimed by a friend, restaurant owner Tan Soy Tee, then 64, who had allowed Yeo to live rent-free with him for 20 years and had paid for the bulk of a five-room flat in Hougang that was under Yeo's name[3].
Upon Yeo's demise in 2012, his brother, Yeo Hang Ming, became the administrator of his estate and Tan sued the brother to reclaim the money he had lent or advanced to the deceased.
On Tuesday, 16 December 2013, Judicial Commissioner Lee Kim Shin ruled in an oral judgment partially held behind closed doors that Tan was entitled to about S$228,000, as well as 65% of the profits from the sale of the Housing and Development Board (HDB) flat in Hougang.
Although Tan had claimed a sum of about S$310,000 and a share of the profits from the sale of the flat, some of his loans could not be substantiated.
According to court documents tendered, Tan and Yeo gave differing accounts of the deceased's life.
In his defence, Yeo said his brother had worked as an electrician and operated a cooked food stall in Paya Lebar. His brother got to know Tan at the pharmacy where the latter worked when he was buying medicine there.
In his statement of claim, Tan said he had employed Yeo as a kitchen helper from 1993 and that the latter had begun living with him because he had little money.
In 2007, Yeo decided he wanted to buy a flat for himself and sought financial help from Tan. However, Yeo was still unable to raise enough funds. In 2009, Yeo bought the HDB flat in Hougang for about S$345,000, with at least S$231,000 from Tan. Yeo paid for the balance with his Central Provident Fund savings and a housing loan he took from the HDB.
Besides the payment for the flat, Tan also claimed he had forked out money for the purchase of a car that was in Yeo's name. However, Yeo said his brother had never mentioned working as a kitchen helper or living with Tan. He said the deceased had led a simple life and that he would have accumulated enough savings to purchase the Hougang flat and car.
Tan, a bespectacled divorcee, told reporters on Tuesday 16 December 2013 he had wanted to will his CPF savings and the flat to Yeo as the former had no family. He also found Yeo "pitiful" when he first got to know the deceased. Yeo was not present at the court hearing on 16 December 2013.
With Yeo's death, Tan said he has willed his money to another employee. When asked about the judgment, Tan said: "It's not really about money, I just want to prove the money belongs to me."
Closure
[
]
One Seven closed in early 2015 and its premises were taken over by the management of Keybox, another gay sauna. One Seven's founder, Sam Schwartz, decided to move on to other gay-related businesses, as he had proven his point that an entrepreneur could start and run a sauna in Singapore for gentlemen with sex on the premises without too much objection from the authorities. As other business owners joined in, he decided to terminate the venture because profit was not his primary objective anyway.
See also
[
]
References
[
]
Acknowledgements
[
]
This article was written by Roy Tan.