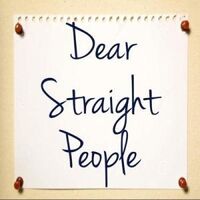 Dear Straight People is an LGBT website based in Singapore. It was launched in July 2015 by Sean Foo, a young adult journalist and aims to provide positive and engaging content that brings people of all sexualities together.
Since its inception, Dear Straight People has become renowned for its coming out stories which are written as feature pieces. Many of these articles have gone viral online, receiving thousands of shares on social media. Dear Straight People has also branched out into YouTube, and has had some of its videos featured on international LGBT publications such as Gay Star News and Queerty.
Dear Straight People currently reaches over 300,000 people and has become Singapore's leading LGBT portal.
Singapore LGBT personalities featured on Dear Straight People (in chronological order) include Audi Khalid[1], Gabriel Mark[2], Darius Zee[3], Lokies Khan[4], Nicholas Lim[5], Peggy Chang[6], Scott Lai[7], Amy Tashiana[8], Benjamin Lin[9], Johnson Ong/DJ Big Kid[10], Sherry Sherqueshaa[11], Bobby Luo[12], Xzavier Shao Wei[13], Dwayne Wang[14], Eugene Tan/Becca D'Bus[15], Ayden Constantine[16], Olivia Chiong[17], Gabriel Lu[18], Bryan Choong[19], Sheni Nedumaran[20], Bi Ling[21], Bhas Karan[22], Roy Tan[23], Miak Siew[24], Kieran Cheang[25], Patricia and Sham[26], Otto Fong[27], Alex Tan[28], Jerome Alexander Chan[29], Faliqh[30], Anthony Leong[31], Indulekshmi Rajeswari[32], Alexander Teh[33], Norisman Mustafa/NORIStar[34], Daryl Yang[35], Adrian[36], Isaac Chan[37], Ysa Yaneza[38], Sean Chin and Edmund Chan[39], Cassandra Thng[40], Jack Lim, Laurindo Garcia, Theresa Goh, Desmond & Onn, Sean Foo, Lewis Loh and Xuan
See also
[
]
References
[
]