Contrary to what the Singapore government claims, LGBT Singaporeans face systemic discrimination in many aspects of their lives. These include legal, employment, housing, education, business, censorship, media representation, healthcare, social and religious impediments which hinder their attainment of equality, something which most other Singaporeans take for granted.
Legal
[
]
Section 377A of the Penal Code
[
]
Section 377A of the Singapore Penal Code criminalises all forms of sex between men, even if it is performed in private between consenting adults. Additionally, there are other portions of the statutes which can similarly be employed to criminalise homosexual behaviour. While these other laws are gender non-specific, Section 377A, in contradistinction, enshrines and institutionalises discrimination against gay men in the legal system because penetrative sex (mainly oral and anal) as well as non-penetrative sex between heterosexual and lesbian couples are not illegal. Section 377A is therefore thought to contravene Article 12 and others of the Singapore Constitution. Its constitutionality is currently undergoing a protracted challenge in the courts by various plaintiffs and human rights lawyers.
From 2010 to 2021, a total of five appeals challenged the constitutionality of Section 377A and received a hearing in the Apex Court. In a joint judgement, the Court upheld the constitutionality of Section 377A on a narrow interpretation that the Constitution only prohibited discrimination on the grounds of religion, race, descent or place of birth and not sexual orientation and gender identity.
The ruling was troubling because it implied that since the Constitution made no specific mention of gender or sexual orientation as disallowed criteria for discrimination, discriminatory laws along the lines of gender and sexual orientation could neither be challenged nor struck down.
Even though the Government, at the conclusion of the debate over the Parliamentary petition to repeal Section 377A in 2007, promised that the law would not be proactively enforced, Prime Minister Lee Hsien Loong has stated that it was better to accept the "legal untidiness and ambiguity" of leaving the law as it was. It is irrelevant whether laws criminalising such conduct are enforced or not; their mere existence continuously and directly interferes with an individual's privacy. The cascading and intersectional effects of the statute encourage discrimination. Its existence is used by a range of government agencies to deny or uphold a wider range of discriminatory policies that effectively strip LGBT Singaporeans of many of the prerogatives and protections of citizenship. Section 377A also makes it difficult for ministries and government agencies to implement policies to safeguard the well-being of LGBT citizens.
Although the Government has often cited the annual pride event Pink Dot, as evidence of its tolerance and inclusivity, on 7 June 2016, the Ministry of Home Affairs announced restrictions on foreign sponsorship for the event. Local subsidiaries of multinational companies are also prevented from expressing support for other LGBT events and programmes in Singapore. This has further narrowed outreach and support, as well as stigmatised affirmation for the LGBT community.
The influence of Section 377A hinders greater understanding and integration of the gay community which is made up of often responsible, invaluable and highly respected contributing members of society. The only thing that makes these individuals different from the majority of Singaporeans is that they are biologically predisposed to love in a non-heteronormative paradigm. It is a slap in the face for their significant contributions and encourages many more to leave the nation's shores for more open-minded societies. Singapore's most valuable resource is its citizens. The country cannot afford to lose them.
Section 377A also affects the status and moral citizenship of gay men in society. The Government has openly welcomed gays and lesbians into the civil service. But this law will only discourage equal treatment for gay employees everywhere and diminish the moral standing these men have rightfully earned. It is a seed for further acts of discrimination.
The persistence of Section 377A has direct consequences for LGBT rights in Singapore in the areas of media representation and censorship, registration of LGBT organisations, support and sexuality education for LGBT youth, healthcare and social services for LGBT citizens, workplace discrimination against LGBT employees and reporting of same-gender sexual assault.
Section 354 of the Penal Code (Outrage of Modesty)
[
]
Section 354 provides that if any person uses criminal force on any person intending to outrage, or knowing it would be likely to outrage, the modesty of that person, he shall be imprisoned for a maximum of 2 years, or with fine, or with caning, or with any 2 of such punishments.
In the early and mid-1990s, the police conducted undercover sting operations using handsome agents provocateurs in certain places such as Katong Park, the reclaimed land at Tanjong Rhu (Fort Road beach) and even at East Coast Park where gay men were known to cruise or solicit for sex. From 1990 to 1994, 50 homosexuals were charged under section 354. The usual punishment in 1993 was 2 to 6 months' imprisonment plus caning, usually 3 strokes.
In 1994 a man was charged under section 354 for molesting an undercover police decoy by touching the policeman's penis. He was sentenced by the magistrate court to 4 months' imprisonment and 3 strokes of the cane. He appealed to the High Court against the sentencing. In the ensuing High Court case, Tan Boon Hock v PP (1994) 2 SLR 150, the Chief Justice reversed the magistrate's sentencing and imposed a fine of only $2000.
Chief Justice Yong Pung How ruled that imprisonment was inappropriate and a fine sufficed for a charge under section 354 because:
it was not a case where a male used criminal force to outrage the modesty of a vulnerable and unsuspecting female
in such undercover police operations to weed out gays, there was implied consent by the police to be touched.
After this landmark case police operations have rarely been carried out. Even if there have been such operations since then, there have been no press reports documenting the prosecution of homosexuals under section 354 for outraging the modesty of police decoys.
Section 354 requires that the police or someone be touched. However, if no physical contact is made, homosexual behaviour can also be charged under the following law.
Section 294A of the Penal Code (Obscene Act)
[
]
If the victim of an entrapment operation uses a symbolic gesture to signal intention to have sexual activity with the police decoy, he can be tried under Section 294A of the Penal Code, which covers the commission of any obscene act in any public place to the annoyance of others (subject to a maximum of 3 months' jail, a fine, or both). From 1990 to 1994, there were 6 cases of obscene acts brought before the courts in this context. The accused were fined between $200-$800.
Miscellaneous Offences (Public Order and Nuisance) Act
[
]
The police can use section 19 (soliciting in a public place) of the Miscellaneous Offences (Public Order and Nuisance) Act, which covers both prostitution and soliciting "for any other immoral purpose". This offence carries a fine of up to $1,000, doubling on a subsequent conviction, including a jail term not exceeding 6 months.
According to documentation by National University of Singapore sociologist Laurence Leong Wai Teng[1], from 1990-94, there were 11 cases where gay men being charged for soliciting. They were fined between $200-$500. However, a Lawnet search revealed no reported cases of persons being charged under section 19. This does not mean, however that no persons were charged. They could have pleaded guilty and avoided trial, resulting in the absence of case law.
In the by-now infamous Club One-Seven incident, 3 undercover policemen entered a gay sauna on 23 July 2001 at about 1855 hours, climbed over a cubicle and arrested 2 men who were having sex in it. They were charged under section 20 of the Miscellaneous Offences (Public Order and Nuisance) Act which refers to "riotous, disorderly or indecent behaviour" in a public setting, liable on conviction to a fine not exceeding $1,000 or imprisonment not exceeding one month. They were eventually each fined $600.
Employment
[
]
Government
[
]
Civil Service
[
]
Prior to 2003, homosexuals were barred from being employed in "sensitive positions" within the Singapore Civil Service. However, in the 7 July 2003 issue of Time (Asia) magazine which carried a feature article entitled The Lion in Winter[2] examining Singapore's prevailing bleak economic climate against a wider backdrop of Asian NIE malaise at the time., Prime Minister Goh Chok Tong, unprompted and of his own volition, was quoted as saying, 'So let it evolve, and in time the population will understand that some people are born that way. We are born this way and they are born that way, but they are like you and me.' He also stated that gays would henceforth be allowed to serve in sensitive positions in the Civil Service[3],[4].
An academic paper by Christopher K. K. Tan entitled "Pinking the Lion City: Interrogating Singapore's Gay Civil Servant Statement" presented in July 2005 at "Sexualities, Genders, and Rights in Asia: 1st International Conference of Asian Queer Studies" held in Bangkok explored the legal basis for discrimination against homosexuals in Singapore and argued that Prime Minister Goh Chok Tong's June 2003 statement was not a discourse of tolerance. Data gathered from Tan's fieldwork suggested that while gay Singaporeans welcomed the statement, they also strongly doubted the Government's sincerity. When civil servants in Tan's survey pool were asked whether their individual ministries or statutory boards had done anything to realise the statement, the answer was a uniformly resounding 'No!'
Discrimination against gay men exists in the Singapore Armed Forces because even though the military does not regard homosexuality as a disease or mental illness requiring counselling or therapy, it is obliged to treat gay servicemen who declare their sexual orientation differently because, according to some accounts, "homosexuality" and "transsexualism" are listed in the outdated ICD-9 (International Classification of Diseases, 9th revision)[5], a medical classification system which is still being used by the SAF today. Homosexuals and effeminate servicemen are managed according to the dictates of a manpower directive which incorporates this classification framework.
Category 302
[
]
The most notorious classification is Category 302, a medical code given to personnel who are "homosexuals, transvestites, paedophiles, etc." Category 302 (popularly referred to as "cat 302") homosexuals are further classified into those "with effeminate behaviour" and those "without effeminate behaviour". This form of discrimination persists despite the fact that homosexuality was depathologised by the American Psychiatric Association in 1973, and homosexuality is not regarded as a psychiatric condition by the local medical profession. Moreover, the military's grouping of homosexuality together with transvestism and paedophilia further reinforces the public misconception that it is abnormal.
Management
[
]
Self-declared or discovered servicemen are referred to the Psychological Medicine Branch of the Headquarters of Medical Services for a thorough psychiatric assessment, which involves their parents being called in for an interview.
They are medically downgraded to a Physical Employment Status of C (PES C), regardless of their level of fitness, and put through modified Basic Military Training. On graduation, they are deployed in a vocation which has no security risks, posted to non-sensitive units and given a security status which restricts their access to classified documents.
Formerly, Category 302 personnel were not allowed to stay overnight in-camp, nor were they required to perform night duties, but these restrictions have been relaxed. Effeminate homosexuals are also posted to a holding list upon completion of National Service and not required to do reservist training, whilst non-effeminate ones have undergo it in non-sensitive units.
Category 30-B
[
]
A less well known classification is Category 30-B, a medical code given to servicemen "with effeminate behaviour not amounting to sexual disorders". These individuals are further subdivided into "mildly effeminate", "effeminate" and "severely effeminate". Presumably, this group only includes effeminate heterosexual men and not homosexuals, so there have historically been very few servicemen slapped with this label; hence, its relative obscurity.
Ministry of Community Development, Youth and Sports
[
]
In January 2006 the Ministry of Community Development, Youth and Sports (MCYS) granted S$100,000 (US$61,500) to Liberty League, an organisation affiliated with the so called ex-gay movement which "promotes gender and sexual health for the individual, family and society". [1]
Private
[
]
Lawrence Wee fired by Robinsons
[
]
Censorship
[
]
On 15 July 1996, the Singapore Broadcasting Authority (SBA) issued Notification no. 2400/96 which specified a Code of Practice which covered not only the Internet, but also all broadcast media, including television. The foreword to the Code of Practice stated:
Among the material to be prohibited were:
Owing to the ignorance of the SBA that homosexuality and lesbianism were not 'sexual perversions' according to prevailing international medical opinion but variations of the norm, and widespread public dissatisfaction with the vague, inaccurate and unnecessarily restrictive wording of the Code of Practice, it was revised on 1 November 1997 to state:
While being a quantum leap from incorrectly labelling homosexuality a sexual perversion, the non-specification of what exactly "advocates homosexuality" made it a taboo subject for television documentaries for 7 years following the first issuing of the Code.
The penalty for media licencees flouting the Code was a hefty fine, as Channel i, the now-defunct English-language sister channel of Channel U, discovered after it aired an interview with Anne Heche in 2003. During the interview, Heche spoke about her lesbian relationship with Ellen deGeneres, amongst other things. Channel i was subsequently fined $15,000 by SBA, the broadcasting watchdog, for "justifying, promoting and glamourising homosexuality".
In September 2003, the 22-member Censorship Review Committee, made up of private sector and government representatives who had been appointed in April 2002 to do a once-in-a-decade censorship review, announced that the censorship authorities would relax their ban on gay-themed movies, plays, broadcasts and publications[6]. These included allowing films with homosexual themes to be screened at cinemas rather than film festivals.
On Monday, 25 February 2008, part of director and Oscar-winner for "Best Documentary short", Cynthia Wade's, acceptance speech about the woman in her film, "Freeheld", who spent her last days fighting against discrimination was snipped from the repeat telecast on Channel 5 of the 80th Academy Awards in Los Angeles[7]. In the original broadcast, Wade had said, "It was Lieutenant Laurel Hester's dying wish that her fight for, against discrimination would make a difference for all the same-sex couples across the country that face discrimination every day. Discrimination that I don't face as a married woman." From courtroom scenes to the couple's private moments at home, the 38-minute film captured Lt. Hester's battle in her last months as she is supported by colleagues from the police department and LGBT activists who lobby the county's elected officials known as the Freeholders[8].
The 21st Singapore International Film Festival was intially scheduled to hold the Asian premiere of the highly controversial and high profile documentary "A Jihad for Love", the world's first feature-length film about Islam and homosexuality, since it was first screened at Toronto's International Film Festival in September 2007[9]. However, it was later banned by the Media Development Authority which oversaw the Board of Film Censors[10], with the latter's chairperson, Amy Chua, saying that the film was "disallowed in view of the sensitive nature of the subject that features Muslim homosexuals in various countries and their struggle to reconcile religion and their lifestyle."
On Wednesday, 9 April 2008, a media statement issued by the Media Development Authority said that it had fined StarHub Cable Vision S$10,000 (US$7,200) for breaching the TV Advertising Code by showing a commercial of a song that depicted lesbian kissing scenes[11]. The commercial, which promoted a song titled "Silly Child" by pop singer Olivia Yan, was aired on MTV's Mandarin-language channel in November 2007. The MDA's statement also said, "Within the commercial, romanticised scenes of two girls kissing were shown and it portrayed the relationship as acceptable. This is in breach of the TV advertising guidelines, which disallows advertisements that condone homosexuality."
Shortly after, on Thursday, 24 April 2008, Channel 5 was fined S$15,000 by the MDA for airing a home and decor programme entitled "Find and Design" on 13 January 2008 at 7:30am which showed a gay couple transforming a room into a nursery for their adopted baby[12]. Announcing its decision on its website, the MDA said that it took issue with the programme's presenter who congratulated and acknowledged the gay couple and their baby as a family unit "in a way which normalises their gay lifestyle and unconventional family setup. This is in breach of the Free-to-Air TV Programme Code which disallows programmes that promote, justify or glamourise gay lifestyles...MDA also consulted the Programme Advisory Committee for English Programmes (PACE) and the Committee was also of the view that a gay relationship should not be presented as an acceptable family unit."
In June 2008, TV broadcaster Mediacorp's print magazine 8 Days carried an interview with Channel 5's Senior Censorship Manager David Christie who said that "It's really not easy" to interpret the "broad strokes" of the Media Development Authority's code of conduct[13]. He elucidated, "There are some shows like Brothers & Sisters where one of the main cast is gay, and The O.C. where two characters were lesbians in Season 2... How do you keep it running when there are strong gay issues?...we put such series on late nights and put up viewer advisories after making necessary edits...Even a cooking show can be dangerous. A guy could say something like, 'I'm cooking this for my boyfriend tonight.' We die, you know! What that one remark does is normalise gay lifestyle" and which can lead to a hefty fine by the MDA.
In early October 2009, openly gay poet, playwright and winner of the Singapore Literature Prize in 2008 for his poetry anthology "Last Boy", Ng Yi-Sheng was dropped by the Ministry of Education as a mentor in the Creative Arts Programme one month into his mentorship. Ng himself believed that it had something to do with "his involvement with political and gay rights activism."[14]
Business
[
]
No business which states in its application for a licence to the Accounting and Corporate Regulatory Authority (ACRA) that it aims to serve the LGBT community will be approved on the grounds that it is "contrary to the national interest".
Gay bars, clubs and saunas are only granted a licence if they assiduously avoid mentioning their target clientele in their applications, even though the authorities and police know full well the nature of their operations.
In 2013, a gay man who applied to (ACRA) for a licence to operate a business (sole proprietorship) which organised social outings for LGBT individuals, their families, extended families and friends was rejected by the government body.
The reason given was that pursuant to Section 9(1)(b) of the Business Registration Act, Cap 32. which reads:
"9. —(1) Notwithstanding any provision in this Act or any other written law, the Registrar shall refuse to register a person under this Act where he is satisfied that —
(b) it would be contrary to the national security or interest for the person to be registered."
The applicant was warned to cease his business activities immediately because it was an offence under Section 27 of the Business Registration Act for any person to carry on a business without being registered.
Advertising
[
]
MDA bans Pink Dot 2015 ad in cinemas
[
]
In Friday, 12 June 2015, a 15-second pre-event advertisement for Pink Dot 2015 that was meant to be screened in cinemas was refused a rating by the MDA after a two-month wait, effectively banning it[15]. A spokesman said that the MDA had "carefully considered" Cathay Organisation's application on 12 May 2015 to screen the promotional trailer in its cinemas, adding: "This is the first time MDA has received such an application. MDA has concluded that it is not in the public interest to allow cinema halls to carry advertising on LGBT issues, whether they are advocating for the cause, or against the cause. MDA has therefore rejected Cathay Organisation's application to screen the trailer."[16]
Arts funding
[
]
The National Arts Council's (NAC) Market and Audience Development Grant[17] states:
"While we celebrate diversity of expression and open, balanced dialogue in the arts, as a statutory body disbursing public funds in line with Government policies, NAC has to prioritise funding to proposals which do not:
Advocate or lobby for lifestyles seen as objectionable by the general public;
Denigrate or debase a person, group or class of individuals on the basis of race or religion, or serve to create conflict or misunderstanding in our multicultural and multi-religious society;
Undermine the authority or legitimacy of the government and public institutions, or threaten the nation's security or stability."
Marriage
[
]
Same-sex marriage is illegal in Singapore. Even civil unions are not provided for.
Parenting
[
]
Public housing
[
]
Public housing in Singapore is restricted by official policy, favouring family units including newlyweds. LGBT couples must either purchase flats in the private or resale HDB markets or wait until they are 35 years of age and buy a flat under the joint singles scheme.
Education system
[
]
As the large majority of LGBT Singaporeans spend their adolescent years in school, the well-being of LGBT adolescents and how this is impacted by the discourse and policies of educational and social institutions is an area of critical concern.
Bullying in schools
[
]
In two significant surveys of LGBT Singaporeans conducted in the last 3 years – the Homophobia and Transphobia Survey 2012 (HATS2012) and the National LGBT Census Singapore 2013 ( NLCS2013), the majority of LGBT persons report having experienced abuse or bullying on the basis of sexual orientation or gender identity at some point while growing up – 60.2% of respondents and 56% of schooling respondents, respectively). These findings warrant serious attention on the part of educators. It is unfortunate that they have been met with a studied silence from the Ministry of Education (MOE) and the Ministry of Social and Family Development, and other relevant government agencies.
Implications
[
]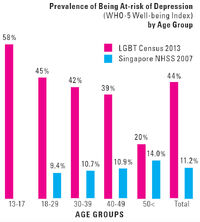 The table on the right, taken from NLCS2013, starkly shows up the problem of LGBT bullying. LGBT adolescents are at a far higher risk of suffering from poor mental health and depression than their peers, and the pattern, once established, persists throughout the life course. Such mental states also place LGBT youth at greater risk of suicide – HATS2012 found that such abuse and discrimination led to a significantly higher incidence rate of having suicidal thoughts or attempts. Another community-led study found that between 56% and 60% of LGBT respondents suffered from homophobic and transphobic bullying in schools or in society.

Contributing Factors
[
]
LGBT bullying is most often the result of a lack of fair and accurate information about LGBT persons, as well as an institutional culture and discourse that condones such bullying. When sexual orientations and gender identities are not openly discussed at school, or discussed in a negative way, this leads to a lack of awareness of the issues faced by LGBT persons, and to the perpetuation of negative stereotypes.
These two issues are evident in MOE's sexuality education curriculum. Commentators have previously pointed to serious deficits in the curriculum, which emphasises the criminality of gay behaviour rather than treating LGBT persons as full and lawful citizens. This position prevents school authorities from acknowledging the existence of LGBT bullying as well as providing support to LGBT students and teachers.
In 2009, a public controversy which erupted over the sexuality education curriculum led MOE to outsource sexuality education in mainstream schools to six providers, three of which are affiliated with churches that have publicly campaigned against the decriminalisation of homosexuality in Singapore.
MOE's policies on this matter, however, are classified and thus opaque to scrutiny when playwright Alfian Sa'at was fired from a relief teaching position in 2007, his repeated queries failed to produce a clear answer as to whether his dismissal had been motivated by his criticism of the government or the LGBT content of some of his plays. This opacity and the resulting uncertainty about MOE's actual HR policies has resulted in a culture of fear and silence among LGBT teachers.
One school-sanctioned LGBT group for students was founded in Yale-NUS in 2013. The G-Spot, which involves its students in advocacy, research and education regarding feminism, gender and sexuality issues, successfully organised an Ally Week in 2015 , and forms an instructive example of what is possible for other schools interested in creating safe spaces for their LGBT students.
While other university groups exist, they do not receive the same level of institutional support as G-Spot. In a joint letter to the press, the groups note that 'school administrators should ensure that our schools are not only world class in research and teaching but also safe and affirmative for all students.'
Incidents
[
]
Bullying of LGBT students in schools has been documented on many occasions. However, even though the Ministry of Education has an idea of the incidence and prevalence of bullying, it does not track how many of these are due to homophobia and transphobia. Teachers are generally not allowed to express any form of positivity towards the topic of homosexuality. They are also discouraged from coming out as LGBT to their students.
On 4 May 2009, The New Paper ran an article which reported on the public caning of three Secondary 3 students out of a group of eight bullies in front of Secondary 1, 2 and 3 students on 20 April 2009[18]. The three boys had landed themselves in trouble for taunting, mocking and intimidating a Secondary 1 boy from the same school. The three older boys had picked on the junior one 'because of his (the younger boy's) voice.' Even though the principal claimed that the bullied boy was unhurt, some students reported that the victim was 'physically handled' by the seniors, while others said it was 'more serious than that'.
On 11 May 2009, teacher Lisa Li posted a casual note on her personal Facebook page, 'I teach General Paper, not homosexuality', in support of critical thinking and reasoned discussion in General Paper. To her knowledge, what she wrote was based on reason and anyone who disagreed with her logic, facts or opinions could easily have rebutted her openly. In fact, she was pleasantly surprised that the note generated a healthy, thoughtful debate of almost 100 comments in barely two days. Two days later, she received word that someone had taken her Facebook note to the Ministry of Education (MOE) and complained about it. As a result, she had to remove that note[19].
On 22 February 2014, a female alumnus from a local secondary school wrote an open letter to the Ministry of Education and Health Promotion Board describing her ordeal at the hands of parents and school authorities after they found out she was having a romantic same-sex relationship with a classmate. The bullying the pair experienced left them so physically and psychologically traumatised that they planned to commit suicide out of despair[20].
Documentary
[
]
On 30 April 2022, CNA Insider uploaded to its YouTube channel, the first of a two-part documentary entitled, "Why Children And Teenagers Struggle With Mental Health | Confronting Youth Mental Health"[21]. The impetus for producing the series was that in 2020, the incidence of suicide among those aged 10 to 19 jumped 37.5% from the year before, as Singapore recorded its highest number of deaths by suicide since 2012. A study published in the ASEAN Journal of Psychiatry also revealed that between 2013 and 2018, the number of youths aged 10-24 diagnosed with depression increased four fold - a more rapid increase than other age groups. CNA Insider reached out to youths grappling with mental health who shared candidly about their struggles with anxiety, depression, self-harm and trauma, and explored why mental health problems commonly occurred in young people, and why the journey of finding help and healing may not be easy. The video, produced in partnership with Temasek Foundation and supported by the Institute of Mental Health, contained a segment entitled, "Conflict with sexuality and identity: Minority stress"[22]:
Policy on gay teachers
[
]
On Saturday, 8 September 2007, while Otto Fong was working as a science teacher at Raffles Institution (RI), one of Singapore's top high schools for boys, he published a 2000-word open letter on his blog. In the post, he called for greater acceptance of gay people by society, citing fellow RI alumnus, then Minister Mentor Lee Kuan Yew's remarks questioning Singapore's anti-gay sex laws and PAP MP Baey Yam Keng's public statement supporting the repeal of Section 377A as his reasons for coming out in his blog meant to be read by his RI colleagues.
The then 38-year-old, who had been teaching at the school for eight years, was inspired to reassess his responsibility beyond academia to his students after attending a forum in August 2007 where several young adults questioned the little guidance available to them as gay teenagers. Fong wrote of his first being aware of his attraction towards classmates of the same sex in primary six and the denial of his homosexuality until his university years when he sought counselling to accept himself for who he is.
Fong's coming out to the public as a gay teacher created a huge stir and elicited front page news reports in the local English as well as Chinese-language tabloids. Over 120 messages posted on his blog by present and former students praised him for his courage in taking a stand and being a inspiring educator. However, under pressure from the Ministry of Education, the entire post including comments was deleted two days later and replaced with, "I wrote this blog for my colleagues and some friends, so that is done. While I am grateful for your generosity, I must remain true to my original intent."
In a statement, the Ministry of Education said it "does not condone any open espousal of homosexual values by teachers in any form" as "teachers are in a unique position of authority" and "are often seen as role models by their students. The school has spoken to the teacher concerned and the teacher has agreed to take down his blog in the best interest of the students. The Ministry supports the action taken by the school on this matter."
Social
[
]
Hate speech
[
]
Singapore's Sedition Act not only prohibits seditious acts and speech which undermine the administration of government but also criminalises actions that promote feelings of ill will or hostility between different races or "classes of the population". Despite the statute's statement that it protects all segments of society, which by right should also include the LGBT community, it has mainly been used against individuals who have made offensive rants against the Malay-Muslim community. The LGBT community has not been accorded any shelter under this law and hate speech against it is constantly indulged in with impunity.
Section 298 of the Penal Code makes it an offence to utter a word within hearing distance of a person, with the deliberate intention to wound that person's religious or racial feelings. The penalty is a jail term of up to 3 years, a fine, or both. Section 298A similarly criminalises the promotion of enmity between different religious or racial groups and carries an identical punishment. No such protection is given to the LGBT community.
This glaring inconsistency was highlighted in a comic strip drawn in 2015 by openly gay cartoonist Otto Fong:
Anecdotal examples
[
]
Koh Jee Leong gay tank top incident
[
]
During one of his summer holidays in Singapore, award-winning Singaporean poet Koh Jee Leong, now based based in New York City, turned up at his regular gym on Thursday, 13 July 2017 wearing his usual tank top with the words "GAY BUT NOT YET EQUAL" printed in bold lettering on the front. He was told that some gym users at SAFRA Mount Faber were not happy.
According to Koh, a few people had previously complained to the gym manager, accusing him of "trying to change a sensitive social policy or issue." Koh wrote in a Facebook post: "I asked him how many people complained. He repeated, "some", and elaborated, "more than one but not many". He (the gym manager) also said that 'the social issue' was sensitive nationally, and that SAFRA could not allow any social advocacy...The complainants ... would not have complained if my tank top had promoted a national heart campaign. They were, in fact, complaining about my being gay."
Koh said his conversation with the SAFRA gym manager lasted about 15 minutes, describing him and his staff as "totally courteous and reasonable throughout." Eventually, he was also allowed into the gym dressed in his usual tank top.
SMOL pride flag incident
[
]
On 18 January 2021, a passer-by ripped a pride flag off the counter of health food stall SMOL at Lau Pa Sat and threw it at one of its staff. He then shouted: "You are the kind of people who is destroying Singapore! Go to hell!" The proprietor, Charmaine Low, had displayed the flag at the stall's outlet in support of the LGBTQ community. She was stunned but determined to continue displaying the rainbow flag. The incident was followed by an outpouring of support from customers and users of social media. A police report was lodged and the culprit speedily identified but no action was taken against the perpetrator of the homophobic act.
Violence
[
]
Sayoni, a local queer women's NGO had detailed violence and discrimination at home by family members and intimate partners, in schools and in public spaces, and its impact[23].
Negative media portrayals
[
]
锦绣前程 (A bright future), 1992
[
]
One of the first experiments at introducing gay characters into local TV dramas was seen in a 1992 Singapore Broadcasting Corporation (SBC) production on Channel 8, the only Chinese language television channel at the time. It was a daily Mandarin serial entitled '锦绣前程' (A bright future) starring popular actor Li Nanxing as the main protagonist[24]. He portrayed Yufeng, a handsome, masculine, struggling model who was the love interest of Ken, a stereotypically effeminate gay man, played by actor Lin Yisheng, hopelessly enamoured of Li's male beauty and bent on seducing him. Groundbreaking scenes, never before seen in a local production, included sexily shot, close-up sequences of Li's muscular body as he exercised on gym equipment, the lascivious lip-licking of the gay character as he watched Li exercising, the attempted resting of the homosexual character's cheek on Li's sweaty body, staged disco scenes of gay men dancing, including a swimming trunk fashion show, 2 gay lovers having a tiff in a carpark and an attempt at oral sex by the gay character on Li in a car. Actor Chen Hanwei also starred in the production, playing Li's brother.
Audible grunts of apparent disgust could be heard emanating from some homes during the airing of these landmark scenes on prime time slots. In the following weeks, numerous letters of complaint were received by SBC and the serial's introduction of homosexuality spawned several articles in the Chinese press. These factors caused the station to shelve its experimentation with gay subplots for many years.
Crunch Time, 2003
[
]
It was only in May 2003 that the very first locally-produced television documentary dealing with homosexuality as its main subject was broadcast on Singaporean airwaves. It was a homophobic, 30-minute episode in a Mandarin-language series called Crunch Time 2 shown on Channel U, a television station owned by Singapore Press Holdings. The series was advertised in The Straits Times which promoted it as one that featured the turning points in the lives of 12 people including a loan shark, an unwed mother and a drug addict.
The particular program featured actors re-enacting the supposedly true-life account of a young, masculine gay Singaporean man cruising for sex in public swimming pools and toilets. It reinforced the misconception that homosexuality resulted from having an unhappy home, parents who constantly fight, and being sexually abused. In this case, the protagonist was only 6 years old when he was asked by an adult female to perform sexual acts with a girl his age. The episode wound up with an interview with a spokesman from Choices, a Christian counselling group from the Church of our Saviour (COOS) in Queenstown which helps "straighten" out gay lives, which was the eventual outcome for the gay man in the story. He was depicted as having been "successfully'" converted through counselling from a dissatisfied, unfulfilled homosexual to a man happily married to a female spouse and producing a son.
The negative and stereotypical depiction of homosexuality in the program prompted an online petition which garnered more than 200 signatories over the ensuing weekend[25]. It probably had a significant effect as the episode was the last time a homophobic documentary was aired in Singapore. However, the overwhelmingly influential factor in ending televised homophobia was Prime Minister Goh Chok Tong's statements in Time magazine in July 2003 about reversing anti-gay hiring policies in the civil service (see main article:PM Goh Chok Tong liberalises employment of openly gay individuals in civil service, July 2003.
单翼天使 (My Guardian Angels), 2020
[
]
单翼天使 (translated as My Guardian Angels) was a 30-episode Chinese-language series which featured negative representations of gay people[26]. It contained a gay ephebophilic character who molested teenage boys and who had a sexually transmitted disease, as well as scenes where characters behaved in homophobic ways. The drama aired on Channel 8 in April and May 2020 but was still available for viewing in July 2020 on YouTube and Mediacorp's streaming service, meWATCH[27]. The show starred Chase Tan, Kym Ng and Brandon Wong, Zoe Tay, Pierre Png, Hong Ling, Chen Tianwen, Jin Yin Ji, Benjamin Tan, Edwin Goh and Fang Rong.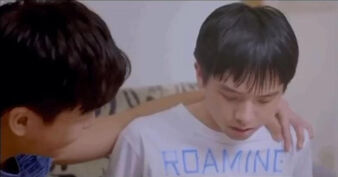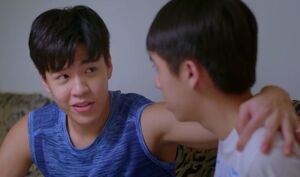 In the drama, one character, a basketball coach played by Chase Tan, molests a teenage boy in one of the scenes. The character goes on to molest another boy off-camera later in the series, and is eventually jailed for his offences. Characters played by Kym Ng and Brandon Wong behave in a homophobic manner. They talk about their son's (played by Benjamin Tan) romantic life. Ng's character, Miao Miao, expresses concern that their son is wooing a woman, but Wong says, "At least it's a girl, not a guy." Miao Miao stalks her son as she is anxious that he might be romantically involved with a male friend of his. She sees the two kissing and yells out loudly for them to stop. (The two characters turn out not to be gay.)
The furore over the TV show began on Monday, 29 June 2020 after gay business owner Teo Yu Sheng posted comments about the drama on the Instagram account of his company, Heckin' Unicorn. Teo, then 29 years of age, highlighted storylines and scenes in My Guardian Angels which he said perpetuated negative stereotypes about the LGBTQ community. National broadcaster Mediacorp received a lot of flak from netizens on Instagram, Twitter and Reddit, frequented by younger people. They spammed the Instagram accounts of Mediacorp and actors Chase Tan, Kym Ng and Brandon Wong for their roles in the TV series.
Under Mediacorp's Instagram post on 3 July 2020 (which was unrelated to My Guardian Angels), there were more than 1,400 comments. Many of them were angry ones about the broadcaster's portrayal of negative gay stereotypes and called for the company to apologise. Mediacorp released a statement to Yahoo Lifestyle SEA responding to the criticism, saying: "there is no intention to disrespect or discriminate against any persons or community in the drama". However, the statement did not offer any apology.
Members of the LGBTQ community said the ephebophile character perpetuated a false stereotype of gay men as perverted sexual predators, and pointed out that such problematic portrayals of queer people were not balanced by positive portrayals in the local media. In his Instagram post on the Heckin' Unicorn account, Teo said, "We're extremely disgusted that our country's only free-to-air TV broadcaster has decided to take such a low blow on Singapore's LGBTQ+ community. Perpetuating negative stereotypes about the LGBTQ+ community is bad enough in itself. But when you consider the fact that LGBTQ+ individuals can't legally be portrayed positively in local TV shows, you'll quickly realise just how low Mediacorp went with this move." One user commented on Mediacorp's Instagram page, "If the scriptwriters, directors, and actors/actresses don't know how and what it's like to be part of the LGBTQ+ community, then DON'T EVEN TRY CREATING SUCH CHARACTERS. Your story plots are disgusting. This convinces me to stop supporting local dramas."
Mediacorp said in response to queries by Yahoo Lifestyle SEA:
"We would like to assure that there is no intention to disrespect or discriminate against any persons or community in the drama, My Guardian Angels. The drama aims to reflect scenarios and stories that are close to real-life. The sub-plot involving Kym Ng's character – an overly protective mother - seeks to highlight the mother's concern for her teenage son as he grapples with growing-up issues. On the paedophile character, the intention and overall message of that sub-plot is to encourage young people to be aware of potential dangers, and to speak up and protect themselves. We take feedback seriously and will continue to exercise vigilance and be more mindful in our portrayal of characters."
Mediacorp released the same statement above on Instagram on Tuesday, 30 June 2020 in response to the critical comments of netizens. Twitter users reported that Mediacorp and Channel 8 released the statement on Twitter too, but later deleted the posts. Teo continued to share comments on the Instagram account Heckin' Unicorn and responded to Mediacorp's statement: "You may claim the lack of intent to be discriminatory, but it doesn't make your actions any less so. Your response is also terribly tone-deaf, because you continue to dig into the stereotype that children need to be aware of the "dangers of gay people. Your lack of apology is glaring, and it reflects the kinds of values that your company lacks," he added.

Medical
[
]
Banned from donating blood
[
]
The Health Sciences Authority's (HSA) website states under their Blood Donation section's page entitled Can I donate blood, AIDS and HIV rollout[28]: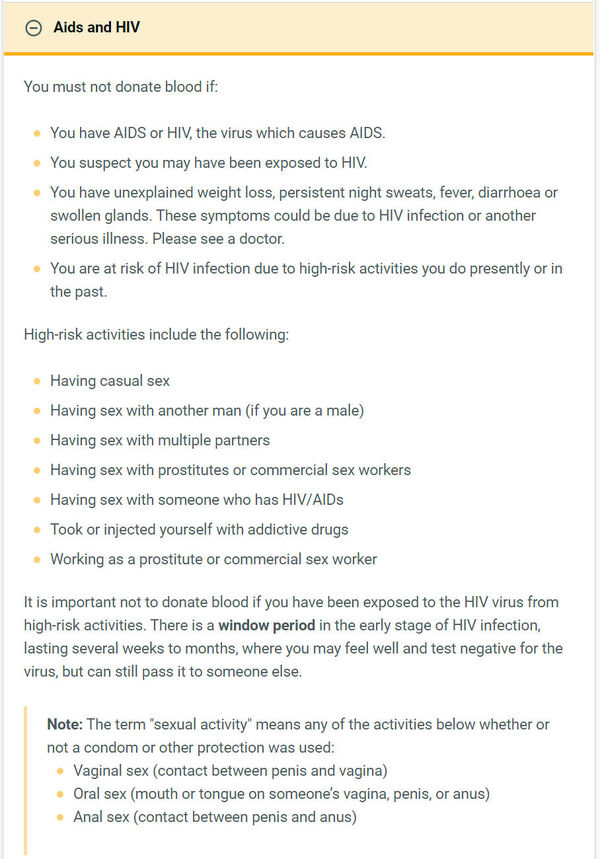 "You must not donate blood if:

You have AIDS or HIV, the virus which causes AIDS.
You suspect you may have been exposed to HIV.
You have unexplained weight loss, persistent night sweats, fever, diarrhoea or swollen glands. These symptoms could be due to HIV infection or another serious illness. Please see a doctor.
You are at risk of HIV infection due to high-risk activities you do presently or in the past.

High-risk activities include the following:

Having casual sex
Having sex with another man (if you are a male)
Having sex with multiple partners
Having sex with prostitutes or commercial sex workers
Having sex with someone who has HIV/AIDs
Took or injected yourself with addictive drugs
Working as a prostitute or commercial sex worker

It is important not to donate blood if you have been exposed to the HIV virus from high-risk activities. There is a window period in the early stage of HIV infection, lasting several weeks to months, where you may feel well and test negative for the virus, but can still pass it to someone else.

Note: The term "sexual activity" means any of the activities below whether or not a condom or other protection was used:

Vaginal sex (contact between penis and vagina)
Oral sex (mouth or tongue on someone's vagina, penis, or anus)
Anal sex (contact between penis and anus)"
Doctors' attitudes towards homosexuality
[
]
On 6 November 2021, a study entitled Primary care physicians' knowledge, attitude and perception towards homosexuality in Singapore by Dr Derek Lim and Dr Ang Seng Bin was published online in the Global Health Journal[29]. It aimed to gain insights into the attitudes, acceptance and knowledge levels among family physicians toward homosexual people, which were important as they might affect care among this group at risk of not only of human immunodeficiency virus (HIV) and other sexually transmitted infections, but also suicide, depression, anxiety, body dysmorphism and drug abuse, including alcohol and cigarette-smoking.
An anonymised self-administered questionnaire in English was posted with the assistance of the College of Family Physicians Singapore in February 2015 to its 1,529 members with self-addressed, pre-stamped envelopes for replies. The questionnaire included demographic questions such as age group, gender, religion, ethnicity, marital status and place of practice. Questions and scales that measured attitude, acceptance, knowledge and perception of colleagues who are homosexual were also included in the questionnaire.
451 responses (29.5%) were obtained, of which 441 were valid (28.84%). About 52.8% of participants were found to have negative, 8.9% neutral and 38.3% positive attitudes toward homosexuality. Most (75.6%) were accepting of homosexuals, with 9.3% neutral and 15.1% not accepting. Knowledge levels were poor, with a mean score of 6.9 out of a maximum of 13. A strong correlation was found between the attitudes towards lesbians and gay men (ATLG) and acceptance of homosexuals scales, with moderate correlations between acceptance and knowledge, and ATLG and Knowledge.
The study concluded that despite the majority of family physicians having negative attitudes towards homosexuality, most were able to accept homosexuality. With better education regarding sexual orientation in the medical educational curriculum, the increase in knowledge would lead to better care for homosexuals.
Religious
[
]
Religious discrimination against homosexuals comes especially from the more fundamentalist-minded adherents of the Abrahamic religions in Singapore.
Conversion therapy
[
]
Doctors and other healthcare professionals in Singapore are expected by the Ministry of Health to practise according to evidence-based best practices and clinical ethics. The information and guidance for this is provided by internationally accepted medical textbooks and peer reviewed articles in reputable medical journals. The views regarding sexual orientation and gender identity stated in these references also hold sway.
Despite this, conversion therapy, which aims to change the sexual orientation of a homosexual or the gender identity of a transgender person, is not illegal and is still being practised by several churches at the heart of the ex-gay movement in Singapore.
Effects of discrimination
[
]
The greatest irony engendered by systemic discrimination is the subconscious internalisation of pragmatism for a majority of the gay men[30]. By accepting (and even embracing) the status quo, gay men have given implicit consent to state control and discrimination from cradle to grave, thereby contributing to their own suffering and deprecation.
As society progresses and diversifies with the influx of international migrants, figures and voices previously not seen or heard become more visible and audible within enclaves of the gay communities. Rather than belonging to the more apparent demographics of a middle class, English-speaking ethnic Chinese Singaporean, the "new gays", who have "come out" as poor, physically challenged, or an ethnic minority, have thwarted the conventional stereotype of the liberal-minded, high-maintenance dandy. Gays with hearing impairment want to be seen attending public gay events, such as Pink Dot and outdoor gay parties on Sentosa island; as do some Malay men who like men, positioning themselves at the forefront of youth, health and international community activism. Gay residents from international corporations as well as other Southeast Asian countries, such as Malaysia, Myanmar, and the Philippines, have also made their presence felt, participating in cultural and social activities and volunteering their expertise in business and legal matters.
The government has however maintained their reservations about repealing Section 377A, most probably to remain in accordance with the intrinsic beliefs of the political elites as well as the constitutions of neighboring India, Indonesia, and Malaysia. The claim that, social values, vis-à-vis the issue of homosexuality, will have to be the final arbiter of its legitimate status, remains contentious. For a majority to determine the acts and thoughts of the minority already presupposes homosexuality as a deviance, criminological or otherwise. In addition, any gay-friendly speech or identity may jeopardise the reputation and profession of the speakers and place them at significantly personal risk, raising the stake for prospective change-makers. Muslim and civil servants who have come out as gay have experienced death threats and job terminations/career stagnations respectively.
The future for gays will continue to be grim unless they can circumvent the social prescriptions of compulsory heterosexuality and homosexual norms. Many have resigned to placate the demands of the family and society by getting married and having children, while others seek out an alternative of "silent acknowledgement" – that is, keeping one's sexual orientation and relations as ambiguous as possible giving the allowance for others to make their own conclusions – as a survival tactic against other challenges in life. Among these is the ascendency of the conservative gay – someone who does not counter the discrimination but leads a neoliberal and self-centered lifestyle. The increasing prevalence of this materialistic outlook will inevitably lead to the continued suppression of gays, whether self-imposed or otherwise. As the Prime Minister Lee Hsien Loong reiterated in the 2007 Parliamentary debates: 'the [Singaporean] attitude is a pragmatic one – we live and let live.' However, such a moral stance has not been put into practice by the various government ministries. Contrary to the Prime Minister's stated position of "live and let live", cradle-to-grave discrimination in Singapore results in gay men being economically poorer and less healthy, and consequently leading shorter and more impoverished lives. Discrimination, quite literally, kills gay men, both spiritually and physically.
See also
[
]
References
[
]
Acknowledgements
[
]
This article was written by Roy Tan.