The Maintenance of Religious Harmony Act (MRHA), which took effect in 1992, was updated by Parliament in October 2019 to prevent religious organisations from becoming channels for foreigners to bring their agenda and values to Singapore, among other things. An Explanatory Statement was also added to the Act to make it clear that members of the LGBT community, as well as other minorities, were explicitly protected against force or violence incited by religious groups or movements.
K Shanmugam's comments
[
]
Home Affairs Minister K Shanmugam recounted that many LGBT groups "have told us they felt targeted as a community". At the same time, religious groups also felt they were targeted by LGBT groups, he added. Hence, the MRHA was amended so both groups would be dealt with similarly. The approach stemmed from the position that every Singaporean had a place in Singapore, he said. "They must feel safe and we will take actions against anyone who threatens anyone else's physical safety. We should all be free to express our individual views, but in a responsible manner." However, he emphasised that the law "is the same for all", stressing that it was also an offence if the LGBT community, for example, was to target a religious group in the same way.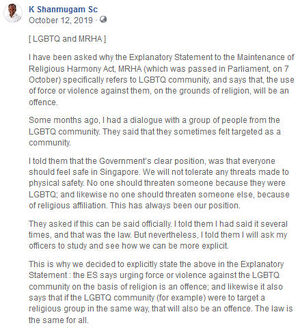 On Saturday, 12 October 2019, Shanmugam put up a Facebook post to say that he had been asked why the Explanatory Statement was included. He explained that he had a dialogue with a group of LGBT individuals who told him how they felt. "I told them that the Government's clear position, was that everyone should feel safe in Singapore. We will not tolerate any threats made to physical safety. No one should threaten someone because they were LGBT; and likewise, no one should threaten someone else, because of religious affiliation. This has always been our position," Shanmugam said. When the group asked if this position could be stated officially, he told them that it had been said "several times" and that was the law. "But nevertheless, I told them I will ask my officers to study and see how we can be more explicit."
So the new framework had enhanced religious freedom in Singapore because people of all religions "feel confident and comfortable to go out there and practise their faiths", knowing there is a protective framework in place. It likewise applies to the agnostic, he added. Preventing religious differences was crucial for maintaining Singapore's social harmony, the foundation for its peace, progress and prosperity, he noted, pointing to various countries "struggling with identity politics and the fractured relationships between communities and within communities".
He said surveys and feedback from residents have shown people here "overwhelmingly support" the approach of coming down quite hard on those who use religion to create public and social discord. He said "the success of our policies is shown by the fact that we have never had to actually formally invoke the MRHA" since its creation.

Function of Explanatory Statement
[
]
With the changes to the MRHA, a new section - 17E(1) and (2) - was introduced to deal with the offence of urging or using violence against a target group on the basis of religion. The Explanatory Statement clarifies that besides those who practise a certain religion, the target group may also be "made up of atheists, individuals from a specific racial community, who share a similar sexual orientation or have a certain nationality or descent like foreign workers or new citizens".
Section 17E states:
17E.—(1) A person commits an offence if —

(a) the person, on the ground of religion or religious belief or activity, knowingly engages in conduct urging another person, or a group of persons, to use force or violence against a person in Singapore (called in this subsection the target person);

(b) the person does so knowing that force or violence is likely to occur;

(c) the person does so because of the person's belief that the target person is a member of a group (called in this subsection a target group); and

(d) the target group is distinguished by religion or religious belief or activity, ethnicity, descent, nationality, language, political opinion or by any other characteristic, whether or not of a similar kind.

(2) A person commits an offence if —

(a) the person, on the ground of religion or religious belief or activity, knowingly engages in conduct urging another person, or a group of persons, to use force or violence against a group in Singapore (called in this subsection the target group);

(b) the person does so knowing that force or violence is likely to occur; and

(c) the target group is distinguished by religion or religious belief or activity, ethnicity, descent, nationality, language, political opinion or by any other characteristic, whether or not of a similar kind.
On Monday, 14 October 2019, lawyers said that this provision was merely there for greater clarity because the LGBT community was already covered under the law. Law professor Eugene Tan of the Singapore Management University (SMU) said that Explanatory Statements are typically appended at the end of a legislative text of a Bill. "It seeks to explain in plain language what a proposed law sets out to achieve and the intended meaning and effect of specific provisions in the Bill. It may also describe the general impact of the proposed legislation's financial and policy implications." While the Explanatory Statement is not part of the legislation after the Bill is passed, it allows those in the legal fraternity to better understand the scope and meaning of a particular provision in an Act, Assoc Prof Tan added.
Lawyers said that while the inclusion of the Explanatory Statement had no legal significance, it helped laypersons to get a better understanding of the law. Assistant Professor Benjamin Ong of SMU's School of Law said that even without the Explanatory Statement, the law was already clear that any group, including those defined by sexual orientation, would be covered. However, he said that the Explanatory Statement would increase awareness of the law and its significance in an easy-to-understand manner. The statement made it "crystal clear" to the courts, Members of Parliament and laypersons that the group of people specified under the MRHA may refer to those defined by sexual orientation, Asst Prof Ong said. It was also a way for the Government to demonstrate to the LGBT community that their concerns have been taken into account, he noted.
Assoc Prof Tan said that while the Explanatory Statement did not grant any group unique rights since it was not part of the law, it made clear that it was an offence for any faith-based group to target LGBT persons and vice-versa. Lawyer Eugene Thuraisingam, who was leading a court challenge against Section 377A of Singapore's penal code which criminalises sex between men, said: "Mr Shanmugam has consistently maintained that the Government has a zero-tolerance policy towards those advocating harm or violence against others, including against LGBT persons. The legal inclusion of the LGBT community into the protective umbrella of the MHRA is a much-welcome step forward."
Reaction of LGBT community
[
]
Members of the LGBT community said that they were assured by the Explanatory Statement. Mandy Chng, the programmes and events coordinator for queer women's group Sayoni, said that the explicit mention of the community was "momentous and significant", especially so when discourse on the minorities in Singapore's society was usually limited to race. She said that in its research published in early 2019, Sayoni found that LBTQ women in Singapore faced higher risk of encountering physical and psychological violence, especially at home. It also found that there were long-term consequences on the mental health and emotional well-being of women in Singapore who had "encountered religious-incited physical and psychological violence", such that they had depression and thoughts of suicide, for instance, Chng added. She cited the example of families bullying LBTQ individuals with verbal abuse, harassment, and the performance of religious rituals and prayers over the individual to "correct" their sexuality.
Anti-LGBT acts had been ongoing in cyberspace as well. Over the years, Benjamin Xue, co-founder of LGBT youth support group Young Out Here, had observed online trolling, or online bullying, of the community on social media. The Explanatory Statement thus "gives some sort of comfort and assurance" and allows space for young LGBTQ people to come out safely, he pointed out.
Leow Yangfa, executive director of Oogachaga, a non-profit community-based organisation that works with LGBT individuals, said likewise that religiously motivated violence was a "significant part" of the lives of many in the community, and it could come in the form of "forced religious conversion" and hate speech. To Leow, Shanmugam's statement was a "clear and unambiguous" signal recognising that the LGBT community had been targeted by religiously motivated violence. The Explanatory Statement was also probably the first time in Singapore's history where there was an explicit mention of the LGBT community as a minority group that was worthy of legal protection, he added. "Knowing that this law provides such protection does provide some reassurance for the community. The next step is for the community to see the application of such law in future cases," Leow said.
LGBT Singaporeans who suffer from cyberbullying and online harassment may also avail themselves of the Protection from Harassment Act (POHA) although the latter applies to everyone and does not specifically mention the LGBT community, thereby making it less groundbreaking in terms of LGBT rights.
MHA's reply to gay man
[
]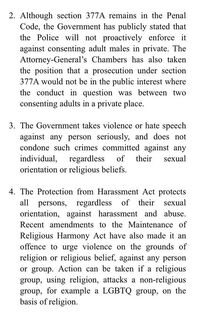 On 29 April 2021, a person who said that in the last 3 years since he had been back to live in Singapore, he had experienced a few cases of discrimination against himself as a gay man based on religious grounds[1]. He wanted to put an end to it so he wrote to the Ministry of Home Affairs. The Ministry's reply was heartening as it gave the individual some basis to protect himself from future harassment (points 3 and 4).

"2. Although section 377A remains in the Penal Code, the Government has publicly stated that the Police will not proactively enforce it against consenting adult males in private. The Attorney-General's Chambers has also taken the position that a prosecution under section 377A would not be in the public interest where the conduct in question was between two consenting adults in a private place.

3. The Government takes violence or hate speech against any person seriously, and does not condone such crimes committed against any individual, regardless of their sexual orientation or religious beliefs.

4. The Protection from Harassment Act protects all persons, regardless of their sexual orientation, against harassment and abuse. Recent amendments to the Maintenance of Religious Harmony Act have also made it an offence to urge violence on the grounds of religion or religious belief, against any person or group. Action can be taken if a religious group, using religion, attacks a non-religious group, for example a LGBTQ group, on the basis of religion."
See also
[
]
References
[
]
Acknowledgements
[
]
This article was written by Roy Tan.