Fort Road beach was the unofficial name given to the stretch of beach along the reclaimed land to the south of Fort Road which was a popular cruising venue for gay men from the late 1980s to the mid-2000s. It was also known internationally as Singapore's unofficial nude beach for both homosexual as well as heterosexual naturists.
Photos of Fort Road beach:
Photos of the route to Fort Road beach from the main road:
Development of cruising ground
[
]
A new experience in open-air cruising afforded itself from 1986 onwards when a huge stretch of the East Coast was reclaimed by land filling as part of the East Coast Reclamation Scheme[1] which was launched in April 1966 and completed two decades later. The minimum period for the earth to settle and become compacted enough before the artificial virgin ground could be developed or have structures built upon it was 10 years.
In the early stages of the land reclamation process, a sealing barricade of boulders and earth was dumped at sea, forming a curve that stretched from near the East Coast Parkway flyover all the way to Marina Bay. Slowly, this lagoon was filled up with more earth and rocks to form the expanse of reclaimed land one sees today.
Before the process was completed in the mid-1980s, the man-made enclosure was pockmarked with large ponds which trapped many fish, both small and large, within it. This attracted many hobbyist fishermen to the area. They made their way there via motorbikes and cars which left prominent tracks in the sand, earth and mud. However, as the lagoon was gradually filled up, the piscine population declined in tandem and they eventually all died.
Before the total demise of the fish, many straight couples would venture into the area to indulge in petting or sex. They would drive their cars and park in the open muddy land next to the sea and perform their activities within their vehicles. If their cars were too close to each other, they would use newspapers to cover the windscreens and side window so that they could get steamy in more privacy. During the daytime, visitors to the area could see lots of food wrappers, plastic cups, plastic bags and tissue paper reeking of semen scattered all over the ground. One individual was even observed to have the unusual fetish of picking up the pieces of tissue paper to sniff them!
In the mid-1980s, more lone men were observed walking into the secluded area. At first, many thought they were peeping toms out to peek at straight couples having sex in their cars where they would manoeuvre as close as possible and then use pin focus torchlights to illuminate the occupants. This was a common phenomenon in many public car parks around Singapore because at that time, the Internet had not yet become widespread and pornography was only viewable if one forked out cash for illegal videotapes or CD-ROMs.
Later, towards the end of 1980s, people started to hear stories of individual men walking into the reclaimed land, not for the purpose of peeping, but to meet other guys. As the news spread, more and more gay men would voyage there via all modes of transport or on foot - singly, in pairs or in groups of 3 to 4 people.
As the government started to seal up the landfill with wall panels and fencing, access became more difficult and some portions were hard to navigate. This was because of the uneven ground, with some parts requiring one to walk over planks. If one slipped, one would fall into a shallow trench, sometimes filled with water after it rained. Ironically, this was advantageous for gay men as it meant that fewer of the mainstream public were inclined to make the arduous journey there and homosexuals could indulge in their activities away from prying eyes, unless binoculars or cameras with long zoom lenses were used.
There were several long granite promontories with one leading to a helicopter pad. The beach became a beautiful place to sun tan and, as the place became more secluded, it got more conducive for gay men to have sex there as well. Along the beachfront, the rows of casuarina and other trees formed a barrier that impeded visibility of the more inland area from the beach and the vessels at sea.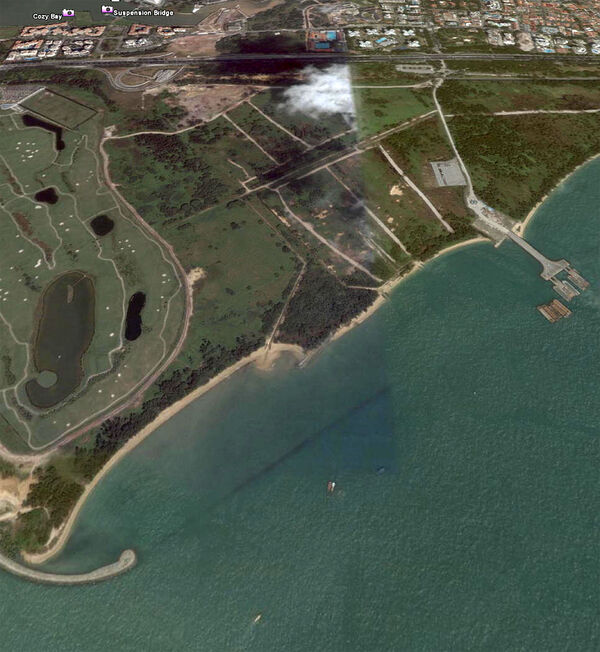 Occasionally, straight fishermen still went there to fish and one straight family built a huge treehouse in which they lived on and off for years but they mostly were not interested in looking at what the gay men were doing and did not disturb them. However, some homosexuals who spotted good-looking straight fishermen would try their luck and a few were lucky enough to be granted blow jobs.
The new cruising ground became popularly known as Fort Road beach by the cognoscenti although there existed no official name for this stretch of beach. There were two main portions. The moiety on the eastern side became closed off to the public in the mid-1990s and thus could no longer be used for romping around. This area became overgrown with undergrowth in due course. Gay cruisers had to be content with the weestern half which was had a slightly different character because of dissimilar geographical features.
Fort Road beach became so popular with gay men using it for skinny dipping and sex, either in the more interior forested area, or for the more daring ones right on the open beach or in the sea, that it attracted several tabloid articles which were emblazoned with titles such as "Homosexuals pollute East Coast". The New Paper and the Chinese-language evening tabloids on several occasions carried blurred pictures of men apparently having sex or walking naked along the beach. Some gay men nicknamed the beach and the area directly inland, which was also very cruisy at night and appealed those who did not want to trudge all the way to the seaside, Paradise. Better educated English-speaking gays dubbed the secondary forested area just beyond the car park which one could play nocturnal hide-and-seek "The enchanted forest".
The western half of the beach eventually also became closed to the public in early 2010 as development of the area into a golf course and other building projects was ramped up full swing.
Unofficial nude beach
[
]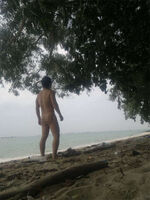 The remoteness and seclusion of Fort Road beach made it very conducive to naturism even though public nudity is illegal in Singapore (see main article: Nudism in Singapore). However, the official stance is that if one were to walk around naked in an isolated place or late at night where no one can observe the act, police action is not taken if no complaints are made. Fort Road beach gained a reputation as Singapore's unofficial nude beach for both homosexual and heterosexual naturists alike. Its fame spread internationally and many foreign nudists also visited the area.
Most people indulged in nudity in the inland secondary forested area or in the more barren sandy patches further in. They would lie down on groundsheets or just walk around. The more daring ones would stroll along the beach or swim in the sea. Some would engage in sex in all these areas, although it must be emphasised that this activity is not regarded as naturism by purists. As this happened not infrequently, one could detect evidence of it after the fact by the presence of condoms strewn sporadically over the sand or grass.

Other "gay" beaches in Singapore
[
]
Some gay Singaporeans from the current generation may wonder why, if the island is surrounded by beaches, there was only one gay beach. Fort Road beach was but one of many cruising venues along an enormously long stretch of coastal reclaimed land comprising individual beaches, shallow bays, granite promontories and canal outlets that spanned the entire distance from Marina Bay all the way to Changi point. Fort Road beach's cachet as Singapore's iconic gay beach was earned from the fact that it was the most isolated and inaccessible one, as well have having the largest expanse of beachfront area, inland forest, canals and tracks to cruise in. Along the expanse of reclaimed land fringing the sea were many other hot spots where gay men congregated. These included:
the eastern mouth of Marina Bay and the adjoining beach just beyond it - this stretch of reinforced concrete, granite and sand was more accessible to cyclists than Fort Road beach as it was closer to a main road with no necessity of traversing a secondary forested area to arrive at.
the beach at the East Coast Parkway adjoining the public changing room/bathroom/toilet next to

Big Splash

. The caretaker of the toilet was a gay uncle who closed one eye to the goings on. The more decent socialite gays use to go to this stretch of beach in the 1980s and 90s to see and be seen, mainly indulging in sunbathing, picnicking and chatting instead of the hard core activities that were taking place at Fort Road beach.

Big Splash

was also used for large gay events like a

Songkran

water festival by entrepreneur Max Lim and Fridae's post-

Nation party

.
The

East Coast Lagoon

- this venue, which required one to purchase a ticket for entry, also had a relatively cruising changing room/bathroom/toilet. In fact any public changing room with a bathroom and toilet along the East Coast was a magnet for gay cruising. That is what prompted the facility designers' decision to locate all the showers outdoors to deter hanky panky in an indoor location, shielded from the view of passers by. However, some intrepid nudists still took baths in the outdoor showers anyway, either at night or in the wee hours of the morning when footfall was sparse. Max Lim organised periodic mega gay dance events-cum-fun fairs at the lagoon in the late 1990s.
the stretch of beach between the current East Coast Park People's Association Outward Bound campsite and The SAFRA Golf and Country Club. To the immediate east of this area was also a relatively sheltered bay with a granite promontory which was visited by nudists.
Changi Beach just before Changi Point - this area is not served by public transport so only those who drive or ride motorbikes can get there without much effort. A deep clump of secondary forest and casuarina trees also blocks a view of the beach from passing motorists travelling along the main road. It was said that straight Gurkha soldiers used to visit this area occasionally and some were not averse to being propositioned by gay Singaporeans.

Tanjong Beach

at Sentosa - there was a small patch of trees at the eastern lip of the lagoon in which gay men could cruise under cover. When the authorities found out, they chopped down all the trees after two decades.

Tanjong Beach

is also visited by socialite gays for sunbathing but not cruising. Ticketed gay parties are sometimes organised here.
Those who were privileged enough to drive cars or ride motorbikes could indulge in what can be called "gay beach-hopping", that is, if they visited a stretch of beach that was not particularly happening during that time slot or did not encounter anyone who was their cup of tea, they would immediately drive off to another stretch to check it out and repeat the process until they found a situation worth their while. Obviously, it would take pedestrian cruisers or those who rode bicycles much more energy to accomplish the same thing.
Police entrapment
[
]
The increasing incidence of HIV in the gay community, mounting deaths from AIDS, complaints from the public and sensationalism in the tabloid press led to sting operations in which young, handsome plainclothes police decoys would act in an enticing manner at Fort Road beach to attract the homosexual men wandering around. When the cruisers touched the decoys sexually, they were immediately arrested.
In March 1992, the afternoon tabloid The New Paper headlined its front page with a single dominant scream, "AMBUSH ON GAY BEACH." Inside, the articles described an isolated, overgrown piece of land along Singapore's East Coast Parkway at the end of Fort Road. The beach there, the newspaper said, had become "a homosexual haunt."
Not one, but two reporters had been assigned to tell the story of the hidden male geography. "Homosexuals," the reporters wrote, "meet there daily to pick up partners and even have intercourse under the canopy of casuarina trees." The reporters had discovered "makeshift beds - sheets of newspaper laid snugly on the grass beneath trees." They had also deciphered what they considered to be the homosexuals' code for communicating: Men would sling backpacks over their shoulders and carry a bottle of mineral water in their right hands so they could be recognized as cruising for sex. A less common coded signal was to display a handkerchief sticking out of one's back pocket. The reporters had found "the area strewn with empty mineral water bottles" - apparently a sure sign not just of littering but also of rampant sex.
An accompanying photograph showed a man wearing a T-shirt, shorts, and sneakers. His face had been darkened so that he could not be recognized. He was carrying the requisite backpack and water bottle.
A second headline read: "I was caressed, says cop." In it, Detective Cpl Stephen Lim, 24, explained how he had gone to the beach to be a magnet. His job was to hang around the area until he was approached by homosexuals. The journalists described Lim as "clean-cut" and he was quoted as saying, "I suppose I look the part." Just to make sure, he and 3 other police officers had worn shorts and had carried backpacks and bottles of mineral water. Lim admitted, "It does feel uncomfortable to be caressed by another man, but I see it as part of the job."
He described how one man, a 39 year-old army officer, had approached him and the two had walked into the bushes, the young, attractive detective voluntarily placing himself in a situation in which he knew he might be touched. The older man had begun with a stroke and a slight kiss. Lim made no protest. The army officer slid his hand toward Lim's groin. At that point, but only at that point, "I identified myself as a police officer and placed him under arrest." Lim also signaled another police officer, a 22 year-old, who had been watching nearby. Six additional officers waited nearby to take suspects into custody as Lim and his partner continued to work the bushes.
The New Paper accompanied the articles with a photograph of four men who had been arrested, all in the requisite T-shirts and shorts. The men sat cross-legged on the ground, looking down, peering at their feet, towered over by six detectives. And, again, no voice. The second-day operation involved even more police than the first. Twelve officers plunged into the bushes, while three others provided backup. The New Paper also published small mug shots of the four who had been previously arrested and who had already pleaded guilty. Each had been fined 1,000 Singaporean dollars for violating Section 354 of Singapore's criminal code, "outraging modesty."
The most publicised entrapment operation occurred in September 1993 when 12 men were apprehended using decoys from Geylang Police Division Headquarters. They were all charged in court with outrage of modesty under Section 354 of the Penal Code. 6 pleaded guilty. They were sentenced to 3 strokes of the cane each and imprisonment ranging from 2 to 6 months. The names, ages and occupations of all 12 men were published in all major Singaporean newspapers. It is rumoured that one of the arrested men committed suicide.
Then, as quickly as they had appeared, the stories and the raids stopped. It was not constant enforcement or publicity that made Singapore's criminal prohibitions against male desires scary. It was the randomness.
Straits Times report
[
]
The following article reporting on the entrapment operation in September 1993 and its aftermath was published in The Straits Times on 23 November 1993. Even though the mainstream media referred to the location as "Tanjong Rhu", gay men who cruised there always used the name Fort Road beach or just Fort Road This event is therefore sometimes referred to as the "Fort Road incident". Tanjong Rhu is generally understood by most Singaporeans to be the residential area inland of Fort Road.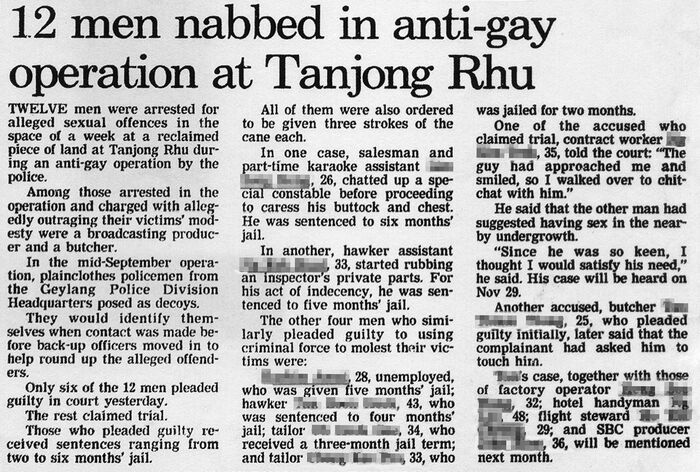 One of the accused, hawker Tan Boon Hock, then 43, told the court in late November 1993 that he had approached and struck up a conversation with a constable decoy, but no explicit agreement was made. Nonetheless, given the circumstances and location, Tan assumed that the other party was willing. However, as soon as Tan unzipped the undercover policeman's fly and touched his penis, the decoy identified himself and Tan was arrested.
Tan was charged under Section 354 of the Penal Code (outrage of modesty). It was quite odd that Tan and the other accused were not charged under Section 377A (gross indecency between males). It was perhaps because Section 354 permitted caning, and the Government wanted caning as part of the penalty to serve as a strong deterrent.
Tan pleaded guilty, probably hoping to be let off lightly, but was shocked to receive a sentence of 4 month's imprisonment and 3 strokes of the cane. He appealed against the sentence. The outcome of his appeal is described in a section further below.
Short film
[
]
This episode was immortalised in movie producer Boo Jun Feng's short film, "Tanjong Rhu"[2].
Reaction of gay community
[
]
The gay community was outraged by what they felt was a gross infringement of their right to consensual adult homosexual sex and the inhumane punishment meted out to the arrested men who had been instigated by agents provocateurs. Heterosexual Singaporeans could continue to have sex in parked cars and in secluded public areas with impunity, whilst homosexuals were being singled out for vilification.
Protest
[
]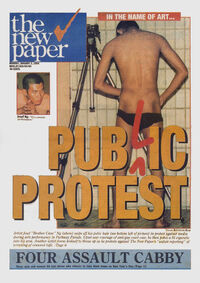 In response to both the entrapment exercise, the disproportionately severe punishments handed out and the sensationalist treatment of this as well as other gay-related news stories by the press, two Singaporean artists, Josef Ng (born in Thailand) and Shannon Tham, created performance pieces that the government clearly found threatening to the dominant order. Ng and Tham's works were presented in the context of a 12-hour New Year's Eve event which included numerous other performances, literary readings and live music. Early in the morning on Friday, 31 December 1993 at the 5th Passage Gallery which occupied a service corridor in Parkway Parade, a large suburban shopping center dominated by Isetan and Yaohan department stores, Josef Ng gave a performance entitled "Brother Cane", apparently alluding to the caning sentence meted out to the victims of the entrapment operation.
Immediately after it finished the gallery was raided by the police. The spectators, and there were many, dispersed rapidly. The gallery was closed. Ng and his collaborators were arrested. Ng was charged with committing an obscene act which he pleaded guilty to as a course of least resistance. Iris Tan, the gallery manager, was prosecuted for allowing him to do it.

Tan Boon Hock's appeal
[
]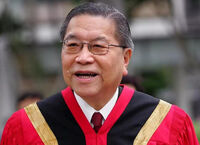 In April 1994, 7 months after his arrest during the police entrapment operation at Fort Road beach and 5 months after he was sentenced in court to 5 month's jail and 3 strokes of the cane, Tan Boon Hock's appeal was heard before Chief Justice Yong Pung How in the High Court.
In his judgment, CJ Yong commented that the appellant had not forced his attentions upon an unsuspecting and vulnerable victim. The complainant in the case was a young male police officer who had taken an active part in a police operation expressly designed to catch out gay men engaged in homosexual activity in a secluded area.
He added:
"I found it somewhat disquieting that an accused arrested as a result of such police operations should subsequently be charged with having outraged the modesty of the police officer he came into contact with... The accused, who is homosexual, meets another man in an area well known for being a homosexual haunt. He strikes up a conversation with this other man and, on finding him responding in a friendly fashion, assumes him to be a fellow homosexual. He then invites this other man to proceed to a more private spot, the intention being to engage in homosexual activity of some sort; and although this may not be explicitly articulated, it must be plain to both parties having regard to the circumstances of their interaction. It is at least arguable that as far as the accused can discern, there would appear to be little question of consent being forthcoming from this other man.

I am somewhat bemused that an accused caught in the manner described above should nevertheless be charged with the offence of outraging another's modesty. Indeed, how could the constable have been 'outraged' when he was expecting to be touched in the first place?"
CJ Yong allowed Tan's appeal and reduced the sentence to a fine of $2,000. The CJ noted that Tan had pleaded guilty and only appealed against the sentence, suggesting thereby that if Tan had contested the charge in the first instance, he would have been acquitted.
Even though this case concerned someone charged under Section 354 (outrage of modesty) and not Section 377A, the CJ's comments were fundamental enough to make all entrapment cases dubious.
This landmark judgment put a stop to all entrapment cases for almost 2 decades until another instance surfaced in 2010 at Jalan Kubor[3].

See also
[
]
References
[
]
Acknowledgements
[
]
This article was written by Roy Tan.