We're Getting Mutants in the MCU - The Loop
Play Sound
Happy was a gay disco which opened in August 2004 and was co-owned by impresario Alan Seah and film/theatre director and actor Glen Goei. Its official opening, however, was on 23 September 2004[1]. Happy took over when the previous disco, Taboo, vacated the premises, and added an adjoining unit which enabled it to have a more sizeable dance floor. Its address was #01-02/03/04, 21 Tanjong Pagar Road, Singapore 088444 (telephone number: 6227 7400, fax number: 6227 7440). The iconic gay club closed after operating for over two years.

External facade and interior decor
[
]
Photos by Alan Seah
[
]
Seah's notes[2]: The photos above depict the club layout on weekdays. One had a sense of arrival at Happy. On the left, metal glomesh curtains could be opened or closed depending on the size of the crowd. Wednesdays was disco night, and Thursdays was Happy's infamous night called 'REAR ENTRY (ENTRY FROM THE REAR)' where the front entrance was closed and its clientele had to 'enter from the rear' alleyway. $8 Martinis were meant to entice people out on Thursdays...and they did.
When coming in from the entrance, the club's logo was abstracted in gold. Round forms dominated in the club from the chandelier and the brass pipe-lined DJ console to the dance floor itself. The bar itself was made from terrazzo. The stools were heavy and round to continue the circular theme, and of course, all those pretty bottles of booze, gently lit. The bar was where the house cocktail, dubbed the 'happysexual', was born. 2 years into its operation, the red sofa was replaced with another bar. A lot of patrons liked the cushion covers so much that they used to get stolen!
A portrait of the "Happy boys" was hung on the lounge wall. Proprietor Alan Seah admits that he 'stole' this image from a postcard that used to be stuck on his refrigerator when he lived in New York City. The proprietors got a graphic designer to colourise it and blew it up huge. The image was originally shot by Gang Feng Wang and showed two brothers. People used to ask if it was a picture of Glen Goei and Seah. When they felt like pulling someone's leg, they would say 'yes'.
The proprietors also took great pride in Happy's flower arrangements done by the amazingly talented and multi-award-winning designer Harijanto Setiawan of Boenga, a floral studio renowned for its brilliant creativity and originality. The tree in the courtyard looked decidedly gay. This shot of it would have been from a special night, as it was not always draped with feather boas. An artistic shot of the row of 'love booths' is shown. Also, a view from inside one of the 'love booths' where many kisses, no doubt, were stolen.
It is said that one can judge the quality of an establishment by looking at its toilets. Happy did not disappoint with its huge circular urinal and smoked glass panels, most of which looked out into the club.
Innovations
[
]
To its owners, Alan Seah and Glen Goei, Happy was more than just a gay club - it was an opportunity to introduce novel experiences to the LGBT community. It was Singapore's first gay disco to publish an electronic newsletter which patrons could subscribe to via a mailing list to keep abreast of all its fun and fabulous happenings. More detailed information could be obtained by writing to events@happy.com.sg.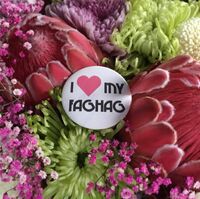 Five times a week, there were events like Piano Nights with live performances, drag performances by drag icons of the era, 70s Disco Nights, 'Rear Entry' lounge nights (where one had to enter from the rear alley to enjoy discounted $8 martinis) and one very special occasional party called Faghag appreciation night, a tribute to the male and female allies of the LGBT community who wore their support as a badge of honour[3]. To recruit a host for that night, the disco turned to the person who was obviously the best candidate for the job - actress Pam Oei, a self-professed and beloved fag hag of the proprietors. The latter made 'I ❤ My Faghag' badges (and, to be fair to the straight male allies, 'I ❤ My Fagstag' badges as well). All the queers in the village were encouraged to bring their fag hags to the party and it was a decidedly fun event. An intense and very prolonged fag hag arm wrestling competition was particularly memorable. In this manner, collectively with the owners' and patrons' fag hags and stags, led by Oei on stage, the club reclaimed the term 'fag hag' good and proper.
Happy was named "Singapore's hottest nightspot" by Wallpaper Magazine in 2005, breaking new ground by hosting international DJs, a first for a local gay club. It was also Singapore's pioneering socially responsible gay entertainment venue, with its SWEAT parties raking in more than SGD$25,000 for Action for AIDS.
Bartenders concocted their signature vanilla, vodka and lime cocktails called "happysexuals", which were gleefully sipped by celebrities and wannabes alike.

SWEAT
[
]
Happy was the first gay club to bring in guest DJs from Australia, Japan, London and New York for its monthly charity party called SWEAT held on the last Saturday of every month. It raised over SGD$25,000 for Action for AIDS, which the proprietors were mighty proud of. To the left of the DJ console, the club's 'flower wall' shielded its 'love seats' - cozy recessed areas that were partially shielded from the booming dance music. One could take a break from the louder dance floor area in the lounge, or even step out into the outdoor courtyard.
The following brochures from the SWEAT parties were posted by a former partygoer on Facebook[4],[5],[6]:

Patronage
[
]
Happy's customer base was overwhelmingly gay men, although straight clubbers and women were also welcome.
Opening times and events
[
]
Thursday was Lounge Night with martini specials being served. Entry on that day was from the rear portal, the front door being locked.
Fridays were a bit more relaxed.
Saturdays were jam-packed, with snaking queues visible almost all the way to Maxwell Hawker Centre. It was quite a sight to witness gay men queuing up to get into Happy on one side of Tanjong Pagar Road while another long line of women formed directly on the opposite side, waiting to get into the lesbian bar Moondance.
Sundays were mixed.
It was closed on Mondays and Tuesdays.
The disco was a participant in the Utopia member discount scheme.
Customers' comments
[
]
It received glowing reviews on the Utopia website:
"Happy is very nice indeed. Since it's opening in August 2004 I've been there several times, whenever I'm in Singapore. I especially like the lounge area at the back. Got to know the owner... a wonderful guy! Check it out!" -U., March 13, 2005.
"Spacious dancing space and very stylish New York club-like decor. Attracts same crowd as Taboo. - Damien F., August 11, 2004.
The following was Fridae's review of the venue[7]:
"This new kid on the block, still very much a minor considering it's all of five weeks old (its official opening will only be on September 23), is showing a ton of vigour and spunk. Ever since cleverly incepting itself just the week prior to Nation weekend, it's been steadily pulling in the crowds on Fridays and Saturdays - and now evidently, Sundays too. Perhaps it was the cunning move of snagging the party people during the nation's birthday week, as the positive word of mouth from then has just stirred up the vibe and kept interest afloat.
Located right smack in the gayville of Singapore, Tanjong Pagar, the club occupies the space where the old Taboo used to operate out of - but is at least twice as large as the former club since it's taken over the premises of the unit next-door. In all honesty, its name had initially drawn some flak and dubiety (I mean, talk about cheesy, why not just 'G-A-Y', right? But oops, that's been done in the UK already!), but the nightspot is certainly proving its mettle and proving its detractors wrong.
Boasting a decently sized dance floor (ok, it's no Zouk, but it's good enough for a once-upon-a-time shop house!), the place churns out a steady beat of classic and contemporary house anthems, helmed no less by Centro's former DJ Ramesh who handles turntable duties. Unlike many of the other gay locations in town, this place is surprisingly classy and contemporary, exuding in fact, a certain stylish designer chic. Perhaps it's the New York inspired decor and imported furniture that contributes to this ambience, but the general feel of a seductive lounge is definitely appealing and attractive. The Sunday-Night Boys here aren't quite from the stand-on-the-platform-and-preen school either; rather, the partygoers generally do seem more approachable and down-to-earth, and actually appear as if they're there to have a casual, good time and interact with others. And by that I mean chatting, not cruising!"
Closure
[
]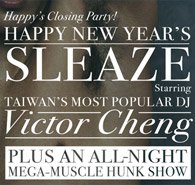 Happy closed it doors for good after a grand finale on Sunday, New Year's Eve, 31 December 2006. Well known and loved by gay clubbers not just locally but also abroad, the disco would also be remembered by Nation partygoers for organising the Pirates Paradise poolside party featuring DJ Severino in Phuket in October 2006. According to its weekly newsletter sent to partygoers, the building in which the club is housed, 21 Tanjong Pagar Road, had been sold. The event, from 10:30pm to 4am, was playfully called "SLEAZE" and featured Taiwan's most famous DJ, Victor Cheng spinning as singer-actress Pam Oei counted down to the new year, plus an all-night mega-muscle hunk show. Admission was SGD$25 inclusive of one drink and party pack (while stocks lasted). Happy also hosted the last Girls' Night Out party from 7pm to 4am with co-hosts Party Junkie on Saturday night, 30 December 2006 with no cover charge and boys welcome.
LGBT web portal Fridae had a heart-to-heart with co-owner Alan Seah who shared his thoughts about why "post-gay" Happy could perhaps be a little ahead of its time, the gay clubbing scene in Singapore and why "running away to Taiwan, Hong Kong and KL to be who we are for a weekend isn't the answer."
Fridae: Happy is going out with a big bang on New Year's Eve after over two years. How do you feel?
Seah: How do I feel? Of course I feel sad. Happy has been our baby and my whole life for the last few years. It is also sad to see a wonderful team - one that has worked damn hard - breaking up. But Happy has had an amazing run and while we could continue, I also feel that it's a good time for us to go. I'm glad to say that at the end of the day, the chief emotion I have is great pride in what we've achieved. While of course we weren't perfect, I think Happy did Singapore proud. I dare say Happy was a world-class club. One that so many visitors have told us that they wished they had in their own country. And one that the Singapore community was proud to bring their friends to. It also dragged the Singapore scene into the 21st century. Mostly for the better. Before Happy there were no international DJs in gay clubs, no connection with the booming Asian and international circuit (other than occasional and very welcome Fridae events of course), no attempt to draw people out on weekday nights, no special events...in other words no innovation. It is with great satisfaction that I know that Happy leaves the scene a very different place than when we entered it. Hopefully the scene will not stagnate after our departure. I urge new blood to take up the challenge to keep the scene fresh and competitive.
As for us, we always set out to be a whole new experience: A place that was inclusive. Of course we were first and foremost a gay club. But one where gay boys could bring their straight friends, where lesbians could feel comfortable and where drag queens could strut their stuff. I think that is progressive and the way forward. And perhaps a little ahead of its time. To all the people who complained that "there are too many girls in Happy" - well sorry you didn't get it - that was the whole point. We never set out to replicate existing clubs. We always knew who we were, and what the Happy brand represented. Don't get me wrong - there is always room for an all-boys club and having one (or more) is important. But that's not what Happy was about. Our very name "Happy" was meant to be post-'gay'. A place and a state-of-mind where we could break out of our ghetto-mentality and not consider our lives just 'taboo' (no offence implied), but to be happy being who we are and to be willing and be open and share it - in all its fabulousness - with the whole world.
Fridae: Which has been the most memorable party?
Seah: I would say that we're really proud of all our SWEAT parties. Our SWEAT parties raised more than S$25,000 (US$16,000) for Action for AIDS. Plus it was a vehicle to regularly spread the message of safer sex on a monthly and continuous basis. Especially in this day and age, gay establishments have an obligation to be socially responsible. As does every member of our society. I hope other clubs fill the vacuum we will leave. Other than that, another series of great parties we ran were our faghag appreciation nights. One that stands out was the one where we had faghag arm wrestling. We expected each contest to be over in a minute or two but it was amazing how those gals went at it for EVER! Plus the whole concept of Faghag appreciation night kinda summed up our whole brand and to me is totally unique. I have never heard of a faghag appreciation night at a club anywhere else in the world.
Fridae: How would you like Happy to be remembered by partygoers?
Seah: I just hope partygoers had a great time at Happy. That they met hot boys and had hot times together. That they met the love of their life at Happy. Heard music that broke the mould and danced like they've never danced before. And most importantly, that they felt a sense of community.
Fridae: What's your parting message to partygoers?
Seah: I'd like to say this: Don't give up on Singapore. Yes, it seems that our country doesn't want us to have fun here, let alone exist. But running away to Taiwan, Hong Kong and KL to be who we are for a weekend isn't the answer. Yes I understand why you feel you have to go away to play. And by all means go and have a blast with your fellow South and North- East Asian brothers and sisters. But do also invest your energy here in Singapore. More than ever we need to come together and be united here where - no matter what the government or other homophobic Singaporeans say - we do belong. While partying isn't necessarily the most eloquent political statement, it is a surprisingly potent one and something that can bind us together and make us stronger as a community. So support your local gay businesses, all of them. And party on!
See also
[
]
References
[
]
Acknowledgements
[
]
This article was written by Roy Tan.