We're Getting Mutants in the MCU - The Loop
Play Sound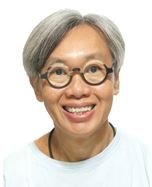 Dr Joseph Lo (born 1964) founded Singapore's pioneering LGBT equality advocacy group, People Like Us (PLU) in 1993. He is also a co-editor of the book People Like Us: Sexual Minorities in Singapore, published in 2003. After PLU's leadership was taken over by well known gay activist and sociopolitical commentator Alex Au in the mid-1990s, Lo took a back seat in the LGBT activist scene before leaving Singapore in 2010 to work for UNESCO.
Lo was awarded a doctorate in Culture and Design at Heriot-Watt University in 2015 after completing his thesis which was nominated for the annual MacFalen Prize for outstanding research. His groundbreaking work sought to give voice to the artisans themselves by allowing them to express their interpretation of 'authenticity' through identifying the limits of culturally acceptable change when faced with transformation of their traditional crafts towards more contemporary products. Through engagement with weavers in indigenous societies (in Bhutan and the Mosuo minority group in Yunnan, China) and using Harris Tweed production in Scotland as a comparative case study, the research demonstrated how artisans could be empowered in the production, promotion and sales of cultural artifacts and services, especially when expanding into non-traditional markets. The insights would support the transition of traditional cultural expression towards contemporary representations in a credible and confident manner. Lo's academic contribution has been to determine self-identified markers of authenticity in artisans' work. It speaks directly to striking a balance between protection and conservation of the community's identity with openness to design innovation and development from outside.
In 2013, as a consultant for the China Association of Ethnic Economy for a World Bank project, Lo executed a spot diagnostic examination to identify the most urgent needs for evidence-based interventions for the Yao ethnic minority group in Guilin, China. His recommendations included documentation of endangered cultural skills, knowledge and tradition, and to dialogue with local authorities and academic experts to identify the most significant items for recording.He also recommended linkage of future projects with UNESCO Bangkok for its Heritage Awards programme to assist in the active restorations and re-habitations of traditional old buildings.
In 2014, amalgamating a wide range of natural dyeing practices, he formulated a simplified method for natural dyeing and conducted natural dye training for the weavers from the Mosuo, Dai and Li ethnic groups. The natural dyed scarves and shawls woven by the Mosuo community were awarded the UNESCO/WCC Award of Excellence for Handicrafts (2014).
Lo is currently working as a Chief Consultant for the Smithsonian Institute's Centre for Folklife and Culture Heritage's programmes in Asia. Prior to his academic career and current post, he worked for numerous UN agencies on culture and development, specifically focusing on culture-based creative industry, artisan development and cultural diplomacy. Lo has over two decades of first-hand experience in China-Tibet, Bangladesh, Mongolia, Pakistan, Bhutan, China (with ethnic minorities), and with specific focus on Southeast Asian crafts - Indonesia, Laos, Mongolia, Myanmar, Thailand, and Vietnam.
His expertise includes designing and delivery of technical training and he specially developed a culture-based product development and design training for artisans. Lo also worked in craft industry data surveys and recently co-authored a chapter comparing statistics from Bhutan, China, Indonesia and The Philippines for a soon-to-be published book.
Lo's involvement with UNESCO's cultural industry framework has resulted in his development of the New Cultural Field, which he presented at Craft Forward conference in January 2016, Yangon, Myanmar and also at UNESCO's Cultural Heritage and Development Initiatives for Afghanistan in May 2016, Rome, Italy.
Throughout his career, Lo has always sought to challenge the mindset of local communities, stakeholders, governments, development agencies and NGOs, especially in the perception of cultural expression and practices – and in the face of globalisation, modernisation and development. He strongly believes that it is only through the dynamics of dialogue, mutual understanding and compassion that sustained development can be truly realized.

See also
[
]
References
[
]
Acknowledgements
[
]
This article was written by Roy Tan.