We're Getting Mutants in the MCU - The Loop
Play Sound
K Shanmugam is a lawyer and politician who is a member of the People's Action Party (PAP). He has been the Minister of Law since May 2008 and the Minister for Home Affairs since October 2015.
Shanmugam has commented publicly several times on LGBT rights in Singapore and also agreed to meetings with both pro- and anti-LGBT equality activists where he has listened intently to their viewpoints but endeavoured to maintain a neutral stance.
However, it was under his purview as Minister of Law that the Public Order Act was amended in November 2016 to prevent foreigners from participating in events at Speakers' Corner, Hong Lim Park, ostensibly mainly in acquiescence to homophobic complaints against the exponential growth in attendance at Pink Dot and the strong support the event received from among the most successful multinational companies in the world such as Google and Facebook which had very LGBT-friendly human resources policies.

Comments on Section 377A of the Penal Code
[
]
In 2009
[
]
On Thursday, 2 July 2009, a New Delhi high court issued a landmark ruling which overturned Section 377 of the Indian Penal Code, a 150-year-old British colonial law criminalising penetrative homosexual sex (see video:[1]). 3 days later, on Sunday, 5 July 2009, Shanmugam was asked by female grassroots leader Khartini Abdul Khalid during a dialogue session at Punggol Central Division whether it was time for Singapore, whose laws were "copied" from India by the British, to repeal Section 377A. Shanmugam replied "no" because Singapore society was "not ready" for it[2].
Shanmugam explained that India's laws on homosexuality had not changed, saying, "It is a court-interpreted decision. It wasn't a change of the law by the government." Instead, it was the New Delhi High Court's interpretation that "with the current evidence available and the current social situations in many parts of the world ... you can no longer consider homosexuality to be a wrongful sexual activity." He stressed that Singapore's courts were likewise free to interpret the law the same way. "Whether the courts will take the same interpretations, I don't know, but it's up to the courts."
Singapore had not repealed Section 377A despite appeals from some quarters to do so as the Government "cannot move ahead of public opinion". This was because while the Government had to "set the standard and take the lead" in many other areas, there remained areas where it had to "be careful about being ahead of public opinion." "If the majority of our population is against homosexuality, then it's not for the Government to say we are going to force something against the wishes of the people"[3], reiterating the Government's stance when a parliamentary petition to repeal Section 377A was intensely debated in 2007.
Sexuality and personal issues were some areas where the Government preferred to defer to public opinion. He said, "There is a group that is actively committed to saying that homosexuality is okay, but probably a majority of Singaporeans are still very conservative and say that this is totally not acceptable. So, the Government has to respect both sides."
He conceded that the current situation, in which the law against homosexuality was in place but not strictly enforced, "is a little bit messy"[4]. "We have to accept a bit of messiness. The way society is going, we don't think it will be fair to prosecute people who say that they are homosexuals. But at this time, our society is not ready for us to say we will pass legislations which say homosexuality is no longer an offence."
In 2014
[
]
In June 2014, when asked by Bloomberg News about the Section 377A constitutional challenge and its background, Shanmugam replied "The majority of the population still favours the current legal framework," [5]. He added that while society was evolving and social mores were changing, "the government has taken the position that this is a situation where it is best to agree to disagree."
In 2017
[
]
On 15 July 2017, Channel NewsAsia published a report on Shanmugam's interview with journalist Bharati Jagdish. Amongst the issues discussed was Section 377A and why it was being retained[6]:
"SECTION 377A – A DEBATE THAT SINGAPOREANS NEED TO HAVE
Bharati: Something else that you have been in the news for recently is statements against the harassment of any group due to their opposition or support for the LGBT community. Within some sections of the LGBT community, there are still some issues with Section 377A that criminalises sex between men.
Looking at it as a matter of law, the Ministry of Home Affairs has said before that it will not be proactive in enforcing this section against adult males who are engaging in consensual sex in private. But if the intention is not do anything at all, why have the law there? Some might say it's a bad law because it's on the books but not enforced.
Shanmugam: I can only refer you to the Prime Minister's speech. There was a whole debate on the matter. Our society is still largely conservative. Internal surveys show that two-thirds of the population either don't want any change in the law or actually want 377A to be enforced. It's therefore a slightly messy position that we have the statute; there is a large majority that either want to see it enforced or at least not removed. There is a minority who'd like to see things changed. The Government is in between.
I've said the debate speaks for itself – the MPs who spoke for it, MPs who spoke against it. The Government has not taken an ideological or dogmatic position on this. Our position has been – laws have to fit in with social mores. And today, given the state of public opinion, this is what is doable and we're at a landing where we think (it) is doable, and a sort of solution that works for our society.
People may not be happy with that – those who want to see it abolished will want to see it abolished, those who want to see it more strictly enforced will push for that and the debate has to take place. We aren't going to stop that debate. And this is a debate that Singaporeans need to have, and then come to a landing.
Bharati: But if we spoke about it just clinically, as a matter of law. There is a law in the books that's not enforced …
Shanmugam: We cannot speak about laws clinically because laws need support from the people.
Bharati: But while you say laws have to fit in with social mores, shouldn't laws also set the tone for social mores?
Shanmugam: The Government's position is to also lead and explain to people why certain things have to be done. But at the same time you also have to judge where the weight of public opinion is likely to be, particularly when the laws touch on, or are closely linked to social mores. And there cannot be too far a gap between a law and what people want. If there is, that law will not find favour. So the Government's duty is both to lead when it believes that it is good for the country, but also to be very careful about having laws in place that can command public support. And you cannot afford to just go and put something in that a large majority of people will instinctively reject.
Bharati: Of course I've spoken to some activists about this from an ideological perspective, and they are of the view that maybe you are surveying the wrong people. Do you think that it's time perhaps to again relook at the barometer?
Shanmugam: We don't do surveys to give us answers that we want. These are scientifically, systematically valid surveys. In the end, we are in Government, we have to do the right thing, and we have to understand what our people want. If we don't understand, or we get it wrong, the people will punish us.
Bharati: Yes, you've said this several times during this interview."
Shanmugam: It's something that runs through our thinking."

In 2018
[
]
7 September 2018
[
]
Following the landmark ruling by India's Supreme Court on Thursday, 6 September 2018 reading down Section 377 of the Indian Penal Code, a British colonial-era law criminalising gay sex, Shanmugam spoke to reporters the following day, on 7 September 2018.
He said that laws would have to keep pace with changes in societal views and it was up to Singapore society to decide which direction it wanted to take when it came to legislation on gay sex[7],[8]. While there was a growing minority who wanted Section 377A to be repealed, he felt that Singaporeans remained "deeply split" on the matter[9],[10],[11].

"Singapore...on this issue, it is a deeply split society. The majority oppose to any change to Section 377A - they are opposed to removing it. A minority - I have to say, a growing minority - want it to be repealed. The Government is in the middle. This issue relates to social mores, values - so can you impose viewpoints on a majority when it so closely relates to a social value system?"
His comments echoed those previously made by Prime Minister Lee Hsien Loong, who had said most Singaporeans would want to keep the statute, and that Singapore society "is not that liberal on these matters".
Shanmugam also recalled how founding Prime Minister Lee Kuan Yew had been "sympathetic" and "expressed his understanding for those who are gay".
He noted, "The law is there but generally there have been no prosecutions for private conduct. People openly express themselves as gay, you got the gay parade. Police even approved a licensing for it, no-one gets prosecuted for declaring themselves as gay. So really when was the last time someone was prosecuted?"
As for his own personal views on the matter, Shanmugam said, "Speaking for myself, if you ask me, in a personal capacity, personal view - people's lifestyles, sexual attitudes, (we) really should be careful about treating them as criminals or criminalising that."
"But again it will be wrong for me to impose my personal views on society or as a policymaker," he qualified. "We live our lives, live and let live. If one side pushes, you will expect a substantial push back."
Earlier that day, veteran diplomat Tommy Koh, who was Ambassador-at-Large at the Ministry of Foreign Affairs, had responded to the Indian ruling by encouraging Singapore's gay community to "try again" to challenge the constitutionality of Section 377A even though previous legal challenges in 2014 had failed[12],[13].
8 September 2018
[
]
On Saturday, 8 September 2018, Shanmugam spoke to the media on the sidelines of a Ministry of Home Affairs event about the recent Indian Supreme Court statement that the constitutionality of a law does not depend on public opinion[14]. He said that whether Section 377A will be repealed or amended will be a matter for Parliament to decide. Depending on the legislation, public opinion is "often relevant" during public policy-making in Parliament[15].

"That is the jurisprudential approach that many Courts around the world, including Singapore, take. What the public thinks, whether it's a majority view or minority view, these are usually not considerations. You look at the law and you compare it against the Constitution," he added.
However, when it came to whether a piece of legislation should be amended or repealed, that would be a matter for the Executive and the Parliament. In Singapore, the Executive comprises the Cabinet. "The Executive proposes and Parliament decides, and usually, depending on the legislation, public opinion can be relevant," he said.
When asked whether Section 377A can be challenged again in Singapore courts, Shanmugam said, "Technically, it is possible for people to bring a challenge and there are rules, jurisprudence on how such challenges will be dealt with by the Courts."
In 2019
[
]
Indian lesbian lawyer Dr Menaka Guruswamy was scheduled to deliver a 2-hour lecture at 6:30pm on Monday, 11 November 2019 at Yale-NUS entitled, "Litigating Freedom: The Battle to Overturn Indian Penal Code Section 377". A petition against the event was posted on CitizenGo, a website that described itself as a community that sought to "defend and promote life, family and liberty". It was started by a certain Esther Lee, addressed to Shanmugam and had attracted more than 10,000 signatories. Several anti-LGBT Facebook groups, including We are against Pinkdot in Singapore and Singaporeans Defending Marriage & Family had also voiced their opposition against the event. Some described it as interference by foreigners in Singapore's affairs[16],[17].
In response to these objections, Shanmugam posted an update on his Facebook a few hours before the lecture started saying[18]:
"Several people have written to me, objecting to a talk to be given by Dr Menaka Guruswamy, today. The talk is organised by Yale-NUS College. She is slated to speak on what happened in the Indian courts, on Section 377. There is also a petition asking the Government to stop her talk. The main objection appears to be that legal challenges to (Singapore's) Section 377A are about to be heard in Court, and this talk could be sub judice.
I don't see a significant risk of sub judice. Dr Guruswamy is a Senior Advocate of the Supreme Court of India. One may agree or disagree with her views, but I am sure she knows about rules relating to sub judice; and I don't see an objection to her speaking about the law, and what happened in the Indian Supreme Court, where their Section 377 was successfully challenged."
He added that the talk was unlikely to prejudice Singapore's courts despite several ongoing cases questioning the constitutionality of the city state's version of the law, Section 377A.

In 2021
[
]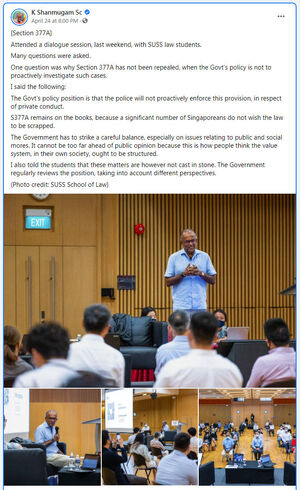 On 24 April 2021, Shanmugam made the following post on his Facebook[19]:
"[Section 377A]
Attended a dialogue session, last weekend, with SUSS law students.
Many questions were asked.
One question was why Section 377A has not been repealed, when the Govt's policy is not to proactively investigate such cases.
I said the following:
The Govt's policy position is that the police will not proactively enforce this provision, in respect of private conduct.
S377A remains on the books, because a significant number of Singaporeans do not wish the law to be scrapped.
The Government has to strike a careful balance, especially on issues relating to public and social mores. It cannot be too far ahead of public opinion because this is how people think the value system, in their own society, ought to be structured.
I also told the students that these matters are however not cast in stone. The Government regularly reviews the position, taking into account different perspectives.
(Photo credit: SUSS School of Law)"

In 2022
[
]
Response to Court of Appeal's ruling on Section 377A Constitutional challenge
[
]
On Thursday, 3 March 2022, MP Derrick Goh from Nee Soon GRC asked about the Government's position on the Court of Appeal ruling while speaking during the Parliamentary debate on the budget of the Ministry of Home Affairs[20],[21],[22]. In response, Home Affairs Minister K Shanmugam noted that the Government had explained its stand on the issue when the Penal Code was amended in 2007, but Section 377A was left unchanged. During the parliamentary debate on the issue at that time, Prime Minister Lee Hsien Loong had said Singapore wants to be "a stable society with traditional heterosexual family values, but with space for homosexuals to live their lives and to contribute to society. Among them are some of our friends, our relatives, our colleagues, our brothers and sisters, or some of our children... our kith and kin," PM Lee had added. Referring to Lee's remarks in 2007, Shanmugam reiterated: "This remains our stand today." [23],[24]
He noted that the issues surrounding Section 377A were deeply divisive, and that is why Singapore had taken a "live and let live approach". "We seek to be an inclusive society, where mutual respect and tolerance for different views and practices are paramount," he added. That is why the Government had taken the approach that while Section 377A remained on the books, there would be no proactive enforcement. He said that the AGC took a similar approach. Under the law, there were protections for the LGBT+ community, he explained, citing how the Government had expressly included in the Maintenance of Religious Harmony Act that any attack on any member of the LGBT community because of his or her identity, or on LGBT+ groups, would be an offence, and would not be tolerated. "LGBT individuals are entitled to live peacefully, without being attacked or threatened," he quipped. "Likewise, any attack on any other group, based on their religion or religious beliefs, even if those beliefs run counter to values held by LGBT+ groups, will not be acceptable."
Shanmugam said Singapore's emphases on gradual evolution and on traditional families remained constant. However, he pointed out that social attitudes towards homosexuality had gradually shifted since the issue was last discussed in Parliament in 2007. He noted that many, especially younger Singaporeans, believe that consensual sex between men should not be deemed a criminal act and should not be criminalised. "One of the things that upsets the LGBT+ community is that many feel that their experience of being hurt or rejected by their families, friends, schools, companies - is not recognised, indeed often denied," he elaborated. At the same time, there was also a large majority who wanted to preserve the overall tone of society. This segment wanted to uphold the traditional view of marriage as being between a man and a woman, and believed that children should be raised within such a family structure. "Their concern is not Section 377A per se, but the broader issues of marriage and family. Many amongst this group also support decriminalising homosexual sex between men," he explained. "Both these viewpoints are valid and important," the minister stated.
He also noted that the Courts had said the current legal position reflected society's norms, values and attitudes. In successive judgments over the years, the Courts had consistently taken the position that these were highly contentious social issues that should be decided by Parliament, and that the heterosexual, stable family remained the social norm. On the latest judgment by the apex court, Shanmugam said the Court's opinions aligned with the Government's approach in dealing with Section 377A, as well as the approach the Government intended to take as it considered the changes in Singapore's social landscape since 2007. For instance, the Court had noted that the compromise which Singapore had struck, in respect of Section 377A, was unique, and described the approach as one that preserved the legislative status quo, while accommodating the concerns of those who were directly affected by the legislation. "The Court recognised that the Government did this in order to avoid driving a deeper wedge within our society," he said. "It also noted that Singapore's approach seeks to keep what to do with Section 377A within the democratic space."
He added that the Court had also highlighted the importance of creating space for peaceful co-existence among the various groups, especially since the balance between the various interests around Section 377A has grown more delicate. Socially charged issues, such as whether or not to repeal Section 377A, called for continued discussion and open-ended resolution within the political domain, where consensus could be forged, rather than for win-lose outcomes in court. "In this way, we can accommodate divergent interests, avoid polarisation and facilitate incremental change," he concluded.
Response to question on changes to sexuality education if 377A repealed
[
]
On Friday, 11 March 2022, in response to a question at the State of the Family 2022 event organised by conservative Christian organisation Focus on the Family Singapore on whether there would be changes to sexuality education if Section 377A were repealed, K Shanmugam said that the Government would work through the potential impact and consequences[25]. Regarding his recent parliamentary statement, he explained that it was carefully considered and delivered on behalf of the Government. All individual ministers were bound by the Cabinet's decisions on Government policy and they should refrain from expressing their own personal views on the matter, he added at the event organised by Focus on the Family Singapore, a conservative Christian organisation. He noted that one of the questions posed at the event showed that the concern of many was not Section 377A per se, but its consequences if the law were repealed, adding that it was something the Government was aware of and must deal with. He stressed that there were two valid and important viewpoints that the Government would consider in dealing with this matter - one viewpoint was that the vast majority of Singaporeans believed that a heterosexual marriage between a man and a woman remained the fundamental building block of society, and the other was that many Singaporeans, including those who held the first viewpoint, believed that private consensual sex between men should not be criminalised and wanted to see Section 377A repealed.
Response to Stephen Sackur's questions on BBC's Hard Talk
[
]

On Wednesday, 29 June 2022, Shanmugam explained the Government's stance on Section 377A, among other issues, to British journalist and presenter Stephen Sackur in a 24-minute podcast episode of the BBC's HardTalk, billed as a programme where interviewees are asked hard-hitting questions[26],[27],[28],[29],[30],[31],[32],[33].
Transcript:
Sackur: Now, let's move on from drugs. Another aspect of your social policy, and that is the fact that in Singapore, homosexuality is still defined as a criminal act. Now that's not saving lives. So, what on earth is the justification for that?
Shanmugam: The position in Singapore is that people engaging in gay sex will not be prosecuted. Even though there is this old piece of law which makes gay sex among males an offence, the Attorney-General has confirmed their position, and the Supreme Court has said that the Government's position has legal force. Why are we taking this approach? Because a significant proportion of our population, the middle ground as it were, don't want that law repealed. Attitudes are shifting somewhat, but still, governments cannot, the Singapore Government cannot ignore those views. So, we have arrived at this sort of messy compromise the last 15 years and we have taken this path because these issues are difficult. They are not easily settled. And we have made clear, LGBTQ+ (lesbians, gays, bisexual, transgender and queer) individuals are entitled to live peacefully without being attacked or threatened. We have in fact laws that protect the community.
Sackur: What is the message sent? What is the message sent to gay men in Singapore that you are not prepared to remove that section 377A of your criminal code, which quite explicitly says that gay sex between men is illegal? That simply encourages, does it not, a culture of shame and homophobia?
Shanmugam: As I said, you know, this is a compromise that we have arrived at, because of where our society is. And if you believe in a democracy, you've got to take into account where your main ground is. And let's face it, it's not as if others have solved the issue. A Supreme Court judge from the US suggested a few days ago that court decisions on legality of gay sex and same sex marriage may have to be reconsidered. But our approach (is) to deal with these issues in Parliament, and I've said earlier this year that we are relooking our laws, and our laws have to change and keep pace with the times. And in a Singaporean way, we are engaging in a wide set of consultations to try to arrive at some sort of landing.
Sackur: Minister, I'm listening very carefully to your words. They're very interesting. And if I say to you, say you know public mood and public opinion matters, I say to you that one of the leading polling agencies, Ipsos, in Singapore has found "a steady shift in societal attitudes led by younger adult Singaporeans, who are more ready to see the country now properly embrace same-sex relationships". So, if that's the reality, are you saying to me that we can expect, in the near future, your government to actually strike off Section 377A and make it clear to gay men in Singapore that they can be open about their sexuality with no fear that anybody is going to regard them as criminal?
Shanmugam: There are two points. First of all, the Ipsos survey seems to us a little bit of an outlier in the context of other surveys, internal and public, that we have. At the same time, I did say to you that attitudes are shifting, but I'm not quite sure they are shifting as much as what Ipsos has said. The second point is, I said that we are in deep consultations with stakeholders, including LGBTQ+ community, as well as others. And you know, in a system of Cabinet responsibility, what we are going to do can only be announced once a decision is reached. I'm in no position to answer that question with finality at this point.

Meeting with Sayoni
[
]
On 6 October 2012, Jean Chong of Sayoni, frustrated with the state of institutionalised discrimination against Singapore's LGBT citizens, left a note on Shanmugam's Facebook page[34]. Chong wrote of friends leaving and the National Conversation making no effort to acknowledge that LGBT people were Singaporeans too. She highlighted Sayoni's trip to the United Nations in 2011 to present its shadow report detailing the kind of discrimination that the government so often denied. She said that if LGBT Singaporeans were not wanted, he should tell them, so that they could all forget the struggle and move on to wherever they needed to be.
Shanmugam replied, "There can be no suggestion that LGBT citizens are not wanted. The bigger question is, with the diverse viewpoints in our society and often held strongly by various groups, the government is often caught in the middle trying to decide what would be acceptable to the majority." He further agreed to a meeting with representatives from Sayoni which subsequently took place on 27 November 2012.
On 4 January 2013, Shanmugam posted a short note on Facebook about the meeting[35]:
"I recently met up with some activists from Sayoni, a Singapore-based platform for lesbian, bisexual and transsexual Asian women. I found the discussion useful. They posted a description of our meeting on their blog."

Meeting with Full Gospel Business Singapore
[
]
On Thursday, 24 January 2013, The Straits Times reported that Shanmugam had received more than 50 e-mails on the issue of homosexuality since he disclosed 3 weeks prior that he had met up with gay activists from Sayoni[36]. These e-mails were in addition to almost 1,500 online comments left on 3 of his Facebook posts. However, he did not reveal the content of the e-mails. Shanmugam said that on Tuesday, 22 January 2013, he had met 14 members of a Christian group - Full Gospel Business Singapore (FGBS) - and a few other individuals but declined to disclose what was discussed[37],[38].
FGBS, an interdenominational group of Christian professionals, posted a report about the meeting on its Facebook page and Shanmugam wrote a message containing a copy of the report on his page on the night of Wednesday, 23 January 2013[39]:
"I had earlier said that yesterday I met with a group of people from a Church group and some others who had wanted to meet me to discuss LGBT issues. The group (Full Gospel Business Singapore) has put up a post on its FB on the meeting.
Here is the post that they forwarded to me:
"A 14-member delegation led by the President of Full Gospel Business Singapore (FGBS) met with Mr. K Shanmugam, Minister for Law and Minister for Foreign Affairs on 22 Jan. The feedback is as given below:
1. We had a positive, lively and at times, spirited discussion.
2. Minister shared his views in a very candid manner. He came across as sincere and open and spoke from his heart.
3. We welcomed and accepted the Minister's suggestion for a continuing dialogue so that we can all help make Singapore become a better place for all.
4. We thank the Minister for his warmth and friendly conversation with us.
5. One of those present commented: "The Minister's approach is very refreshing. He is very open, listens carefully, and engages deeply. It was an excellent dialogue."

Meeting with LoveSingapore
[
]
On Friday, 15 February 2013, Shanmugam met with the leaders of LoveSingapore, a network of 100 churches, to discuss views on the gay community[40]. In a Facebook post the following Monday, 18 February 2013, Shanmugam said that Faith Community Baptist Church pastor Lawrence Khong had asked to meet him, following Shanmugam's dialogue with queer women's group Sayoni. The post stated that he met with Khong, who headed LoveSingapore, as well as other pastors like Yang Tuck Yoong of Cornerstone Community Church and included a link to a report written by Khong on the LoveSingapore Facebook page[41],[42],[43]:
"15th February 2013 was Total Defence Day. Interestingly, in the afternoon of that same day, our LoveSingapore Team met with Mr K Shanmugam, Minister for Law and Minister for Foreign Affairs to talk about defending the moral future of our nation! It's our first time meeting the Minister in person. Often first impressions are lasting impressions. We came away inspired. Here is a man in high office and he has no airs! The Minister is a very good listener. His personable style sets the ambience for respectful dialogue. And so, YES, we enjoyed our conversation with the Minister on a hot and emotional topic - the LGBT issue - looking at it through different lenses and from many angles. He explained the multiple viewpoints on the topic, his engagement with many different groups, and how their viewpoints differed. In response to our query, the Minister stated that the position of the government on S377A is as set out by the Prime Minister in Parliament in 2007."

Meeting with Oogachaga
[
]
On 17 February 2015, Shanmugam had a discussion with two staff members from Oogachaga and penned the following message on Facebook[44]:
"Met with Bryan Choong and Leow Yangfa yesterday. Both work for Oogachaga Counselling and Support. This is a non-profit organisation which offers counselling and personal development for LGBTQ individuals. They spoke about discrimination against persons from the LGBT community, and in particular transgender persons. They also spoke about the bullying that goes on in schools. They also discussed some ideas on how such discrimination can be reduced, and society be made more tolerant."

Statements in aftermath of Orlando shooting
[
]
In the aftermath of a massacre at a gay nightclub in Orlando, Florida, on Sunday, 12 June 2016, when a lone attacker named Omar Mateen gunned down some 50 people in the deadliest mass shooting in American history, Shanmugam posted the following message on Facebook on the night of Tuesday, 14 June 2016[45]:
"Orlando Shooting
This evening, I joined the Iftar at Khadijah Mosque.
I was asked by the media about the Orlando shooting incident. I said: The motives of the gunman are not yet clear. Investigations are continuing. But it looks like the gay community has been targeted. This is unacceptable. Violence against any group and any form is not acceptable. Here, the Government will act decisively, if there is threat or violence against anyone or any group.
The Government's duty is to protect everyone. Their race, their religion, their sexual orientation - these are not relevant in terms of the Government's duty to protect. We have a duty to protect everyone. And I think in this incident, (it) again highlights the threat of terror, whether it's targeted at religious groups or whether it's targeted at specific people, individuals. And we, as Singaporeans, have to come together, unite together to fight this terror.
The Iftar was organised by the Religious Rehabilitation Group (RRG).
Home Team News (Singapore)"

Earlier that evening on 14 June 2016, Shanmugam also responded to reporters' queries on the shooting incident and on terrorism:
https://www.youtube.com/watch?v=m3NYM4UBpEU
https://www.youtube.com/watch?v=fC0XCKgeqXw
https://www.youtube.com/watch?v=y5wJr0IKdo8
Conversation with Bryan Choong of Oogachaga
[
]
In June 2017, Oogachaga invited Shanmugam, to have a conversation on issues important to the LGBT community. The Minister visited the Oogachaga office in Chinatown and agreed for the meeting to be videoed. The two issues discussed were:
Oogachaga's work with those affected by drug use in the LGBT community and
public criticism of Pink Dot.
During the meeting, Oogachaga was represented by professional counsellor and former executive director, Bryan Choong. There was a frank exchange with the Minister on the Government's views regarding these issues[46]:
Comments on battery of lesbian couple in London
[
]
On 8 June 2019, Shanmugam posted the following message to his Facebook timeline and included the link to a BBC article entitled, London bus attack: Arrests after gay couple who refused to kiss beaten[47].
"[Gay couple beaten up in London]

I saw this report.

Gay couple got beaten up because they stood up to bullying, in the UK.

I understand suspects were arrested. Everyone, regardless of race, religion, sexual orientation, must feel safe in society. And in Singapore, I have said that Government has a duty to ensure that."
Visit to The T Project shelter
[
]
On 2 October 2019, Shanmugam posted a status update on his Facebook describing his visit to The T Project shelter, Singapore's first and only social service for the transgender community[48],[49]. The T Project was set up in June 2014 by June Chua, and her late sister, Alicia Chua. They first decided to open a shelter that would serve as temporary accommodation of up to 6 months for anyone in the community who was homeless.
In his post which was accompanied by 6 photographs, Shanmugam wrote:
"I went to visit The T Project shelter.
The T Project is Singapore's first and only social service for the transgender community.
The transgender community faces enormous challenges. The T Project offers help to those who have fallen through the cracks because of family issues.
They provide counselling, job opportunities and most importantly a safe space.
June, the founder of the T project, is devoted and commited to the cause."
In response to his post, The T Project commented on its Facebook page: "We are all really honoured and humbled to welcome Minister K Shanmugam Sc to our shelter. Words cannot express our gratitude Minister and everyone who made this possible. This is a very big step forward in having better social support for the transgender community in Singapore. We will continue to do our best to serve our community and bridge the gap with society. Look forward to bigger and better news in the near future!"

Comments on Explanatory Statement to MRHA
[
]
In 2019, the Maintenance of Religious Harmony Act (MRHA) was amended by Parliament to protect both religious groups as well as non-religious ones, like the gay community. An Explanatory Statement to the MRHA, passed in Parliament in the first week of October 2019, was added to the Act and specifically referred to the LGBT community, stating that it would be an offence to use force or violence against it on the grounds of religion[50].
In a Facebook post on Saturday, 12 October 2019, Shanmugam mentioned a recent dialogue he had with a group of people from the LGBT community, who had told him "that they sometimes felt targeted as a community"[51],[52]. He mentioned the Explanatory Statement appended to the MRHA which specifically referred to them and made it clear that the use of violence against the community on religious reasons would be treated as an offence.
Shanmugam affirmed that it was the government's stance that everyone must feel physically safe and secure in Singapore. He added that this meant zero tolerance on threats made against anyone, whether because they were of the LGBT persuasion or because of their religious affiliations. He also noted that it was a concern of the LGBT community that this position be officially stated - hence the explanatory statement. However, he also said that the converse applied to the LGBT community - any of them (or anyone for that matter) targeting a member of a religious group would also be considered an offence.

See also
[
]
References
[
]
Acknowledgements
[
]
This article was written by Roy Tan.