Jurassic World: Dominion Dominates Fandom Wikis - The Loop
Play Sound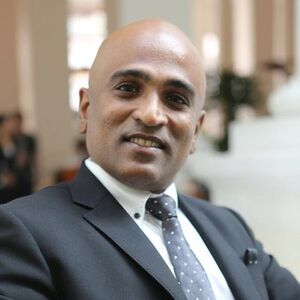 M Ravi began his legal career in civil and criminal litigation and has had the opportunity to work in a wide range of legal areas including family law, commercial law, intellectual property law, criminal law and constitutional law. He has taken a courageous stand against the mandatory death penalty, argued for the right of assembly, freedom of expression, the right to elections and equality for the LGBT community. Because of his advocacy for these issues, he has come to be seen as Singapore's leading human rights lawyer, one of the few willing to battle away on these matters of import.
Taking up the cudgel of human rights in the Lion City is often perceived by the authorities as an act of disloyalty, and those labelled as disloyal can see their own rights and liberties trampled upon. However, Ravi's immense spirituality imbues him with the commitment and moral strength to continue on this sometimes perilous path.
Ravi has been involved in some of the most high-profile and politically sensitive constitutional cases in Singapore since the early 2000s. He has represented opposition political figures and human rights defenders in a range of cases.
Ravi is actively leading the anti-death penalty campaign to abolish the death penalty in Singapore. He frequently represents those accused of capital offences. He addressed the European Parliament's sub-committee on Human Rights in 2007. He is also involved in clinical legal education across Southeast Asia and participates actively in civil society initiatives on the ASEAN Human Rights mechanism. He has been invited as a speaker at various regional and international human rights conferences and forums around the world.
Ravi's first foray into the political arena was seen in the 2015 general elections where he stood as a candidate for the Reform Party, concomitantly laying a milestone as Singapore's first openly pansexual politician.

Educational background
[
]
Ravi graduated in 1993 from the National University of Singapore (NUS) with a degree in political science and sociology. He furthered his studies at the University of Cardiff in the UK, graduating as an advocate and solicitor and was admitted to the Singapore Bar in 1997.
Landmark human rights causes
[
]
Abolition of capital punishment
[
]
M Ravi's work in human rights began in 2003 with the defence of Vicknes Moorthi who was facing capital punishment. Since that time, Ravi has continued to represent clients on Singapore's death row and to advocate for the abolition of the death penalty worldwide.
Appeal for life of Yong Vui Kong
[
]
Yong Vui Kong (born 23 January 1988) is a Malaysian citizen of Hakka Chinese descent who was sentenced to death in Singapore for trafficking more than 15 grams of heroin in 2007. In May 2012, two days before Yong's scheduled execution, Ravi made an application for a stay of execution pending a High Court hearing of an appeal. The Court of Appeal had previously not heard Yong's case as his defence lawyer had withdrawn it. The judge decided that he was not in the position to make the decision for the Court of Appeal and granted the stay of execution. Largely owing to Ravi's efforts, Yong's sentence was reduced to life imprisonment and caning as a result of Singapore's amendments to the Misuse of Drugs Act.
Defending Cheong Chun Yin
[
]
In October 2010, Ravi took up the appeal for Cheong Chun Yin, who was arrested in Singapore three years before and charged with trafficking in 2.7kg of heroin. To this day, Cheong maintains that he had believed himself to be carrying gold bars concealed for the purposes of tax evasion. He had assumed that gold bars had been hidden in the lining of a bag handed to him in Myanmar, and nothing had happened during the journey to suggest otherwise.
Ramalingam Ravinthran v. Attorney-General
[
]
In a Constitutional challenge on the ambit of prosecutorial discretion, Ravi argued that the prosecution leading to his client's conviction of two capital charges of drug trafficking was unconstitutional. The specific ground relied on was an alleged violation of the right to equality before the law under Article 12(1) of the Constitution of the Republic of Singapore which occurred when the Attorney-General decided to charge the Applicant with capital offences while charging, a person complicit in the same criminal enterprise, with non-capital offences.
International Advocacy
[
]
European Tour
[
]
In July 2006, Ravi embarked on a speaking tour in Europe to promote awareness about human rights violations in Singapore and to campaign against the imminent execution of two Africans, 21 year-old Nigerian footballer Iwuchuku Amara Tochi and South African Okele Nelson Malachy.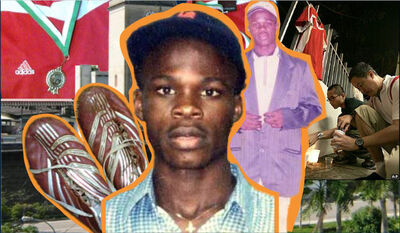 Tochi was only 18 years of age when he was arrested. Ravi later met Tochi in prison and described him as innocent-looking and naïve which explained why he was very trusting of Smith, the man who asked him to deliver a fateful package containing drugs and willingly did so[2]. Ravi's presence renewed his very slim hope and strengthened his resolve to push for the death sentence to be commuted. Subsequently, Ravi made a trip to Germany, Sweden and Hungary to create awareness and call the attention of the world to the impending execution.
Appeal in Nigeria
[
]
In August 2006, Ravi flew to Lagos, Nigeria, where he spoke with Tochi's uncle and brothers, as well as Princewill of the Civil Liberties Organization (CLO), one of the most vocal groups involved in the promotion of human rights in Nigeria. From there, Ravi and Princewill flew to Abuja where they convened with lawmakers to urge them to use their platform to push for Nigeria to take the case up at the International Court of Justice. He also appeared on TV with a member of the CLO for media exposure. Ravi commented on the slow pace of how things moved in Nigeria in a case that required speed and action. He also beseeched the Nigerian National Assembly to appeal for clemency on behalf of his client. This led to Nigerian President Olusegun Obasanjo appealing directly to Singapore's Prime Minister, Lee Hsien Loong, for clemency for Tochi in January 2007. Unfortunately, clemency was denied.
By the time he left Nigeria, it did not look like much had been achieved, especially regarding what was expected of the Nigerian government. Before his departure from the country, he took with him Tochi's jersey and shorts as symbolic items to show the world the young man had only been interested in football. He would ultimately hang them on the fence of Changi Prison the night Tochi was executed. Ravi was facing a one-year suspension from legal practice at the time and therefore could not visit Tochi during his final hours. In lieu of this missed farewell, Tochi wrote him a heart wrenching letter which still makes tears well up in Ravi's eyes to this very day, even after handling numerous death penalty cases since the early 2000s and conditioning himself to be clinically detached as a professional[3].

European Parliament briefing
[
]
In 2008, Ravi returned to Europe and during an internship at the EU Parliament, he presented a briefing paper to the Directorate General on External Policies on the death penalty in Singapore.
Political defamation suits
[
]
LGBT equality
[
]
Section 377A Constitutional challenge
[
]
Main article: Section 377A constitutional challenge
On 24 September 2010, M Ravi, acting for Tan Eng Hong, initiated a constitutional challenge to Section 377A of the Penal Code, a law that makes "gross indecency" between two men a crime in Singapore, punishable with up to two years' imprisonment.

Article 12 Constitutional challenge for LGBT workplace equality
[
]
Constitutional guarantee of right to parliamentary representation in by-elections
[
]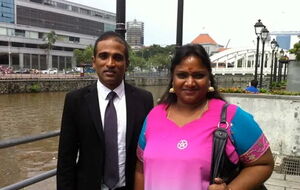 After 20 years without by-elections, some constituencies were left politically disenfranchised for two years at a time. On 15 February 2012, the People's Action Party (PAP) Member of Parliament (MP) for Hougang Single Member Constituency (SMC) was expelled from his political party, which left his parliamentary seat vacant.
The next day, Prime Minister Lee Hsien Loong said that there was no fixed time within which he must call for a by-election. He added that "there are many other issues on the national agenda right now". In parliament he said he would decide whether and when to hold a by-election. The use of the word "whether" implied that he had unfettered discretion not to hold one. Up to this point in time , PM Lee Hsien Loong and Lee Kuan Yew had erroneously interpreted the Constitution thinking they had the authority and this misconception had resulted in there being no by elections called in Singapore for 25 years.
Unhappy at being indefinitely left without an MP to represent her, Hougang resident Vellama d/o Marie Muthu, represented by her lawyer M Ravi, challenged the Prime Minister's decision by applying to the High Court. In March 2012, she filed an appeal asserting that parliamentary representation was not discretional, it was a constitutional right. Before her case came up for hearing, PM Lee called for the Hougang by-election to be held. On 5 July 2013, the Court of Appeal determined that the Prime Minister did not have unfettered discretion as to whether a by-election must be held.
In the following video, Professor Kevin YL Tan delves into the history of the constitution on elections and how significant Vellama's case was to clear up certain doubts. He tackles the question of whether the right for Singaporeans to vote is enshrined in the constitution and explains why it was a historic decision[4]:
The above session, held at The Agora, organised by Function 8 and coordinated by Teo Soh Lung, was moderated by Jeannette Chong-Aruldoss with Prof. Tan and Ravi on the panel. Vellama received a standing ovation for courageously fighting for the constitutional right of all citizens to have a by-election all the way to the highest court in the land despite threats of cost orders by the State and for eventually winning the case.
Freedom of religion
[
]
Falun Gong Supporters Arrested
[
]
In September 2006, Ravi took on the defense of Ng Chye Huay and Erh Boon Tiong, arrested by the police and charged for writing on a banner: "Stop persecution of Falun Gong in China." The words, according to the prosecution, were insulting because the allegation of persecution of Falun Gong in China, they contended, was untrue.
Defending Thaipusam
[
]
In January 2011, Ravi took a stand against new guidelines pertaining to the festival of Thaipusam, imposed by the Government through the Hindu Endowments Board, that he claimed were in breach of the Minority Rights guaranteed under Article 12 of the Constitution of the Republic of Singapore.
Freedom of speech and assembly
[
]
SDP's right to freedom of speech
[
]
In May 2008 and again in October 2012, M Ravi defended the Singapore Democratic Party members' right to free speech and freedom of assembly. First, in a defamation suit over an article that the SDP published that was critical of the Singapore government. Later, when the SDP leadership was convicted of holding an assembly without a permit on National Day 2008. With M Ravi, they bid to have their case heard at the Court of Appeal. Their bid was rejected.
Defending Alan Shadrake
[
]
Alan Shadrake's book, Once A Jolly Hangman: Singapore Justice in the Dock, alleged a lack of impartiality in the implementation of Singapore's laws. Ravi acted on Shadrake's behalf in July 2010, after the author was arrested when he visited Singapore to launch his book.
Awards
[
]
Asia Pink Awards 2014
[
]
In honour of his work on the Section 377A constitutional challenge and the Article 12 Constitutional suit for equal protection of LGBT people in the workplace, Ravi was one of the 3 Singaporean recipients of the inaugural Asia Pink Awards organised by ELEMENT magazine. The event was held at 7:30pm at Dream Factory, 76A Peck Seah Street on Sunday, 16 March 2014.
Talks & speeches
[
]
Book launch of "Kampong Boy"
[
]
Ravi launched his autobiographical book entitled "Kampong Boy" at The Play Den, located on the second level of The Arts House, on Saturday, 27 April 2013. During the Q&A session, he responded to Roy Tan's query on what drove him fight for equality on behalf of the gay community. His legal colleague and master-of-ceremonies for the event, Rudy Marican, provided additional insights[5]:
Pink Dot 2014
[
]
In acknowledgement of his fight for LGBT equality in the courtroom, Ravi was invited to be one of the speakers in the Community Voices segment of Pink Dot 2014 held on Saturday, 28 June 2016 at Hong Lim Park[6]:
Cause lawyering
[
]
On 21 May 2016, Ravi delivered a talk at The Agora about cause lawyering and the human rights cases that spurred him to take a different path in his legal profession[7],[8]:
Excerpt:
"Cause lawyering is a form of mobilisation that uses a public arena and "the law" rather than "politics" for causes. The law is utilized through mediums such as the courts to protect the capacity of individuals and civil society groups to challenge the state in the public arena through litigation. There seems to be a complete lack of cause lawyers. The reason, I think as we all know, can be attributed to Singapore's political history and sociopolitical context. Under one party rule by the PAP for five decades, civil liberties have been kept strictly in abeyance. We have all heard of de facto 'OB markers' that defines what constitutes acceptable speech or behavior. In Singapore, the legal community faces the very same problem. 'OB markers' too define what constitutes socially acceptable cause lawyering. As in the press where there appears a trend of self censorship amongst journalists and writers, so too there is an ostensible form of 'self-restraint' practiced among the legal community.
"So, It is as if lawyers quarantine their specifically legal capacity for advocacy, such that public statements against state positions are almost never articulated. Instead, in a masked mode, lawyers facilitate the less audible, less visible work of deciphering actual and proposed legislative and regulatory requirements, researching alternatives, and drawing upon their professional networks to further causes they believe in. Instead of furthering causes by openly contesting state sanctioned positions and ideologies through legal processes, lawyers mute their involvement in causes by occupying civil society spaces(through associations for environmentalism and gay rights for example) in much the same way as non-lawyers do." This is what is referred by Professors Jothie Rajah and Arun in their research paper on cause lawyering in Singapore, as 'masked cause lawyering'.
As I conclude, I just want to say a few words, especially for those who are aspiring lawyers and seek to use their legal knowledge to contribute to the advancement of society and morality. It is always crucial to bear in mind that What is legal is often not just. And what is just is often not at all legal. Apartheid and the racial segregation laws in America were prime examples of unjust laws. Developments in law, as history shows, follow social change rather than lead to it. Exercise leadership, be that change. Do not be afraid to challenge convention. Be prepared to step out of your comfort zones, because you will make adversaries. But stay true to your principles and that is what will lead you to a sense of fulfillment knowing what you have done is for the better good. You are never alone, there are luminaries who have trodden on this path too, no matter how arduous it was. Luminaries like Nelson Mandela, Gandhi and Karpal Singh of Malaysia. Take inspiration from their service to humanity and their dedication in advancing social justice. Social Justice isn't solitary work. Always seek to engage the community, network and talk to like minded people. Great movements were part of an amorphous group of peoples with like minded goals and ideals. The bigger the collective, the stronger the clout, the better we are at synergising our efforts towards the cause. No one goes it alone. We all need support too."
Political speeches
[
]
See also
[
]
References
[
]
M Ravi, "

Kampong Boy

",

Ethos Books

, 2013, ISBN 978-991-07-5755-7[].
Kumaran Pillai, "It takes a "man without brakes" to mount constitutional challenges in Singapore", The Independent, 13 September 2016[9].
Ellie Hu, "M RAVI "DON'T WALK THIS PATH FOR FAME AND GLORY, DO IT FOR THE POOR AND DEFENCELESS"", Singapore Daily, 7 October 2016[10].
https://neusroom.com/guilty-or-not-guilty-neusroom-revisits-the-story-of-iwuchukwu-amara-tochi-the-21-year-old-nigerian-footballer-executed-in-singapore/
Acknowledgements
[
]
This article was written by Roy Tan.