Paddy Chew was the first Singaporean living with HIV/AIDS to come out to the general public. He made this revelation in 1998, thereby giving a face to a closeted affliction hitherto thought by mainstream society to be remote from possible local encounter.

Early life
[
]
Paddy Chew was born on March 29, 1960. He was given to believe the romantic story that his parents went for a picnic at Katong Beach during which his mother gave birth to him by the seaside.
Being the youngest child in the family, with 3 elder sisters and a brother, he was thoroughly spoilt. He attended St. Stephen's Primary School at Siglap View and then St. Patrick's Secondary School along East Coast Road, liking the idea of being from Christian brothers' schools, which had a good reputation.
He sat for the GCE 'A' level examinations, something he regretted doing because he did not want to go to university. He was tired of studying and wanted to see the world so he became a flight steward. He worked for Singapore Airlines for a good 13 years, his very first job. After that, he wanted to move on to something very close to his heart - entertainment. He left SIA in 1993 and joined the Boom Boom Room, Singapore's first drag artiste cabaret. He helped to formulate and organise the shows. No one had any inkling that the Boom Boom Room was going to be phenomenally successful and famous. He considered having left something he loved (flying), and progressing to some other occupation that he was also passionate about as personal successes. He was therefore very happy during that period.
Falling ill
[
]
Chew did not know anything about AIDS or HIV prior to the mid-80s when he frequently travelled to Europe and America, so it never occurred to him to use a condom. When he heard about the disease in 1986 or 1987 and started to practise safe sex, he felt it may have been too late. He became very sick in 1995. He went to the hospital where he was first attended to by a young and inexperienced female doctor. She did not know that he had oral thrush (Candidiasis) even after examining at length his tongue and throat, which were covered with whitish particles, so he had to tell her the diagnosis himself. Later, other doctors put him through a barrage of tests- chest X-rays, cardiac assessments, etc., but still could not find out what was wrong with him. Finally, he personally suggested a HIV test, which they were rather reluctant to do. Their reticence surprised him, so he said that he would sign whatever documents they required him to.

AIDS diagnosis

[

]
The test results came back positive, which he suspected in the back of his mind because when the doctors could not find out what was wrong with him, he felt that it must have been something very serious.
When asked why the doctors were reluctant to perform a HIV test, he replied that a lot of doctors in Singapore at that time did not want to handle the issue of AIDS. Many are uneasy about it even today. One could not do perform the test without the patient's consent, but Chew could be very pushy when he wanted something done.
Instead of being traumatised after being diagnosed with HIV/AIDS in 1995, Chew actually was relieved because now that he was informed of the problem, he could take charge. Before he knew for certain, he went around wondering if it was cancer or heart disease and and he just lost control, a feeling which he feared and hated. He wanted to know where he stood, and when he found out he was HIV-positive, he knew where he wanted to go, what to do, and where he could seek professional help.
After the diagnosis, he would think of death all the time. Every morning when he woke up, he thought he was going to die. When that happened, he could not breathe or eat properly. Once he fainted in Serangoon Road, which he described as so unglamourous. He recalled that an Indian woman doing her marketing was screaming and a Chinese boy in a Crocodile shirt knelt on the ground to inspect him.
Treatment
[
]
He was a healthy 63kg when he was diagnosed, but a year later when he travelled all the way to Europe for treatment, his weight plummeted to a skin-and-bones 35kg. Singapore did not have the anti-viral cocktail used for treatment at that time and it was rather frightening for him. When he left for Europe, he did not know if he was going to come back or not. He did not know what was in store for him. He journeyed all the way to Brussels. He did not speak French and the Belgians could not speak English. He went through it all by himself. He packed a tiny bag and went to the airport. No one said goodbye or sent him off. His sisters were living in Australia and he did not want to bother them. His parents had passed away. In fact, he was actually rather glad that his mother had died in 1993. He would have preferred to commit suicide than to tell her he was HIV-positive. He said that if she had been alive, he probably would never have come out and would have emigrated to Europe. He adored his mother did not want anything to upset or harm her.
He stopped taking medication for more than a year because he needed a break from it and it took a toll on his health. He admitted that it was really his own fault, promising the doctors that immediately after the play (see below) he would resume his medication and give his health 100% attention. He "hoped it would not be too late", which he described as a recurrent theme in his life. When he took the medication, he could not function. This was especially poignant because he wanted to stage a play about his struggle with HIV and take part in the AIDS candlelight memorial. When he went to Europe, he was pumped with so many drugs that there were days when he got up and and did not know if he was turning left or right, if he was awake or asleep. He had had enough. He wanted to give his body a chance to naturally heal itself. He felt that only when he really needed medication would he take it and not have it pumped into him year in, year out. He felt that his body could not repair itself under the drug barrage, and that it had become weaker than what it was supposed to be. Sometimes he felt that the drug cocktail was actually the cause of death. He observed that some of the patients took the medication until they cried. So he questioned the entire regimen.
He felt that Singaporean doctors' attitude of "I'm the doctor, you're the patient- I tell you something and you have to do it" was ridiculous. He was of the opinion that they were dealing with people's lives and would not be dictated to by doctors. He would decide if it was good for himself and take it from there. He felt that most patients still had to learn that as many of them were overawed by doctors. He said that American research had shown that a lot of patients were told to take medication when they were at a stage that did not necessitate them yet. Taking medication when it was not essential, he felt, could be more damaging than the disease itself. He wanted to empower patients with knowledge, and question when in doubt. Eventually, he felt that they were the ones paying for the medication and the suffering, not the doctors, so they should have been more daring and should have questioned things that were not right.
He believed that with proper medication, and if he were to give up smoking and drinking, he could live longer, but he admitted he was very stubborn. Sometimes it frightened him but he thought that life was so strange- even though it seemed inevitable to others that he would die from the disease, for all they knew, he might not. He philosophised that he might instead get knocked down by a bus, or be involved in a car crash; only heaven knew.
Stopping work
[
]
He decided to leave his job because he could not function properly. Moreover, he did not want to jeapordise the people working at the Boom Boom Room, which he felt could happen if the public were were to find out he was HIV-positive. The Boom Boom Room was already infamous for drag shows and the like; not exactly moral, in some people's eyes. He felt that if he were to stay on, people would associate everyone around him with an immoral lifestyle and tarnish them with the same brush.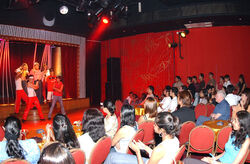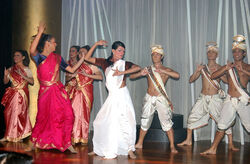 His colleagues did not want him to leave but he felt that if he drew a salary and could not contribute, he would be abusing their kindness. He did it for Kumar, the drag queen star of the performances, and all the rest of the troupe. He missed the Boom Boom Room dearly- the thrill of creating new shows and costumes, the music, and making people laugh and be happy. But he had no regrets and would not go back. He always believed that when one left something, one did it for good- no turning back, look forward.
Coming out
[
]
Chew became the first Singaporean living with HIV/AIDS to publicly declare his HIV-positive status, thus giving a face to a hitherto anonymous affliction which mainstream society considered remote from possible encounter.
He came out about his condition on 12 December 1998, during the First National AIDS Conference in Singapore held at the Singapore International Convention and Exhibition Centre, 4 years after he was diagnosed with HIV. (Read the script of his plenary lecture:[1]) Explaining why, he once said, "Frankly, I am fed up of waiting for someone else to come out." He publicly declared his sexual orientation as bisexual.

Publicity
[
]
His life changed dramatically thereafter. He became a public figure overnight, giving countless interviews and inviting stares and comments everywhere he went.
His face as well as his thoughts on AIDS in Singapore were highlighted in local and foreign newspapers and magazines. Many admired and applauded Chew's courage but the praise was not unanimous. A columnist in the Chinese-language daily Lian He Zao Bao criticised him for being a promiscuous bisexual while others considered him a publicity-seeker.
Responding to the allegations, Chew would retort, "I don't mind being famous for winning the Miss Universe crown, or as a singer, or a beautiful face, you know? Who wants to be famous for having AIDS? For goodness sake!...I have seen too many AIDS patients die. Most die alone. There is no warmth, no care for them. They are not ready to die- you can see it in their eyes. I told myself I had to do something worthwhile for myself and for the cause- to clear the path for future patients, so that they will not die like that."
One-man play
[
]
He decided to dramatise the plight of Singaporean AIDS patients in a one-man autobiographical play called "Completely With/Out Character", his debut effort. It was conceived and collaborated on since June 1998. The final version was produced by The Necessary Stage, written by Haresh Sharma, directed by Alvin Tan and staged at The Drama Centre on Fort Canning Hill from 10-17 May 1999. Tickets were on sale from SISTIC (tel. 3485555) and The Necessary Stage (tel. 7332716) fielded all enquiries.
At the end of each performance, Chew would strip to his shorts and raise his arms to allow the audience to take in his emaciated frame. This was followed by a frank question and answer session. All proceeds from the play were donated to the charity organisation for which he was an outspoken volunteer, Action for AIDS (AfA).
In 2014, research by performance artist and filmmaker Loo Zihan uncovered the following video documentation of Chew's performance from the archives of The Necessary Stage. The clip is an excerpt from Scene 11 - "Fair Exchange":
 	 	   

Reviewing the play, local playwright Alfrian Sa'at wrote in The Straits Times, "How can one re-stage a play like that – the candle prop will still burn, the video projection of rain will still evoke images of cleansing and renewal, but Chew might not be around anymore."
Asiaweek article
[
]
More details about the play were published in an article by Andrea Hamilton entitled, "These final days: An HIV victim lifts the curtains on his confrontation with imminent mortality" in the 21 May 1999 edition of Asiaweek[2]:
"His story begins on an almost banal note: a shopping expedition with friends. Then again, death often is ordinary. It's a tale of a man dying of AIDS and the trip is to buy a coffin. The narrator mimics the fuss over the selection, even trying the box for size. Paddy Chew, a former cabaret writer and first-time actor, is the star of the one-man production, Completely With/Out Character. It's his life, his story, after all. Chew, 39, is the only publicly identified AIDS victim in Singapore.
He got the idea for the play when local company The Necessary Stage approached him for material for another production on AIDS last year. Instead Chew suggested: "I'm the real McCoy, why don't you use me?" Several months of interviews led to a script, and the play began to take shape. Though no strangers to controversial subjects, the producers saw a special challenge in getting Singaporeans to pay to see AIDS on stage. Director Alvin Tan says many take the attitude, "Why should I care? I'm not HIV positive; I don't know anyone who is." For Chew, the play represents a chance to break the culture of silence and ignorance that surrounds the disease. Besides, "the theater has always been the first to come out in support of AIDS [issues]," says Chew, now an active volunteer with a local AIDS charity.
Character, which opened last week, is an invitation to share Chew's life: his selfishness at facing death, grief over dying friends and regret about failing to fulfill a promise to his now-deceased mother. The poignancy is leavened by moments of self-deprecating, sometimes camp, humor. But raw emotion is never far from the surface. This is a man baring his soul.
Midway, the lights come up. "Ask me anything," Chew urges his audience. One woman wants to know if he regrets any of his actions. The reply is teasing: "If you have none, you must have led a very boring life" More seriously, he adds: "Regrets are not a bad thing. It makes you wiser."
Chew and his theatrical partners are out to rouse discussion, and the question-and-answer format ensures it. As they point out, attitudes toward AIDS are still deeply mired in prejudice and misconception. A 1994 survey by the National University of Singapore, for instance, found that a quarter of respondents viewed AIDS as divine punishment for immoral behavior. About half considered it a "homosexual disease." Yet since 1992, infection among the city's heterosexual population has far outstripped that of homosexuals. In 1997, more than 70% of HIV cases were due to heterosexual contact.
To draw wider participation in the Q&A session, responses are simultaneously keyed in to a live Internet chatroom. The entire exchange is projected onto a screen at the back. Except for this concession to technology, the staging is simple and the set equally so. The play ends as simply: Chew strips to his shorts and raises his arms, allowing everyone to take in his emaciated frame before the house grows dark. Once a substantial 63 kilograms, Chew now barely tips the scales at 50 kg. It is a painful, moving performance. And taxing on the actor."

Death
[
]
Chew dreamed aloud of writing a book and taking a last holiday in Europe, but his last wishes were not to be. His health deteriorated rapidly, necessitating his admission to the Communicable Disease Centre (CDC) along Moulmein Road in June 1999, 2 months before his death.
He passed away at the CDC from complications of HIV infection at 6:15am on 21 Aug 1999, 3 months after his play's run ended.
Chew's sister, who declined to be named, and Alvin Tan, the Artistic Director of The Necessary Stage were by his bedside. Tan called the press to request for help in informing Chew's friends about his funeral service at 3:45pm at the Mount Vernon Crematorium, Hall 2. Chew's family requested that there be "no wreaths, no sad tears, no black attire and for everybody to dress glam".
Chew's distraught sister declined to give any information about his death or his final days, saying that she wanted to mourn her brother privately and with dignity. She told the press not to send any photographers or reporters as she did not want to mourn her brother amid flashing light bulbs.
Tan and 2 volunteers from Action for Aids also declined to talk, saying that they respected the wishes of Chew's sister. Tan did not even want to talk about directing Chew's groundbreaking play.

Funeral
[
]
Dance music played in Hall Two of the now-demolished Mount Vernon Crematorium and the mourners came dressed in red, blue, pink and orange. "The Boss", a disco hit by Diana Ross was heard. It would have made Chew happy as it was his favourite song and he loved to sing and dance. The law in Singapore at that time mandated that People with AIDS (PWA) be buried or cremated within 24 hours of their demise, so his funeral was held that very afternoon, with about 80 people present.
Chew's sister, who was now willing to be identified as Jessie, 37, said in her short eulogy, "He wanted everyone to come, preferably in red, and party with him." She said that her brother remained full of spirit and fought all the way to the end.
There also were 2 older siblings present, Shirley, 53 and Edwin, 52. Another sister, Joanne, 41, was living abroad. 2 others, the managing director of Boom Boom Room, Alan Koh and an old friend, Audrey Fegen, gave additional eulogies.
The service, led by Roman Catholic priest Augustine, lasted less than half-an-hour. Clubbing entrepreneur, Calvin Tan, 38, a friend of Chew's since Primary 1, recalled: "He was in critical condition at 8pm on Friday, but he was a fighter. He fought from 8pm to 6 this morning. He refused to give up."
Action for Aids president, Assoc. Prof. Roy Chan, who knew Chew since he was diagnosed with AIDS in 1995 and who worked closely with him on several AIDS awareness projects, said: "Paddy was a very outspoken person. He had a lot of guts to do what he did. He was selfless and courageous. He didn't do it for himself, but for society."

Obituary
[
]
An obituary containing words penned by Chew himself was published in The Straits Times by his family a few days after his funeral (photograph of microfilm archive by Loo Zihan):
"And the love I hold is like a nightingale that sings
With splendour and life that it brought to the heart of a dying king
PADDY CHEW
Age: 39
The family wishes to express our heartfelt thanks to relatives, friends, AfA, Club Genesis, The Necessary Stage, Bro. Collin Wee and all those who stood by him.
A special big hug and kisses to Brenton and Gary for their unconditional love, comfort and support.
To the doctors and nurses of CDC Ward 72, Dr Leo Yee Sin and Mrs Iris Verghese, a personal message from Paddy.
"You did a wonderful job! Thank you very much."
A candlelit memorial will be held at 7.30pm this Saturday, 28 August '99 at St Patrick's School Chapel - 490 East Coast Rd.
All donations to Action for AIDS"
Legacy
[
]
Paddy Chew was courageous enough to come out as a person living with HIV/AIDS at a time when highly active anti-retroviral therapy (HAART) had not been devised yet and when the disease was still a death sentence. He knew his condition was terminal and resolved to make his death serve a purpose - that of educating the public.
Even when later advances in anti-retroviral therapy made HIV infection a controllable, chronic malady, much like diabetes mellitus or hypertension, no other HIV-positive Singaporean dared to reveal his status until more than ten years later. A heterosexual Singaporean came out in The New Paper in 2011, but soon disappeared into obscurity again.
The only other person who has bravely come out and given an enduring, new-generation face to HIV is Avin Tan, a gay man and long-serving volunteer with Action for AIDS. He announced his HIV status during the 8th Singapore AIDS Conference in 2012 and the International AIDS Conference in 2013.
Paddy Chew's legacy was to pave the way for a younger generation to come out and tackle the discrimination faced by Singaporeans living with HIV/AIDS and to elicit mainstream society's empathy and support for these patients instead of shunning and discriminating against them. For these reasons, his death was not in vain.
Television docu-drama
[
]
In October 2007, Channel 5 aired a docu-drama on Paddy Chew's life.
Watch a video recording of the programme on YouTube:
With/Out
[
]
Main article: With/Out
From 14 to 18 January 2015, Loo Zihan, a performance and moving-image artist and educator interested in investigating the tension between the flesh of the body with the bone of the archive, staged "With/Out", a faithful interpretation of Chew's monologue[3] as part of the M1 Singapore Fringe Festival[4]. Through the use of multimedia, video documentation and other archival material, Loo constructed the production as an extension of his research into performance re-enactments, the mediation of a "live" presence via the use of technology, and the re-visioning of queer histories in Singapore.
See also
[
]
References & external links
[
]
Links with contents removed
[
]
A Google-cached archive of Sintercom's interview with Chew just before the opening of his play "

Completely With/Out Character

":[11]
An article entitled "Portraits of AIDS" by

Roger Winder

in the Action for AIDS (AfA) periodical, "

The Act

". It ends with a poignant eulogy by Assoc. Prof.

Roy Chan

, president of AFA:[12]
Another article on Chew's swansong performance written by

Caroline Fernandez

in "

The Act

":[13]
Acknowledgements
[
]
This article was written by Roy Tan.