Pamela Oei (better known as Pam Oei; born 26 January 1972) is a Singaporean actress, singer and comedian who has worked in theatre, television and film. She is part of the popular cabaret trio, Dim Sum Dollies, and, more recently, the lead singer of her band, Ugly in the morning. She is also a certified Allen Carr therapist for people who wish to give up smoking and other psychological dependencies.
LGBT allyship
[
]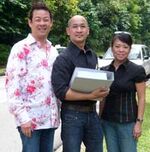 Oei is a staunch ally of the LGBT community. She attended several of Fridae's Nation parties at Sentosa and was interviewed by Channel NewsAsia and Channel 5 during Nation.03 in 2003.
In the run up to the Parliamentary petition to repeal Section 377A of the Penal Code, Oei hand-delivered a 400-page open letter supported by 8120 signatories urging the abolition of the anti-gay statute to the Prime Minister's office at The Istana on Monday 22 October 2007 at 2.30pm, together with her close friends, LGBT activist Alan Seah and theatre doyen Ivan Heng[1].
Oei generously volunteered her services as a concert performer and host for Pink Dot SG for many years since the event's inception in 2009. Her crystal clear, powerful and persuasive, yet friendly, voice, with excellent comedic timing made her the ideal person to lead the countdown to the formation of the climactic pink dot and earned her the title of "Countdown Queen". Oei had similar previous experience in an LGBT setting when she counted down to the New Year at iconic gay disco Happy's closing grand finale on Sunday, 31 December 2006. She was also the host of Happy's 'Faghag appreciation nights'.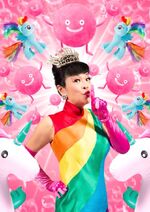 In 2011, the Dim Sum Dollies were the ambassadors for Pink Dot that year and Oei had just given birth. She brought her 2-month-old son along and he was cradled somewhere in the crowd in her husband's arms. It was Oei's first Pink Dot as a mother and her son's first as a human being. Her son has been to every single Pink Dot since then.
In 2018, Oei starred in Faghag, a one-woman cabaret which held a very special significance for her as it chronicled, with both angst and comedy, an important part of her life and the relationships she had with men. A second run of the sellout performance was staged in 2021 after a delay of almost two years due to unforeseen circumstances such as the Covid-19 pandemic.

Film roles
[
]
Oei played the part of Peggy in the 1998 comedy romance Peggy Su! which was about a 19-year-old Chinese woman living in Liverpool, England in the early 1960s[2].
See also
[
]
References
[
]
External links
[
]
Acknowledgements
[
]
This article was written by Roy Tan.