Pebble Bar (also commonly called "Pebbles Bar") was Singapore's iconic and most well known gay bar from 1977 to the early 1980s.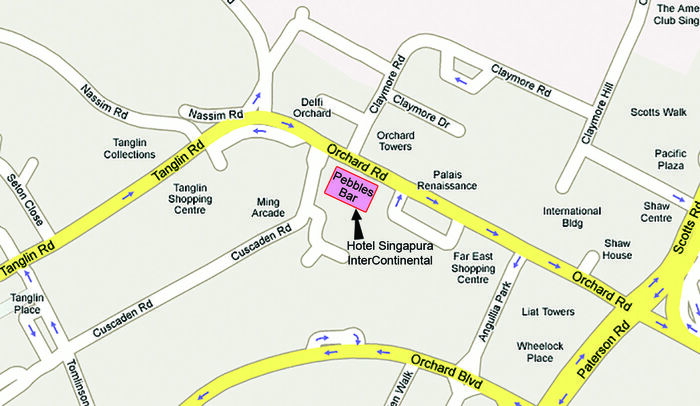 Location
[
]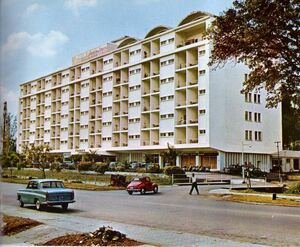 Affectionately referred to simply as "Pebbles", it was located to the left of the ground floor forum of the now-demolished Hotel Singapura InterContinental, 585 Orchard Road, adjacent to the Hilton Hotel.
The construction of the 8-storey Hotel Singapura InterContinental, located near the Tanglin end of the Orchard Road tourist and shopping belt, was the first hotel venture of Far East Organization, a property development company founded by businessman Ng Teng Fong in 1960[1]. Built at a cost of $5.5 million in 1963, Hotel Singapura InterContinental was the first in Singapore to be managed by an international hotel chain – the InterContinental Hotels & Resorts group.
The hotel was completed and opened one day after the formation of the Federation of Malaysia in 1963[2] as part of the Singapore government's plan to turn Orchard Road into a tourist belt. The plan proved to be a roaring success and the Hotel Singapura InterContinental played a key role in this.
Hotel Singapura InterContinental was the first hotel to operate a 24-hour coffee shop. It was later rebranded as the Singapura Forum Hotel, also managed by InterContinental Hotels & Resorts. It was more commonly known simply as "The Forum" as its full name was quite a mouthful.
The pioneering hotel along Orchard Road was eventually sold to A. W. Galadari Investments for $178 million in 1982. The Dubai-based company, which later developed the nearby Wisma Atria shopping complex, was subsequently taken over by Al-Khaleej Investments. The new owners had the old hotel demolished in 1983 to make way for the Forum Galleria shopping and office complex, which officially opened in July 1986. Forum Galleria was later rebranded as Forum The Shopping Mall.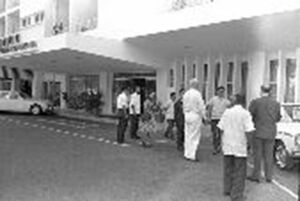 Customers walked into Pebble Bar predominantly via the main entrance adjacent to the hotel coffee shop fringing the lobby but, very conveniently, there was also a more discreet entrance from the car park at the rear of the hotel.
Tania
[
]
Main article: Tania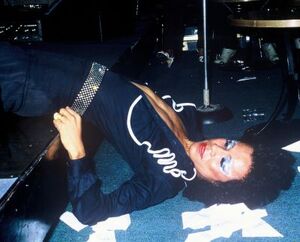 From 1977 onwards, Pebble Bar became patronised largely by the English-educated, upper-strata gay men of Singaporean society who formed a nexus which enticed other gays to congregate there.
Pebble's main draw was the live performances of a local band named Tania. Its lead singer, Alban de Souza, was decked out in glitz, painted his face à la David Bowie or KISS but with red makeup instead of black-and-white, and entertained with flamboyant, energetic camp.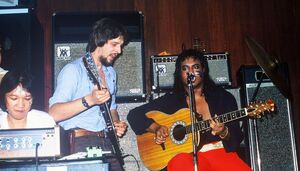 Gay European expatriates and visitors also frequented the nightspot and many a local-Caucasian pairing was spawned. The clientele could watch Tania's performance, socialise and get to meet new friends.
Although it was the only one of Singapore's first 3 gay bars to have a dance floor, albeit a rather small one, same-sex dancing was strictly prohibited. The bouncers would stop any gay couple from doing so. Some gay bars of that era displayed signs with a white background which read, "No man and man dancing" (sic).
Needless to say, the Western visitors were more daring than the locals and would sometimes dance alone in front of the stage when Tania was performing while nobody else dared to.
Today, the gay community takes same sex dancing for granted but it is important to bear in mind that this was not allowed until the early 1980s. So gay people sat in one half of the bar drinking and listening to the music, while watching the straight couples dance in the other half. However, it was a common sight to behold men embracing and giving each other air kisses, a phenomenon rarely witnessed elsewhere in Singapore but which raised nary an eyebrow at Pebble.

External cruising
[
]
The broad walkway along Orchard Road just outside the Hotel Singapura InterContinental and the Hilton Hotel was a popular cruising area for gay Westerners looking to hook up with their Singaporean counterparts. The following scene from the movie Saint Jack shows just such a scenario along a stretch of Orchard Road near Pebble Bar[3]:
Competition
[
]
Pebble Bar became less popular as a gay venue later in the late 1970s when Le Bistro starting to attract more of the gay clientele, although it never completely plunged into oblivion as a meeting place. It experienced a resurgence in popularity when Le Bistro closed down.
Closure
[
]
Pebble Bar closed shortly prior to the impending demolition of the Hotel Singapura InterContinental / Singapura Forum Hotel in August 1983.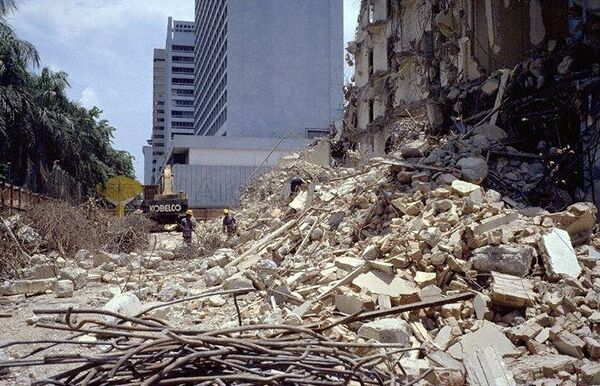 See also
[
]
References
[
]
Russell Heng's article archived on Yawning Bread, "Tiptoe out of the closet: the before and after of the increasingly visible gay community in Singapore", June 2001.[13]. This paper was originally published in the Journal of Homosexuality Vol 40 Numbers 3/4 2001 Special Issue - Gay and Lesbian Asia: Culture, Identity and Community, edited by Gerard Sullivan and Peter Jackson, pp 81 – 97.
Neal Prince, InterContinental Hotel Corporation Digital Archives, Singapura InterContinental Hotel, Singapore, Malaysia (1963-1986)[14].
Acknowlegdements
[
]
This article was written by Roy Tan.