Pink Dot 2011, the third iteration of Singapore's annual LGBT pride event, was held later on in the year compared to its two previous incarnations (see Pink Dot SG and Pink Dot 2010), on Saturday, 18 June 2011, so as not to clash with the 2011 Singapore General Elections which took place in May 2011.
Date announcement video
[
]
The Dim Sum Dollies were roped in as the ambassadors for the introductory, date-announcement video and hosts for the event.
Campaign video
[
]
The campaign video for Pink Dot 2011 abandoned the "talking heads" format used in the past 2 years behind and embarked on a new concept, using volunteer professional actors and production staff to create a montage of real-life scenarios in which LGBT Singaporeans often find themselves, with mainstream members of society showing their support[2]. The video garnered worldwide acclaim, with over 150,000 views within two weeks of its release. It was translated into all four official Singaporean languages as well as into French, Spanish and other international ones.
Breakthroughs
[
]
For the first time, Pink Dot 2011 was listed as an event in Time Out Singapore, with a full article devoted to it[4]. It was also the first time The Straits Times listed an LGBT-supportive event in its pages, classifying it as a "gig"[5] because a concert featuring up-and-coming local music icons was slated to be part of the festivities[6].
Another breakthrough was the clinching of official support for the event from Google Singapore[7],[8].
Event
[
]
On 18 June, over 10,000 people thronged Hong Lim Park to form Pink Dot, setting a new record for the largest gathering there[9], far surpassing the estimated 4,000 person limit that an earlier newspaper report said the park could hold. As such, it was not possible to form a circular dot or any discernible shape as the park was filled to capacity with an amorphous agglomeration of people.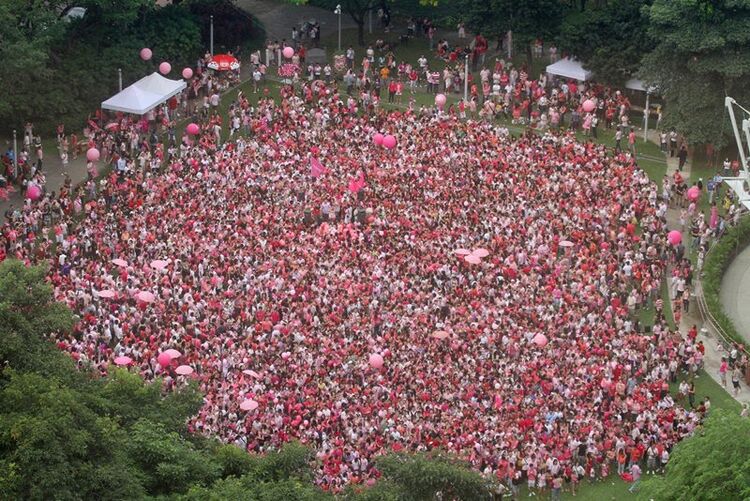 The event was even more widely reported in the mainstream media than in the previous year, with coverage by Channel News Asia[10], The Straits Times[11],[12], Yahoo! News[13] Lian He Zao Bao[14],[15] and TODAY.
Analogous overseas events
[
]
It also spurred LGBT people in New York[17],[18], Utah[19],[20],[21],[22],[23],[24],[25], London[26], Montreal[27], Anchorage, Alaska[28], the Philippines[29], Kao Hsiung, Taiwan[30],[31] and Malaysia[32] to organise their own Pink Dot events using the same concepts and principles upon which the original one was built.
Other commemorative videos
[
]
A commemorative video of Pink Dot 2011 was produced by the organisers[33] and other independent videographers from The Street Times and Young Out Here (YOH).
Media reports
[
]
Reports and comments on the event were also made on citizen journalism websites like The Online Citizen[37],[38],[39], socio-political blogs such as Yawning Bread[40] and others[41], and in online magazines locally[42],[43] and online news sources internationally[44][45],[46],[47].
The National Day (9 Aug 2011) edition of TODAY newspaper featured a full-page article on Pink Dot, implying that the LGBT community was regarded as an integral part of Singapore society on her 46th birthday. It interviewed committee member Alan Seah and published a huge photo of Seah and his mother, seated on a wheelchair[48].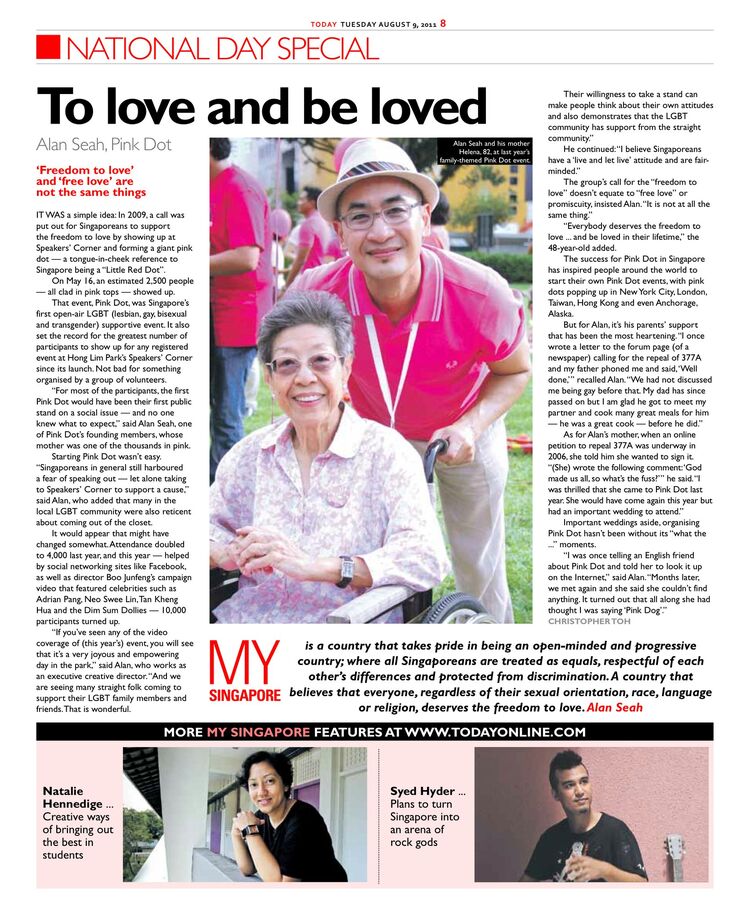 Pink Dot Utah
[
]
On 9 September 2011, Pink Dot Utah uploaded their promotional video[49] to YouTube which replicated the original Singaporean version[50] almost scene-for-scene.
This spurred the 12 Sep 2011 edition of The Sunday Times to carry an article about how the Pink Dot movement had spread from Singapore to Utah, USA and other major cities of the world[51],[52].
Pink Dot Utah held their inaugural event on 11 October 2011 to coincide with Coming Out Day. It was given the widest coverage of any Pink Dot event outside Singapore[53],[54],[55].
International highlight
[
]
As 2011 drew to a close, Microsoft's news website XinMSN featured Pink Dot SG as one of the international highlights of 2011[56].
See also
[
]
References
[
]
Acknowledgements
[
]
This article was written by Roy Tan.