Pink Dot 2012, the third iteration of Singapore's annual LGBT pride gathering, was held on Saturday, 30 June 2012 at Speakers' Corner, Hong Lim Park. For the very first time since its inception, the organisers made it a night time event.
Campaign and ambassador videos
[
]

On Thursday, 5 April 2012, the mainstream media announced that Pink Dot 2012 would be held at Hong Lim Park on Saturday, 30 June 2012 and that for the first time, it would be a night time event[2]. Later the same day, the video featuring Pink Dot 2012's ambassadors - Kumar, Sharon Au and Lim Yu Beng - was unveiled to the public on YouTube[3]. The ambassadors turned up in person with Pink Dot committee member Alan Seah at nightspots Play, Taboo, DYMK and Avalon[4] during the long weekend stretching from Thursday, 5 April (the eve of Good Friday) to Sunday, 8 April 2012. Pink Dot plush cushions (plushies) were made available online as well as at the above venues to raise funds to help defray the cost of staging the event[5]. LGBT websites announced details of the event soon after[6].
Pink Dot 2012, under the campaign "Someday"[1] was held on Saturday, 30 June at the Speakers' Corner in Hong Lim Park. It was the first time Pink Dot was held at night. Also for a first, Barclays was an official supporter of the event with Google Singapore returning as an official supporter.[2][3] The 2012 event flew under the theme song "True Colours"[4] with former-actress Sharon Au, actor Lim Yu-Beng as well as actor-comedian-diva drag queen Kumar being the ambassadors of the event.[5]
With mobile phones, torches and flashlights, a record of over 15,000 Singaporeans turned Hong Lim Park into a sea of shimmering pink lights, the largest turnout at the Speakers' Corner to date.[6] Pink Dot SG 2012 once again was widely reported in the mainstream media, with coverage by Today,[7][8] Yahoo! Singapore,[9] ChannelNews Asia[10] and also widely covered by international media agencies like The Wall Street Journal,[11] Taiwan's lihpao,[12] Thailand's PBS,[13] and Egypt's bikyamasr.[14]
Before the event, singer Jason Mraz, who was then performing in a concert on 29 June 2012 in Singapore[7], made a shout out in a video in support of Pink Dot 2012[8]:
Event proper
[
]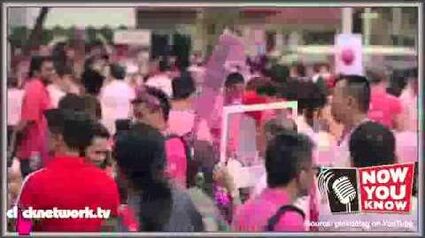 Pink Dot 2012 inspired the launch of Pink Dot Okinawa.
See also
[
]
References
[
]
Acknowledgements
[
]
This article was written by Roy Tan.