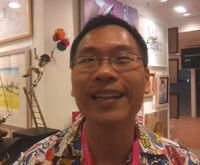 Dr Pwee Keng Hock is a managing partner of Utterly Art, specialising in Singaporean and locally-based artists. He set up the gallery in Chinatown with his business partner Kenneth Tan in 2002. They were building up content for an art website before that and thought that since they had invested so much energy developing contacts with many Singapore artists, they should set up an art gallery.
Pwee trained as a plant molecular biologist and gave it up for art. He lectured at the National University of Singapore for 9 years and was a research director in a biotech company.
"I simply took my hobby, which was collecting art, and turned it into my business," the affable collector-turned-gallerist says. Focusing on local artists, he says, "seemed a very natural thing to do. We were a local gallery with easy access to local artists".
The initial years were "tough going" and it took about a year for him and business partner Kenneth Tan to break even. Their belief that it could work and their passion for art kept the gallery going.
During this early period, he gave breaks to young artists such as street artist TR853-1. He showed some of the latter's graduation works in the group exhibition Pardon My Icons in 2005.
Their artists were drawn from the local art scene and some of the shows received funding from the National Arts Council.
"In this way, we built strong ties with the local artist community. We gave space for solo exhibitions and looked at developing long-term partnerships with many of them such as Wong Shih Yaw, Boo Sze Yang and Yeo Siak Goon," says Dr Pwee.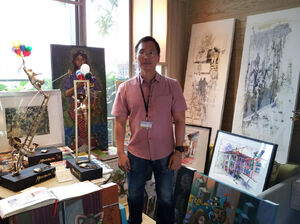 He found artists such as Vivien Yang at the Nanyang Academy of Fine Art by visiting graduation shows and offering his gallery space to artists he liked.
"From the start, we had no prejudices against young artists with good work. We quickly became known for that and started showing them alongside more established local artists."
The gallery's successful outings with some artists have also resulted in multiple exhibitions. Painter Andre Tan, for instance, has done four solo exhibitions since 2011. He sold more than 50 per cent of his work each time, with the paintings priced between $2,200 and $5,500.
For Pwee, however, success is not always about sales. They take pride in discovering exciting new artists, finding new collectors for existing artists and encouraging novices to make first-time purchases of art. To that end, the prices in the gallery are kept at entry level.
Pwee points out: "We sell ceramic cups by local artist Chua Chon Hee for $50. Our most expensive painting sold this year was priced at $12,000, through we most commonly sell work between $800 and $5,000."
This year, apart from their outing at the Affordable Art Fair where they clocked up more than $100,000 in sales, Utterly Art had three successful sell-out gallery shows for watercolourist Aaron Gan, painters Wong Shih Yaw and William Sim.
The gallery actively participates in art fairs and puts on an annual show at the Ion Art Gallery.
"It allows us to reach out to new clients," says the Singaporean gallerist, who is single.
He says that in the years he has been in business, he has seen a sea change in the young artists who come through his doors. These days, artists are well-travelled, Internet savvy and in tune with global art trends.
"So many young artists are involved in new and exciting media suited for Biennale showings. But the grand gestures can suit the budgets of only institutions and high-net-worth collectors.
"As a commercial entity, I have to point out that many new experiments are fairly alien to the market. Right now, when I look at the work of our younger generation, I feel we have too few really good painters and sculptors who can make art that is easily collectible."
Utterly Art took over ION Art Gallery in August 2015, featuring three solo exhibitions and a mixed group showing under the umbrella title of TIME AND PLACE. Amongst the solo artists are Andre Tan, who is featuring Father of the Nation, a tribute to the late primeminister, Mr. Lee Kuan Yew in Tan's usual pop style, and Peranakan artist Martin Loh whose Gambar Gambar provides his take on contemporary Peranakan life (click on the slideshow to see more)
Utterly Art has always been about easy accessibility to art, so we make it as unintimidating as possible for people to enter our gallery, we welcome laymen and people new to art, and we are happy to have cultivated several new collectors in Singapore.
We try to offer direct, pithy explanations for our shows, not oblique, opaque explanations or literary meanderings that serve no one except the writer, so that the art can be made understandable to a potential buyer. It still mystifies me why none of the Gillman galleries post prices on their labels, because asking a gallerist can be intimidating, especially if they project a high-class or unfriendly demeanor. And some galleries also don't believe in putting labels on the walls I can't stress how difficult it is to figure out which work is where sometimes – isn't that inaccessible?
Accessibility is also extended to artists... we are known for showing and welcoming young and emerging artists, not just young in age, but artists who have made a mid-career switch to art, or artists with no formal art training but whom we feel have the X-factor. This does not mean that we do not showcase senior artists as well. Several are known to have started and developed with us: Wong Shih Yaw, Boo Sze Yang, Martin Loh, Desmond Sim, Randy Solon, Oeur Sokuntevy.
Pwee is proudest of the fact that Utterly Art has survived 14 years in the business; looking at how galleries are falling like ninepins recently, I think that's significant! That we have started several collectors who had never bought art before on their journey, and that they now have a significant collection, bears repeating. And that we've developed a market for Philippine art in Singapore by offering shows in a continuous and sustained fashion since 2005. Between 2008 and 2010 I think we were without doubt the biggest showcase of Philippine art in the world outside of the Philippines. I would like to believe that the awareness we began in Singapore started a greater awareness in the region for Pinoy Art. Several artists that we gave a first overseas solo show to, are now featured in Sotheby's and Christies, for example Andres Barrioquinto, Rodel Tapaya, Randy Solon, Jaypee Samson, Ronald Caringal, and Mariano Ching.
The art market has slowly developed, but now that art is 'in,' the climate has become a lot more competitive with several new galleries trying their luck and setting up shop. Consumers are spoilt for choice now, with the numerous offerings. Single gallery shows now seem to offer less of an attraction to clients, who want to go to simultaneous openings, bigger external venues and art fairs. More business is conducted at art fairs now where a greater concentrated mass of clients visit.
What was the last piece of art that thoroughly impressed you and why?
A piece of art that thoroughly impressed Pwee was his own show, but Yeo Tze Yang's work for his solo A Place Behind My Eyes has produced some exceptional works for someone who has only just ORDed from the army [completed initial period of National Service], and who is waiting to enter university. The choices he paints are unmistakably Singaporean, and tug at you not just at a visual but emotional level.
Pwee feels that it should be incumbent on Singaporean galleries to come up with something substantial especially during the Golden Jubilee period. Since we had the National Day slot in ION, we asked three artists for solos who are at different stages of their career. Yeo Tze Yang is 21 years old but he paints maturely and makes painting choices far beyond his years. Andre Tan is his mid-30s, mid-career and enjoying great sales for example at Affordable Art Fairs at present, but who is also coming up with a strong show on Lee Kuan Yew, and finally a senior artist in his 60s, Martin Loh, who hasn't shown for six years, but is coming up with a great show of 20 paintings on all his favorite themes (including a representative little homoerotic one) in Gambar Gambar. The rest of the gallery's artists are all Singaporean or Singaporean-based or Singaporean themed and include the red paper cut Merlions of Frank Zhen, nostalgic Made in Singapore goods by Leo Liu Xuanqi, Singapore scenes by watercolorists Aaron Gan, Tilen Ti, and Foo Kwee Horng, ceramist Chua Chon Hee, and sculptors KY Huang and son Huang Wei.
Utterly Art took part in Art Expo Malaysia Plus for the first time in September 2015, and was at Affordable Art Fair as usual in November. Randy Solon was its contribution to Philippine Art Trek in Singapore in September, and it did a major solo show at the end of October for Lim Poh Teck, a key artist of the Artists Village, who had not soloed for more than a decade. Then it held the annual solo showing of William Sim.
If you weren't a gallerist, you'd probably be …
Moldering away in a musty lab as an academic scientist.
Art is….
Life. Those who choose to shy away from art miss out on the point of life.
Managing Partner
Utterly Art LLP
May 2001 – Present (17 years 3 months)20B Mosque Street Singapore 059500
Manage entire operations
Programming
Marketing and Sales
Public Relations and Publicity
Research Director
Biomin Singapore
2001 – 2002 (1 year)
National University of Singapore
Lecturer / Senior Lecturer / Assistant Professor
National University of Singapore
1992 – 2001 (9 years)
Education
University of Cambridge
University of Cambridge
Doctor of Philosophy (PhD), Plant Molecular Biology
1988 – 1992
Activities and Societies: Churchill College Choir
National University of Singapore
National University of Singapore
Bachelor of Science (BSc) (Hons), Botany, First Class Honours
1985 – 1988
Activities and Societies: NUS Choir, NUS Biological Society, NUS Photographic Society
See also
[
]
References
[
]