SQ21: Singapore Queers in the 21st Century is a book written in 2006 by Ng Yi-Sheng which tells the stories of 15 LGBT people in Singapore - how a gay youth won his mother over, a young man who came out on national television, two women who got married in an anti-gay church, a mother who is proud of her two gay sons, the challenges and triumphs of a hearing-impaired gay man, a gay Muslim man coming out to his homophobic father, and a lesbian exploring and rejecting the different codes of butch behaviour in a convent school, among other inspirational accounts.
Author Ng, then 26 years of age and armed with a degree in comparative literature and writing from Columbia University, spent months soliciting members from the LGBT community who were willing to share their life experiences and be photographed for the book. Some volunteered, others declined and some agreed initially but got cold feet and withdrew later[1]. The project started when Ng was approached in 2005 by Clarence Singam of Oogachaga and asked if he was interested in helping out in an affirmative project for gay people. Ng replied "Yes!" immediately and plunged straight into the endeavour with a pen, notebook and tape recorder. Over a span of nine months, he interviewed LGBT Singaporeans of all stripes and colours at various cafes and restaurants. At night, he transcribed the recordings and wrote the stories up.
The book, which features the interviewees' full names and photographs shot by Alphonsus Lee and Alex Au, was the first project of its kind in the city-state where gay sex acts are still criminalised under Section 377A of the Singapore Penal Code inherited from British colonial rule. It was also a seminal work in the whole of Asia. The book's cover and layout were designed by Cyrus Ho and Kelvin Ng. All portraits of the featured individuals were shot in black-and-white with the subjects ostensibly topless and cropped at the upper chest - a visual concept for "baring" themselves and their souls through coming out.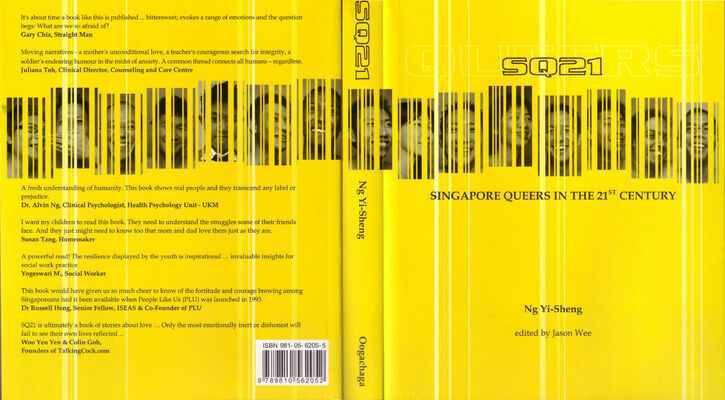 The paperback was proudly published by Oogachaga Counseling and Support, a sexuality affirming non-profit counselling and personal development organisation serving the LGBT community, and was launched on 23 August 2006 as part of IndigNation 2006, Singapore's second annual Pride festival.
The greatest difficulty Ng faced as a ghostwriter was "trying to do justice to a person's voice and being as invisible as possible". He commented: "Most people in Singapore don't speak the Queen's English, and I think that's great. Readers like it that the voices sound very different from one another." Indeed, most of the stories preserve their distinct conversational tones, making the book a collection of several long heart-to-hearts in a bar. Singlish is retained and idiosyncrasies such as Malay and Hokkien terms pepper the stories and are explained via unobtrusive footnotes — a clever way of keeping the local flavour and pitching the book at an international audience.
Despite sales being healthy, Ng did not get a single cent. He explained that money was not on the agenda in the first place since he had a personal stake in the project, being gay himself. He jokingly quipped: "I would love to say that I'm charitably interested in other people's issues, but I'm more selfish than that."
There were particular cultural quirks that Ng noticed in the course of doing research for the book. For example, he noticed that minority race gay men tended to date outside their race, while gay Malay women tended to date one of their own. And he took care to include particular experiences of minority groups such as the gay deaf community. Daniel Lim, a deaf 29-year-old administrator and IT coordinator, talked about typing out messages on his mobile phone to communicate with his boyfriends. "In the old days," he reminisced, "we used pagers." Ng hoped that there would be a second volume of stories representing even more perspectives such as gay Buddhists, lesbian stories and transgender experiences.
Sunday Times article
[
]
An article on the coming out book was published in the 20 August 2006 edition of The Sunday Times' LifeStyle section on page L22. It featured Khoo Hoon Eng, a mother of two gay sons. Fridae also uploaded an article focusing on interviews with Nicholas Deroose and Sheila Rajmanickam[2].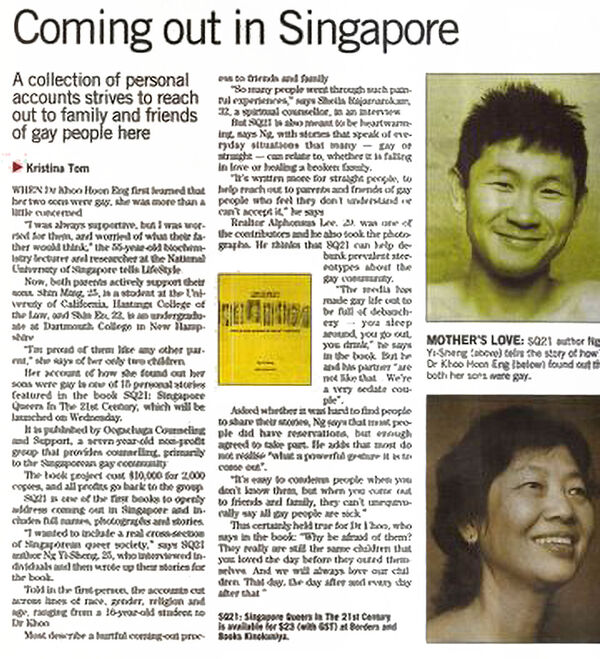 Asia! article
[
]
The book was also reviewed by Magdalene Cheung for Asia! magazine's February 2007 edition. The periodical had a pan-Asian distribution and could be found at all Coffee Bean and Tea Leaf outlets, ComicMarts, as well as at the Images of Singapore Bookshop on Sentosa, the National Library, the Gallery Hotel, the Pan Pacific Hotel, the Ascott Apartments, SPCA, Hilton Hotel KL, Shangri-la Beijing, the Kerry Centre Hotel Beijing, The Portman Ritz Carlton Shanghai, The Pines Shanghai, The American Club Taiwan and on board airlines SIA, SilkAir and Sri Lankan Airlines. The article was scanned by Bryan Choong[3].
Book launch at Mox Bar
[
]
More than 300 people showed up for the launch of SQ21: Singapore Queers in the 21st Century which was held on Thursday, 23 March 2006 at the popular gay watering hole, Mox Bar, as part of IndigNation 2006. Details were announced on PLU's IndigNation website. The book was sold at a discounted price of SGD$20 nett at the launch and at SGD$23 (with GST) at Kinokuniya and Borders, as well as online on Fridae.com after the launch. All proceeds that night went to Oogachaga's community services (www.oogachaga.com)[4].
Book launch at Borders
[
]
The men and women from SQ21 organised another book launch near the front entrance of Borders bookstore along Orchard Road on Saturday, 2 September 2006 at 2pm by sharing and reading some of their stories[11]. The event was eminently public and attended by over a hundred people. The LGBT community was urged to go and support them as it meant a lot to the panel of sharers. One of the panellists who read that afternoon was Khoo Hoon Eng, the mother of two gay sons. Members of the public who intended to attend were encouraged to bring along any members of their family or friends who needed to hear her story. Copies of the book were available for sale at Borders.
Review
[
]
I had to work half a day on Saturday, so it was quite a rush hopping down to Borders. I amazed myself by making it there 10 minutes early.
I thought it was going to be a replay of SQ21's launch at Mox, but the situation was altogether different. Coming out to a roomfull of supportive GLBT friends and compatriots is totally different compared to declaring your homosexuality to a crowd of straight strangers, some of whom may be homophobic.
Thus, the air was tense, and palpably so. I take my hat off to the Oogachaga organisers who liaised with Borders personnel to set up the PA system, the poster, the seating arrangement and the book display. It must have entailed quite some work.
The master-of-ceremonies was Daniel Tung, who had to double up as sign language translator together with Ng Yi-sheng. The crowd which had gathered round the panelists, I would surmise, was made up almost entirely of gays and lesbians. Almost a hundred of them turned up. The straight clientele which streamed into and out of the bookshop didn't seem particularly interested once the words "gay", "lesbian" and "coming out" were mentioned to indicate the contents of the book.
My only hope is that they were listening from the corners of their ears and did not tune us out completely. But you never know. Some of them may have been thinking, "Why don't these fags and dykes shut up and let me concentrate on my book-browsing?".
Anyway, I admire the courage of A/Prof. Khoo Hoon Eng, Jeremy Kwok, Sheila Rajamanikam, Leow Yangfa and Nicholas Deroose for consenting to be panelists that afternoon, especially Hoon Eng who is not herself gay and has done so much to stick her neck out for our community.
Everyone who spoke was more edgy than at Mox. Only Daniel, Yangfa and perhaps Nicholas seemed as relaxed. The gay audience, too, was less forthcoming with their applause and reactions. They had to be coaxed to clap to encourage the speakers to go on. Perhaps it was because they had already heard the panellists' stories, or it could have been the public heterosexual environment which awed them; it's hard to tell. Some speakers like Jeremy and Sheila appeared at points to be so intimidated by the environment that they could not continue reading their scripts and had to be gently cajoled by Daniel.
I was not even a speaker, but I could feel the tension within myself videotaping the whole event. Every time the words "gay", "lesbian" or "homosexual" were mentioned, I winced internally. The situation brought back memories of the numerous times I became open about my own gayness and was taken aback when the straight people around me who had previously assumed I was straight suddenly stopped smiling, pulled a long face and became sullen. I suppose their homophobic reactions have become internalised.
After the session was over, gays and lesbians who had not bought the book before purchased them and approached the panel for autographs. I don't know if any straight people bought copies. I certainly hope so.
The organisers and audience stayed around to mingle for about half an hour before the entire event drew to a close. For me, it was a novel and exhilarating experience, another historical first for the gay community.
A reporter from the Straits Times (?) showed up and interviewed Alex, Jean, Jason and some others. He didn't have a voice recorder on him. I wonder how he's going to remember everything that they said. There may be a write-up in the press. I hope there won't be any sensationalism as he will have to reconstruct all the information from memory.
I shall be posting the video of the event YouTube soon.
Book launch at Kinokuniya
[
]
A well attended meet-the-authors session was held at Kinokuniya's main bookstore in Takashimaya shopping centre along Orchard Road on Saturday, 7 October 2006 from 2pm to 3pm. It was advertised on SiGNeL[18] thus:
"Join the authors of SQ 21: Singapore Queers In The 21st Century as they share their life experiences from the book in this book signing event .

SQ 21: Singapore Queers In The 21st Century shows an unabashed straight-forward honesty and celebrates the life of these ordinary Singaporeans. Written in a light, readable style, these inspirational stories will touch the hearts of readers gay or straight, Singaporean or otherwise."
A promotional video for the event was made by film director Boo Junfeng[19].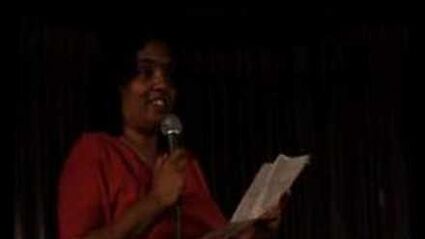 Bestseller
[
]
In the 8 October 2006 edition of The Sunday Times' LifeStyle section, it was reported that SQ21: Singapore Queers in the 21st Century had gone up to the number 4 spot in the list of non-fiction bestsellers[22].
It was the only book in the top 5 without a financial/business element, beating Singapore: The Encyclopedia (at number 7 - in which homosexuality was not given a single mention), Ten (by Vincent Ng, at number 8) and Scribbles from the Same Island by Neil Humphreys at number 9.
Its initial print of 2,000 copies was totally sold out and a second batch of 1,000 had to be printed. It unexpectedly turned out that the National Library Board was a great customer as three copies of the book had wormed their way into each of the 13 library branches in Singapore, bringing the number of copies in public loan circulation to 69 — a number that brought much amusement to its contributors. In the main National Library building, a copy of the book was placed next to Ng King Kang's The Rainbow Connection in the reference section.
Reprint
[
]
In 2018, twelve years after it was first published, a reprint of the book with a set of two new covers to choose from, one black and the other white, was published by Math Paper Press and available from BooksActually's online store[23],[24]. It was priced at SGD$22.
The advertisement on its back cover read:
"First published in 2006, the groundbreaking collection of coming out stories was the first affirming non-fiction volume accompanied by real names and faces. Written in light, clear prose, SQ21 shows an unabashed straightforward honesty and finds inspiration in the lives of these ordinary Singaporeans.
Though a bestseller that won acclaim as The Straits Times non-fiction book of that year, SQ21 remained out-of-print for nearly a decade. This new reprint comes updates with fresh material – a new interview by Ng Yi-Sheng, and a new foreword by the editor Jason Wee."
See also
[
]
References
[
]
Acknowledgements
[
]
This article was written by Roy Tan.