Early sex reassignment surgery
[
]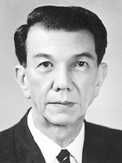 Singapore's second President, Benjamin Sheares, was a well known and distinguished O&G surgeon who headed the Department of Obstetrics and Gynaecology at Kandang Kerbau Hospital in the 1940s and 50s. One of his main contributions to medicine was a technique to create an artificial vagina for patients born without one. A modification of Sheares' vaginoplasty technique was later used by pioneering gynaecologists in the same department like Prof. S Shan Ratnam to perform male-to-female sex reassignment surgery (SRS). Ratnam later trained other younger surgeons like Assoc. Prof. Arunachalam Ilancheran and Ratnam's nephew, Dr. C Ananda Kumar to perform the procedure. The first such operation in Asia took place in Singapore in July 1971. However, before patients could go under the knife, they first had to subject themselves to an exhaustive battery of tests and be given a clean psychological bill of health by Singapore's chief academic psychiatrist Prof. Tsoi Wing Foo of the Department of Psychological Medicine, National University of Singapore. Psychiatrists in Singapore required transgender patients to live and dress as a member of the opposite sex for at least a year before certifying them suitable for sex reassignment surgery. Half of those seen by Prof. Tsoi were not deemed suitable for the operation. His counselling sessions also helped to make transsexuals aware of the difficulties they might face after they have had the operation performed.

First sex change operation
[
]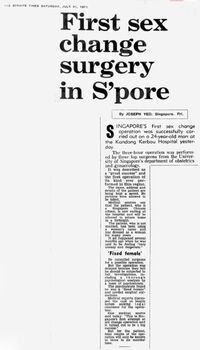 The first sex change surgery in Singapore was successfully performed on Friday, 30 July 1971 at Kandang Kerbau Hospital[1],[2],[3]. The operation involved a 24-year-old male-at-birth individual and was the first procedure of its kind performed in Singapore as well as in Asia. There had been previous "sex-change" operations performed locally, but these mostly involved patients who had both male and female genitalia (hermaphrodites) and the removal of one set of genitalia. The 1971 operation was regarded as a first because it involved a surgical conversion aimed at functionally changing a person's sex.
Patient and diagnosis
[
]
The patient was a 24-year-old Singaporean citizen of Chinese heritage. Her name was initially kept secret, but her background was later made public in a book, which also revealed her name as "Shonna". The eldest son in a family of five with two younger sisters, she lived in constant fear as a child because her father was a hot-tempered and aggressive dentist who was often physically violent with his wife. This caused her much psychological trauma as she witnessed her mother suffer multiple beatings at the hands of her father. Stitches and trips to the hospital became commonplace in a household that was supposed to be a bastion of safety and security. Eventually, Shonna moved to her grandmother's abode although she still maintained frequent contact with her mother and two younger sisters. Her grandmother raised her, dressing her up as a female and it was through the elderly woman that Shonna was adopted by the goddess Guanyin (Goddess of Mercy in Buddhism) at their nearby temple. In her teenage years, she associated with other cross-dressers before frequenting the transvestite and transsexual scene at Bugis Street as an adult.
Shonna's teenage years were no better than her childhood. At school, she was performing abysmally and was unsuccessful in her attempts at obtaining a secondary-level certificate. It did not help that she was often bullied for her appearance. Male students would take her to the movies and force her to masturbate them. Her father tried to get her to work as an assistant at his dental clinic for a while, though this was short-lived. After embarrassing remarks about Shonna's ambiguous gender, the dentist banished her to perform chores at home. A year before her father died in 1966, Shonna started looking for work on her own. From the age of 16, she first worked as a sales assistant, then as a housemaid for a European man whom she had an affair with and who subsequently forced her to leave the job. She then found work in a bank. Her next occupation was a public relations officer in a hotel. During this stint, Shonna entered a Miss Beauty contest and won the second prize. As a result, she was allowed to model part-time for advertisements and was soon featured in Her World magazine. It was also during this period that Shonna joined a cabaret where she was known as "Mama Chan" and started a social escort service.
While her professional life had started to take off, her personal life was still in a shambles. The woman wanted to be a serious model, get married to a man and settle down. These were things that her physical body and the prevailing laws of the era would not allow her to do. Desperation drove her to attempt suicide twice and left her on the verge of another attempt to kill herself. This was when she decided to seek Professor S Shan Ratnam's help. Having lived as a woman for some time, she first consulted Ratnam, then senior lecturer in the University of Singapore's Department of Obstetrics and Gynaecology, in 1969. She was suffering sexual and emotional problems, which had led to two suicide attempts.
In later years, Ratnam recounted his experience of seeing the young woman sitting outside his office: "She was so attractive, I couldn't take my eyes off her." Deep down, he knew that something was wrong – the women who would come see him this late and alone usually wanted an abortion or help with an awkward situation. Nonetheless, he invited the woman into his office and sat her down. "Professor, I want a sex change operation," she said very frankly. Surprised, he leaned back on his chair and responded, "Why come to me? I don't know anything about transsexualism". At that point, sex change operations were virtually unheard of around the world, and there was little medical literature surrounding the topic.
"Professor, you have the right to say no, I'll accept it. But you may not see me alive again," she said as she pulled down her shirt to show a large cut mark across her neck. Not knowing what to do, the professor referred her to the psychiatric clinic, hoping that she would not come back. Ratnam explained to her that he had no experience in sex change surgery, but she persisted and continued to visit his clinic weekly. Every evening, at around six, she would wait outside Ratnam's office, asking him if there were any updates on her case. Eventually, the psychiatrist, Dr Tsoi Wing Foo, wrote back to Ratnam, telling him that Shonna was not only able to give informed consent for the operation, but would also greatly benefit from it.  She had been diagnosed with gender dysphoria, which meant that she possessed a continuous sense of inappropriateness about her anatomic sex and a desire to discard her genitalia and live as a member of the opposite sex. A total of six to nine months of medical and psychiatric tests had to be carried out before the Shonna could undergo the operation. After the results were reported, Ratnam had no choice but to give in. He began to research the subject of transsexualism and sex reassignment surgery. In preparing for what was to eventually be Asia's first sex change operation, Ratnam referred to a technique created by Singapore's President (and former professor of gynaecology) Benjamin Sheares. Called the Sheares vaginoplasty, the groundbreaking technique was originally used to create an artificial vagina for those born without one. Ratnam adopted and modified this technique for in sex change operations. He then familiarised himself with the surgery by practising on cadavers.
Shonna underwent a psychological analysis by a team of psychiatrists who confirmed that she was a transgender woman who required surgery. A diagnosis of transsexualism required that the patient possess a continuous sense of inappropriateness about his or her anatomic sex, a desire to discard his or her genitalia and live as a member of the opposite sex, and the absence of physical intersex symptoms or genetic abnormalities. Furthermore, his or her gender confusion (gender dysphoria) must not be caused by other disorders such as schizophrenia. The patient was also cautioned that the surgery would be irreversible, potentially involved a number of complications and required a prolonged follow-up period.
As Shonna's operation loomed, Ratnam reached out to the Ministry of Health to seek legal clearance. The ministry granted it as long as the procedure was done in secret and without publicity. Nurses, doctors and other workers at the hospital were informed about the instructions. After consideration of the Shonna's psychological profile and the medical expertise involved and with the approval of the ministry, it was decided to proceed with the operation.
Operation
[
]
On Friday, 30 July 1971, the operation was performed by Ratnam and two other top surgeons from the University of Singapore's Department of Obstetrics and Gynaecology, Associate Professor Khew Khoon Shin and plastic surgeon Mr R Sundarason. Photography of the operation was not permitted and everything was kept secret. That was until a medical student in the operating theatre telephoned his sister, who was then a reporter, to tell her that history was being made. The secret was so badly kept that by the time Prof Ratnam returned to his office after the operation, his phone was constantly ringing. He described the 3-hour operation as a success, with an uneventful post-surgery recovery.
For the first two to three years after Shonna's operation, Ratnam conceded that he was very worried. Considering that sex change operations were relatively new, he was fearful that patients would regret and resent the irreversible procedure after a few years. Even his own colleagues were talking behind his back about the surgeries. However, as soon as he started getting letters from patients (some calling him a "saviour") thanking him for his help, he knew he was doing the right thing. According to him, even recovered cancer patients were not as joyous as these individuals. This conviction led Ratnam to later establish the Gender Identity Clinic specialising in sex reassignment surgery at the National University Hospital.
Marriage plans
[
]
After the operation, Shonna felt fine and was to leave hospital for home because she had marriage plans[4]. Speaking from her Kandang Kerbau Hospital bed, she said she was engaged to an executive who worked in the same office building as herself. Reclining on her hospital bed and peeling an apple, she said she was feeling fine and waiting to be discharged "very soon."
The 24-year old stenographer also said she would be going back to work on her discharge from hospital. Shonna was subsequently put on hormone replacement therapy and became functionally a woman, with the exception of being unable to conceive or menstruate. She later married a Frenchman and owned a travel agency in Paris, before moving to England.
Impact
[
]
The July 1971 operation paved the way for sex change surgery in Singapore and in the region. Singapore's first sex change operation on a woman took place three years later, between August 1974 to October 1977 (female-to-male conversions are a more complex process and involve several surgical stages). In the 1970s and 1980s, hospitals in Singapore accepted numerous sex change patients from other Southeast Asian countries, with foreigners making up around half of all surgeries performed."
Second sex change operation
[
]
Singapore's second sex reassignment surgery was also performed successfully at Kandang Kerbau Hospital by a team of doctors — which included a psychiatrist — headed by Prof. S Shan Ratnam of the University of Singapore's Department of Obstetrics and Gynaecology[5]. The second patient was a 25-year-old bachelor, who was said to be working in the hotel industry. Like his predecessor, he had been using a woman's name and had dressed as a woman for many years.
He had been "unhappy" about his condition and had consulted a private doctor soon after reading about Singapore's first sex change operation in July 1971. He was referred to the hospital in mid-October 1971 and the operation, lasting about three hours, was performed a day after he was warded. He was also followed up with hormonal treatment to ensure permanency of the change.
Prof. Ratnam urges Government to allow post-op transgenders to change particulars on ICs and passports
[
]
On 25 November 1973, Prof. S Shan Ratnam made a speech during the International Y's Men's Club lunch meeting at Hotel Equatorial imploring the Government to allow post-operative transgender Singaporeans to change the particulars on their personal documents so that they could have a better chance of leading normal lives.
A policy directive was subsequently instituted at the National Registration Department to enable them to change the legal gender stated on their national registration identity cards (NRIC) (but not their birth certificates) and other documents which flowed from that, such as their passports.
Of course, one would not expect just one speech by Prof. Ratnam to accomplish this coup which saw Singapore take the lead worldwide with respect to transgender rights. The LGBT community and general public did not know how this was achieved until Ratnam's protege, Assoc. Prof. Arunachalam Ilancheran revealed during a television discussion forum on thirunangai (Tamil male-to-female transwomen) in 2012 that Ratnam lobbied the Government quietly behind the scenes [6]:
First female-to-male sex-change operation
[
]
In October 1974, a team of O&G surgeons from the University of Singapore carried out Singapore's first sex reassignment surgery on a woman at Kandang Kerbau Hospital[7]. The operation was the first-ever performed on a woman in the region. It was done in three stages and was described as "highly complex" by medical specialists.
The lengthy procedure began in about August 1974 and the surgeons from the University of Singapore's Department of Obstetrics and Gynaecology again led by Prof. S Shan Ratnam successfully completed the first two stages. Two months later, they carried out the final phase on the woman, who was a Singapore citizen and a Chinese, aged 24 and single. Her name address and other details were kept secret.
Prof. Ratnam also opted to remain silent about the operation. A Ministry of Health spokesman said, "Prof. Ratnam is unwilling to discuss any such operation as he to unable to see the reasons for doing so. This Ministry concurs with his views." Ratnam did, in the past, speak on two male-to-female sex change operations and the problems patients faced. The patient, believed to have been educated in a mission school, had a girlfriend. She was to understood to have been feeling very uneasy and desperate for several months. She was taken through a full investigation, including a thorough psychological analysis by at team of psychiatrists, to determine if she was a "true" transexual who could not bear being a woman at all.
It was only after very careful consideration, including a thorough medical study and psychiatric endorsement — and with the Ministry's approval — that the operation was given the green light. Once the operation is successfully completed, she applied to the Attorney-General's Office for a change in legal status from "Miss" to "Mister."
Documentary
[
]
In a groundbreaking and extremely graphic mondo documentary entitled "Shocking Asia" produced in 1974, transgender women in Singapore revealed the most intimate details about their lives and sex reassignment surgery done by pioneering surgeon, Prof. S Shan Ratnam who also granted an exclusive interview. The operation itself was shown in great detail[8]:

Ratnam is believed to have been unhappy with the final tenor and packaging of the documentary, which can be regarded as a mondo film, as he was probably led by the producers to believe that it would be a scientific, non-sensationalistic project.
Cessation of sex reassignment surgery
[
]
http://yourhealth.asiaone.com/content/sex-change-operations-dwindling-singapore
Sex change operations dwindling in Singapore Tuesday, Dec 30, 2014 The Straits Times By Hoe Pei Shan
Thirty years ago, Singapore became a global destination for sex-change surgery, with public hospitals dealing with hundreds of cases every year.
Now, such operations in public hospitals here have ceased since last year, forcing transgender people wanting sex-reassignment to look to Thailand and South Korea.
The National University Hospital (NUH), believed to be the last public hospital to do sex-change surgery, said it no longer offers the procedure. It did not give a reason, and the Ministry of Health (MOH) also did not reply specifically when asked about the issue.
The only known surgeon still performing sex-change surgery here in private practice - Dr Colin Song of Cape Clinic which opened in the middle of last year - said that "one known concern" surrounding sex change has been the spread of HIV.
It was reported previously that the authorities here asked hospitals to phase out sex-change surgery in the late 1980s for fear that hospital staff might be exposed to the virus. It was also reported then that MOH had not considered sex-change surgery as a life-saving procedure. The objection was lifted in 2001.
When asked about the ministry's current stance on sex-change surgery, its role in overseeing the procedure, and why public hospitals have stopped offering it, an MOH spokesman would only say that "sex reassignment operations are not subsidised and are performed with... safeguards".
Demand, however, has not shrunk, according to private psychiatrist Tsoi Wing Foo, who co-wrote a book on transsexualism here with Singapore's pioneer sex-change surgeon, the late Dr. S Shan Ratnam.
Since 1971, Dr Tsoi has seen over 2,000 transgender patients, half of whom go for surgery. A psychological assessment is needed before sexual reassignment here. During the 1970s and 1980s, he had roughly 30 cases a year. In the last seven years, he has seen an average of 40.
He does not know why surgery options here are dwindling, but speculated that it could be due to public policy changes or the personal preferences of the few doctors who have taken on such surgery. Dr. C Anandakumar, who had worked with his uncle, Prof. Ratnam, declined to speak to The Sunday Times.
Dr Song of Cape Clinic specialises in female-to-male operations and had previously worked at the Singapore General Hospital.
A male-to- female operation at Cape costs $55,000, with the reverse being slightly more expensive, said Dr Song.
While NUH declined to reveal its most recent rates, such operations used to cost between $8,000 and $15,000 six years ago.
Dr Song said he has yet to see a patient for full reconstruction since setting up Cape.
Most seek partial reconstruction, such as removing breast tissue, as it changes the outward appearance and is more economical, he said.
The adjunct professor at the Duke-NUS Medical School, who has been performing sex- change surgery for two decades, said high facility costs is the main reason he cannot match the rates public hospitals used to offer.
Eight in 10 patients whom Dr Tsoi has referred for surgery choose to go to Thailand, "mainly because of costs". In Thailand, a full sex change costs around $20,000.
Those who go overseas for surgery may have to do without the immediate support of family and friends right after surgery, while cultural and language differences may affect the quality of post-operative care, said Oogachaga Counselling and Support deputy director Leow Yangfa. Oogachaga provides support for the lesbian, gay, bisexual and transgender group.
Mr Joe Wong, who underwent an operation in Bangkok to become a man, said doctors there were "only concerned about performing the surgery and provided little or no information on post- operative care and follow- up".
The 30-year-old said he knew the risks in having surgery overseas, but with scarce options in Singapore, he had little choice.
hpeishan@sph.com.sg
This article was first published on Dec 28, 2014.
See also
[
]
References
[
]
Chan Meng Choo, "First sex change surgery (1971)", Singapore Infopedia[9].
Ho Pei Shan, "Sex change operations dwindling in Singapore", The Straits Times, 30 December 2014[10],[11].
Rachel Chan, "Bet you didn't know that Singapore used to be a hub for sex change ops", The Popping Post, 16 January 2016[12],[13].
Chua, M. (1974, November 7). Who really needs a sex-change?. The Straits Times, p. 10.
Cheow, X. Y. & Fung, E. (2007, March 7). Born in the wrong body. The Straits Times, p. 114.
Fifth sex-change operation a success. (1972, September 11). The Straits Times, p. 6.
Kwee, M. (1974, October 20). S'pore's first sex change woman. The Straits Times, p. 1.
Lim, S. (1990, May 20). Legal poser over sex-change transsexuals who get hitched. The Straits Times, p. 21.
Ratnam, S. S., Goh, V. H. H., & Tsoi, W. F. (Eds.). (1991). Cries from Within: Transsexualism, Gender Confusion & Sex Change. Singapore: Longman Singapore. (Call no.: RSING 616.8583 RAT)
Second sex change operation in S'pore. (1971, November 5). The Straits Times, p. 15.
Sex change man signs statutory declaration affirming that he is now a woman. (1972, April 16). The Straits Times, p. 6.
Tan, K. H., & Tay, E. H. (Eds.). (2003). The History of Obstetrics and Gynaecology in Singapore. Singapore: Obstetrical & Gynaecological Society of Singapore: National Heritage Board. (Call no.: RSING q618.095957 HIS)
Tan, W. L. (1971, August 25). Sex change patient has marriage plans. The Straits Times, p. 8.
Tan, W. L. (1971, August 31). Man-made woman may not get marriage licence. The Straits Times, p. 6.
Tan, W. L. (1971, November 11). They're still 'misters' despite sex change. The Straits Times, p. 8.
Why sex-change patients set up homes overseas. (1975, August 10). The Straits Times, p. 5.
Yeo, J. (1971, July 31). First sex change surgery in S'pore. The Straits Times, p. 17.
Jeffrey Hays, "Homosexuality, gay life, and sex change surgery in Singapore", Facts and Details, 2008, updated June 015[14].
Acknowlegdements
[
]
This article was written by Roy Tan.