The Sandman Will Keep You Awake - The Loop
Play Sound
The inaugural Short Circuit was held at the Guinness Theatre, The Substation, at 7:30 pm on Friday, 6 October 2006.
It was organised by PLU under the leadership of Alex Au and curated by writer Alfian Sa'at and film director Boo Junfeng.

Short Circuit (2006)
[
]
While it was not quite a full-blown film festival, Singapore held its inaugural showcase of 12 short films by 9 local filmmakers on Friday, 6 October 2006. Curated by award-winning poet and playwright Alfian Sa'at and filmmaker Boo Junfeng, the films that were selected either featured either LGBT themes or were made by queer filmmakers.
Organised by Singapore's pioneering LGBT advocacy group People Like Us headed by Alex Au, Short Circuit was a private screening which required attendees to register by email at least a week prior to the event. It attracted a turnout of 144 people. The requirement was stipulated by the organisers in consideration of censorship rules in Singapore.
Au explained that almost all films with homosexual content were rated R21 by the Media Development Authority. "We felt that since the filmmakers were themselves barely 21, they would have a lot of their own friends of their age group who'd want to see their works. So it didn't feel right to exclude them."
Au also said, "We would not as a matter of principle accept edits imposed by censors. So we'd rather do a private screening than subject ourselves to rules we do not agree with."
Au, a social commentator and gay rights activist, noted the audience's response in his Yawning Bread blog: "It's hits home very hard, a painful portrayal of what many of us, straight or gay, have gone through. There is desire, and the realisation of that desire in physical sex. But sometimes that turns out to be little more than mechanical, and we deal with it through denial (it's no big deal, we say). But there are times when denial doesn't work and we may feel dirty or used, ending up regretting and chastising ourselves for doing what we did."
The heavyweight offerings of the night were Boo Junfeng's nostalgic Un Retrato De Familia (A Family Portrait) and Pink IC by Charmaine Wong, a documentary which had five women talk about being gay in Singapore.
In A Family Portrait which was filmed in Spain (and in the Spanish language) with a local cast, a young girl asks her teenage brother a question which leads him to recall a day many years ago when he saw his parents and uncle in a threesome. Boo later revealed that the film was instrumental in his coming out to his mother two years later when he turned 21.
While the audience and filmmakers discussed queer film making and having positive gay representation in film, the most quoted take home message of the night was undoubtedly from Ivan Heng, the founding artistic director of W!LD RICE and one of Singapore's best known figures in the arts scene. He articulated the importance of community events such as Short Circuit saying: "Tonight's gathering is significant. We came here as strangers, and having witnessed these films together, we leave as a community."

Programme line-up
[
]
Bedroom dancing
[
]
(In Mandarin with English subtitles)
By Sun Koh
Jen and Ken have mind-blowing sex every night. One day, Jen learns that another woman has been watching her husband. A fictional adaptation of the true Singapore story.
Held at The Substation, the evening opened with an unexpected bang where the mostly queer audience watched what is unarguably the most explicit sex scenes (ironically heterosexual) in the history of Singapore filmmaking on the big screen.
Bedroom Dancing, a 18-minute social satire by Sun Koh, is a fictional adaptation of a true story where a man in Singapore was fined S$6,500 (US$4,000) by the state for masturbating at his bedroom window every morning after a woman - who presumably spied on him on numerous occasions - made a police report.
Demam jantan (Boy fever)
[
]
(In Malay with English subtitles)
By Ezzam Rahman and Ghazi Alqudcy
Two chatty queer teenagers decide to perform a traditional ritual to get their boyfriend back. It's a rollercoaster night for them when they need to perform the ritual at a Malay cemetery. Will they be abducted by roaming spirits? Or will they spook their pants off?
Crocodile journals
[
]
By Yeo Lee Nah
Living in disguise, a crocodile goes through the everyday, in a human world. One day, it gets invited to a masquerade party…
Molu (Daughter)
[
]
(In Tamil with English subtitles) By Prema Menon
All her life, Maya has grown up in a small town. Now she dreams of moving onto a place that holds bigger and better things for her. With the inheritance of her deceased father pending, a year after his demise, she sees this as the perfect opportunity to leave. The only thing that stands in her way is her mother's reluctance, or so she thinks.
Montage of 4 very short films
[
]
Asian girls vol. 2 (Memoirs of a geisha)
Imelda goes to Singapore
Instant noodles
The ephemeral body
By Brian Gothong Tan
Four very short films by multimedia artist Brian Gothong Tan explore issues of gender, sexuality and cultural stereotypes. From the eerie homoeroticism in The Ephemeral Body to the kimono-clad drag queens in Asian Girls Vol. 2, Brian's works are often notable for their icy, high-gloss finish subverted by play and parody.
Falling into fuchsia
[
]
By A D Chan
Struggling actor Gary plays Hamlet in a homoerotic film adaptation of Shakespeare's play. As he works hard on the role, his girlfriend complains that he is not giving their relationship enough attention. But when his co-actor Aidan provokes him with suggestive invitations, Gary's real life and reel life begin to intertwine…
Pink IC
[
]
By Charmaine Wong
Pink IC was made at the height of Remaking Singapore as well as ex-PM Goh's significant interview with Time Asia Magazine, in which he announced that the government has allowed gay people to hold "sensitive" positions in the civil service (see main article: PM Goh Chok Tong liberalises employment of openly gay individuals in civil service, July 2003). The personal is political and Pink IC offers a glimpse into the lives of 5 queer female Singaporeans, exploring what it means to be queer, female and Singaporean.
Wong's 12-minute documentary was spliced with sound bites from a 2003 interview with Minister for Community Development, Youth and Sports Dr Vivian Balakrishnan, who was asked by the filmmaker where gay people fit into Singapore society. He was speaking at The Remaking Singapore Dialogue held at Perth's Murdoch University where Wong was a Media Studies student.
At the August 15, 2003 dialogue, he said: "Let me put it to you this way, a gay person or a straight person is a citizen. And as a citizen, he has a certain reasonable expectation to be able to live, work, find housing, find a job and to seek fulfillment in his or her own life. The fact that he is different or she is different does not give anybody the right to throw stones or to stone that person.
"But having said that, there's a difference between tolerance and endorsement and as a government, we're not endorsing or promoting the homosexual lifestyle.
"So therefore my advice to gays would be -do your own thing but recognise and respect the fact that the vast majority of Singaporeans are conservative on this point and it would be counterproductive to you to unnecessarily ratchet up the level of debate."
At the time, the "Remaking Singapore" Committee which Dr Balakrishnan heads had just submitted its report which made recommendations on the political, social and cultural aspects of Singapore's survival as a nation. At the same time, an intense public discussion about then PM Goh Chok Tong's Time Asia interview where he disclosed that gay people are being employed within the government was taking place.
Wong told Fridae, "Amidst that discussion, another question was being asked: What happened to the lesbian voice? Why weren't they contributing to the discussion?"
"So that was how Pink IC came about. I wanted queer - not necessarily lesbian - female, Singaporeans - (not only ethnic Chinese Singaporeans - to voice out on how it is for them to be queer, to be female, to be Singaporean and on the political events that were happening around them that were affecting or had the potential of affecting them personally."
Untitled
[
]
By Loo Zihan & Kan Lume
Boy meets boy. Boy has sex. Boy goes home. Boy drinks water. Boy takes a shower. The other boy is fading.
While most films received unrestrained applause, the audience was a little less enthusiastic in showing their appreciation of Loo Zihan's emotionally charged 7-minute film which features a young man who suffers a breakdown in the shower after having sex with a male stranger. The film also inspired questions about whether gay films have a duty to promote positive portrayals of gay life during the question and answer session. Loo's responded that what was depicted in the film could be experienced by both gay and straight individuals.
Un Retrato De Familia (A Family Portrait)
[
]
Main article: Un Retrato De Familia
By Boo Junfeng
Sergio is a 17 year-old amateur photographer. When his little sister asks him about the meaning of sex one day, he revisits a memory years ago, in which he discovers a shocking secret amongst his family members.
Short Circuit 2 (2007)
[
]
After an overwhelmingly successful first run, Short Circuit returned the following year, on Saturday, 22 December 07, again at 7:30 pm at the Guiness Theatre, The Substation. Registration at the door commenced at 7 pm.
This time, however, PLU relinquished its organisation to film maker Boo Junfeng and his friends like He Shu Ming who now had the experience to orchestrate the entire event.

Programme line-up
[
]
Monkey love
[
]
By Royston Tan - 10 minutes
In the evocative landscape of wintry Hokkaido, Monkeyboy (a young man in a monkey suit) searches for his stolen heart - but even the serene beauty of a mountain cannot redeem the failed connection.
Mandarin with English subtitles
Londres-London
[
]
By Eva Tang - 10 minutes
In a city that could be anywhere or nowhere, which at any moment could be destroyed, we discover Lisa in the midst of break-up of a relationship and the 7th July London bombs attack.
French and English with English subtitles
Locust
[
]
By Victric Thng - 4 minutes
A momentary encounter evokes both a sense of fondness and bitterness of the heart. Moving and lyrical, the film's Hong Kong backdrop heightens the emotive narration.
Cantonese with English subtitles
Autopsy
[
]
By Loo Zihan - 7 minutes
This year, actor and director Loo Zihan appeared in 2 of the most controversial Singapore films ever produced - the gay-themed "˜Solos" and ˜"Pleasure Factory". This documentary sensitively explores the subject of media sensationalism from the other side.
English and Mandarin with English subtitles
9:30
[
]
By Yong Mun Chee - 13 minutes
Chan Kin Fai flies 14,092.2 km from Singapore to Los Angeles to forget his love. He calls his love every day at 9:30 am Singapore time.
Adam up there
[
]
By Ezzam Rahman and Ghazi Alqudcy - 5 minutes
Two hilariously campy Malay men wear sarongs, dye each other's hair, and discuss the hunky new neighbour who has just moved in upstairs.
Malay with English subtitles
10 minutes later
[
]
By Kirsten Tan - 12 minutes
10 Minutes Later is a short film that tells the tale of 10 characters - of their habits, their quirks, their relationships, their actions, and most importantly, their interweaving lives. This film is made up of a medley of characters that represent a slice of life.
English, Hokkien and Mandarin with English subtitles
White
[
]
By Tan Wei Keong - 2 minutes
A man, dissatisfied with a white cube for a head, decides to give it up immediately for a fanciful one in the name of self-improvement, only to find himself unwillingly dealing with the consequences.
Waking the fluorescent lion
[
]
By Brian Gothong Tan - 7 minutes
A series of tableaux exploring ideological fictions that are written on bodies. Singapore's history is teasingly eroticised through a series of split-screen vignettes.
Katong fugue
[
]
By Boo Junfeng - 10 minutes
A film adaptation of a short play about a boy with a hidden life and a mother desperately trying to reach out.
Short Circuit 3 (2008)
[
]
The third run of the highly popular event was held on Saturday, 8 November 2008, again at The Substation.
A Yahoo! Groups news list named "Short Circuit:3" was created on 14 October 2008[1] with the following information displayed on its landing page:
"SHORT CIRCUIT is an annual one-night-only film showcase that celebrates queer short film-making in Singapore! Curated by Boo Junfeng and Alfian Sa'at, this private screening looks set to fill The Substation yet again on Sat 8 Nov 2008!
Here's the juicy line-up on Nov 8:
377 - Loo Zihan / 4min
Substitute - AD Chan / 20min
Twogether - Victric Thng / 2min
Don't Say Farewell Again - Eva Tang / 15min
Miss A Shot - Ghazi Alqudcy & Ezzam Rahman / 8min
Overhead Clouds - Yeo Lee Nah / 5min
Four Dishes - Leon Cheo / 8min
Tanjong Rhu - Boo Junfeng / 19min
Wet Seasons - Michael Tay / 6min
Tell a friend quick!
We will close registration once we hit the theatre's seating capacity!
Synopses and more details will be sent out once registration closes."

Short Circuit 4 (2010)
[
]
Short Circuit 4 was held at The Substation's Guiness Theatre on Thursday, 9 December 2010[2]. News of its organisation was met with a heartening reception with regard to the amount of ticket reservations snapped up and the subsequent online lamenting on the event's Facebook page by its slower-acting fans.
Seven short LGBT films were screened: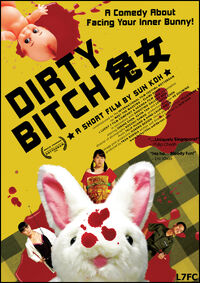 Mu Dan

(directed by

Lincoln Chia

)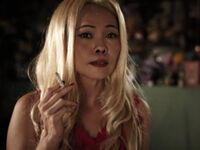 Masala Mama

(directed by

Michael Kam

)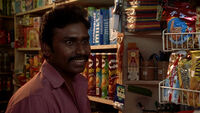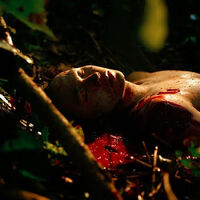 Respirator

(directed by

Michael Tay

)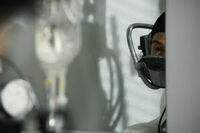 Cold Noodles

(directed by

Kirsten Tan

)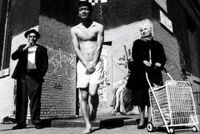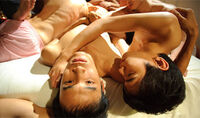 During the Q&A session, an audience member pointed out that a conspicuous aspect in the overall showcase of the 7 films was the absence of lesbian stories. There also seemed to be a move away from the stereotypical portrayal of camp gay males except perhaps with the exception of Michael Kam's limp-wristed Indian shopkeeper in Masala Mama whose tender sensitivity and feminine behaviour on screen were met with light giggles from the audience.
There was a dominant use of flashback and disruptive scenes to break up the narratives' formally established realistic tangents, either to depict the psychological desires and distress of the characters, or to posit the alternative futures and events that they hoped for with the resolution of their dilemmas. When another audience member observed this familiar surreal thread running through most of the films, one curator of the festival Alfian Sa'at (the other being Boo Junfeng) suggested that it was a possible reflection of the duality that characterised the LGBT struggle in an individual's desire to voice out his or her sexuality, but remained distressed in the circumstances that restrained such hopes to be able to do so. This invariably invoked the second strategy of viewing the films through the background of the director. However, Kirsten Tan's Cold Noodles had nary a hint of an LGBT narrative or content.
Short Circuit 05 (2012)
[
]
Singapore's showcase of LGBT short films returned in 2012 for its fifth installment, which continued to feature an extraordinary spectrum of LGBT experiences and perspectives. By turns heartwarming, funny, provocative and wistful, the selection was testimony once again to the vitality and range of Singapore's LGBT filmmakers. The event was curated by Boo Junfeng and He Shu Ming.
Programme line-up
[
]
Kristy
[
]
Marcia Ong | 7 minutes | English
A little girl who is in love with her favorite T-shirt is locked in a battle of wills with her mother, who wishes she would start wearing dresses.
Someday my prince will come
[
]
Ezzam Rahman | 6 minutes | No Dialogue
"Good things come to those who wait* - it is about what lies around the corner, the anticipation of it all, the yearning for something to happen. If only we knew when.
Labour Day
[
]
He Shuming | 23 minutes | Mandarin, Malay and English (With English subtitles)
Cik visits her old flat to collect rent from two foreign worker tenants - Zoe, a Malaysian-Chinese who dreams of being a star, and Purple, a study-mama from China who is hiding a secret from her son.
Trailer here.
Sisters
[
]
Lincoln Chia | 9 minutes | English and Mandarin (With English subtitles)
The Chinese custom for bridesmaids, or '"sisters", to playfully impede a groom's progress on the morning of the wedding, as he arrives at the home of the bride to fetch her, takes on a dark, poignant twist.
Transit
[
]
Regina Tan | 10 minutes | Malay (with English Subtitles)
Sri, an aspiring dancer, reflects on her difficult circumstances as she seeks to embrace a selfhood that our society marginalizes and makes moral judgments on.
Thin air
[
]
Kirsten Tan | 12 minutes | English
A whimsical tale chronicling the final days of Hector, a wheelchair-bound old man who is occupied with fishing - from the rooftop of an apartment building in New York City.
Swing
[
]
Leon Cheo | 6 minutes | English A few weeks after Wei Long and Daniel have broken up, Daniel asks Wei Long to meet him one more time.
Chancre
[
]
Loo Zihan | 17 minutes | English
Chancre - a painless ulceration formed at the onset of syphilis; a transmutation of a memory couched in shame, Film includes text excerpts from Paul Gauguin's The Writings of a Savage and Walter William Skeat's Malay Magic.
Excerpt here (note: graphic content).
TRAILER
Patrons could purchase their tickets at $10 each, via PayPal at http://shortcircuitsg.tumblr.com/ and collect them at the door on 6th 3anuary from 6:30pm with the electronic payment receipt for verification.
Proceeds went to Young Out Here (YOH), a support group for LGBT youth in Singapore.
For more on YOH, visit
http://young-out-here.blogspot.com/
Time: 2012-01-06, 20:00 - 23:00hrs
Venue: Guinness Theatre, The Substation.
Address: 45 Armenian Street, Singapore 179936, Tel. no. +65 6337 7535
Ticketing URL: http://shortcircuitsg.tumblr.com/
Website URL: http://shortcircuitsg.tumblr.com/
Enquiries: shortcircuitsg@gmail.com
Short Circuit 6 (2017)
[
]
The event, hosted by IndigNation Queer Films and IndigNation SG, and co-hosted by Boo Jun Feng, was held on Saturday, 19 August 2017 from 8pm to 10pm at The Projector, 6001 Beach Road, #05-00, Golden Mile Tower, Singapore 199589. Tickets were available at: http://peatix.com/event/288761
For the first time, Short Circuit was held under the banner of IndigNation SG. The screening was followed by a Q&A session with the filmmakers, hosted by Boo Jun Feng and Alfian Sa'at. Boo was nudged by Ng Yi-Sheng to revive the event. Proceeds raised from the screening were donated to Project X Singapore.
Advertisement:
"After a hiatus of five years, Singapore's showcase of LGBT short films returns for its sixth instalment, which continues to feature an extraordinary spectrum of LGBT experiences and perspectives. By turns heartwarming, funny, provocative and wistful, the selection is testimony once again to the vitality and range of our filmmakers. (Key art image from Tan Wei Keong's The Great Escape).
Program: 60-minute run time followed by a 30-minute Q&A session.
TICKETS:
ONLINE: $18
- get them here: http://peatix.com/event/288761
AT THE DOOR: $20 (cash only)
Also, please remember to bring photo ID!"

The Pursuit of a Happy Human Life
[
]
by Gladys Ng
(PG) - 10 minutes
Steph Chan is leaving Singapore for good. Yokes struggles to say goodbye. The two girls spend their last moments together before they begin their separate journeys on the pursuit of a happy human life. A commission of the 27th Singapore International Film Festival
TRAILER[4]:
The Great Escape
[
]
by Tan Wei Keong
(PG13) - 6 minutes
Two men and their olive tree. This film is inspired by Alfian Sa'at's poem 'The Great Escape'.
3:37:13
[
]
by Royston Tan
(PG) - 4 minutes
how long does it take to forget a person? A question we always ask ourselves... Presenting the second film " 033713" in the memory bank project after the first film "vicky". Starring Shane Pow Production company: Chuan pictures 2014
Tulacy
[
]
by Marisa Goh
(NC16) - 8 minutes 35 seconds
Tulacy is an observational documentary capturing the life of Tulacy, a seventy eight year old male to female (MtF) transgendered woman. It was in 2014 that Tulacy walked into an old shophouse which was then turned into a shelter for the transgendered homeless.
Producer: Inez Ho
Co-Producer: Marisa Goh
Director: Marisa Goh
Cintematographer: Justin Faith Ng
Editor: Jasmine Lee
Sasha is Fifteen
[
]
by Ghazi Alqudcy
(R21) - 11 minutes
Ghazi Alqudcy is active in the Singapore's local film scene, participating in numerous events such as the Take 5! Guerilla Filmmaking Challenge, Fly By Night Video Challenge and the MDA-Panasonic Digital Film Fiesta. In 2007, he held his first solo screening of three films – Lakshmi, Serah Diri and Block 46 at The Substation's Guinness Theatre.
Sasha makes men very horny. She provides the best phone play beyond their fantasies. But remember, as the title says, Sasha is fifteen.
Formation Parody
[
]
by Hirzi Zulkiflie and Maimunah Bagharib
(NC16) - 5 minutes
In a music video produced by Singapore Youtube stars Hirzi and Munah, they perform a parody of Beyoncé's Formation with a "Minah" twist, as a response to race and gender politics in Singapore.
A Beautiful Night in Johor Bahru
[
]
by Ghazi Alqudcy
(PG) - 5 minutes
There were people dancing. There were people playing with musical instruments. There were fire-eaters. They wore colourful clothes. Everyone seemed happy. It was a beautiful night in Johor Bahru for Sasha Isabella.
Wu Song Slays The Seductress
[
]
by Kirsten Tan
(NC16) - 11 minutes 40 seconds
The film is a reinterpretation of the classic and popular 15-minute Teochew Opera play '武 松杀嫂'. Restaged in a modern-day bar in Singapore, the story follows gangster Wu Song in his quest to seek revenge for his murdered brother, Wu Dalang. He soon discovers that his sister-in-law, a jaded dance hostess named Pan Jinlian, is involved in an adulterous affair with an influential rich man, Ximen Qing, and together, they plotted the death of Dalang.
See also
[
]
The Love and Pride Film Festival
References
[
]
Acknowledgements
[
]
This article was compiled by Roy Tan.