Jurassic World: Dominion Dominates Fandom Wikis - The Loop
Play Sound
(For drag queen performance bars such as the Boom Boom Room and Gold Dust, see the article Transgender people in Singapore).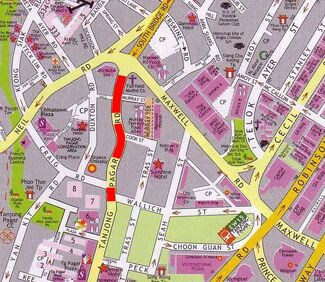 From the 1990s to the 2000s, most of Singapore's gay bars were located in the Tanjong Pagar constituency, through the heart of which runs Tanjong Pagar Road. This earned it the nickname of Singapore's Castro Street after its legendary namesake in San Francisco. However, with the closure of many gay establishments along Tanjong Pagar Road and the sprouting up of new ones along Neil Road in the 2010s, the latter usurped the title for a decade. Gay establishments were found interspersed along Tanjong Pagar Road and adjoining thoroughfares such as Tras Street, Craig Road,Neil Road, Duxton Hill, Ann Siang Road, as well as nearby districts such as Chinatown and Telok Ayer.

Contemporary
[
]
Main article: Backstage Bar
Situated at 13A Trenggannu Street (at the corner with Temple Street), Chinatown, tel. 6227-1712.
A cozy, uniquely decorated, gay-owned bar, with a balcony for flirting with passers-by. Fridays and Saturdays are particularly jam-packed. The staff are very hospitable and drinks are reasonably priced. It is located close to multiple clubs and gay saunas, opening daily from 7pm until the wee hours.
Main article: Tantric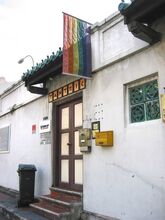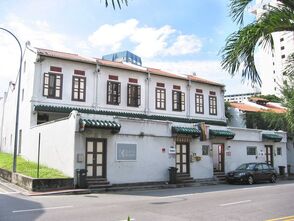 78 Neil Road (across from Taboo), tel: 6423-9232. It is a gay-owned and managed bar, the first to drape a rainbow flag above its main entrance. It has an open courtyard and a great atmosphere with a world music ambience. Weekends groove to the deepest "deep house". It opens daily from 8pm to 3am. The crowd is gay but gay-friendly straights are also welcome.
Located at 78A Neil Rd, Singapore 088841. It is owned by Tantric Bar, providing a newer to chill out. It is located on level 2 of the same building as Tantric. It is a good hangout during weekends when one wants to avoid the peak period crowd at Tantric.
Situated at 57 Neil Rd, tel. 6324-2802. Classy gay karaoke bar with nice crowd and friendly staff. Beverages are reasonably priced. On the eve of public holidays, the bar sometimes converts to a disco with cool house music after midnight. Open from Monday to Saturday, on holidays and the eve of public holidays, 8 pm to 3 am. Free shot for birthday guys or gals with proof of date of birth.
Situated at 43 Neil Rd, tel. 62242865. A new day & night venue. Set in a Chinatown shop house this Buddha inspired outlet offers you a relaxed atmosphere where the bistro/bar menu offers a wide selection of food and drinks at very reasonable prices. The 'happiest happy hour' in town meaning great drinks at great prices - Introducing our 1 for 1 housepour from 4-9pm Mon thru Sat. This is the place for that after work gathering with colleagues, or simply come down early with friends and stay late for the entertainment on offer. Open from 12 noon to 12am (Monday) 12 noon to 1am (Tuesday to Friday) and 2am on Saturday & Public Holiday. It underwent a makeover in 2013and was renamed OUT Bar.
OUT Bar[4] - a chill out gay bar located at 43 Neil Road designed in the iconic 1960s Hollywood era style to cater to today's divas. Its focus is entertainment with regular events, performance and a guest deejay. Open from Monday to Saturday, it's the perfect place to unwind, at happy hour prices, after a day's work. Promotions from 5pm to 9pm daily with any 2 beers at $14 nett and house red/white wine at $8 nett. Don't miss its infamous mojito cocktails at a very reasonable price. OUT Bar is available for private events, be it personal or commercial during the day.
Karaoke bar located at 145 Telok Ayer Street, exactly where OSO Bar was. "Lluvia" means "rain" in Spanish. The unit is directly across from the magnificent Thiam Hock Kheng Temple in a large, old style Chinese house. The clientele is many bears, chubs and their chasers.
Located at 80A Neil Rd, Singapore 088842.
Fry Rooftop Bistro & Bar

[7]
Located at 96B Club St, Singapore 069464.
Located at 9 Haji Lane, Singapore 189202
Intermission Bar

@ The Projector[8]
Located at 6001 Beach Rd, #05-00, Singapore 199589
Located at 2 Jiak Chuan Rd, Singapore 089260
Located at 202 Telok Ayer St, Singapore 068639.
Lesbian bars
[
]
Numerous bars catering solely or partly to lesbians have opened and closed over the years.
Party organisers
[
]
Organises parties for mainly gay cisgender men, and occasionally drag wars.
Organises events for mainly gay cisgender men.
Organises parties for LBTQ women every first Saturday of each month.
Organises parties for LBTQ women. It is a long-time sponsor of Pink Dot.
LGBT-friendly, queer-owned bars
[
]
The Autobus, Jigger and Pony and Muddy Murphy's have queer owners or are staffed by queer employees[13]. Bar Cichetti employs transwomen.
NO SLEEP CLUB is lesbian-friendly and owned by two lesbians.
Historical
[
]
Criterion
[
]
As far as locals can remember, but which can only be corroborated by a handful of people, the very first gay bar in Singapore was the Criterion along Orchard Road, not very far from the old Cold Storage building where Centrepoint now stands. It existed in the 1950s but had already ceased functioning by the early 1960s.
Golden Venus
[
]
Next came the Golden Venus bar, on the ground floor of the former Orchard Hotel along Orange Grove Road, as some locals and gay expatriates who lived in Singapore during the 1960s can recall[14]. It flourished from about 1960 until overtaken by Pebbles Bar (see below) in the mid-1960s. The former Orchard Hotel, just a few storeys tall, was much smaller than the currently rebuilt one. The latter occupies the space where a petrol station and terraced shophouses once stood, at the junction of Orchard Road and Orange Grove Road. The entrance to the Golden Venus was located at the rear of the hotel and could be accessed discreetly through the hotel's open-air car park.
It was always a mixed establishment rather than purely a gay venue. The bar area itself was predominantly gay, while in the adjacent larger room, there was a band and dance floor that was completely "straight", being much patronised by heterosexual British and Australian servicemen. It is interesting that the gay and straight areas both co-existed side by side without much evidence of open homophobia. In the bar, there were tables covered with white table cloths and a sprig of orchid in a small vase was placed on every table top. The waiters were mainly Hainanese in their 40s wearing starched white shirts with little bow ties.
Near the time of its closure in the mid-1960s, a Singaporean who visited the bar one night described it as being brightly lit but there was no sign of gay life. In fact, there was no sign of any life apart from the waiters and himself! Pebbles Bar in the Singapura Hotel Inter-Continental with its posh decor and hip, live music complete with androgynous performer was decidedly more upmarket and soon eclipsed The Golden Venus which then faded into the depths of gay history.
Le Bistro
[
]
Main article: Le Bistro
This was one of Singapore's first gay bars and opened in the 1960s. However, even by the late 1960s, it had not yet gained a reputation for being a gay venue. It was really just a hip bar, very conducive for hanging out at. It was located at the basement of a landmark building called Tropicana along Scotts Road. One approached the entrance to Le Bistro by walking along the left side of the building (looking from the main road) and heading towards the back. Tropicana was an exclusive and expensive 4-storey entertainment complex renowned for pioneering topless dancing girl revues and occupied the exact spot where Pacific Plaza now stands. Le Bistro was for those who either could not or did not want to pay the cover charge to see the topless revue in Tropicana upstairs. The appeal of Le Bistro was also the live music provided by an Indian woman singing and playing the piano behind a huge horseshoe bar. She alternated with a male guitarist.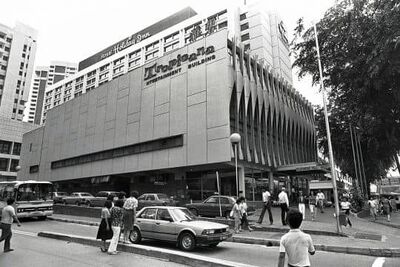 Sometime in the early years of the 1970s, the gay clientele started to come. They never turned the place entirely into a gay bar. Gay and straight clientele would sit round the bar listening to the performers. The bar was well patronized but never chock-a-block full like some gay bars or discos can be nowadays. It had become well known as a chill-out bar, especially amongst English-educated gays and a reputed pick-up haunt for white tourists and local, deeply closeted homosexuals. One could gain entry discreetly via a small side road connecting Claymore Hill and Scotts Road. Gay gatherings began on Sundays, a tradition which grew out of earlier attempts by Singapore food and beverage outlets to copy the American practice of holding Sunday afternoon tea dances, popular during that era. During that time slot, bars and discos were officially closed but Le Bistro's owner would admit his "friends" for a private party. As numbers grew and confidence increased, the afternoon tea parties eventually took over the Sunday nights.
These events were so well attended that they rivalled the iconic Pebble Bar in popularity and jostled for the same clientele, although each venue had its own niche. After Le Bistro eventually closed down, Pebble Bar once again came into its own and continued as THE gay meeting place to be until the Hotel Singapura Inter-Continental was demolished in the mid-1980s.
Pebble Bar
[
]
Main article: Pebble Bar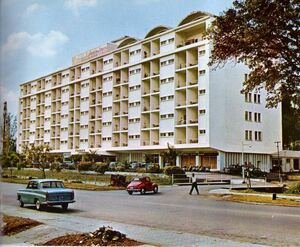 Affectionately referred to simply as "Pebbles", it was located on the ground floor forum of the now-demolished Hotel Singapura Inter-Continental along Orchard Road, adjacent to the Hilton Hotel. The hotel was actually completed in 1965 as part of the Singapore government's plan to turn Orchard Road into a tourist belt. Hotel Singapura Inter-Continental became the Hotel Forum before it was replaced by the present Forum Galleria building. Customers walked into Pebbles Bar predominantly via the main entrance adjacent to the hotel coffee shop fringing the lobby but, very conveniently, there was also a more discreet entrance from the car park at the rear of the hotel.
In the early 1970s, it became patronised largely by the English-educated, upper-strata gays of Singaporean society who formed a nexus which enticed other gays to congregate there. These included foreigners and socialising at the bar spawned many a local-Caucasian pairing. Pebbles' main draw were the live performances of a local band Tania, whose lead singer, Alban de Souza, was decked out in glitz, painted his face a la David Bowie or KISS but with red makeup instead of black-and-white, and entertained with flamboyant, energetic camp.
Although it was the only one of Singapore's first 3 gay bars to have a dance floor, albeit a rather small one, same-sex dancing was strictly prohibited. The bouncers would stop any gay couple from doing so. Today we take same sex dancing for granted but it is important to bear in mind that this was not allowed till the early 1980s. So gay people sat in one half of the bar drinking and listening to the music, while watching the straight couples dance in the other half. However, it was a common sight to behold men embracing and giving each other air kisses, a phenomenon rarely witnessed elsewhere in Singapore but which raised nary an eyebrow at Pebbles.
Pebble Bar became less popular as a gay venue later in the early 1970s when Le Bistro starting to attract more of the gay clientele, although it never completely plunged into oblivion as a meeting place. It experienced a resurgence in popularity when Le Bistro closed down.
Treetops Bar
[
]
Main article:

Treetops Bar
Following Pebble Bar, gays "colonised" Treetops Bar at the Holiday Inn along Scotts Road. The Holiday Inn became the Royal Holiday Inn which was demolished and today's Royal Plaza on Scotts) built on its site. Treetops was located on the right hand side of the lobby as one entered the main entrance. It too had a live band which was popular with its clientele. During that time, the hotel was a hub for gays. Besides having a gay bar, the hotel's coffee house, Café Vienna, was also a gathering place for gays. The café was across the lobby from Treetops, on the left hand side of the hotel front entrance. While Treetops Bar is no longer around, Café Vienna remains and some of the stained glass décor to simulate a Viennese café still forms part of its look today. Café Vienna also had live music. A small orchestra played light classical music, mainly Viennese waltzes. So the whole set-up was rather elegant or pretentious depending on how one looks at it. What is undisputed is that the gay crowd loved going there because if one got tired of sitting in the bar, one could hop across the lobby to have a coffee or a piece of pastry in the café[15].
Unfortunately, the scene did not last. The hotel management decided it did not want Treetops to be a gay venue as it felt it was bad for its image and started refusing to serve people whom they thought were gay. It was not a pleasant experience to be turned down and some gays protested. On one occasion, the hotel PR person backed down. But not enough gay people stood their ground and so Treetops lost its gay reputation quickly. If this were to happen nowadays, the bar would certainly face a howl of protest from the more vocal, contemporary gay community.
The difference in the situation between then and now is stark. During that era, the ambiance of a gay bar was never as comfortable as what it is today, beginning with the act of ordering one's drink from the bartender. In most gay bars today, customers take for granted that the bartenders know they are working in a gay venue probably owned by gay people and have to serve gay people with a welcoming friendly attitude. In the old days, one got a feeling that one was in the bar at somebody's sufferance. There was always a touch of tension or suspicion when one ordered one's drink, very unlike the easy casual relationship that one could have with waiters and bartenders in gay bars today. There was no sense of ownership of a gay venue that today's gay community enjoys.
The reason why a bar became gay was mostly serendipity - for example, a group of gay people chanced upon a chill-out place, then liking the music or the ambience, went back frequently. They told other gays and the word got around that the place was attracting a gay clientele and this trend would grow unless the bar owner put a stop to it, as was the case with Treetops Bar. This was very different from today's bars where the proprietor set up a venue deliberately for a gay clientele.
Chinoiserie
[
]
More wealthy gay socialites would patronise the more exclusive, classy and expensive nightclub, Chinoiserie, situated on the second level of Hyatt Hotel, also along Scotts Road. One could become a member there after paying a hefty membership fee and invite their friends. However, gay men formed only a small minority of the clientele at Chinoiserie.
Babylon
[
]
Main article: Babylon (Singapore gay karaoke lounge)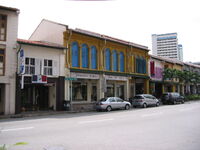 Babylon was Singapore's first exclusively gay karaoke pub at 52 Tanjong Pagar Road, set up during the height of the karaoke craze in the late 1980s; a narrow, miniature version of its legendary namesake in Bangkok and the original Sumerian city.

Main article: Inner Circle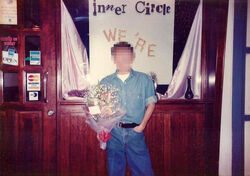 To cash in on the popularity of the seminal Babylon, an enterprising gay Singaporean named Kent Low opened another gay karaoke joint in 1991 with a business partner, just a few units away, at 78 Tanjong Pagar Road. It provided divas with an outlet to show off their vocal skills for almost 10 years before drawing its shutters on 24 July 2004.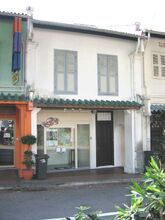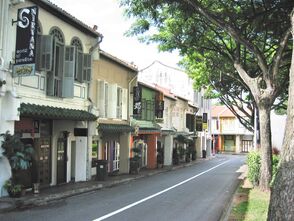 A namesake was later resurrected at 3 Duxton Hill, a stone's throw away from its former location. Its telephone number was 6220-6966. Ample parking space was available just outside or at Craig Place along Craig Road which houses a multi-storey carpark.
Main article: Vincent's Lounge
Opened on 18 May 1989 at #06-05 Lucky Plaza, 304 Orchard Road, former tel: 7361360, it was the first East-meets-West pub where Asian potato queens, a large proportion of whom were Malay, could meet up with their Caucasian aficionados, otherwise known as rice queens. It offered karaoke as well as booze. It relocated many years later, shortly after its 14th anniversary in May 2003, to a street-level shophouse at 15 Duxton Road in Tanjong Pagar, renaming itself "Vincenz."
It contained a handsomely elegant wooden bar which offered a large selection of beers on tap. The establishment was called "Venerable Vincent's" and "The Grand Dame of Singapore" for good reason. The newer outlet closed down on 26 March 2005 after 16 years of promoting East-West relations.
For lesser-known venues which only operated for a short time before closing down, see: [17]
Main article: MOX Bar & Cafe
It was housed in the building at 21 Tanjong Pagar Road which was a growing arts, entertainment and lifestyle block managed by Guan Seng Kee Pte Ltd, just next to Ya Kun Kaya Toast. The lift serving the upper floors had a modern interior but was rickety and painfully slow. The building housed the following establishments in the 2000s:
1)

Space 21
An unrenovated 1950-sq ft art space and multi-function hall situated on level 3, the second home of Utterly Art.
2) MOX Bar & Café website on level 4.
It was a versatile venue which could be transformed into a bar-cum-function space equipped with lights, sound and platforms to hold events like product launches, birthday bashes and cabaret shows. Former tel: 6323-9438, fax: 6227-9647.
On Monday, 31 March 2008, Mox Bar and Cafe, which had been recently voted as Singapore's favourite gay bar at the Fridae ae-List Awards[18], closed its doors, with a garage sale on Thursday, 27 March and a farewell party called "End of the Rainbow" on Saturday, 29 March 2008[19]. Mr. Mok, the co-owner and engineer by profession and his 4 partners including buff-bodied doctor, Toby Hui, also holders of full time jobs, had considered keeping the party going in his absence, but with high rental costs (double what they were when the bar opened) and a generally dwindling nightlife scene, they decided to let it go.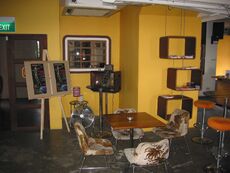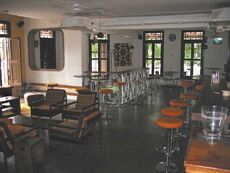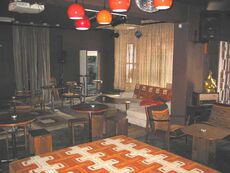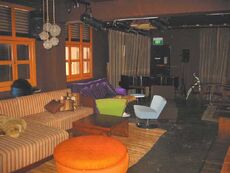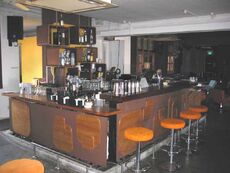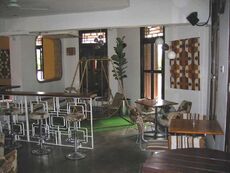 3)

Bianco
(formerly known as The Attic)
The topmost floor is a vault-like loft under the same management as MOX Bar & Cafe. It has a seating capacity of up to 150 people and is suitable for exhibitions, fashion shows and performances. It was the former location of the Sunday services of the Free Community Church [20](from 2002 to 2004) and Toy Factory Theatre Ensemble [21](from 2004 to 2005). Currently, it houses the all-white decor-themed Bianco and contains a small bar, in addition to unique, squarish bed-like seats and a DJ console. Dr. Russell Heng's talk When Queens Ruled! A History of Gay Venues in Singapore was held here on 16 Aug 05 as part of IndigNation, Singapore's first gay pride month. It was the home of Pelangi Pride Centre for several years since mid-2007.
Caprice

[

]
70 Amoy Street. Gay-owned and staffed, the bar offers room to enjoy cocktails, meet people and indulge in chit-chat.
The decor is modern and warm with natural wood flooring and fixtures. Friendly, professional and attractive staff make one very welcome. It is a nice addition to the local club scene and is close to other clubs and discos. It closed in September 2005.
Oso

cafe restaurant

[

]
145 Telok Ayer Street, opposite Thian Hock Keng Temple, tel: 6323-4642, fax: 6836-0266.
A gay-owned and managed bar serving fusion cuisine, beer, wine, and cocktails. A cosy place for friends to gather, sing karaoke, and spend quality time together. Frequented especially by Chinese-educated bears, it spins good music and has a soothing ambience.
Xposé Café, Bar & Restaurant
[
]
Main article: Xposé Bar
208 South Bridge Road, #01-01 (in the same building as Utterly Art), tel: 9842-7849. A gay-owned, second home for anyone seeking Prince Charming or looking for a nice cozy place to dine with their dates.
It served authentic Thai food prepared by Chef Deang, with 20 years' cooking experience, who whipped up home-style dishes with a passion. Karaoke started after 8:30 pm abetted by a great sound system to accompany one's crooning. It especially welcomed bears, chubs and their admirers. Regulars, who tend to be Chinese-educated, chat on EFNET IRC, channel #GAYCHUB@SG.
The management allowed the organisers of IndigNation[22], Singapore's inaugural gay pride month in August 2005, free use of its premises to conduct the historic, first-ever public talk on homosexuality to be held in an indoor venue since Prime Minister Lee Hsien Loong's 2004 liberalisation of the rules governing these events. The lecture was entitled "Same sex love in classical Chinese literature" and was delivered to a capacity audience by Dr. Tan Chong Kee on 2 August 05 [23].
DYMK
[
]
Main article: DYMK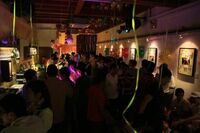 DYMK[24] (Does Your Mother Know?). Located at 41 Neil Road (tel. 6224-3965), it was opened and managed by the old crew from MOX Bar at Tanjong Pagar. The bar was double-storeyed and had a retro-style decor. The crowd was mostly LGBT. The place was chic, cozy and perfect for unwinding after a hard day's work. It also hosted the local SM crowd every last Thursday of the month.

Artistry
[
]
Main article: Artistry
Nestled in a quiet corner of the Kampong Glam heritage district at 17 Jalan Pinang, Artistry is a new art gallery and café in a shophouse run by proprietor Prashant Somosundram. It is his second enterprise and a further development of the now-defunct Pitch Black cafe along Haji Lane. Artistry aims to develop an intimate space for art and creative endeavour, including LGBT issues. They seek to provide emerging artistes with a platform for their debut solo exhibitions and host talks, performances and events in our space. Serving up the locally roasted Liberty Coffee and artisan desserts, Artistry is a space for arts practitioners and patrons to connect and develop the creative community in Singapore.
Lesbian bars
[
]
Main article: Moondance
Not to be outdone by their male counterparts, female entrepreneurs opened a disco for the lesbian community situated between Babylon and Inner Circle and opposite Play disco on the other side of Tajong Pagar Road. It was located at unit numbers 60 to 64. It was managed by a lesbian who later became a popular entertainment icon and the manager of Fly Entertainment. Lesbians who queued up during the weekends to get in were met with the sight of an even longer line of gay men waiting to get into Taboo disco located on the opposite side of Tanjong Pagar Road.
Crocodile Rock
[
]
Main article: Crocodile Rock
It was located at 14 Scotts Road, #05-29, Far East Plaza. Former telephone number: 6738 0535.
More affectionately known as "Croc Rock", Singapore's oldest and longest-running lesbian pub was around for more than 15 years. It was not exclusively for women though, as there were a handful of male regulars who "had mutual respect for the women" assured its lesbian owner. One could expect a mature crowd of working professional women in their late-20s and above. Weekdays were a good bet if one loved to sing as it was quiet and one would not have to arm wrestle anyone for the karaoke mike. Strictly English music.
Alternative Bar

[

]
44A Tras Street, telephone number: 6220 5271. It was one of the few girls' hangouts with a pool table. Week nights were strictly for ladies with Saturday being the only night when male companions were welcome.
It operated from the early 2000s to 2004 and was located on the second floor, accessible from the staircase beside Legend bar. To drive away the Monday blues, it was free pool all night long. Some patrons recall it as having nearly-intimidating butch girls and fancy cocktails. Opening hours were from 9pm onwards on weekdays and Saturdays. It was closed on Sundays and public holidays.
GreyZone Bar
[
]
Located at level 2, 44A Tras Street, Tanjong Pagar. Telephone number: 6220 5271.
Nestled along the Tanjong Pagar belt, which was home to a few other prominent gay bars, GreyZone called its cosy second-storey pared down interior home since 2004, when it was formerly known as Alternative Bar. The name change signalled the owners' intent of catering to a straight crowd as well. However, the girls still monopolised the 50-seater bar, equipped with not much more than a pool table (with free games on Mondays) and an LCD TV. The owner was a soccer fanatic so the bar screened English Premier League matches every Saturday.
Club 95
[
]
Main article: Club 95
95 Club Street, tel: 6325-9595.
Situated in a busy nightlife area in downtown Singapore, this lesbian-owned and managed bar offered a relaxed, cool, modern style, with excellent music and a friendly welcome. Saturdays were theme nights. It was open daily from 7pm till late. Happy hours were from 7-9pm.
Toca Me
[
]
Main article: Toca Me
Toca Me[27] was situated at 95 Club Street, in the same unit as the now-defunct Club 95. It was a small and cozy bar primarily for lesbians, but it was also great for lounge lizards. Opening hours were from 6:30pm to 12am (Mondays to Thursdays), 6:30pm - 2am (Fridays and Saturdays). It was closed on Sundays.
Sky Bar

[

]
47 Neil Road.
A karaoke bar run by lesbian owners, it was patronised by a mixed gay and lesbian crowd. It held soup nights and pool tournaments.
Fuego
[
]
5 Gemmil Lane. Telephone number: 6327 1098. Happy Hour: 6-9pm daily.
Boasting a dance floor specially for dancing, this salsa bar doubled up as a dance studio in the daytime. At night, it was a regular bar where regulars from the nearby offices would come to chill-out and knock back a few. The drinks were good and the DJ played Latin music from 9.30pm everyday. There were free salsa classes on Sundays. This gay-friendly establishment also hosted an occasional pink party.
Bar Empire
[
]
Level 4, 114 Neil Road. Telephone number: 9336 1776 / 94753234.
This rooftop bar may have been a tedious hike up three storeys but it was well worth it for women who loved the bar's zero tolerance policy that refused men onto the premises, even if they were gay. The girls were assured privacy in this intimate, family environment, where they were served by the owners themselves. Besides the indoor area that housed a pool table, there was alfresco seating offering a bird's eye view of the surrounds and street below. There was a mean Martini menu listed from A-Z, with some originals concocted by the owners themselves. On weekends, the tables indoors were pushed to the side, music went up and strobe lights went wild as the girls got their freak on on the makeshift dance floor.
Cow & Coolies
[
]
Main article: Cow & Coolies
30 Mosque Street, tel: 6221 1239.
A pared-down karaoke pub and well loved watering hole in the heart of Chinatown for especially Mandarin-speaking womyn to showcase their vocal prowess, belting out the latest Chinese hits. It contained a bar and pool table, which together with the wooden log wall panelling made it reminiscent of an old western bar and tavern.
It was easy to assimilate into this relaxed, unpretentious ambience as the regulars croon their favourite Chinese pop and love songs or shoot some pool. The girls here were friendly bunch, too.
After a period of time, it became lesbian night only on Wednesdays.
Ladies District
[
]
Main article: Ladies District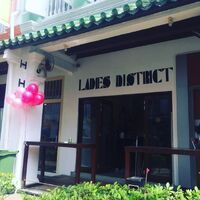 Ladies District was a queer women's organisation that operated an eponymously named lesbian nightspot in late 2016 at level 2, 68 Dunlop Street. The premises incorporated a bar called at Tipsy Bar. The last party at the venue was held on 29 April 2017 on a long weekend with an entry price of $15 with one complementary drink before midnight and $10 after 12am. It consoled its patrons with a message that it was not a permanent closure and that it would be relocating to a new address. A few months later, it reopened at 72 Duxton Road. The bar finally drew its shutters in 2018.

See also
[
]
References
[
]
Acknowledgements
[
]
This article was written by Roy Tan.