The Sandman Will Keep You Awake - The Loop
Play Sound
Introduction
[
]
One of the image problems suffered by Singapore's gay community is the mainstream public's perception that homosexuals are selfish and hedonistic. To combat this misconception, selfless LGBT volunteers have emerged to take the lead in organising charity work which benefits elderly and underpriveleged members of Singaporean society at large.
History
[
]
2004
[
]
Tsunami aid
[
]
In the wake of the calamitous Asian tsunami which struck on Boxing Day, 26 December 2004, a number of gay and lesbian support groups organised a donation drive for cash and materials on 1 January 2004.
Word was put out through SiGNeL, RedQuEEn![1] and other gay and lesbian lists. The total raised was over $5,000 in cash, a lorryload of clothes, etc., and a vanload of food and medicines.
Welfare projects
[
]
Activists-cum-welfare volunteers such as Jerry Siah [2] and Clarence Singam have been tireless in their efforts to rally the local gay community to volunteer their time and effort on weekends to visit destitute members of the mainstream community. In several charity events such as Projek Pelangi, gay volunteers cleaned and painted the one-room HDB flats of elderly, destitute folk, and brought them out for sightseeing trips and meals. Some of their efforts were reported in the local press.
2005
[
]
2006
[
]
On 12 September and 16 October 2006, Fridae presented a double-bill charity movie premiere of "Imagine Me & You" and "My Summer of Love" respectively in benefit of the Association of Women for Action and Research and Cat Welfare Society at Shaw Lido 3[3].
A Nation in Concert
[
]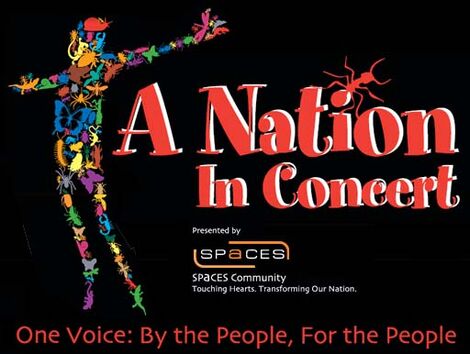 In August 2005, SPACES, a private, non-profit counselling and development agency, organised an event entitled "A Nation in Concert" [4] in aid of the Association for Persons with Special Needs, the Handicaps Welfare Association, the Singapore Association for the Deaf, the Singapore Association of the Visually Handicapped and the Community Chest of Singapore.
AIDS charity work

[

]
Fund raising to help people living with HIV/AIDS, the majority of whom are heterosexual men and an increasing number of whom are women and children, has mainly, if not solely, been spearheaded by Action for AIDS (AfA). The latter organisation relies largely on the efforts of gay and lesbian volunteers.
Chronicle
[
]
A summary of the major fund-raising and educational events from 1988 to 1998 organised by Action for AIDS is provided by Assoc. Prof. Roy Chan, president of AfA: [5]
1997
[
]
The

Princess Diana

AIDS Charity Gala

[

]
The tragic and sudden death of Diana, Princess of Wales, stunned and saddened millions the world over. Well known for her generous patronage of AIDS charity events in the UK and USA, the Princess had most graciously agreed to be the guest-of-honour at the gala on 23 September 1997. She was also determined, during her short trip to Singapore, to vist with people living with AIDS and the Communicable Disease Centre (CDC), and to have a private lunch with invited AIDS activists from Malaysia, Thailand, Indonesia and the Philippines, where she was to learn about the AIDS situation in these countries and provide moral support for their efforts.
Alas it was not to be. The AfA organising committee felt that it was fitting that the event not be cancelled. The evening proceeded and was dedicated to the memory of Princess Diana, whose contribution to the AIDS cause had touched the lives of so many people.
1998
[
]
The Candlelight Memorial
[
]
This was the inaugural event of what was to become annual affair, held to remember those who had died from AIDS. In most cases there was no funeral service and no time for relatives and loved ones to mourn and grieve. The Candlelight Memorial gave them the chance to do so, and to come to terms with death and AIDS. It was to become a powerful symbol of the presence of AIDS in Singapore, and a timely reminder for the community to renew its commitment to fight AIDS discrimination. The 1998 Candlelight Memorial was held on 17 May 1998 in Bras Basah Park and coordinated by Daniel Tan.
The programme included a fun-filled running relay organised by Action for AIDS volunteers together with invaluable support from SWIFT Athletes' Association and the School of Physical Education, NIE/NTU. Dr. Aline Wong, Senior Minister of State for Health and Education, graced the occasion as guest-of-honour and flagged off the relay. Ang Peng Siong, an icon in local swimming circles, also showed his support with his presence. In a bid to get away from the ubiquitous competitiveness around, it was a non-competitive event with no prizes for the teams finishing the fastest. Instead, prizes were given out for categories like Furthest from First, Best Legs, Best Buns, Best Hair, Noisiest Team, Most Interesting Team Name and Wackiest Outfits. About 350 people, including many students from Woodlands Secondary School, had great fun that day - following the exciting aerobics warm-up, running their respective legs of the relay, cheering on their teammates and enjoying the Vox Ensemble acapella performance at the end . The event managed to raise more than $6,000 and its success encouraged plans to make it an annual event.
Art against AIDS
[
]
The Art Against AIDS Exhibition '98 [6]was held from 7 to 19 November 1998 at the ground lobby of The Heeren shops. Organised by AfA and launched on 7 November by Kal Sundaram, Managing Director of Glaxo-Wellcome, the exhibition was the culmination of the Art Against AIDS '98 art competition, which was held earlier, from 1 Sep to 24 Oct 98. The competition brought together a host of entries from individuals of diverse backgrounds and talents, united in their desire to communicate important AIDS and AIDS-related issues through art.
There was an impressive show of support for the competition this year, judging from the almost 200 entries that were received. Of these, more than 60 entries were received for the Open category and approximately 130 for the Student category. Each one of them bore testimony to the ever-increasing impact of AIDS upon the community.
Winning the top prize for the Open category, including $3,000 in cash, was legal executive Willian Lee, for his extremely innovative piece "Dead Silence", a painting based on the concept of silence. Winning $2,000 for the Student category was Jimmy Lee, for "Untitled", depicting the alienation of a PWA, in this case, that of a child who lay sickly with only a torn doll as a companion, a symbol of her loneliness.
1999
[
]
The 16th International AIDS Candlelight Memorial and Mobilisation
[
]
The year's event was named in sequence, honouring the first such occasion to take place in the world 16 years ago. It was held at Bras Basah Park on Sunday 16 May 1999. (Read the opening speech by Dr. Nick Paton, Acting Head, Department of Infectious Diseases, Communicable Disease Centre [7]).
Riding for Life
[
]
Singapore's first AIDS bicycle ride [8]took place from 7 to 13 June 1999, covering roughly 900 km from Penang to Singapore to raise money for the AfA Medications Fund and also to raise awareness about the situation of PWAs in Singapore.
The average team member raised in excess of $1,400 and the top fund raiser brought in more than $6,700. When all the pledges were counted, a total of nearly $44,500 had been received in donations, which, after deducting expenses for items ranging from publicity and postage through costs for the Welcome Rally, resulted in roughly $36,500 for the AIDS Medications Fund. At the Welcome Rally, guest-of-honour, Dr. S. Vasoo, challenged Action for AIDS to organise another ride and at least double the amount raised.
2001
[
]
Riding for life 2001
[
]
In June 2001, Actions for AIDS (AfA) organised a charity bike ride called 'Riding for Life 2001' which raised S$50,000 for the AIDS Medicines Fund set up in 1999 to help financially-strapped people with AIDS (PWA)s meet their costly drug bills, which could amount to $2,000/- per month[9]. 28 cyclists, including straight celebrity adventurer Khoo Swee Chiow, peddled 900km over 5 days from Kota Baru in the northeast of Malaysia to Singapore.
Crystal Ball
[
]
On 1 December 2001, Fridae and Action for AIDS organised Crystal Ball at dbl 0, Singapore's official World AIDS Day party[10],[11]. It raised S$12,000 for AfA's AIDS prevention and the Medications Assistance programms to alleviate the financial burden of acquiring expensive but otherwise effective medication for needy patients.
2002
[
]
3D
[
]
On November 30th, the gay-organised "3D Project" hosted "3D", a Diva and DJ filled Mega Dance Party on Sentosa Island leading into World AIDS Day 2002 on 1 December[12]. It aimed to raise S$250,000 for Action for AIDS.
2003
[
]
Riding For Life 2003
[
]
From 31 May to 8 June 2003, 20 bicyclists and 7 support crew rode over 950km from Singapore to Kuala Lumpur and back in a charity called "Riding For Life 2003" to raise funds for HIV/AIDS treatment and prevention[13],[14]. One of the participants was Roger Winder, a part-time Programme Coordinator for AfA, running its HIV/STI Prevention Programme for MSM, and university tutor[15].
2007
[
]
The HOPE Concert
[
]
On Thursday, 13 December 2007, The HOPE Concert (Rated R18) featuring Los Angeles-based gay pop group and real-life couple Jason and deMarco, was held at Kreta Ayer People's Theatre at 7.30pm[16]. The duo were barred from performing in 2005 by the Media Development Authority when Safehaven, a ministry of gay-affirmative Free Community Church, tried to organise a similar event to raise awareness of HIV/AIDS. The concert, hosted by Chua Enlai and Mistevious, also featured prominent local celebrities Hossan Leong, Selena Tan, John Lee (pop icon Dick Lee's brother) and NMP Eunic Olsen. Proceeds from ticket sales and goodwill donations, after cost-recovery, were contributed to the Action for AIDS Medical Subsidy Fund that provides subsidies to HIV+ patients in accessing their HAART (Highly Active Anti-Retroviral Therapy). Dr. Balaji Sadasivan, Senior Minister of State for Information, Communications and the Arts, and Foreign Affairs, who was the guest of honour in his capacity as chairman of the Inter-Ministerial Committee on HIV/AIDS, made a speech citing Sydney's success in reducing HIV prevalence rates among MSM and urging greater co-operation between health authorities, NGOs and the MSM community[17].
Related Links
[
]
Acknowledgements
[
]
This article was written by Roy Tan based on information from AfA's magazine, The Act, Fridae and other Internet sources.