The Sandman Will Keep You Awake - The Loop
Play Sound
2000
[
]
Main article: Singapore gay history: 2000
Many LGBT Singaporeans ushered in the new millenium at crowded parties in gay discos. Realising the unmet need for well organised outdoor events in venues which could accommodate enormous numbers of gay party goers on special occasions, and an Asian version of a website like gay.com to more intimately serve an exclusively Asian gay community, U.S.-returned pharmacy doctorate-holder Stuart Koe, together with lawyer Robert Yeoh, worked to set up fridae.com at the turn of the millennium. An advertisement was placed on SiGNeL (the Singapore Gay News List) on 11 July 2000 to solicit the participation of gay men and lesbians in a focus group to discuss what they desired in a cutting-edge LGBT lifestyle portal in Asia[1]. The project was undertaken in collaboration with Media Arts, a leading web solutions developer based in Singapore which had its office at 10 Ann Siang Hill. In the years to come, Fridae (inspired by man Friday from Daniel Defoe's novel Robinson Crusoe) would go a long way towards achieving its goal of 'empowering gay Asia' by becoming 'Asia's leading media & events group; the business community's primary conduit to the Asian gay community; and a respected voice in our advocacy for equality and freedom of choice.'
On Tuesday, 7 March 2000, the word "gay" was probably uttered for the first time on Singapore television. It was noted by Alex Au during a Channel News Asia bulletin in which newsreader Jill Neubronner mentioned an Australian who was arrested for threatening "to plant bombs during the Olympics and the Sydney Gay and Lesbian Mardi Gras."[2]
The year 2000 also saw the relaxation of the broadcast of LGBT-themed films and documentaries on prime time television[3]. Examples were:
Arts Central's screening of 100 Years of Chinese Cinema which included

Stanley Kwan

's documentary on sex and gender featuring scenes from

The Wedding Banquet

,

Farewell to My Concubine

, rare 1960s footage of gay and lesbian-themed movies and Kwan's mother's acknowledgement of his son's sexuality.
An episode of the excellent but slightly pretentious Alter Asians' adaptation
of Catherine Lim's "Or Else The Lightning God" which featured a subtle hint of a homosexual male.
Several episodes of Arts Central's Bob and Margaret with sexually explicit
themes not entirely related to homosexuality but close to it (eg. the award winning Bob's birthday episode).
TCS8

's imported Hong Kong serial "The Disappearance" screened in early March 2000 contained a whole episode about a gay man's exploits with a girl and her boyfriend, including an eye-popping bedroom scene between the two guys.
TCS8's SNAG (sensitive new age guy) with hints of

Wong Hei

's uncertainty over a friend who was physically attracted to him.
The Practice shown on

TCS5

in mid-March 2000 with a subplot about a straight man with cross-dressing tendencies and lesbianism touched upon in a very funny manner.
The 17 March 2000 issue of Asiaweek profiled gay activist Alex Au and theatre practitioners Haresh Sharma and Alvin Tan:[4],[5].
In March 2000, Action for AIDS announced that Ministry of Health statistics showed a significant increase in infections among homosexual males from 12 each year in 1996, 1997 and 1998 to 29 in 1999. The number of infections diagnosed in bisexual men remained relatively stable - 15 in 1997, 19 in 1998 and 14 in 1999[6].
On Wednesday, 29 March 2000, Dr. Tan Chong Kee and Alex Au organised a private screening of the English version of the gay Taiwanese box office hit "Boys for Beauty" at the Alliance Francaise, Sarkies Road, at 8pm[7]. The original Chinese language version of the movie had recently been screened at the Singapore Film Festival. The film's director, Mickey Chen, was present for the Q&A session[8]. It was followed by a press conference[9]. In late April 2000, Asiaweek published an article about the film which contained a paragraph in which Alex Au gave his views on Singapore censors' restriction of the movie to adult audiences only[10].
On Saturday, 8 April 2000, The Straits Times' Life! section reported that Venom disco was planning to webcast its Sunday night parties (as well as on other nights) online via 6 video cameras. In response to this move SgBoy.com set up an online poll to seek the gay community's opinion and intended to speak to Venom's boss about the matter[11]. Several gay men expressed their displeasure at the move on online forums[12],[13],[14],[15].
On 16 April 2000, reporter Geoffrey Pereira published, in The Sunday Times, the first call for the repeal of the original Section 377 of the Penal Code which criminalised sex "against the order of nature"[16].
On Wednesday, 19 April 2000, the English word "gay" was uttered for the first time in the premiere episode of a local Mandarin television drama series entitled "The Voices Within" shown on TCS8 at 10:30pm[17],[18]. The episode was translated into English by TCS8 as "In Love with Gay". This was TCS' description of the episode on its website: "After two years of courtship, female graduate Yuting is shocked to learn that her boyrfiend is a gay. She also loses confidence in herself. She blames herself for her boyfriend's condition after reasoning that he must have turned to his own sex because he doesn't find her attractive enough. She consults a psychiatrist hoping to find a cure for her boyfriend's condition. But can homosexuality be cured?"[19] Viewers described one scene in which Yuting asked her boyfriend, Randy (played by actor Sean), why he still went out with her after he told her he was gay. It was groundbreaking that Randy was portrayed as a non-effeminate homosexual and just a regular human being. In another scene, a radio DJ, played by actress Jacelyn Tay, told her listeners that if a guy did not make a move on a girl after they dated for a while, she was either not his type or he was gay. She also reminded them that not all gay men were sissies or perverts. Viewers thought that the drama dealt with the gay issue with great sensitivity[20]. The episode spawned a heated debate in the Chinese newspapers and resulted in its being banned by the censors[21].
In April 2000, Dinesh Naidu, on behalf of People Like Us, led a team of straight and gay volunteers in conducting the first survey of attitudes of the Singapore public towards homosexuality[22]. Malay and Chinese translators were recruited. The results, which showed that a majority of Singaporeans could accept a gay member of the family, agree that oral sex between adults in private should not be prohibited, and feel that employers should not discriminate against homosexuals, were published on People Like Us' website (www.plu-singapore.com) and reported on in detail by Agence France Presse[23], the South China Morning Post[24] and PlanetOut[25].
On 28 April 2000, Straits Times reporter Cheong Suk-Wai published an article about the history of Hong Lim Park which touched on its gay cruising aspects[26],[27]: "Three years back, gay couples were known to play hyde - sorry, hide - and seek in the then decidedly secluded park. But, says Staff Sergeant Tan Kok Wah, 40, who has been stationed at the Kreta Ayer Neighbourhood Police Post within Hong Lim Park for the past five years: "With the help of the Parks and Recreation Board, we lobbed the branches off the park's canopy-like trees, installed lots of street lamps and put in concrete footpaths to deter them." As his colleague, Corporal B Palani puts it "We've made the park so bright and open, they simply can't do their 'business' around here anymore." Adds Corporal Palani: "We do get one or two lurking about occasionally, but they're generally gone by 11 pm, to catch the last bus home."
On 5 May 2000, Alex Au issued a press release to all newspapers, most radio stations, many magazines and the foreign press informing them that a public forum, "Gays and Lesbians Within Singapore 21" was being organised for Sunday, 28 May 2000 at The Substation, Armenian Street, from 2.30 to 5.00 p.m. Admission would be free[28] as the use of The Substation's premises was offered free-of-charge by its director, T. Sasithiran[29]. Speakers would include Dana Lam, artist-writer-mother-wife, Kenneth Lau and Salmon Lee, executives in the financial industry, and Cho Pei Lin, a law undergraduate. An application for a Public Entertainment Licence had been submitted and approval was pending. The aspirations of the government-initiated Singapore 21 concept, to make Singapore our best home, embodied 5 key ideas: 1. Every Singaporean matters; 2. Strong families; 3. Opportunities for all; 4. Feeling passionately about Singapore; 5. Active citizens: making a difference to society. The conference hoped to examine where gay and lesbian Singaporeans stand in relation to these aspirations. In response to the announcement, the Asia One news website set up an online poll asking, "Will you support a public forum on gays and lesbians in Singapore?"[30] Reports on the intended forum were carried on Gay.com[31], The South China Morning Post[32], The Straits Times[33]. The organiser, Alex Au, was interviewed by the BBC on 7 May 2000 for their radio programme "World Today"[34] (see transcript:[35]).
On 23 May 2000, the Public Entertainment Licencing Unit (PELU) of the Singapore Police Force issued a letter to the organiser and a press statement rejecting the application to hold the gay forum[36] saying: "The Police cannot allow the holding of this forum which will advance and legitimise the cause of homosexuals in Singapore. The mainstream moral values of Singaporeans are conservative, and the Penal Code has provisions against certain homosexual practices. It will therefore be contrary to the public interest to grant a public entertainment licence." News of the rejection was reported locally[37],[38] and internationally[39],[40],[41],[42]. In relation to this, Straits Times journalist Irene Ng had been working on an article entitled "Do gays have a place in Singapore?" for months but for some reason, it was not crystallising properly. However, after the application to hold the gay forum was announced, it suddenly became a newsworthy topic. Ng also found herself in contact with Alex Au, Russell Heng and Dana Lam who offered their inputs which enabled Ng's article to take form at last[43]. It was believed by Au that her editors became convinced that the article was worth publishing, as compared to about 2-3 months back, when it was thought that Ng was working on the article out of her own initiative but her senior editors were not supportive. The article appeared as a very prominent 2-page write-up in the 27 May 2000 edition of The Straits Times (page 84 and 85)[44]: http://straitstimes.asia1.com.sg/singapore/sin18_0527.html http://straitstimes.asia1.com.sg/singapore/sin19_0527.html Given the wide readership of The Straits Times, the balance of Ng's article, the prominence of the header, the forum got more public attention than a legitimate forum audience of 120 persons could have ever achieved by itself. The article received positive feedback from gay readers:[45],[46],[47]. The article gave rise to 2 follow-up stories with opposing views published on 3 June 2000 in The Straits Times - "Give gays due credit"[48] and "Singapore is not ready to accept homosexuality"[49]. These, in turn, generated several responses from readers:[50].
When asked by a student during the annual Pre-University Seminar, held on Tuesday, 30 May 2000, which was themed "Realising the Renaissance Spirit in Singapore" whether the government should relax its controls and allow the gay forum, Minister of State, Lim Swee Say, replied, "I do not believe that a single group of people in Singapore has the right to publicise its lifestyle and impose it on others.I am an avid golfer, but I do not hold a forum on golfing to say how much I love golf and convince others it is good."[51] Siew Kum Hong wrote a letter to the Straits Times forum on Friday, 2 June 2000 asking how the forum could possibly have imposed on others[52]. Siew's letter provoked responses from Lim Swee Say himself and Phillip Mah, Assistant Director (Media Relations) of the Singapore Police Force[53]. Siew subsequently rebutted their points[54] and was in turn rebutted by Mah[55]. Other readers also weighed in on the discussion[56],[57].
Worldwide reports on the banning of the gay forum prompted delegates at a 5-day United Nations Forum on Women in New York to ask Senior Parliamentary Secretary for the Ministry of Community Development and Sports (MCDS), Yu-Foo Yee Shoon, if homosexuality would not be an offence in Singapore. It was reported in the 11 June 2000 edition of The Sunday Times that she replied, "I don't like to discuss men's rights, child's rights, women's rights - ultimately the individual counts and our policy is not to discriminate anyone or any single group. Everyone has a right to school, to get a job, to housing and they have an equal chance. If people fall into different categories we help everyone.[58]
On Monday, 8 May 2000, Channel News Asia screened a documentary about gay people raising families in the Philippines[59].
In May 2000, 3 National University of Singapore undergraduates set up a website on Geocities (http://www.geocities.com/ahlian_77/frames.htm) called "Gay Culture in Singapore" in which straight Singaporeans contributed their perceptions of local gay men[60]. These were some of the comments: "They spend like there's no tomorrow... " writes a (straight) waiter at a gay disco in Singapore. "I saw gays coming in wearing skin-tight super-short leather shorts, shocking pink dresses with a dog collar and chain, T-shirts with holes cut out in the centre revealing their chests, and other forms of amazing stuff too vivid to describe." "The social life of a gay, though constricted by powerful anti-gay culture is no-way a bore. In fact, it is often amusing to see others with their eyes wide open looking at them holding hands, caressing each other in public. Well, I once saw these two amazing good looking fellows in a cinema during the screening of the "Bird Cage" at Cathay Cinema, kissing each other at the end of the show. My girlfriend was absolutely horrified; she gave a loud, "YEEEEEEEEEEE". The couple just turned around and smiled, I was rely able to contain my laughter." "While working as a waiter in a gay disco, the most amazing things I see there further convinced me that gays are in fact financially in a better position than most "normals" to enjoy life. "Well, getting over $100 dollars on tips during Gay Nights is a norm for all waiters and bartenders. I mean, they spend like there is no tomorrow there, my boss often flashes his twenty four carat smile on Sunday nights when he hears his cash machine ringing to the pumping beat of the music. "I saw gays coming in wearing skin-tight super-short leather shorts, shocking pink dresses with a dog collar and chain, T-shirts with holes cut out on the centre revealing their chests, and other forms of amazing stuff too vivid to describe. The atmosphere was electrifying any one who says that gays do not have a social life should take a look at what I see every Sunday night."
On 18 May 2000, Singapore's oldest East-meets-West gay bar (apart from the seminal Pebbles Bar), Vincent's Lounge, located at Lucky Plaza, celebrated its 11th annivesary. The owner, Vincent Thnay, published an anniversary message on the bar's website[61].
On Sunday, 21 May 2000, the 17th International AIDS Candlelight Memorial and Mobilisation was held at Bras Basah Park at 7pm[62]. 11 religious representatives from the Inter-Religious Organisation of Singapore officiated at the event. The theme of the evening was "Create Hope, End Discrimination" A Candlelight Memorial Party was also held on Sunday, 21 May 2000 at Venom disco at Pacific Plaza from 9.00pm onwards. A performance called "Heartstrings : The Show" started at 11:00pm. The cover charge for men was $20 while it was $25 for women as it was gay night. A portion of the proceeds went to Action for AIDS.
On 3 and 4 June 2000, the Y2000 Global Conference on Buddhism was held at Orchard Hotel[63]. One of the lectures in the conference was "Buddhist Ethics and Life's Difficult Issues: Abortion, Euthanasia, Suicide, Species Preservation, Homosexuality, Prostitution by Ven. Ajahn Brahmavamso, an Australian monk. The conference fee was $180 and its website was at: http://homepages.infoseek.com/~bgfs/conference.htm During the conference, Kelvin Wong introduced himself to the audience of over 700 people as a homosexual male who ran a gay Buddhist fellowship. Wong received warm applause after he put forward his questions[64].
On Friday, 9 June 2000, Sri Lankan Buddhist monk, Ven. Prof. Dhammavihari held a talk entitled "Questions about Homosexuality" from 7:30 pm to 9:30 pm at the Buddha Dhamma Mandala Society, 567A Balestier Road. Entrance was free[65],[66].
On 9 June 2000, Lianhe Zaobao published an article by reporter Cui Jun saying that Sentosa's Fantasy Island would be bringing in the male cross-dressing Simon Cabaret dance troupe from Phuket in a bid to attract more tourists to Singapore which herself is devoid of any natural beauty[67].
On 5 June 2000, The New Paper published another in its long list of sensationalistic articles demonising the gay community entitled "Gym Horrors"[68].
On 7 June 2000, The New Paper reported that the vice-principal of a secondary school was jailed 3 weeks for touching the penis of a 23-year old man in a public bathroom at Sentosa[69]. It was noteworthy that Deputy Public Prosecutor Toh Han Li said that, "In cases where it is consensual and done in a private place, the minimum sentence is a few weeks." This meant that the law would prosecute and jail adult gay men even when they had consensual sex in private.
On 16 June 2000, the Asian Wall Street Journal published an article on gays and lesbians coming out in the workplace in Singapore[70].
On 22 June 2000, The Straits Times published the results of a study entitled "Gender differences and attitudes towards homosexuality" conducted by Dr. Vivien Lim, a lecturer at the National University of Singapore's Department of Organisational Behaviour. It had been accepted for publication in the Journal of Homosexuality, a US-based quarterly devoted to scholarly research on homosexuality published by Haworth Press. Lim's result contradicted those of the recent survey done by PLU and showed that most young Singaporeans held negative attitudes towards homosexuals and said that they would feel upset if they discovered that their child, brother or sister was homosexual[71]. Straits Times reporter Wendy Tan subsequently approached Alex Au for his views on the study:[72].
On Friday, 7 July 2000, a new gay sauna, Rairua, opened at 118 Neil Road[73]. It was a business venture of Alex Au, together with several partners. (Read a review of the sauna's facilities:[74].)
In July 2000, Borders reported in its monthly magazine that openly gay ex-Boyzone member, Stephen Gately, would make an appearance that month at its bookstore to promote his debut single "New Beginning"[75]. Gately also performed at Venom disco on Friday, 21 July 2000[76].
On Tuesday, 8 August 2000, openly gay entrepreneur and founder of New Urban Male, the chain of apparel stores tailored toward the taste of gay men, Shenzi Chua, launched NewUrbanMale.com, a website which billed itself as "the first online magazine for the genX men in Asia"[77]. It was a revamp of the previous e-zine MBMC (Male By Birth Man By Choice) at www.mbmc.net which had been operational for 2 years.
In August 2000, newspaper Project Eyeball published an advertisement which showed 2 wedding cakes with 2 men perched atop one of them, an obvious depiction of gay marriage. The tabloid received a call from the Ministry of Information and the Arts (MITA) but the tabloid's editor said that he planned to run it again[78].
In November 2000, the Anglican, fundamentalist Church of our Saviour[79] (COOS) which runs the Choices ministry, a branch offering religious counselling for homosexuals seeking to change their sexual orientation, put up a large banner outside their church in Queenstown. It read, "Homosexuals can change". The sign was visible to everyone travelling on the MRT. It caused a furore within the gay community as they felt that it denigrated their worth and depicted being gay as something to be ashamed of and which merited "changing". To date, there had been no scientific evidence that a change in innate sexual orientation was possible and that much psychological harm and denial had befallen those who underwent such "therapy". They feared it would lead to more discrimination and homophobia. E-mails and petitions were sent to the church in protest. The media also took up the newsworthy lead and publicised the issue with press articles and radio interviews ([80],[81]). After several months, the church succumbed to widespread dissatisfaction and removed the banner.
2001
[
]
Main article:

Singapore gay history: 2001
In March 2001, Cary Tan, founder of Club Herstory, organised a walk by 31 gays and lesbians around the Zouk disco complex in what they believed to be Singapore's first pride parade[82]. However, a similar claim was earlier made by Alex Au of PLU in December 1993 for an impromptu walk by gay men in fancy dress from Boon Tat Street to Lau Pa Sat[83].
On 5 March 2001, the local gay web portal, SGBoy, hosted its second year anniversary at the posh disco club, Venom, which held its gay nights on Sundays[84].
On Friday, 13 April 2001, One-Seven, touted to be Singapore's largest gay fitness club and sauna opened at 17, Upper Circular Road[85].
From 17 April to 13 May 2001, the transgender play by Ivan Heng and Chowee Leow entitled "An occasional orchid" was staged at The Room Upstairs, 42 Waterloo Street[86],[87].
In April 2001, the Gender Identity Clinic at the National University Hospital, which was an offshoot of the original subsection of the Department of Obstetrics and Gynaecology at Kandang Kerbau Hospital and which helped to build Singapore's reputation as a top destination for sex change operations for the past 30 thirty years, the last hospital in Singapore for such procedures, closed without any fanfare[88]. The official explanation was that the gynaecologist in charge had left for private practice, and without him, the clinic did not have the skills to perform SRS. However, as early as 1987, the Ministry of Health had been directing hospitals to stop doing such operations on foreigners. It also discouraged them for Singaporeans, saying 'the increased danger of AIDS with such patients poses unnecessary risk to hospital staff'. However, some believe that the increasing number of Christian doctors filling the administrative ranks of Singapore hospitals over the past decades had a part to play in its shutting down as cross-dressing and sex reassignment are proscribed in the Bible.
This dismayed transgender people seeking to have their operations performed locally. The online edition of the now-defunct newspaper Project Eyeball carried out a survey in June 2001 asking, "Should sex-change operations be resumed in Singapore?" 39% of respondents said, "Yes, they are people with valid medical needs, like infertile couples" and 35% said, "Why not? It is legal here, as are transsexual marriages". The results showed that Singaporeans were generally quite supportive.
In June 2001, a petition organised by Jael[89], the founder of the transgender group "FTMs in Asia", urging the re-opening of the Gender Identity Clinic garnered 60 signatures[90].
The transgender community's petition was successful, with the clinic discreetly resuming it services in 2003, helmed by Dr. Ilancheran. However, owing to the discrimination against transgender people in Singapore even within some segments of the medical community, the high financial outlay involved and the necessity for psychological clearance, many preferred to have their operations performed sans the hassles in Bangkok, which had by then become the premiere centre for sex-reassignment surgery (SRS).
In May 2001, the Singapore Repertory Theatre produced the play "Shakespeare's R&J", directed by Tony Petito. It was a revisionist version of Romeo and Juliet in which all the roles were reprised by men[91].
On Sunday, 20 May 2001, the Singapore AIDS Candlelight Memorial 2001 was held at the Youth Park (National Youth Council)along Somerset Road. It was the first time that the event was conducted in both English and Mandarin as many Singaporean people living with HIV/AIDS (PWA) and family members are Chinese-speaking[92].
In May 2001, rumours circulated that Venom disco, well known for holding gay nights on Sundays since 1998 were allegedly refusing entry to several people who were suspected of organising competing gay parties[93].
In June 2001, Actions for AIDS (AfA) organised a charity bike ride called 'Riding for Life 2001' which raised S$50,000 for the AIDS Medicines Fund set up in 1999 to help financially-strapped people with AIDS (PWA)s meet their costly drug bills, which could amount to $2,000/- per month[94]. 28 cyclists, including straight celebrity adventurer Khoo Swee Chiow, peddled 900km over 5 days from Kota Baru in the northeast of Malaysia to Singapore.
In June 2001, Time magazine interviewed a Singaporean gay man, Kelvin Wong, and published a photograph of him in its feature on the local gay scene entitled "Boys' night out". Wong was also the first gay man to be featured in a Fridae article[95].
In early August 2001, Singapore's pioneer sex-reassignment surgeon and co-author of the book "Cries from within", Prof. S. Shan Ratnam, passed away from pneumonia[96].
On 8 August 2001, Fridae organised Singapore's first large-scale LGBT private event at Sentosa's Fantasy Island[97]. 'Nation' was dubbed by the foreign media as Singapore's 'coming out party'. Over 1500 paying gay revellers celebrated both the eve of National Day, as well as their sense of community. Many flew in from Sydney, Malaysia, the US and Hong Kong. The venue was divided into three zones: the Centro Boyz zone where the Miss Divastating drag competition was held, the Womyn's zone where no men were allowed for most of the evening, and the Chill Out area where guests could mingle and booths were set up to sell food, drinks, toys and to distribute flyers. 8 to 10 uniformed Police officers made their obligatory visit at around 11:30 pm to check that everything was all right and left without incident after 15 minutes. The mega-do also raised funds for local safe-sex group Action for AIDS (AfA) who received a portion of ticket sales.
On 22 Aug 2001, Fridae published an article on veteran AfA volunteer, Benedict-Jacob Thambiah[98].
In October 2001, The Necessary Stage staged a play called "Abuse Suxx!!!" which featured a scene in which the 2 male leads kissed each other[99]. It also starred Singapore's iconic cross-dressing comedian, Kumar.
On 1 December 2001, Fridae and Action for AIDS organised Crystal Ball at dbl 0, Singapore's official World AIDS Day party[100],[101]. It raised S$12,000 for AfA's AIDS prevention and the Medications Assistance programms to alleviate the financial burden of acquiring expensive but otherwise effective medication for needy patients.
On 24 December 2001, Fridae published a profile of openly gay Public Service Commission scholar and geotechnical engineering Masters degree holder Lim Chi-Sharn[102]. Lim, together with his mother, later also provided invaluable insights into the Singapore Armed Force's handling of recruits who declare themselves as homosexual, a process which had hitherto remained largely unknown to the gay community at large[103],[104],[105]. This was because the vast majority of gay enlistees did not declare their sexual orientation to the SAF, mainly due to the fear of discrimination during their National Service stint and more importantly in their future careers, especially if they chose to work in the public sector. (See the main article Discrimination against homosexuals in Singapore).
2002
[
]
Main article:

Singapore gay history: 2002
From 25 January to 24 February 2002 with occasional breaks, theatre company Toy Factory staged a Singaporean adaptation of the British play by Jonathan Harvey entitled "Beautiful thing" at the Toy Factory Theatrette, 17A Smith Street[106]. Directed by Beatrice Chia[107], it told the story of 2 teenage boys finding love and the prejudice that not only exists in laws, but in people's hearts.
On 22 February 2002, local LGBT web portal SgBoy held its 3rd anniversary bash for the first time at an open-air venue - the fields of Fort Canning Green[108]. The highlight of the event was the crowning of Mr. SgBoy 2002.
On 26 February 2002, popular radio and TV host, Phin Wong, as Fridae's new entertainment columnist[109], contributed his first movie review, one of the British/French gay film "Intimacy", to the website[110].
On 9 March 2002, Fridae.com celebrated its first anniversary with The Black Party held at Dbl 0 in Singapore, featuring guest DJ Jojo, who produced the extremely popular Frisky parties in Sydney. When first launched, Hong Kong-based Fridae was the principal sponsor and official portal of the Sydney Gay and Lesbian Mardi Gras 2001, sharing the grandstand with the likes of Telstra and Qantas Airways. Within one year, it could boast over 100,000 visitors and 1.2 million page views a month and was easily the largest English-language gay and lesbian portal in the region[111].
From 21 to 31 March 2002, Livid Room Productions, a feminist theatre company, staged a lesbian play entitled Stop Kiss at Toy Factory, 17A Smith Street[112]. It told the story of Callie (Adelina Ong) and Sara (Esther Yap) who find themselves falling in love after a string of heterosexual relationships. When their courtship culminates in a public kiss, they become victims of a hate crime. While Sara lies in a coma in hospital, Callie's finds herself questioning her identity and her faith in their relationship.
On 5 April 2002, The New Paper reported that a 22-year-old male Temasek Polytechnic student had allegedly posed nude in the infamous soft porn Oriental Guys (OG) magazine, which although produced and printed in Singapore, was banned from sale locally. An anonymous email including lewd pictures had been sent to his school principal[113]. In a similar case some 6 years ago, a National University of Singapore medical student who purportedly posed nude in the same magazine left for the US to complete his education after being the subject of several reports and debates in the media.
In April 2002, the Board of Film Censors reportedly sent distributors of the award-winning movie "Lan Yu", by gay director Stanley Kwan, a letter saying that it had been banned under current guidelines and because it would be "undermining the Singapore government's effort of promoting family values"[114]. The film, about the tortured romance between a male student prostitute and an older businessman, was however screened with cuts at the 2002 Singapore International Film Festival on 18 April.
In April 2002, Lianhe Wanbao, a popular Chinese-language evening tabloid published an article entitled "Good husband has rendezvous with lad in public pool" which reported that a 48-year-old married man and his 27-year-old lover of 2 years each received a one-month jail term after confessing in court that they had committed an act of gross indecency at River Valley Pool on 11 July 2001 at 4:35pm[115]. The pair had waited until the other swimmers left before they had oral sex in the pool, underwater.
In June 2002, Action for AIDS (AfA) relaunched its HIV/AIDS/STI prevention programme targeting Men-who-have-Sex-with-Men (MSM) with an appeal for a massive number of volunteers. The programme aimed to involve MSM venues and businesses as part of a concerted attempt to deal with the significant number of MSM diagnosed with HIV/AIDS in Singapore[116].
Despite initial concerns that there would be Government resistance to another gay Nation party, more than 2500 red-and-white dress-themed people gathered at the Fountain Gardens and Musical Fountain in Sentosa on Thursday 9 August 2003 for Singapore's 37th birthday and 2nd pride party[117],[118]. Nation.02, co-organised by Fridae and Kinemat Productions was sponsored by Qantas and other corporations including Pepsi, Planet Fitness and The Gallery Hotel[119]. Partygoers had a choice of 2 dance areas and were treated to a specially-produced laser show by Oracle Lasers, percussion by Idham Budiman, and visual effects by Fake from Kinemat. Attendance by regional visitors was even higher than the previous year's bash, drawing close to 500 partygoers, mainly from Hong Kong, Thailand and Taiwan[120],[121].
On 17 August 2002, RedQueen!, the social and discussion mailing list for gay, bisexual and questioning women organised Singapore's first women's safe-sex workshop and potluck party[122].
In October 2002, the Emmy award-winning television series and gay favourite, Six Feet Under, was broadcast on cable (HBO) in Singapore but the gay storyline was snipped by the censorship board[123].
On 18 October 2002, Mark Chan became the first openly gay local musician to be profiled on Fridae[124]. Chan, considered by most as a pioneer of the Singapore music scene, is a multi-talented artiste with six albums and numerous other collaborations under his belt.
On Friday, 15 November 2002, gay activist Alex Au won the Utopia Award in the 3rd annual award presentation held in conjunction with the Bangkok Pride Festival at Freeman Dance Arena, Soi Freeman on Silom Road in Bangkok. The award by Utopia (Utopia-asia.com), Asia's gay and lesbian web portal and tour operator, recognises individuals and groups for their pioneering contributions to gay and lesbian communities in Asia[125].
From 22 to 23 November 2002, the Singapore AIDS Conference, a biennial meeting since 1998, was held for the 3rd time at the Singapore Exhibition and Convention Centre. The theme of the year's conference was 'Change - Attitudes, Behaviour- the Future'[126].
On November 30th, the gay-organised "3D Project" hosted "3D", a Diva and DJ filled Mega Dance Party on Sentosa Island's Siloso Beach leading into World AIDS Day 2002 on 1 December[127],[128]. It aimed to raise S$250,000 for Action for AIDS.
In November 2002, newly declassified UK naval documents revealed that possibly 50% of its servicemen had indulged in homosexual sex at some time in their naval service life and many had visited brothels in Singapore's then legendary Bugis Street in the 1960s as soon as their ship docked. A document written by the navy's medical director general in 1969, described Singapore's transwoman prostitutes as "very beautiful" and who "dress well and smell delicious" He added, "They perfect the female walk, stance and mannerisms and some even undergo surgery to complete the illusion"[129].
On 1 December 2002, the Sunday Times printed an extract of a speech made by Minister of State for Health, Balaji Sadasivan, an ethnically Indian neurosurgeon who was fluent in Mandarin. He said, 'Research has also shown that the brain of homosexuals is structurally different from heterosexuals. It is likely therefore that the homosexual tendency is imprinted in the brain in utero and homosexuals must live with the tendencies that they inherit as a result of the structural changes in their brain. Within the moral and cultural constraints of our society, we should be tolerant of those who may be different from most of us.' This was the first time a Cabinet Minister had publicly quoted scientific findings about homosexuality:[130].
On Saturday, 22 December 2002, Club Herstory, Singapore's institutional lesbian party held its relaunch party after a brief hiatus, rebranding itself as simply, "Herstory" and announcing its new feature-packed website (www.herstory.ws). Its monthly parties were now to be held the on first Sunday of every month at Velvet Underground, a section of the Zouk disco complex[131].
On 28 December 2002, Fridae held its year-end bash called Snowball at Pavilion, Far East Square[132]. The Pan Pacific hotel was official hotel for the event, offering special rates to tourists attending the party. The sponsors were Qantas, Anchor Beer, Evian, Cuervo Tequila, Remy silver, Boom Boom Room, Clorets, Juice and The Link.
In December 2002, the Department of STI Control (DSC) released the results of Singapore's first study of the demographics and sexual behaviour of men-who-have-sex-with-men (MSM). It was a retrospective analysis of 124 homosexual and bisexual patients attending the DSC clinic in 2001[133].
2003
[
]
Main article:

Singapore gay history: 2003
From 4 to 7 January 2003, openly gay local artist Dr. Martin Loh, well known for his Straits Chinese (Peranakan) works, mounted "Men in the Raw", Singapore's first private gay erotic art exhibition in Singapore[134]. It was held at the Utterly Art Exhibition Space, #02-01, 208 South Bridge Road. Low is a Fulbright scholar with a doctorate in history who had to leave the civil service because they discovered he was gay[135].
From 28 February to 1 Mar 2003, gay Singaporean composer Mark Chan conducted a select ensemble of top-rank musicians at the world premiere of Little Toys, a classic Chinese silent film set to his new, vibrant and modern score at the 2003 Hong Kong Arts Festival[136].
In March 2003, Select Books released Singapore's first non-fiction publication dealing entirely with the hiterto taboo topic of local LGBT culture entitled, "People Like Us: Sexual Minorities in Singapore". It was a pioneering collection of essays by contributors such as Alex Au, Jason Wee, Desmond Sim, William Peterson and Laurence Leong. Its style is eclectic, ranging from the academic to the casual. (see The New Paper's report and Yawning Bread's comments:[137], Fridae review by Alvin Tan:[138]).
In March 2003, Singapore censors snipped 3 same-sex kisses from the recent Oscar-winning lesbian movie, "The Hours"[139]. It starred Nicole Kidman, who took home the Best Actress prize for portraying author Virginia Woolf in the sombre sapphic drama. It was directed by openly gay Stephen Daldry who was nominated two years ago for Billy Elliot and produced by openly gay Scott Rudin[140].
A month-long trilogy of plays performed at the Jubilee Hall, Raffles Hotel in April 2003. They were penned by acclaimed playwright and academic lawyer Eleanor Wong[141] and produced by W!LD RICE, a professional theatre company founded by well regarded Artistic Director Ivan Heng[142]. Despite the stellar credentials of the artists involved in the production of the plays, they failed to secure any sponsorship, probably due to their lesbian theme[143]. Despite this, it enjoyed an overwhelming response with 3 additional performance being added[144](see Singapore gay theatre).
In April 2003, Select Books released Singapore's first pictorial documentary on transsexuals in Singapore and Thailand entitled, "My Sisters, Their Stories", written by male-to-female transsexual, Leona Lo[145],[146].
In May 2003, Fridae launched a new Chinese language personals site, Asia's first personals online service, customised for and dedicated to the needs of the native Chinese gay and lesbian communities, particularly in China, Hong Kong and Taiwan[147]. In the third quarter of 2003, Fridae, Asia's largest non-pornographic gay and lesbian web portal, also launched its Chinese site with original Chinese content with contributions from writers in North-East Asia.
The SARS (severe acute respiratory syndrome) crisis of 2003[148] initially exacted a heavy toll on attendance at gay saunas. Discos, such as Why Not? saw a less marked fall in takings, - about 5 to 10%, according to its manager, Louie Chang[149]. However, after a few months, when the death toll was less than feared, patronage returned to normal.
On Sunday, 18 May 2003, the Singapore AIDS Candlelight Memorial was held at 7pm at the Youth Park (National Youth Council) along Somerset Road. The official theme of the memorial was "Remember the Cause, Renewing our Commitment"[150].
On 23 and 24 May 2003, 3 of Singapore's most talented theatre performers who also happened to by gay - Darius Tan, Gani Abdul Karim and Juwanda Hassim starred in the original musical production, "3 Men & A Boot" at the Victoria Theatre[151]. It was about 3 guys trying to make it in a very tough and fast paced Singapore. With love, faith and hope as their guide they waddle through funny, touching and nonsensical moments...with a smelly boot offering some help.
In May 2003 that the very first locally-produced television documentary dealing with homosexuality as its main subject was broadcast on Singaporean airwaves. It was a homophobic, 30-minute episode in a Mandarin-language series called "Crunch Time 2" shown on Channel U, a television station owned by Singapore Press Holdings. The series was advertised in The Straits Times which promoted it as one that featured the turning points in the lives of 12 people including a loan shark, an unwed mother and a drug addict.
The particular program featured actors re-enacting the supposedly true-life account of a young, masculine gay Singaporean man cruising for sex in public swimming pools and toilets. It reinforced the misconception that homosexuality resulted from having an unhappy home, parents who constantly fight, and being sexually abused. In this case, the protagonist was only 6 years old when he was asked by an adult female to perform sexual acts with a girl his age. The episode wound up with an interview with a spokesman from Choices, a Christian counselling group from the Church of our Saviour (COOS) in Queenstown which helps "straighten" out gay lives, which was the eventual outcome for the gay man in the story. He was depicted as having been "successfully'" converted through counselling from a dissatisfied, unfulfilled homosexual to a man happily married to a female spouse and producing a son.
The negative and stereotypical depiction of homosexuality in the program prompted an online petition which garnered more than 200 signatories over the ensuing weekend[152]. It probably had a significant effect as the episode was the last time a homophobic documentary was aired in Singapore.
Also in May 2003, The (Singapore) Sunday Times ran a full-page feature on an ex-transsexual who changed his mind about having a sex-change surgery after receiving counselling from Choices. The New Paper, Singapore's highest circulated tabloid, ran an article headlined, "My boyfriend is a conwoman". The report told of a "man" who borrowed S$90,000 from "his" girlfriend's family only to have her true gender revealed at the police station after the girl's relative made a report.
These homophobic media reports came to an abrupt halt after the publication of the 7 July 2003 issue of Time (Asia) magazine which carried a feature article entitled The Lion in Winter[153],[154],[155],[156]. It examined Singapore's prevailing bleak economic climate against a wider backdrop of Asian NIE malaise at the time. In the issue, Prime Minister Goh Chok Tong, unprompted and of his own volition, was quoted as saying, 'So let it evolve, and in time the population will understand that some people are born that way. We are born this way and they are born that way, but they are like you and me.' He also stated that gays would now be allowed to serve in 'sensitive positions' in the civil service[157],[158](see video:[159]). It is not known if PM Goh's announcement was connected with the recent dismissal of Fulbright scholar Dr. Martin Loh from the civil service after they found out he was gay (see above).
The news unleashed a media frenzy with both brickbats[160],[161],[162] and bouquets tossed up by the general public. The gay community was elated.
Within an hour of reading Prime Minister Goh Chok Tong's, activist Alex Au decided to rally the gay community in launching a second application for the registration of People Like Us (PLU). A pre-registration meeting was held at the Blue Room of The Substation on 10 July 2003[163]. Owing to an unexpectedly large turnout of over 100 people, including members of the press, the party had to adjourn to Fort Canning Green[164]. Membership application forms were snapped up with gusto. However, in view of media hoopla going overboard in July and August 2003, People Like Us decided to delay the application because it felt that the government might be unable to consider the application rationally when the issue was under an intense spotlight. After a few months of dormancy, the application was finally submitted to the Registrar of Societies the following year, on 25 February 2004.
From 30 May to 8 June, gay photographer Jason Wee mounted an exhibition entitled, "Celestial Encounters" at Utterly Art in which he investigated the Chinese zodiac as it wields its influence over man, not from cosmic forces, but from its imposition over our bodies and minds. He enlisted naked male models to represent our essential selves[165].
From 31 May to 8 June 2003, 20 bicyclists and 7 support crew rode over 950km from Singapore to Kuala Lumpur and back in a charity called "Riding For Life 2003" to raise funds for HIV/AIDS treatment and prevention[166],[167]. One of the participants was Roger Winder, a part-time Programme Coordinator for AfA, running its HIV/STI Prevention Programme for MSM, and university tutor[168].
In June 2003, Fridae teamed up with the M*A*C AIDS Fund and the Elton John AIDS Foundation Team to spread the first-ever public service announcements on AIDS featuring spokespeople Elton John, Mary J. Blige and Shirley Manson[169].
On 7 June 2003, Fridae held its "Boys of Summer" party at Tunnel, next to The Big Splash as an appetiser for its upcoming Nation party in August[170].
On Friday, 11 July 2003, singer Shirlyn Tan, best known to Singapore's lesbian community for being the host of the monthly Herstory parties, performed with her band, UnXpected at the Esplanade's Recital Studio[171].
From 25 July to 17 August 2003, Toy Factory presented "Bent" at The Attic, level 4, 21 Tanjong Pagar Road[172]. It was an award-winning and groundbreaking play by Martin Sherman about the Nazi persecution of homosexuals, coming out and the struggle for gay pride.
Fridae's Nation.03 extravaganza at Sentosa expanded to become a 3-day event in 2003, attracting an estimated 4500 paying attendees intent on celebrating Singapore's 38th National Day[173],[174],[175],[176],[177],[178],[179]. It included a welcome party at Why Not? bar on August 7 and a poolside recovery party on August 9 at the water-theme park Big Splash and Tunnel Club, also located on the same premises. This year's major corporate sponsor was Subaru represented locally by MotorImage Enterprises Pte Ltd[180]. An estimated 1000 partygoers were visitors from Australia, Hong Kong, Japan, Malaysia, Taiwan, Thailand and as far away as Canada and the U.S. The Sijori Resort Sentosa, located a few minutes from the party grounds and Hotel 1929, the official hotel for the party, reported a 100 percent occupancy rate during the period. Nation.03 marked a milestone in that it was the first time in Singaporean television history that a local gay event had been reported in a positive light, accompanied by snippets of bare-chested men dancing on podia. The following day, Channel NewsAsia and its sister station MediaCorp TV Channel 5 announced, 'Nation.03 can be seen as a gauge of Singapore's tolerance.'
From 13 to 17 August 2003, The Necessary Stage presented Harish Sharma's gay play, "Mardi Gras"[181][182],[183] at the Jubilee Hall, Raffles Hotel. The comedy was about a group of people wanting to organise Singapore's first Pride Parade. It starred well known local TV personalities including Hossan Leong, Jimmy T, VJ Rick Tan, with special guest appearances by Kumar and Irene Ang.
During his 13th National Day Rally speech on Sunday, 17 August 2003, Prime Minister Goh Chok Tong, referring to his earlier comments in Time magazine, said that "they do not signal any change in policy that would erode the moral standards of Singapore, or our family values. In every society, there are gay people. We should accept those in our midst as fellow human beings, and as fellow Singaporeans. If the public sector refuses to employ gays, the private sector might also refuse. But gays too, need to make a living. That said, let me stress that I do not encourage or endorse a gay lifestyle."[184].
In September 2003, the 22-member Censorship Review Committee, made up of private sector and government representatives who had been appointed in April 2002 to do a once-in-a-decade censorship review, announced that the censorship authorities would relax their ban on gay-themed movies, plays, broadcasts and publications[185]. These included allowing films with homosexual themes to be screened at cinemas rather than only at film festivals.
In September 2003, Agence France-Presse (AFP) reported in an article entitled "Singapore emerging as Asia's new gay entertainment capital" that the tiny city-state was slowly emerging as Asia's gay entertainment hub[186]. This echoed recent articles in The Straits Times on 17 August and Time magazine (Asian edition, August 18-25). The AFP report promoted Singapore as a hip and fun destination for gay travellers and highlighted a growing number of gay-friendly clubs, saunas, restaurants and fashion outlets.
From 1 to 26 October 2003, Toy Factory staged, at The Attic, the Mandarin production of Jonathan Harvey's Beautiful Thing starring local actors Scott Lei, Charmaine Ang, Ben Xiao, Darius Tan and Alicia Kim in Singapore for the second time[187].
From 15 to 26 October 2003, Escape Productions staged gay British playwright, Terence Rattigan's "The Deep Blue Sea", which he had written after his male partner committed suicide shortly after leaving him for a another man[188]. It starred Amy Cheng, Jimmy T and Mark Waite and was performed at the DBS Arts Centre, 20 Merbau Road, Robertson Quay.
In October 2003, Subaru Singapore, represented by MotorImage Enterprises Pte Ltd, signed a 12-month marketing campaign with Fridae just months after being a major sponsor of Fridae's Nation party in August[189]. It was believed to be the biggest campaign a multinational company had undertaken to advertise to gay consumers in Singapore and Asia.
From 25 to 28 November 2003, a conversion/reparative therapy seminar entitled, "Homosexuality: Myths and Truths" was organised by the Singapore chapter of the US-linked Focus on the Family despite having received protest letters from local gay activists and a statement issued by the AFFIRM Network[190]. The latter was a US-based group of psychologists who highlighted "serious ethical and scientific concerns" about "reparative therapy" for lesbians and gay men.
On Saturday, 6 December 2003, Singapore's first-ever LGBT community centre, Pelangi Pride Centre, held its opening party from 6pm to 9pm in its premises at 22A Rowell Road[191]. It featured live tribal drumming & flame throwing, food and drink, music, a film screening as well as safer-sex demonstrations. Opening hours of the resource centre would be on Wednesdays from 7pm to 9pm and Saturdays from 3pm to 7pm.
On Saturday, 27 December 2003, Fridae's third annual year-end party, "SnowBall" was held at Suntec Singapore International Convention and Exhibition Centre followed by the Meltdown Recovery party at China Black on Sunday, 28 December[192],[193].
2004
[
]
Main article:

Singapore gay history: 2004
On Monday night, 5 January 2004, during the question-and-answer session after a speech to the Harvard Club, the then Deputy Prime Minister Lee Hsien Loong indicated that a ban on gay activist groups, along with other interest groups, may soon be lifted as the government planned to ease curbs on political and social freedoms[194]. Lee, who was likely to take over as Prime Minister from Goh Chok Tong that year, said, "There will be other groups formed, I'm quite sure, to campaign for specific issues, gay rights for example, and that is a sensitive one."
On Saturday, 10 January 2004, Safehaven, a local non-denominational Christian group for gay men and women, organised a Family Reunion Dinner hosted by Rev. and Mrs Yap Kim Hao[195]. The aim of the inaugural dinner was to help its members and their families deepen their relationships. It was co-organised by 26-year old Alphonsus Lee who attended the gathering with his father.
On 21 January 2004, People Like Us sent an emotional and personal open letter to all 94 Members of Parliament[196]. It appealed to the MPs as parents of children who could be gay and pointed out that current anti-gay laws would make their children criminals just on the basis of their sexuality. However, it failed to convince legislators to consider decriminalising homosexual oral sex when they review the Penal Code about oral sex.
From 4 to 15 February 2004, W!ld Rice presented "Landmarks - Asian Boys Vol. 2" at the Esplanade Theatre Studio[197]. Written by Alfian Sa'at and directed by Ivan Heng, the collection of eight short plays told the stories of the lives of gay men in Singapore set against a familiar backdrop of saunas, cruising spots, parties, coming out issues, sex, and the city.
On 27 February, it was reported in the tabloid Streats that the Media Development Authority (MDA) had warned MANAZINE, a local men's periodical, that "the current state of the magazine, which features nudity and homosexual content, is unacceptable"[198]. This was despite recent announcements by the Censorship Review Committee (CRC) that Singapore would relax its censorship laws.
In early March 2004, Richard Chua, artistic co-director of The Fun Stage, announced in a press statement that the theatre company's earlier planned lecture series had been cancelled due to an unsuccessful attempt to obtain a licence from the Public Entertainment Licensing Unit (PELU), the licensing arm of the Ministry of Information, Communications and the Arts (MICA)[199]. PELU notified the organisers that the "talks are contrary to public interest". A series of talks on "Same Sex Love in Chinese Culture" and "The Politics of Gay Literature" and an open forum on a local book "People Like Us" was to have been held on March 6, 20 and 27 in conjunction with Lovers' Words, a Mandarin play about a boy and a girl falling in love in a homosexual society.
On 9 March 2004, the gay advocacy group, People Like Us, issued a press release calling on PELU to explain its reasons for not allowing the public talks on homosexuality to be held[200].
In March 2004, to mark its third anniversary, Fridae launched Version 4 of its website, the most significant update so far[201]. It also announced that a new full-featured Chinese section would be introduced in the second quarter of 2004.
From 18 to 20 March 2004, the Ecnad Project presented openly gay engineer-turned-dancer, Kon Su Sam's performance entitled, "March Spin" at MOX Bar & Cafe[202].
On Friday, 26 March 2004, Singapore's golden girl of swimming, Pat Chan, sang in a concert entitled, "Pat Chan & Friends: A Little Night Music" at the Esplanade Recital Studio[203].
In a letter dated 31 March 2004, the Registrar of Societies (ROS) rejected People Like Us' second application for registration, saying that "the registration of the proposed society is not approved under Sections 4(2)(b) and 4(2)(d) of the Societies Act"[204]. The gay community was tremendously disappointed[205]. PLU appealed against the ROS' decision in June 2004 but it was rejected via a letter dated 19 May 2004 from the Ministry of Home Affairs[206]. Despite the rejection, PLU co-founder Dr. Russell Heng said the group had made a "point to the government and the public that the gay issue will not go away." Gay activist Alex Au added, "The refusal again to register PLU raises serious doubts about any claim about freeing up Singapore, and makes an utter mockery of Goh Chok Tong's words about gay civil servants."
On Saturday, 10 April 2004, Fridae held its Squirt party at Palawan Beach, Sentosa and a small private island off the beach[207]. It featured upcoming local DJ George and Los Angeles-based DJ Kiokio. This was followed up by Slurp the next day, Sunday, 11 April 2004, showcasing DJ Antwone at Zouk club[208]. The double-bill was called "Squirt and Slurp"[209] and came hot on the heels of the successful Nation and SnowBall parties the previous year.
In April 2004, gay entrepreneur Lawrence Chia launced PLUguide, Singapore's first map listing all the city-state's major gay venues[210].
In April 2004, Action for AIDS released the results of their 2002/2003 MSM survey. It was the most comprehensive study of the attitudes, behaviour, and sexual and HIV-related knowledge of men-who-have-sex-with-men in Singapore to date[211]. 1,291 responses were collected through the survey website (76.3%) as well as from 3 gay saunas (12.1%), AfA's HIV Anonymous Testing Centre (6.3%), 3 gay clubs/bars (5.0%), and from the DSC Clinic (0.3%). AfA also revealed that the number of new HIV cases reported among MSM in Singapore had almost doubled from 28 in 2000 to 54 (22.3 percent of total cases) in 2003 despite a gradual tapering of rates of infection for the general population[212].
From 12 to 22 May 2004, Singapore's iconic drag comedian, Kumar, acted in the play "Not Guilty" at Jubilee Hall, Raffles Hotel[213]. The play, produced by Arts Central, directed by Alvin Tan and written by veteran playwright Haresh Sharma of The Necessary Stage was about Kumar's life, childhood, family, being Indian, career and living in Singapore.
On Thursday, 13 May 2004, Edmund Koh, head of Development Bank of Singapore (DBS) consumer banking, told reporters at the launch of its DBS Woman's Mastercard the government-link bank may consider launching a credit card for gays in Singapore if there was enough demand for such a product[214].
In June 2004, Checkpoint Theatre presented "Opiume" at the Singapore Arts Festival, a modern chamber opera based loosely on the Opium Wars in the 18th to the 19th centuries. The music was written by gay Singaporean composer, Mark Chan[215].
In June 2004, Monsoon Books released a book by Singaporean author Gerrie Lim entitled "Invisible Trade: High-class sex for sale in Singapore"[216]. Chapter 6 of the book entitled "Boys in the Hood" explored the world of gay male prostitution services candidly described by Cyril Wong, who had by then become an accomplished poet.
In July 2004, Times Editions released a novel by Edmund Wee entitled "The Narcissist"[217]. It was the first novel by the 31-year-old Singaporean journalist. Set in Paris and London, the novel follows the trail of a young, callow homosexual narrator who gradually discovers the darker side of men. The two themes woven throughout the novel are self-discovery and self-love.
In July 2004, Internet chat rooms and e-mail discussion lists were abuzz after Chinese-language tabloid Lianhe Wanbao ran a series over 5 consecutive days from Friday, 13 July onwards on orgies, saunas, bars and other gay issues[218]. In retaliation, a couple in their 20s created a web site called "antiwanbao" to highlight how the "reports from the tabloid are biased and discriminatory towards the gay community, urge the gay community to stop buying the newspaper, support gay-friendly establishments and practice safe sex."
In July 2004, the Taiwanese gay movie "Formula 17" was banned by the Board of Film Censors despite the Censorship Review Committee's recommendations to relax its ban on gay-themed movies and publications[219]. The distributor, Festive Films which proposed an "M18" rating (for viewers 18 or over) urged the Films Appeals Committee to allow the coming-of-age movie which follows the life of a 17-year-old boy who heads to Taipei in search of his dream lover, only to fall in love with a popular older gay man who does not believe in love. The Films Appeals Committee however upheld the ban saying that it encouraged homosexuality and "creates an illusion of a homosexual utopia, where everyone, including passers-by, is homosexual and no ills or problems are reflected". Similarly, the racy Hindi lesbian film "Girlfriend" which that caused riots in several Indian cities and cinemas to be vandalised, was prohibited from release both in Singapore cinemas and on video. The story revolved around two close female friends who share a sexual encounter but one gets jealous and violent as the other falls in love with a guy.
From 28 July to 1 August 2004, director Alvin Tan and playwright Haresh Sharma of The Necessary Stage restaged 2003's glamourama "Mardi Gras" at the Jubilee Hall, Raffles Hotel with a new cast, script and sequel entitled "Top Or Bottom"[220]. The latter ran from 4 to 14 August, with breaks. The new cast included Paerin Choa, Jay Espano, and sitcom queens of Singapore, Irene Ang and Koh Chieng Mun. While Mardi Gras examind the issues faced by the Singapore gay community as a whole, Top Or Bottom looked at problems faced by the gay individual. Hossan Leong took the lead role of makeup artist Faith who had to deal with the untimely death of a friend. It lead Faith to question the way he has lived his life, including the choice he made long ago to come of the closet and set it on fire. "Mardi Gras" and "Top or Bottom" were part of the first ever Nation.04 Arts programme which included several other plays and art exhibitions[221].
On Saturday, 7 August 2004, Fridae's eagerly anticipated Nation.04 kicked off with the "Make Love Not War" opening party at the Suntec Singapore International Convention and Exhibition Centre, followed by the Nation party proper on Sunday, 8 August and the Closing Party at the world-famous Zouk Club on 9 August[222],[223],[224]. Hailed by Time Magazine as "a 3-day festival of international proportions" and "a must on the world circuit" by DNA, Australia's leading gay magazine, the event attracted some 2,000 tourists from 30 countries and raised S$10 million in tourism revenue. Nation.04 was also nominated for "Best Event Experience" in the 2004 Singapore Tourism Awards[225].
Action for AIDS operated a booth at party but was asked to shut it down by the local police jurisdiction who thought that giving out safer sex brochures and condoms was promoting gay sex[226]. In another incident earlier that year, AfA was also stopped from circulating its new range of safer sex postcards by the Advertising Standards Authority of Singapore which objected to any reference to oral and anal sex on the grounds that such acts were illegal.
In August 2004, Action for AIDS revealed that men-who-have-sex-with-men (MSM) accounted for 78.6% of all the positive results at its Anonymous HIV Testing and Counselling Centre from January to June 2004[227]. There was a significant increase in the number of homosexual and bisexual clients compared with the same period last year - a 48.7% jump from 347 in 2003 to 516 in 2004.
In August, People Like Us and its LGBT e-mail list, SiGNeL announced plans to organise a gay forum and exhibition. The group made the decision after newly installed Singapore Prime Minister Lee Hsien Loong, who assumed office on 12 August, spoke at his first National Day Rally speech on the night of Sunday, 22 August and stated that organisers would henceforth not require a licence for indoor forums[228].
In September 2004, Manazine, a local periodical which had previously featured "homosexual" content[229], announced that the magazine would move from being a free pick-up zine to one that would only be sent to subscribers or available to card-carrying members at selected outlets to limit its access to the general public[230]. According to The Straits Times, the Media Development Authority (MDA) had received complaints by concerned parents about the magazine's homosexual content and its easy availability. MDA's spokesperson added that the authority had met with Arjan Nijen Twilhaar, Manazine's publisher and chief editor on 11 August and reminded him that local magazines should not promote homosexuality as a lifestyle.
From 8 September to 17 October 2004, gay artists Brian Tan and Vince Ong, who were once boyfriends, created an extraordinary installation work that represented the journey they took in understanding their own lives and sexuality. It was entitled "Hypersurface: A Medi(t)ation On Media And Architecture" and was displayed at Sculpture Square, 155, Middle Road[231].
In September 2004, it was reported on SiGNeL that the Media Development Authority (MDA) objected to the use of "raunchy pictures" on the SgBoy web portal's subscription-based HotBods section, the use of explicit sexual language in its Personals section, and required its webmaster to bar such ads as well as to shut down certain sections of its bulletin board due to its overt gay content[232],[233]. However, the website denied that the validity of the report, saying "With regard to the recent speculations and postings (one notably from SiGNeL) about MDA clamping down on SgBoy.com, we would like to say that there is no concrete information to support these reports."
In September 2004, Minister of State for Health, Balaji Sadasivan voiced his concern about the rising numbers of HIV cases in Singapore. He noted that about one-third of cases were occurring among Men who have Sex with Men, and that cases in this subgroup were increasing quite rapidly. He called for greater efforts and fresh thinking to halt the spread of HIV.
From 7 to 17 October 2004, the Utterly Art Exhibition Space at #02-01, 208 South Bridge Road presented "My Sisters, Their Stories", an exhibition of fashion photographs featuring male-to-female transsexuals by photojournalist Lance Lee's published book of the same name.
On the night of Wednesday, 10 November 2004, in a speech entitled "The AIDS Epidemic in Singapore" (see transcript: [234]) made to doctors in a hospital, Senior Minister of State for Health Balaji Sadasivan warned that Singapore could face an "alarming AIDS epidemic" as the number of new cases of HIV/AIDS in Singapore was doubling every 3 to 4 years[235]. He pinpointed gay men's unsafe sexual practices as the biggest cause for concern, saying that Singapore was fortunate in that HIV had not entered the general population in a big way, with the disease generally limited to two distinct groups of men that needed attention - "MSM i.e. the gays, and heterosexual men having casual sex in other countries." He added, "Of the two, the gays are the bigger concern." Dr. Balaji highlighted the sharp rise in new AIDS infections among homosexuals, from 54 cases last year to 77 in the first 10 months of 2004.
In his speech, Dr Balaji also chided AfA for not doing a good enough job in HIV awareness and education[236] and mentioned Fridae.com, where he came across an article that he felt was advocating a "promiscuous and reckless lifestyle". Dr. Stuart Koe, CEO of Fridae, and lawyer Paul Tan wrote an articles on Fridae in response to Balaji's allegations[237],[238].
On Friday, 19 November 2004, Dr Balaji told reporters after he chaired a consultative meeting involving health officials and representatives from Fridae.com, Action for AIDS (AfA), the Association of Women for Action and Research (AWARE), the Singapore Red Cross, the Communicable Disease Center, the AIDS Task Force and the Health Promotion Board that although Singapore would not embark on a "publicity blitz" to promote condom use, the Ministry of Health would involve Fridae among other partners to get the safe sex message across to respective target groups[239].
On 23 November 2004, Fridae launched an online red ribbon campaign to urge users of the web portal to make a personal commitment towards fighting HIV/AIDS through safer sex[240].
From 27 to 28 November 2004, the biennial 4th Singapore Aids Conference was held at the Singapore International Convention & Exhibition Centre (Suntec City)[241]. It was targeted at a multi-sectorial audience. The conference organisers and AfA also convened the 2nd MSM Stakeholders' Meeting which involved over 40 participants including owners of gay establishments, and gay individuals was held in which ideas were tossed around about how to promote safe sex[242]. These included designation of saunas and clubs as being "HIV-friendly" and informing patrons that the guys they met within those premises could potentially be HIV-positive.
From 18 to 28 November 2004, the Utterly Art Exhibition Space, #02-01, 208 South Bridge Road presented an exhibition entitled "Nativity Nonyas and Other Uncommon Icons" by famed Singaporean artist and playwright Desmond Sim[243]. The 40-something writer co-wrote Beautiful Boxer by Ekachai Uekrongtham, which won a string of awards in Europe at various film festivals, multi-award winning play Autumn Tomyam, and Hubbies4Hire among others. Sim was Action Theatre's associate artistic director at the time.
From 24 to 27 November 2004, theatre director Jonathan Lim and comedian Hossan Leong presented the 8th installment of the live parody show "PRIVATE (partly) - House of Flying Chestnuts" at the Jubilee Hall, Raffles Hotel[244]. It featured double-edged parodies of Mamma Mia! , Singapore Idol, Dim Sum Dollies, Private Parts, Wills & Mergers and films like Peter Pan, House of Flying Daggers, Kill Bill, Alien VS Predator and The Stepford Wives[245].
On 3 December 2004, Fridae announced that it would be holding its year-end SnowBall party on Christmas day at the Warehouse, a newly refurbished cavernous godown along the Singapore River which would be transformed into a dazzling palace of heart-stopping sound and spectacular light and laser design[246]. This was to be followed up with Meltdown, another party at Chinablack on 26 December[247].
However, on Wednesday, 8 December 2004, the police rejected Fridae's application for a public entertainment licence (PELU) to hold SnowBall.04[248]. It was the first time that a PELU licence had been denied as organiser Jungle Media, a Singapore subsidiary of Hong Kong-based Fridae.com, had obtained licenses for past events, namely Snowball in December 2002 and 2003, Nation (August 2002, 2003, 2004), Squirt (April 2004), Boys of Summer (June 2003) and Paradise Ball (December 2003).
In a press statement, the police said the during the indoor opening party of Nation.04 at Suntec City, they observed that "patrons of the same gender were seen openly kissing and intimately touching each other. Some of the revellers were cross-dressed, for example, males wearing skirts. Patrons were also seen using the toilets of the opposite sex. The behaviour of these patrons suggested that most of them were probably gays/lesbians and this was thus an event almost exclusively for gays/lesbians...A number of couples of the same sex were seen hugging and kissing in public after the event while waiting for taxis and checking into the nearby hotels after the party...Several letters of complaint were received from some patrons about the openly gay...The Police recognise that there are some Singaporeans with gay tendencies. While Police do not discriminate against them on this basis, the Police also recognise that Singapore is still, by and large, a conservative and traditional society. Hence, the Police cannot approve any application for an event which goes against the moral values of a large majority of Singaporeans. Future applications for events of similar nature will be closely scrutinised."
Fridae's CEO, Dr. Stuart Koe wrote a letter to Prime Minister Lee Hsien Loong, Senior Minister Goh Chok Tong and Home Affairs Minister Wong Kan Seng to appeal the decision and asked the relevant authorities to reconsider their position. Readers from Singapore, which included Rev. Dr. Yap Kim Hao, and around the world also wrote to the press and various government departments, urging the authorities to do the same[249]. Some analysts feared that the rejection of a public entertainment licence to hold Snowball.04 signalled a change of public policy toward homosexuality, perhaps instigated by junior health minister Dr. Balaji Sadasivan's warning about a sharp rise in the number of new AIDS cases amongst gay men one month ago[250].
In a letter dated 13 December 2004, the Ministry of Home Affairs (MHA) rejected Fridae's appeal to overturn a rejection of their application for Snowball.04, saying, "Singapore is indeed opening up. But we are still, by and large, a conservative society. The blatant public display involving intimate behaviour of people of the same sex exhibited at the previous events organised by Jungle Media/Fridae.com would be an affront and unacceptable to the large majority of Singaporeans"[251].
On Sunday, 19 December 2004, at the People Action Party's community day celebrations in Sentosa, Prime Minister Lee Hsien Loong responded to reporters' questions on the rejection saying, "It's a question of where to draw the line. We made it quite clear that the party should not be targeted at gays alone. There are certain norms and limits which we have to observe and that was the understanding under which the permit was granted last time. As the party turned out, our sense of it was that this was beyond what we are prepared to accept. So, we have said 'no'. It's a matter of balance and judgement ? how far we can go and where the limits are. I think it's the right thing to do"[252].
On Saturday, Christmas day, 2004, the Free Community Church (FCC) held its Christmas Celebration Service at The Chambers on level 2 of The Old Parliament House. The speaker for the service was Clarence Singam who had also written a letter to the govenment several weeks ago urging them to reconsider the rejection of a police licence to hold Snowball.04. The Chairperson of the FCC, Jean Chong was interviewed by Fridae[253].
2005
[
]
Main article:

Singapore gay history: 2005
On Friday, 7 January 2005 at 8:30pm Channel U broadcast Singapore's first television programme to feature a local transwoman entitled "Sense of Being". It interviewed 38-year old post-operative Malay male-to-female transsexual Amy Tashiana[254]. Tashiana talked about her life as a former model with Carrie Models and performer at the defunct cabaret club Boom Boom Room.
From 14 to 22 January 2004, Toy Factory presented director Jeremiah Choy's "Spring Singing", an exhilarating song and dance production at the AGF Theatre, Alliance Francaise, 1 Sarkies Road[255]. It featured 7 talented young men including Lee Yu-Wen as well as a Singapore Idol finalist and Channel U's Next Big Thing finalist belting out a range of songs from the 1960s to present, encompassing pop, disco and R&B.
In late January 2004, Action for AIDS revealed that the number of MSM who tested positive for HIV doubled from 26 in 2003 to 54 in 2004, accounting for 3 out of 4 HIV-positive clients at the Anonymous HIV Testing Centre[256]. Almost 1 out of 20 MSM tested in 2004 were HIV positive causing HIV prevalence among MSM clients to edge up from 3.5% in 2003 to 4.3% in 2004.
In late February 2005, "Rich Rhapsody", a Taiwanese feel-good movie set in Singapore which deals with a mother's concern over the sexual orientation of her third son, opened in Singapore as well as Taipei after the Singapore Censorship Board deliberated for more than a month over the film's gay theme before agreeing to lower the rating from a conservative R21 to an M18[257]. This delayed the movie's opening from 6 January to 24 February. In Hong Kong, Rice was classified a category IIA film - unsuitable for children but with no minimum age limit. The writer and director of the movie was Kenny Bi and starred veteran actress Sylvia Chang, celebrity chef Martin Yan as her admirer, Singaporean actor Tan Lepham who plays Chang's youngest son, Leo and Melanie Laurent in the role of French exchange student Sabine.
On 6 March 2005, Fridae profiled medical undergraduate and award-winning writer Alfian Sa'at, who was primarily concerned with Malay-Muslim issues, gender politics, civil society and active citizenry[258]. He was best known to the LGBT community for his popular gay plays, Asian Boys Vols. 1 & 2.
On Wednesday, 9 March 2005, Senior Minister of State for Health, Dr. Balaji Sadasivan, told parliament that the Nation parties, which had been held annually since 2001, could be linked to the HIV upsurge among gay men in Singapore[259]. He warned of an AIDS epidemic as the total number of new cases rose 28% in 2004 reaching a high of 311 from 242 the year before. He reported that 90% of new patients were men with a third of them being homosexual. Despite acknowledging that the Ministry of Health did not know the "reasons for the sharp increase of HIV in the gay community," Dr. Balaji nevertheless quoted the hypothesis of an unnamed "epidemiologist who suggested that this may be linked to the annual predominantly gay party in Sentosa - the Nation Party - which allowed gays from high prevalence societies to fraternise with local gay men, seeding the infection in the local community."
The folowing day, 10 March 2004, Fridae issued a press statement in response to Dr. Balaji's remarks, pointing out the fact that the Ministry of Health had never once targeted any of its public health campaigns at MSM and that the illegal status of gay sex made it impossible for government agencies to work closely with the gay community to address the HIV epidemic[260]. For example, Action for AIDS volunteers distributing safe sex material at the Nation party in 2004 were told by police to stop their activities as it was "promoting illegal activities," i.e. homosexual sex. The LGBT advocacy group, People Like Us, offered other possible reasons for the HIV surge among MSM including more people taking HIV tests due to wider media publicity and Action for AIDS' (AfA) successful outreach efforts, the increasing numbers of MSM going overseas and being infected there and reduced vigilance from urban MSM globally due to advances in medical science, which have transformed HIV from a fatal disease to a chronic one when treated with drugs[[261]].
On Sunday, 13 March 2005, Dr. Balaji, speaking to Straits Times reporters after a charity event, defended his remarks, saying that they were intended to be a wake up call for gays to get tested for the virus at the Anonymour HIV Testing Centre at Kelantan Lane if they were at risk[262].
On 18 March 2005, The Straits Times reported that Minister of Information, Communications and the Arts, Dr. Lee Boon Yang said that the government was not practising 'double standards' by including a talk on Singapore and the pink dollar during the recent Singapore Season in London[263]. The panel comprised gay activist Alex Au, gay poet-playwright Alfian Sa'at and Fridae's CEO Dr. Stuart Koe. Dr. Lee was quoted as saying: 'We can't pretend that there is no such thing as a homosexual community in Singapore.'
In March 2005, a group of members headed by Gary Chan from the gay Christian support group, Safehaven, announced that they would be organising "affect05 - Saving Lives, Transforming Mindsets," a charity concert to be held at the Jubilee Hall on 3 April 2005 aimed at promoting the message of affirming life and practicing zero tolerance for unsafe sex amongst MSM while raising funds for Action for Aids (AfA). raise funds for AfA and pass on the message of HIV awareness[264]. However, their application to hold the fundraising concert was been turned down on Friday, 18 March 2005 by the Media Development Authority (MDA) which said, "Based on the reports about the duo's performances in the United States and the duo's website, the duo uses their musical performance and their own example of being a couple, to celebrate and promote a gay lifestyle," referring to performers, Jason and deMarco who were in a relationship although they have never been advertised as such. They concluded, "We are unable to agree to your application as performances that promote alternative lifestyles are against the public interest."[265]
In late March 2005, Action for AIDS released the results of their second survey, conducted from June 2004 to Aug 2004, to determine if there had been any significant changes in sexual and HIV-related knowledge, attitudes, and behaviour amongs MSM in Singapore since the previous survey in 2002/2003[266]. A total of 1,529 valid responses were collected - an increase of 18.4% compared to the previous survey.
Over the weekend beginning on Thursday, 14 April 2005, Fridae held its first-ever series of Squirt and Slurp parties in Bangkok at the Babylon and Chakran gay spa complexes and the ultra-chic Bed Supperclub, a lounge, upscale restaurant, art gallery, stage and club merged into one in the fashionable Sukhumvit district[267],[268]. Dr. Stuart Koe, CEO of Fridae, said that the decision to hold Squirt in Bangkok was not due to Singapore authorities turning down a permit for the Christmas Snowball.04 party the previous December but to increase the company's profile in the region.
From 7 to 17 April 2005, with breaks, Toy Factory Theatre Ensemble in collaboration with the Esplanade presented the eagerly awaited local debut of Singapore-born, Los Angeles-based playwright Chay Yew's "Porcelain" at the Esplanade Theatre Studio[269]. The controversial R(A) play, which was bestowed the prestigious London Fringe Award for Best Play in 1992, followed a young Asian man's struggle to find himself in the face of homophobia and racism after shooting his lover in Bethnal Greens Tube station's cruisy toilet. It was directed by award-winning directors Goh Boon Teck and Beatrice Chia, and starred LIFE! Theatre Awards Best Actor nominees, Nelson Chia and Mark Richmond.
In April 2005, the Licensing Division of the Singapore Police faxed a rejection of Fridae's application to hold Nation.05, Asia's most acclaimed gay and lesbian private party, citing the event to be "contrary to public interest". Nation.05 had clinched sponsorship by Fortune 100 global communications leader Motorola for the second consecutive year and Subaru for the third. The carmaker was a well-known pioneer corporate sponsor of gay and lesbian athletic and community events in the United States and was represented by Motor Image Pte Ltd locally. Dr. Stuart Koe, CEO of Fridae said, "We are disappointed that the authorities have deemed a National Day celebration by Singapore's gay citizens as being "contrary to public interest" when it had previously been approved for four years without incident. This is a direct contradiction to previous calls for embracing of diversity." As a result of the rejection, Fridae announced on 7 June 2005 that it would be holding Nation.05 in Phuket, Thailand from 4 to 6 November 2005[270]. Crowne Plaza Karon Beach Phuket was named the official host hotel while the Hilton Phuket Arcadia was designated the supporting hotel[271],[272]. In late August 2005, Phuket's Kata-Karon Municipality approved the use of Karon Stadium for the party[273],[274],[275],[276].
Also in April, the enormous potential of the Wikipedia phenomenon as a tool for educating Singaporeans, and indeed the entire world, about local LGBT culture became apparent to Roy Tan, a healthcare professional with a passion for documenting Singapore gay history. For the first time, disparate pockets of information scattered throughout the Internet could be consolidated, harnessing the experiences and expertise of thousands of gay Singaporean surfers. Editorial control now lay in everyone's hands and not just the author's, as was the case with individuals' websites. Tan wrote the first article entitled 'Singapore gay movement' in Wikipedia on 12 April 2005. In the ensuing months, the framework for an encompassing network of information was laid down on the Wiki site, which rapidly grew to become a centralised, linked, one-stop education centre dealing with Singapore LGBT history and culture. Unfortunately, homophobic deletionists removed most of the Singapore LGBT-related articles on Wikipedia, which prompted Tan to port them over to SgWiki[277] and Knol[278].
On 14 April 2005, 4 men were arrested at a gay sauna located near the Bugis area[279]. The police arrived at the sauna at about 11pm for a routine fire inspection when they found the 4 men having sex in a dark room. They had apparently continued with their activities despite the lights being switched on to facilitate the inspection.
From 20 April to 1 May 2005, contemporary dance group, Ecnad, in conjunction with its 9th anniversary celebrations, presented "FireBall", an explosion of dance expression which drew together more than 25 artists, many of whom were gay, from various disciplines[280]. It featured concurrent photographic exhibitions, dance costume and graphic installations displayed in eye-popping styles, including a smorgasbord of dance, live music, jam sessions plus free outdoor activities. It was held at The Arts House (The Old Parliament House), 1, Old Parliament Lane.
On 3 May 2005, Fridae profiled 28-year old Bryan Choong, one of Oogachaga's leading facilitators[281]. Choong revealed that Oogachaga and Looking Glass would be presenting regular personal development and growth workshops for lesbians, gays and their friends on the first Tuesday of every month in 2005. Their second workshop in 2005 would be entitled "Coming Home To Our Families - To Tell or Not to Tell?", to be held on 3 May 2005 at 7:30pm at Utterly Art, #02-01, 208 South Bridge Road. Oogachaga would also be launching a new men's support group on 6 May 2005.
From 12 to 19 May 2005, New York-based Singaporean artist Jason Wee presented "Bao Bei", an exhibition which looked at the ways through which identity is reconstructed through gay online personal ads[282], at The Substation Gallery, 45 Armenian Street. 27-year old Wee was then pursuing a 2-year Masters in Fine Arts at Parsons School of Design, specialising in photography and related technologies on a Shell-NAC Scholarship. In 1999, prior to moving to New York, Wee had set up Oogachaga, a network of support groups for young gay people with friends Steve Wong and Kenneth Lau.
On 21 May 2005, the Straits Times reported that 3 teenagers caught the AIDS virus in 2004, the biggest in a year since 1985, when HIV was first detected in Singapore. Before 2004, Ministry of Health figures showed only 1 teen at most per year tested positive for HIV. Another alarming change was that the infected teens in the past two years were gay. Previously, the 3 teens infected between 2000 and 2002 had been heterosexual. In 2005, the lone 17-year old student who had so far tested positive for HIV was also gay. He was presumably infected by his older partner who pressured him into having unprotected sex, according to AFA programme director Roger Winder. (Read The New Paper report: [283])
In June 2005, The New Paper reported that a school, the Centre for Exceptional Children, which took in students under 12 who had learning disabilities or who had low IQs had spent S$40,000 (US$23,700) replacing teaching aids like cards and blocks, and other common items including cupboards, a microwave oven, hot water flask and toaster which a gay teacher had touched even though there was no evidence that he was HIV positive[284]. This was done after the school authorities fired the teacher upon reading a newpaper report saying that the teacher was warned but not charged by the police in September 2003 for committing an act of gross indecency with another man after the teacher reported to the police that the other man had robbed him.
In July 2005, Singaporean PhD student (at the University of Illinois in the US) Christopher Tan presented a paper at "Sexualities, Genders, and Rights in Asia: 1st International Conference of Asian Queer Studies"[285],[286]. The meeting was held in Bangkok from 7 to 9 July 2005 and proudly sponsored by Fridae[287],[288]. Tan's paper was entitled 'Pinking the Lion City: Interrogating Singapore's Gay Civil Servant Statement'[289]. In it, he explored the legal basis for discrimination against homosexuals in Singapore and argued that Prime Minister Goh Chok Tong's June 2003 statement, that the Government would employ gays even in 'sensitive' positions provided that these civil servants openly declared their sexual orientation, was not a discourse of tolerance. Data gathered from Tan's fieldwork suggested that while gay Singaporeans welcomed the statement, they also strongly doubted the Government's sincerity. When civil servants in Tan's survey pool were asked whether their individual ministries or statutory boards had done anything to realise the statement, the answer was a uniformly resounding 'No!'
On Sunday, 10 July 2005, local tabloid The New Paper reported, citing unnamed sources, that up to 5 of the 65 volunteers in Action for AIDS' MSM outreach programme had contracted HIV in the previous 2 years[290]. The paper remarked, "These volunteers themselves have contracted HIV, begging the question: Why didn't they practise what they preached?" A second source said that many of the volunteers were good-looking men under 30 years old and they see the MSM outreach programme as another avenue for them to meet other gay men. The unnamed source added, "I know of many counsellors who have met patients and in the follow-up have become partners." AfA retorted that only 1 volunteer got infected after becoming a volunteer and none of the counsellors had met patients who later become their partners.
On Thursday, 14 July 2005, Herstory third biennial Butch Hunt finals were held at Gotham Penthouse, #03-01, Blk. 3A, River Valley Road, Clarke Quay[291].
On 15 July 2005, Safehaven, the gay-affirmative ministry of the Free Community Church launched a new 18-session support programme to help gay Christian men reconcile their sexuality with their faith[292].
In a surprise announcement on Tuesday, 19 July 2005, Minister of National Development Mah Bow Tan announced to parliament in his Ministerial Statement on Policy Changes Affecting The Property Market that 2 non-related parties, such as same-sex couples, could henceforth jointly purchase private residential properties using their Central Provident Fund (CPF) funds[293]. Previously, only joint buyers who were immediate family members (i.e., spouse, children, siblings and grand-parents) could utilise their CPF money to purchase private property. Same-sex couples who wished to finance their property jointly could only do so if they were both unmarried Singapore citizens, 35 years of age or above and had only purchased a Housing & Development Board (HDB) flat from the open market[294].
On 25 July 2005, queer women's online forum RedQueen! organised a talk entitled "Same-sex attraction: a Christian perspective" at The Substation[295],[296]. The speaker was Rev. Dr. Yap Kim Hao.
From 28 July to 26 August 2005, gay activists, bolstered by broad-based grassroots support, organised Singapore's first public LGBT pride celebration, a month-long festival called IndigNation[297],[298] (see main article: IndigNation: Singapore's first gay pride month).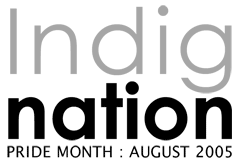 The latter moniker was a clever play of words representing the gay community's displeasure at official discrimination, epitomised by the ban of the Nation.05 party. Gay discos like Happy in Tanjong Pagar also made their own statement by holding a pre-National Day indoor party called DetermiNation and hung an enormous Singapore flag outside its premises. It indicated that they were determined to celebrate the occasion as proud, gay Singaporeans in spite of the governmental ban.
The events that were lined up for IndigNation were an art exhibition entitled "Cerita Budak-Budak" by painter Martin Loh, a lecture on "Same sex love in classical Chinese literature" by Dr. Tan Chong Kee[299], a gay poetry reading session called "Contra/Diction" organised by poet Dominic Chua, an art exhibition entitled "Solitary Desire" by young talents Ong Jenn Long and Steve Chua, a double lecture "Where Queens Ruled! A history of gay venues in Singapore" and "Same sex love in classical south Indian literature" by Dr. Russell Heng and Sheo Rai, "Sex and the Christian gay person", a forum by Safehaven, "Exploring Paul, homosexuality and the Romans - an intensive workshop on Biblical interpretation" by the Centre for Reflexive Theology, the inaugural Quarterly Forum - "40 years of Independence: The National and the Personal" by Alex Au, a theatre production "Boys" by Richard Chua and the finale, a private gay party called "6iXX! - the sixth annual ADLUS bash" by ADLUS, the gay sports group.
On 1 Sep 2005, Fridae profiled Jeffrey Tan, the resident choreographer and assistant ballet master with the Singapore Dance Theatre who was involved in its production of "Reminiscing the Moon", a highly acclaimed dance epic accompanied by live traditional percussion music and songs performed by established singers and musicians from Solo, Padang, Jakarta and Singapore. The performances were staged at the Esplanade Theatre fro 1 to 3 September 2005.
From 16 to 25 September 2005, theatre company Luna-id presented "Quills", a play about the Marquis de Sade in which its dashing lead actor, Reehan Engineer, displayed one hour of full-frontal male nudity, a first in Singapore[300]. It was staged at the DBS Arts Centre, home of the Singapore Repertory Theatre, 20 Merbau Road, Robertson Walk.
On Tuesday, 13 September 2005, on behalf of the National Arts Council, Dr. Lee Boon Yang, Minister for Information, Communications and the Arts presented Fridae, amongst other corporate sponsors, with an Arts Supporter Award at a ceremony held at the Esplanade[301]. The award recognised cash and in-kind contributions by the private sector amounting to between S$10,000 and S$49,999.
On 6 October 2005, during a 50-minute Q&A session at a Foreign Correspondents Association which touched on terrorism issues and local issues, a Time magazine journalist remarked that the Singapore government gave "every impression of being somewhat homophobic" and asked Prime Minister Lee Hsien Loong about how he felt about gays. Lee replied, "I don't think we're homophobic. I agree that homosexuals are people like you and me."[302]
The following day, in response to Prime Minister Lee's comments, People Like Us issued a press statement welcoming the PM's assurance that the government was not homophobic and that it needed to accommodate the gay community's interests[303]. The gay advocacy group further called for decriminalisation of consensual gay sex and the equalisation of the age of consent, equalisation of censorship standards between heterosexual and homosexual themes and content, registration of gay-identified societies and removal of homophobic bias in the Ministry of Education's curricula.
In October 2005, Britain's Warwick University rejected the Singapore government's invitation to set up a branch campus on the island-nation because of the poor state of gay rights in Singapore, among other reasons[304]. This was the first time that a major foreign investor turned away. The university was expected to invest about US$520 million.
From 4 to 6 November 2005, Fridae's Nation.V (formerly dubbed Nation.05) party was successfully held in Phuket, Thailand. It comprised the following events - the welcome reception[305], the G.Y.M. Welcome Party[306], the Sanctuary Pool Party[307], the Nation Party proper[308] and the Splash T Dance[309]. According to a report in the local The Nation newspaper, an official from the Phuket Tourism Association estimated that Nation.V attracted 2,000 partygoers who spent Bt30 million (US$729,000) in the province[310].
In November 2005, popular local gay web portal, SgBoy, was fined S$5,000 (US$2,940) by the Media Development Authority[311]. The site was asked to remove the "offensive" content comprising "raunchy pictures" and explicit sexual language which the MDA had initially objected to in September 2004. Shortly later, a little known website called Fluffboy.com, believed by many to be a spin-off from SgBoy although the latter officially denied this, was banned by the MDA for allegedly promoting homosexual promiscuity. This was done by blocking access to the site by Singapore-based Internet surfers.
On Wednesday, 7 December 2005, 5 HIV-positive male blood donors, 4 of whom were found to have lied about having sex with other men when donating blood the previous year, were charged under the Infectious Diseases Act with making false declarations in the Donor Health Assessment Questionnaire and sentenced to jail terms of between 8 to 10 months[312]. They were found to be HIV-positive after their blood was tested routinely for the disease. The blood was not used for any transfusion. Singapore prohibits men who have sex with men from donating blood.
Despite the police refusal to grant a licence to Fridae to hold Snowball.05 even though it was to have taken place indoors, gay discos carried on their business as usual during the Christmans and New Year season, organising parties for their clientele[313].
On 23 December 2005, Fridae's year-end party, SnowBall, which was banned in Singapore the previous year was held in Taipei, Taiwan[314]. It was Fridae's first-ever event in Taiwan with an estimated attendance of 5000 partygoers, making it an instant success which had Taipei's entire gay community buzzing for weeks[315]. Taiwan's leading gay portal, Club1069, was Fridae's media partner for Snowball.
2006
[
]
Main article:

Singapore gay history: 2006
On Friday, 13 January 2006, Channel News Asia (CNA) reported that Liberty League Pte Ltd[316], a commercial business with a paid-up capital of S$10 (US$6) founded by ex-transgender man Leslie Lung[317], had received a S$100,000 (US$61,500) grant from the National Volunteer and Philanthropy Centre which was funded by the Ministry of Community Development Youth and Sports[318]. The group, which claimed to "promote gender and sexual health for the individual, family and society" as stated on its website, said it hoped to conduct sexuality talks in schools, set up support groups for parents of homosexuals and work with organisations such as the Girls' Brigade to educate teenagers on sexuality and biology. While it was not clear from Liberty League's website whether they were running Christian based programmes, the Exodus Asia Pacific website (www.exodusasiapacific.org) which listed Liberty League as an "outreach ministry of Exodus Asia Pacific into Asia Pacific region" stated that it viewed homosexual tendencies as one of many disorders that beset fallen humanity and that Christ offers a healing alternative to those with sexual and relational problems.
On 19 January 2006, gay advocacy group People Like Us, issued a statement urging the government to explain its rational on funding Liberty League, calling it a "disguised religious cause based on unscientific psychotherapeutic approaches" and its failure to spot its religious agenda[319]. Liberty League's website used terms such as "sexual brokenness" and "addiction and abuse" and promoted a book, "Freedom of Choice", which dealt with subjects almost totally from the Christian group, Choices. The latter, a ministry of the Church of our Saviour in Queenstown, ran "ex-gay" programmes which taught that homosexuality was a psychological dysfunction.
On Wednesday, 8 February 2006, Shaw organisation and Fridae's of Ang Lee's Brokeback Mountain[320],[321],[322] raised S$25,000 (US$15,300) for Action for AIDS[323],[324]. The film had won Best Picture (Drama), Best Screenplay, Best Original Song and Best Director at the 63rd Annual Golden Globe Awards held in Beverly Hills, California on Monday, 6 February 2006[325],[326]. The win was widely reported in the local media.
From 19 to 23 February 2006, "Cut Sleeve Boys", a new romantic comedy which focused on the British-Chinese gay experience, was shown at the Bangkok International Film Festival[327]. It was written and directed by Hong Konger Ray Yeung, produced by and co-starred Singaporean theatre practitioner Chowee Leow and starred London-based, ex-Singapore Broadcasting Corporation actor Steven Lim[328]. The film tracked the lives of Mel (Lim), an aging but still attractive gay man and Ash (Leow) who crossdressed in an attempt to find himself a "real man."
From 22 to 25 February 2006, The Stage Club presented the true-crime drama "Never the Sinner", written by John Logan (the screenwriter of The Aviator and Gladiator) and starring Paul Hannon and sensational new actor Hansel Tan[329]. The play documented the true story of a murder case in Chicago, 1924 in which 2 young wealthy intellectuals, Nathan Leopold and Richard Loeb, who had the details of their friendship including sexual acts drawn up in a legal document, shocked the nation by kidnapping and brutally killing a 14-year-old boy for no apparent motive.
In early March 2006, Fridae announced that it would be holding its "Feelin' Good" party at the Ministry of Sound, a newly opened 40,000 sq ft disco at the recently revamped Clarke Quay on 26 March 2006[330],[331]. It was to have been Fridae's first event in Singapore since August 2004's Nation.04 after which all the parties, both outdoor and indoor, which it attempted to organise were not granted licences by the police. However, according to Clement Lee, executive director of Ministry of Sound's parent company LifeBrandz, on Friday evening, 24 March 2006, the eve of the party, Kelvin Yeo, Compliance Management Officer from Tanglin Police Station telephoned after office hours demanding that the club cancel the event, failing which enforcement officers would come to the disco on Sunday, 26 March to shut the party down. The reason given was that the party would "promote gay activities"[332].
On 10 March 2006, in its coverage of a case in which 4 men were arrested after a "bedroom party" was raided by undercover Central Narcotics Bureau (CNB) police officers posing as gay men in what was believed ot be the first gay drug syndicate to be busted, The New Paper published the front page headline "Ecstasy in bed, agony of arrest" with supporting headlines "CNB busts S'pore drug ring run by gays for gays" and "Cops acting as gays gatecrash bedroom 'party' in Tampines flat"[333]. Many in the gay community thought that the tabloid was being irresponsibly homophobic in its exclusive coverage of the raid, as was the case with so many of its previous articles dealing with homosexuality[334].
From 30 March to 9 April 2006, Checkpoint Theatre presented US-based Singaporean playwright Chay Yew's "A Language of Their Own" (RA18) at the Esplanade Theatre Studio. The play, which won the George and Elisabeth Marton Playwriting Award and the Gay & Lesbian Alliance Against Defamation (GLAAD) Media Award for Best Play starred actors Phin Wong and Koey Foo.
On 1 April 2006, a benefit dinner was organised by the AfA Endowment Fund called "A.O.C. for AIDS", named after the guest chef, Suzanne Goin, the award-winning Californian chef-proprietress of A.O.C. and Lucques in Los Angeles. It was held at The Four Seasons hotel and raised about S$250,000 (US$154,300) for AfA.
In April 2006, for the first time, new People's Action Party (PAP) General Election (scheduled for 6 May) candidates were publically asked for their views on homosexuality. The New Paper posed the questions, "Last year, the application to hold Nation.05, a National Day party for gay people, was rejected as contrary to public interests. Do you think it was a right decision?", "Do you know any gays? How would you include them in your politics?" and "Is Singapore ready for a gay MP?". Their answers ranged from the disapproving to the neutral but well considered[335]. In contrast, Workers' Party candidates Yaw Shin Leong, Eric Tan and Lee Wai Leng, when asked about their attitudes towards homosexuality, replied that they could accept it[336]. An analysis of the various contending political parties' positions on homosexuality was made by gay activist Alex Au[337].
From 12 to 15 April 2006, director Loretta Chen presented "Let Me Entertain You!", a production starring Darius Tan which featured songs from a myriad Broadway and Off-Broadway musicals, and riveting, risque and raunchy theatre at the Arts House's Play Den[338]. Joining Darius onstage were veterans like Gerald Chew, Gani Karim, and Hatta Said, amongst others.
On 15 April 2006, popular gay web portal SgBoy celebrated its 7th anniversary with a "Prom King" contest at Why Not?, a gay disco at 58 Tras Street[339]. SgBoy director Salmon Lee announced in January 2006 that the site, which boasted some 30,000 local and regional personals profiles and was visited by more than 108,000 Singaporean visitors in December 2005, would be launching a new regional portal later that year.
In April 2006, the Utopia Guide to Singapore, Malaysia and Indonesia, by John C. Goss, was published internationally. With a foreward by Alex Au, along with Au's essay, "Singapore: Brokeback to the Future", the book included comprehensive listings of Singapore's gay and lesbian organizations, accommodations, clubs, restaurants, spas, and businesses that are gay-owned, gay-managed, or gay and lesbian-friendly. It also noted that more than 30 LGBT businesses had taken root in the small area of Chinatown alone.
In late April 2006, the Ministry of Health revealed 2005's HIV incidence data. The most striking observation was that homosexual transmission accounted for 25% (63 out of 255) of all new infections[340]. 8 other cases were reported from persons who were bisexual, while 159 persons were believed to have been infected through heterosexual sex.
On 6 May 2006, for the first time in Singapore, a variety of LGBT community groups including ADLUS, Action for AIDS, the Free Community Church, Heartland, Oogachaga, RedQueen!, Safehaven, Sayoni and Women's Nite, held a fair day in conjunction with the relaunch of Pelangi Pride Centre at its new premises at Mox Bar and Cafe, #04-01, 21 Tanjong Pagar Road[341]. There also were performances by singer-musician Wendy Siew and singer-poet Cyril Wong.
In early June 2006, Action for AIDS reported an alarming increase in HIV infection rates among MSM who accounted for 4 out of 5 persons diagnosed with HIV infection at the Anonymous Test Site in Kelantan Lane in 2005[342]. Of all MSM clients at the test site, 4.3% (71 people) tested positive for HIV. Cases of early infectious syphilis shot up 84% and cases of gonorrhea increased 64% over 2004 in MSM.
On 9 June 2006, The New Paper reported that a young doctor, Adrian Yeo, still doing his housemanship, had been caught by the police for possessing drugs was sentenced to 8 months in jail[343]. The case made the news partly because his counsel, Kertar Singh, argued before the court in his mitigation pleas that Yeo had been a victim of police entrapment. The police had chatted up Yeo online, trying to get synthetic drugs from him. Yeo's initial reaction was to decline the suggestions, and it took some persistence on the part of the police before they could persuade him to take along some "ice" (methamphetamine) to a pre-arranged gay sex threesome at a hotel. Yeo was convicted for having 0.16g of "ice" on him, a quantity that a commentator described as one which could be blown away with a single puff. This episode was the subject of director Loo Zihan's 2010 award-winning short film "Threshold".
In July 2006, enfant terrible of Singapore cinema, Royston Tan, released his new quiet and contemplative homoerotic film "4:30" about a lonely young boy who becomes obsessed with a handsome and hermetic Korean man. In an interview with Fridae, he revealed his plans to make a full-fledged gay movie and a women's movie, and what he once did to a man he had a crush on when he was drunk[344].
From 20 to 24 June 2006, photographer Marcus Mok presented his "Men Of Silk" exhibition which celebrated the beauty of the naked Asian male form at Bianco, level 4, above Mox Bar & Cafe, 21 Tanjong Pagar Road[345].
From June to October 2006, Oogachaga Women, a support group for lesbian and bisexual women, launched a second run of its support programme which aimed to help them come to terms with their sexual identity and achieve a healthy integration of their sexual identity into their lives by developing awareness of the self, relationships, community and available resources[346].
On 13 July 2006, Herstory's Femme Quest 2006 Finals were held at Zouk[347].
On Tuesday, 1 August 2006, Singapore's second annual LGBT pride month, IndigNation 2006[348],[349], kicked off with a talk by gay activist Alex Au entitled "The 2006 general election and the gay issue". It attracted over 150 attendees including not only members of the gay community but also diplomats, academics and politicians who were there to engage the gay community andwas held at Theatreworks[350]. The "Sama-sama" (meaning the same or together in Malay) art exhibition also opened there on the same evening. On 24 August 2006, the groundbreaking Singapore coming-out book, "SQ21: Singapore Queers in the 21st Century", a first in Asia, was launched at Mox bar and cafe[351]. On 24 August 2006, "We, the Citizens: TalkingCock in Parliament", hosted by husband-and-wife filmmakers and satirists Colin Goh and Woo Yen Yen, was held at the Arts House (Old Parliament House), 1 Old Parliament Lane[352].
On the same day, 24 August 2006, the latest book by Oyoung Wenfeng, an autobiography written in Chinese entitled "Is Present the Future? - An Asian Gay Man's Coming Out Journey" was launched in Singapore. In it, the well known and regarded 36-year old Christian theology scholar, academic in sociology, former newspaper columnist in Malaysia and later, regular columnist in Fridae's Chinese section, came out[353],[354].
On 12 September and 16 October 2006, Fridae presented a double-bill charity movie premieres of "Imagine Me & You" and "My Summer of Love" respectively in benefit of the Association of Women for Action and Research and Cat Welfare Society at Shaw Lido 3[355] and GV VivoCity, No 1, Harbourfront Walk[356].
On Friday, 6 October 2006, Singapore held its inaugural, private, annual LGBT film festival called "Short Circuit" at The Substation's Guiness Theatree[357],[358]. Organised by People Like Us, it showcased 12 short films by 9 local filmmakers last Friday and was curated by award winning poet and playwright Alfian Sa'at and movie director Boo Junfeng. It attracted a turnout of 144 people.
From 20 to 22 October 2006, Fridae successfully held its second overseas Nation party, dubbed Nation.VI, in Phuket, Thailand[359],[360],[361],[362],[363], after Singapore authorities banned it in 2005. Events held were the opening Military Ball[364], the Muscle Beach Pool Party[365], the main party, Danse Royale[366], the Pirate's Paradise Pool Party[367] and the Feelin' Good closing party[368]. For the first time, W@Nation, presented by Two Queens Party, the premier monthly queer women's party organiser in Singapore since 2002, was held in conjunction with it[369],[370],[371]. On 13 October 2006, Fridae announced that Nation.VI was to be its last party event and that it would henceforth focus on regional expansion and advocacy work[372],[373],[374].
On Tuesday, 24 October 2006, the Media Development Authority announced that StarHub Cable Vision (SCV)was fined S$10,000 (US$6,410) for airing lesbian sex and bondage scenes contained in "Cheaters", an American reality TV show which exposed ordinary people whom their partners suspected of having affairs[375]. The episode concerned was aired during the period of 22 to 26 May 2006 and repeated on 29 August 2006. In a statement on its website, the MDA said the footage aired by breached the "guidelines which disallow the promotion, justification and glamorisation of lesbian lifestyles and their explicit depictions".
On Wednesday, 8 November 2006, the Ministry of Home Affairs (MHA) said it had conducted a detailed review of sexual offences in the penal code and that anal and oral sex would no longer be a criminal offence for consenting heterosexual adults while sexual acts between men would remain a crime[376]. The review was first announced in November 2003 after a huge public outcry erupted over the injustice of convicting police constable Anis Abdullah for consensual oral sex with a teenager who was thought to be of legal age until later. An "explanatory note" issued by the MHA to official newsrooms stated, "The law on sexual offences deals with sexual relationships and embodies what society considers acceptable or unacceptable behaviour. When it comes to homosexual acts, the issue is whether Singaporeans are ready to change laws to bring them in line with heterosexual acts. Singapore remains, by and large, a conservative society. Many do not tolerate homosexuality, and consider such acts abhorrent and deviant. Many religious groups also do not condone homosexual acts. This is why the Government is neither encouraging nor endorsing a homosexual lifestyle and presenting it as part of the mainstream way of life"[377]. Members of the public had one month, up to 9 December to voice their opinions at the government's Reach public feedback website. People Like Us, Action for AIDS, AWARE and the Free Community Church called for the repeal of laws criminalising private, consensual, adult homosexual sex[378].
On 11 November 2006, a campaign by Fridae for Action for AIDS called "*think again" was launched. It was designed based on the findings of Fridae's 2006 MSM Survey (known as evidence-based design) conducted in April that year[379]. The campaign aimed to address the gaps in the traditional HIV prevention messages which had led to high rates of inconsistent condom use amongst MSM and was launched on gay websites and in clubs, bars, and various establishments that catered to gay men.
From 8 to 12 November 2006, The Necessary Stage and Action for Aids presented an interactive play entitled "The Seven-Month Itch", written by Haresh Sharma and directed by Aidli 'Alin' Mosbit, with audience interaction facilitated by company artistic director Alvin Tan[380]. Daniel Yeo and Timothy Nga played Daniel and Jason, 2 gay men who had been boyfriends for 7 months before the latter met a man in a club had unprotected sex with him. Audiences could interrogate actors (hotseating), suggest certain courses of action (playback theatre), or march in and replace the main character themselves to change a course of action (forum theatre).
The Ministry of Health announced that starting on World AIDS Day, 1 December 2006, the government would be forming a new National HIV/AIDS Policy Committee to better co-ordinate the fight against the disease[381]. It was chaired by Dr. Balaji Sadasivan and comprised representatives from 7 ministries, 3 health-related government departments and 2 NGOs - Action for AIDS and the AIDS Business Alliance.
On 2 December 2006, the 5th Singapore AIDS Conference was held at the Singapore International Conferene and Exhibition Centre at Suntec City[382]. Its theme was "HIV in Singapore - The Challenge and the Hope"[383].
In December 2006, Leslie Kee's book of photographs "Super Stars" was banned outright because the Media Development Authority (MDA) said, "it contains numerous pictures of Asian personalities in full nudity with pubic hair and genitals clearly visible"[384].
On Saturday, 9 December 2006, SAFE Singapore, a new support group for straight family and friends of LGBT people officially launched its website at Mox Bar and Cafe[385]. It was co-founded by Dr. Khoo Hoon Eng, a supportive mother of two gay sons and Susan Tang, chairperson of the LGBT-affirmative Free Community Church.
On 31 December 2006, Happy, a popular gay disco along Tanjong Pagar Road co-owned by impresario Alah Seah, closed its doors for good after a final New Year's Eve countdown bash[386]. The club had been named "Singapore's hottest nightspot" by Wallpaper* Magazine in 2005 and had hosted numerous local performers as well as DJs from across Asia and around the world since it opened its doors in 2004.
2007
[
]
Main article:

Singapore gay history: 2007
In January 2007, a survey of young people aged 15-29 conducted by students from Singapore Polytechnic's School of Business over 2 months found that exactly half of the 800 young people asked found homosexuality acceptable while 42% of the respondents found homosexuality unacceptable although no further details were available[387]. Containing only one question on homosexuality, the survey respondents were asked if they agreed or disagreed with he statement, "I find homosexuality acceptable."
In February 2007, Nielsen/NetRatings rated Fridae.com one of top 10 web publishers in Singapore in 2006, leading the Entertainment category in page impressions[388]. Fridae also emerged as the stickiest site in Singapore with an average session duration of nearly 12 minutes, double the market average of 6 minutes. With over 300,000 registered members, the web portal's users led in tertiary education, occupation and household income.
On 3 February 2007, Sylvia Lim, Workers' Party Chairman and a Non-Constituency Member of Parliament (NCMP), when asked pointedly by gay audience members at the party's public Youth Wing forum held to discuss the proposed amendments to the Penal Code, revealed that the WP was spilt on the issue of decriminalisation of gay sex and thus would not take the matter up in Parliament[389]. The gay community was thoroughly disappointed as it had thought that the WP would be an ally in its effort get Section 377A repealed.
In March 2007, Fridae launched its highly anticipated Version 5 (V5) beta, the first major redesign since 2004[390]. The launch was marked with a series of "Fridae Buzz" parties in collaboration with major gay party promoters from Hong Kong, Tokyo, Shanghai, Manila, Kuala Lumpur, Singapore and San Francisco.
In the March 2007 issue of the "Methodist Message", the official monthly journal of the Methodist Church, the National Council of Churches of Singapore (NCCS) contained a statement commending the government on its stand not to repeal Section 377A and for the first time advocated the specific inclusion of lesbians in its scope[391]. The NCCS represented Methodists, Anglicans and Presbyterians, among other mainstream denominations and was chaired by Rev. John Chew, head of the Anglican Church in Singapore and Archbishop of the Province of Anglican Church in South-East Asia. The NCSS' statement was slammed by the Free Community Church, SAFE Singapore[392] and gay activist Alex Au[393].
In March 2007, bodybuilder-fashion photographer Chan Wai Teik published his first book, "Hypertrophy" which showcased the musculature of 6 male Asian bodybuilders[394]. It was sold at boutique shops such as Venue Lab at The Heeren, The Asylum at 22 Ann Siang Road and online at www.hypertrophy.com.sg.
From 5 to 15 April 2007, Toy Factory presented "251" at the Esplanade Theatre Studio, a production by lesbian director Loretta Chen and gay playwright Ng Yi-Sheng[395]. The play featured the life of one Singapore's most internationally known icons, porn actress Annabel Chong, who became world famous in 1995 for appearing in a groundbreaking adult movie entitled "The World's Biggest Gangbang". The then-22-year-old, whose real name is Grace Quek, was filmed having sex 251 times with 70 men over a period of about 10 hours. The play also included a scene which re-enacted Josef Ng's 1993 performance art protest against the police entrapment of gay men cruising near Fort Road beach (see main article: The Josef Ng affair).
On 14 April 2007, the then 23-year old director Boo Junfeng's gay short film "Katong Fugue" was screened for free at The Substation[396]. 3 years prior to that, Boo had watched the stage production of Alfian Sa'at's groundbreaking gay play "Landmarks: Asian Boys Vol. 2" and was completely moved by a segment which depicted the fragile relationship between a mother and her gay son. So, he collaborated with Alfian and produced Katong Fugue, which was shortlisted as a finalist in the 2007 Singapore International Film Festival short film category.
In mid-April 2007, the Law Society of Singapore, after being invited by the Ministry of Home Affairs (MHA) in November 2006 to comment on the government's proposed amendments to the Penal Code and forming an ad hoc committee of 16 members to study the matter, released a statement advising the government that "the retention of s.377A in its present form cannot be justified"[397].
In late April 2007, Florence Ang, producer of "Solos"[398], the first gay feature-length film and undoubtedly the most sexually explicit gay movie to be made in Singapore about the relationship between a junior college student and his male teacher, announced that it would holding its world premiere on April 25 at the 2007 Singapore International Film Festival "to preserve the principle that films at the festival should be shown uncut"[399]. Censors had demanded 3 cuts to the 77-minute dialogueless film. The movie stars veteran actor Lim Yu-Beng as the teacher, co-director and screenplay writer Loo Zihan as the student and Goh Guat Kian as the latter's mother who suffers from depression.
On Saturday, 21 April 2007, nearly a decade after his widely quoted remarks about the gay issue in Singapore in a 1998 CNN interview, former Prime Minister Lee Kuan Yew again commented on it at a meeting with the youth wing of the People's Action Party[400]. In response to a question from Young PAP activist Loretta Chen, who felt that current censorship guidelines were ambiguous and had asked where censorship was headed in the next 2 decades, Lee was quoted by The Straits Times as saying, "If in fact it is true, and I have asked doctors this, that you are genetically born a homosexual - because that's the nature of the genetic random transmission of genes - you can't help it. So why should we criminalise it?"[401],[402] (see main article: Lee Kuan Yew's views on homosexuality).
From 30 April to 21 May 2007, barely 6 months after Singapore-born, world-renowned fashion photographer Leslie Kee's book "Super Stars", which featured nude images of Asian celebrities, was banned by the government, 150 of 500 photographs made it past the censors and were displayed in an eponymously entitled exhibition at the National Museum, 93 Stamford Road[403].
On Thursday, 10 May 2007, a groundbreaking dialogue on "Christian Perspectives on Homosexuality and Pastoral Care" was held the Amara Hotel, 165 Tanjong Pager Road. It was organised by Safehaven, a ministry of the Free Community Church which saw an opportunity to have an open dialogue with mainstream churches, some of which have been outspoken against repealing gay sex laws, after Minister Mentor Lee Kuan Yew's recent comments about homosexuality[404]. The discussion, moderated by Augustine Anthuvan, included a panel comprising Rev. Dr. Yap Kim Hao, a former Bishop of The Methodist Church in Malaysia & Singapore, Dr. Tan Kim Huat, Chen Su Lan Professor of New Testament and Dean of Studies at Trinity Theological College, Anthony Yeo, Consultant Therapist, Counselling and Care Center and Rev. Edmund Smith, founder of the ex-gay movement Real Love Ministry (headquartered in Malacca), testimonies by Alphonsus Lee, a gay Christian man and an ex-gay Christian lesbian and a question-and answer-session. Dr. Tan said, "There are lots of problems with criminalising homosexuality," and that the law itself was a "vestige" of the past. He added, "Singapore is a pluralistic society...There must be spaces for it", referring to homosexuals in society. This was the reason he gave for supporting repeal of Singapore's anti-gay law, Section 377A of the Penal Code[405]. Rev. Dr. Yap also provided a gay-affirming Christian perspective on homosexuality[406].
On 1 and 2 June 2007, openly gay musician Mark Chan and the The ARTS FISSION Company presented "Dreaming of Kuanyin, Meeting Madonna", a magical communion of music, dance and video at the Victoria Theatre as part of the Singapore Arts Festival[407].
From 1 to 10 June 2007, lesbian artist Genevieve Chua held her first solo exhibition entitled "As Brutal As", which explored themes of psychological horror and sexuality, at La Libreria Gallery, 64A Queen Street, Bugis Village[408].
In early June 2007, the then 25-year old singer-guitarist Iris Judotter became the first out lesbian to launch an album - her self-produced, debut one entitled "The Importance of Being" under her own label. Judotter, a familiar face and voice to regular patrons at the now-defunct Mad Monk's cafe which used to host weekly lesbian parties in 2001. In conjunction with the launch, she performed songs from the CD at Earshot Cafe@The Arts House, 1 Old Parliament Lane on Saturday, June 9, at Toca Me, 95 Club Street on Wednesdays in June and at Play on July 5.
On Saturday, 7 July 2007, Singapore's first lesbian documentary, "Women who Love Women" premiered at Pelangi Pride Centre, Bianco, #04-01, 21 Tanjong Pagar Road at 4:30pm[409]. The 65-minute film was produced by 33-year-old graduate student Ngiam Su-Lin, directed by Lim Mayling and features 3 Singaporean lesbians, Amanda Lee, Sabrina Renee Chong and Gea Swee Jean who share their coming out experiences, and their views on topics such as coming out and relationships. A question-and-answer session with the interviewees and filmmaker followed the screening.
On Tuesday, 10 July 2007, Fridae co-founder Robert Yeoh, aged 52, passed away from complications of pneumonia after spending a month in a Singapore hospital's intensive care unit[410]. Yeoh trained and practiced as a barrister in Britain in the late 1970s and had an accomplished career in investment banking spanning nearly 2 decades before co-founding Fridae.com in 2000. He served as Fridae's CEO and was mainly involved in fundraising since the company's inception, seeing it through the bursting of the dot-com bubble before relegating the role to fellow co-founder, Dr. Stuart Koe in 2002.
From 11 to 29 July 2007, W!ld Rice presented "Happy Endings: Asian Boys Vol.3" (rated M18) at the Drama Centre Theatre, National Library[411]. It was written by playwright/poet/social activist Alfian Sa'at, who in 2003 e-mailed Johann S. Lee, author of Singapore's first gay novel, "Peculiar Chris", soliciting his permission to adapt the novel into a theatre production which deals with what happens to the characters as they grow older, even creating an imaginary author as a character in the play. It starred an ensemble of both new and familiar faces including Lim Kay Siu, Karen Tan, Timothy Nga, Ben Seow, Pierre Goh and Hansel Tan.
On Sunday, 15 July 2007, for the first time in the history of forums on gay issues in Singapore, a member of parliament from the ruling People's Action Party, Baey Yam Keng, and a Nominated Member of Parliament, Siew Kum Hong, were part of a 5-member panel convened to discuss whether homosexual acts should remain criminalised[412]. The other panellists were Rev. Dr. Yap Kim Hao, Fridae CEO Dr. Stuart Koe and gay activist Alex Au, with the discussin moderated by Ken Kwek. The forum was organised by W!ld Rice in conjunction with Happy Endings: Asian Boys Vol 3 and attracted some 250 people. MP Baey for the first time publicly voiced his support for the law to be repealed, saying "Personally, I think that the whip should be lifted for a very open debate and open expression of opinion by the MPs. And if that is so, I would vote for a repeal of the act...From my understanding of my parliamentary colleagues, my guess is that I will be the minority."
In July 2007, Fridae partnered with LOTL International, a new online lesbian magazine available at http://lotl.fridae.com to present a unique and exciting product that offered readers premium magazine content in a special easy to read format[413]. The premiere issue of LOTL International after Fridae came on board included articles on pop sensation P!nk, Calvin Klein model Jenny Shimizu, Muslim lesbians, girl on girl casual sex, among others. LOTL International was launched in 2006 by the publishers of LOTL, formerly known as "Lesbians on the Loose" and Australia's most widely read monthly lesbian magazine.
From 19 to 22 July 2007, celebrity actor and international gay rights campaigner, Sir Ian McKellen, performed in 2 plays presented by the Royal Shakespeare Company in conjuction with the Singapore Repertory Theatre at the Esplanade Theatre - Shakespeare's King Lear and Anton Chekov's The Seagull[414]. McKellen came out as a gay man on BBC radio in the 1980s, co-founded the UK's Stonewall gay rights lobby group, served as the patron of LGBT History Month and FFLAG (Friends and Families of Lesbian and Gays) and played the lead role in Martin Sherman's play, Bent. When interviewed on Channel News Asia's Primetime Morning on 16 July 2007 and asked what he intended to do in Singapore during his free time, McKellen came out and said he was looking for a gay bar[415]. PLU also interviewed him in a video where urged the government to repeal the archaic law which his country imposed her former colony, Singapore - Section 377A[416].
From 1 to 15 August 2007, Singapore's 3rd Pride Month with 25 events lined up, IndigNation2007, was held. The theme that year was "Celebrating diversity, advancing equality." It kicked off with "Idiosyncracies", an art exhibition[417]. However, "Kissing", a photo exhibition by Alex Au featuring 80 images of gay men and lesbians kissing, was banned by the Media Development Authority at the eleventh hour[418],[419]. A lecture on how the British Empire enacted "unnatural sex" 337 legislation throughout the world by Prof. Douglas Sanders[420], professor emeritus at Thailand's prestigious Chulalongkorn University and Mahidol University was also banned at the last minute[421]. The third event disallowed was "In the Pink" (more commonly referred to as the Pink Picnic), organised by Miak Siew and scheduled to be held on Thursday, 9 August, National Day, at the Botanic Gardens[422]. The National Parks Board (NPB), which managed the Botanic Gardens, sent gay activist Alex Au a letter, even though he was not the organiser, saying that the picnic was deemed to be an "organised gathering" held by an "interest group to politicise (its) cause" could not be held on the grounds of the gardens. However, despite the ban, about 100 queer people and allies dressed in pink turned up to relax and share food next to Symphony Lake at the Botanic Gardens between 4:30 and 6:30pm[423]. The success of the Pink Picnic led some astute observers to later suggest that a similar open-air LGBT-supportive event at Hong Lim Park would garner greater grassroots support than a pride parade as it was not a protest nor flagrant display of sexuality and even straight Singaporeans could take part. Thus, the Pink Picnic can be considered to be a precursor to the holding of the massively attended inaugural Pink Dot in 2009.
On Monday, 10 September 2007, the then 38-year old Otto Fong, a science teacher at Raffles Institution who posted a blog entry about his being gay two days before, was forced to remove it due to intense scrutiny and pressure from the Ministry of Education[424]. Fong, who was an Oklahoma University Electronic Engineering and Beijing Film Institute graduate, had published 3 comic books, a 1992 full-length play, "Another Tribe", which became the first Mandarin play performed in Singapore which had a R21 rating as it contained stories of gay youths and their love stories, a 1993 play called "Cetecea" in an award winning anthology published by TheatreWorks Writers' Lab, "Happy Family" in 1994 and "Mr. Beng", a musical commissioned and performed at the Singapore Festival of Arts in 1999. In a 2000-word open letter, he made a plea for greater acceptance of gay people by society, citing Minister Mentor Lee Kuan Yew's (himself a Raffles Institution alumnus) remarks questioning Singapore's gay sex laws and MP Baey Yam Keng's public statement supporting the repeal of Section 377A as his reasons for coming out in his blog meant to be read by his colleagues. Fong was inspired to reassess his responsibility beyond academia to his students after attending an IndigNation forum the previous month where several young adults questioned the little guidance available to them as gay teenagers.
The highlight of the year was the parliamentary debate over whether or not to repeal Section 377A as part of the extensive Penal Code review (see main article: Section 377A of the Singapore Penal Code). On Monday, 22 October 2007, an open letter to the Prime Minister containing over 8000 signatures urging the repeal of Section 377A was hand-delivered to his office at the Istana on Monday, 22 October 2007 by co-organiser Alan Seah, accompanied by actress Pam Oei and playwright/theatre director Ivan Heng[425]. The same day, a parliamentary petition to repeal Section 377A which had garnered over 2,500 signatures was presented to parliament by NMP Siew Kum Hong [426]. In the heated discussion that ensued, voices calling for equal treatment of Singapore's gay citizens were heard for the first time in Parliament House[427]. Following two days of intense debate, PM Lee Hsien Loong concluded the session by saying, "We don't harass gays. The Government does not act as moral policeman. And we don't proactively enforce Section 377A on them." His final decision was for Section 377A to remain and the proposed amendment Bill to the Penal Code was passed on Tuesday evening, 23 October 2007[428].
In the early hours of the morning of Saturday, 10 November 2007, the well known transwoman author of the book "From Leonard to Leona: A Singapore Transsexual's Journey to Womanhood"[429] and vociferous advocate of transgender equality, Leona Lo, who was dancing in a bar at Clarke Quay called The Pump Room, was asked to leave by a bouncer, with its supervisor saying that the club did not welcome "lady boys"[430]. Via an e-mail to the media, Lo said hoped to turn the incident into an opportunity to educate the club's bouncers and management about gender diversity.
In November 2007, Johann S. Lee, author of Singapore's first gay novel "Peculiar Chris", published his second novel entitled "To Know Where I'm Coming From"[431]. Through a layered sequence of flashbacks, it tells the story of Ben Goh, a 36-year-old gay Singaporean banker working in London, working through a doomed relationship with Rob, a white English actor, descending into drug-filled debauchery upon his breakup, and journeying home to watch a play suspiciously similar to Asian Boys Volume 3.
On Thursday, 13 December 2007, The HOPE Concert (Rated R18) featuring Los Angeles-based gay pop group and real-life couple Jason and deMarco, was held at Kreta Ayer People's Theatre at 7.30pm[432]. The duo were barred from performing in 2005 by the Media Development Authority when Safehaven, a ministry of gay-affirmative Free Community Church, tried to organise a similar event to raise awareness of HIV/AIDS. The concert, hosted by Chua Enlai and Mistevious, also featured prominent local celebrities Hossan Leong, Selena Tan, John Lee (pop icon Dick Lee's brother) and NMP Eunic Olsen. Proceeds from ticket sales and goodwill donations, after cost-recovery, were contributed to the Action for AIDS Medical Subsidy Fund that provides subsidies to HIV+ patients in accessing their HAART (Highly Active Anti-Retroviral Therapy). Dr. Balaji Sadasivan, Senior Minister of State for Information, Communications and the Arts, and Foreign Affairs, who was the guest of honour in his capacity as chairman of the Inter-Ministerial Committee on HIV/AIDS, made a speech citing Sydney's success in reducing HIV prevalence rates among MSM and urging greater co-operation between health authorities, NGOs and the MSM community[433].
By 2007, the number of openly gay characters seen on television, especially in American productions, had ballooned tremendously[434],[435].
2008
[
]
Main article:

Singapore gay history: 2008
From 25 to 27 January 2008, cinema chain Golden Village (GV) organised "The Love and Pride Film Festival", the first commercial Singaporean film festival dedicated to international LGBT feature films[436]. However, publicity was discreet and minimal and it showcased a modest slate of only 7 titles already cleared by censors and shown separately in Singapore cinemas in 2006 and 2007[437].
On Monday, 25 February 2008, part of director and Oscar-winner for "Best Documentary short", Cynthia Wade's, acceptance speech about the woman in her film, "Freeheld", who spent her last days fighting against discrimination was snipped from the repeat telecast on Channel 5 of the 80th Academy Awards in Los Angeles[438]. In the original broadcast, Wade had said, "It was Lieutenant Laurel Hester's dying wish that her fight for, against discrimination would make a difference for all the same-sex couples across the country that face discrimination every day. Discrimination that I don't face as a married woman." From courtroom scenes to the couple's private moments at home, the 38-minute film captured Lt. Hester's battle in her last months as she is supported by colleagues from the police department and LGBT activists who lobby the county's elected officials known as the Freeholders[439].
In March and April 2008, the 21st Singapore International Film Festival showcased 2 locally produced films with lesbian and gay themes - Lucky7 which was rated R21 for "sexual content and disturbing images' and Women Who Love Women: Conversations In Singapore. Lucky7, which premiered at the International Film Festival Rotterdam earlier that year, was an 82-minute, multiple-genre, multiple-language collaboration by 7 local directors, 4 of whom were gay - Sun Koh, K. Rajagopal, Boo Jun Feng, Ho Tzu Nyen, Tania Sng, Brian Gothong Tan and Chew Tze Chuan who each made 10- to 12-minute segments[440]. Each director was only allowed to know the last minute of the preceding segment[441]. The film festival was also scheduled to hold the Asian premiere of the highly controversial and high profile documentary "A Jihad for Love", the world's first feature-length film about Islam and homosexuality, since it was first screened at Toronto's International Film Festival in September 2007. However, it was later banned by the Media Development Authority which oversaw the Board of Film Censors[442], with the latter's chairperson, Amy Chua, saying that the film was "disallowed in view of the sensitive nature of the subject that features Muslim homosexuals in various countries and their struggle to reconcile religion and their lifestyle."
On Monday, 31 March 2008, Mox Bar and Cafe, which had been recently voted as Singapore's favourite gay bar at the Fridae ae-List Awards[443], closed its doors, with a garage sale on Thursday, 27 March and a farewell party called "End of the Rainbow" on Saturday, 29 March 2008[444]. Mr. Mok, the co-owner and engineer by profession and his 4 partners including buff-bodied doctor, Toby Hui, also holders of full time jobs, had considered keeping the party going in his absence, but with high rental costs (double what they were when the bar opened) and a generally dwindling nightlife scene, they decided to let it go.
On Wednesday, 9 April 2008, a media statement issued by the Media Development Authority said that it had fined StarHub Cable Vision S$10,000 (US$7,200) for breaching the TV Advertising Code by showing a commercial of a song that depicted lesbian kissing scenes[445]. The commercial, which promoted a song titled "Silly Child" by pop singer Olivia Yan, was aired on MTV's Mandarin-language channel in November 2007. The MDA's statement also said, "Within the commercial, romanticised scenes of two girls kissing were shown and it portrayed the relationship as acceptable. This is in breach of the TV advertising guidelines, which disallows advertisements that condone homosexuality."
Shortly after, on Thursday, 24 April 2008, Channel 5 was fined S$15,000 by the MDA for airing a home and decor programme entitled "Find and Design" on 13 January 2008 at 7:30am which showed a gay couple transforming a room into a nursery for their adopted baby[446]. Announcing its decision on its website, the MDA said that it took issue with the programme's presenter who congratulated and acknowledged the gay couple and their baby as a family unit "in a way which normalises their gay lifestyle and unconventional family setup. This is in breach of the Free-to-Air TV Programme Code which disallows programmes that promote, justify or glamourise gay lifestyles...MDA also consulted the Programme Advisory Committee for English Programmes (PACE) and the Committee was also of the view that a gay relationship should not be presented as an acceptable family unit."
On Tuesday, 13 May 2008, Fridae, Shaw organisation and Crocodile co-presented the fundraising gala premiere in benefit of IndigNation 2008 of the movie "Wilde" (rated R21) at Lido 2, Shaw House, 350 Orchard Road at 9pm[447]. Banned a decade ago, the film depicts the rise and fall of the widely known gay Irish-born playwright, Oscar Wilde[448]. The event raised S$10,000 for Singapore's 4th annual Pride Season[449].
In May 2008, the then 24-year old director Boo Junfeng completed his 19-minute short film "Tanjong Rhu" which was sponsored by Fridae and based on the notorious arrests of 12 gay men in a police entrapment exercise in 1993[450].
On 23 May 2008, Prof. Douglas Sanders, who was barred from giving a public talk during IndigNation in August 2007, delivered the same presentation at the fifth annual Asian Law Schools conference held at the Asian Law Institute (ALSI) at the National University of Singapore's Law Faculty[451]. As the meeting was an academic affair and closed to the public, no police permits were required.
In late May 2008, Action for AIDS revealed that a recent landmark project to make HIV testing more accessible found that 30 (3.1%) of the 960 MSM who took the test were HIV-positive[452]. Although this HIV prevalence among MSM was one of the lowest in the region, AfA and Fridae unveiled a new campaign called "We Can Stop AIDS Now".
In June 2008, TV broadcaster Mediacorp's print magazine 8 Days carried an interview with Channel 5's Senior Censorship Manager David Christie who said that "It's really not easy" to interpret the "broad strokes" of the Media Development Authority's code of conduct[453]. He elucidated, "There are some shows like Brothers & Sisters where one of the main cast is gay, and The O.C. where two characters were lesbians in Season 2... How do you keep it running when there are strong gay issues?...we put such series on late nights and put up viewer advisories after making necessary edits...Even a cooking show can be dangerous. A guy could say something like, 'I'm cooking this for my boyfriend tonight.' We die, you know! What that one remark does is normalise gay lifestyle" and which can lead to a hefty fine by the MDA.
On 30 May 2008, TODAY newspaper reported that Attorney-General, Prof. Walter Woon, said in a speech that human rights was "now a religion among some people...You have, like in some religions, the fanatics. And it's all hypocrisy and fanaticism (for these people) to set the views, as the leading spokesmen, of what is acceptable and what's not."[454] He voiced his disapproval of advocates framing same-sex marriage as an issue of human rights, asking rhetorically, "Is this a question of human rights?"
In early July 2008, journalist/songwriter Dr. Ng King Kang published his second book on homosexuality in Singapore, a compilation of results from a survey of political and social attitudes towards gay men since 1990[455]. 9 years after Ng stunned Singapore in 1999 with "The Rainbow Connection", possibly the first upfront, unapologetic non-fiction book about gay people in the country written as his Masters thesis at Nanyang Technological University (NTU), he came up with a sequel of sorts to the first, entitled "Born This Way But?: The Changing Politics of Homosexuality in Singapore", referencing Prime Minister Goh Chok Tong's 2003 comments in Time magazine. At its heart, the book is a compilation of results from a survey on attitudes towards male homosexuals, conducted as part of his Ph.D. at Deakin University, Melbourne. However, with its accompanying essays, it forms the most comprehensive printed work to date on the political situation of gay Singaporean men.
From 17 to 20 July 2008, The Dream Academy Playhouse Pte Ltd presented "Happy Robin" at the Esplanade Theatre Studio. The production, directed by Selena Tan, was Robin Goh's first solo concert[456]. Goh, better known as an actor for his roles in Asian Boys Vols. 2 & 3 and for playing both Chang and Eng in the namesake musical, sang favourites from Judy Garland, Peggy Lee, Billie Holiday and Frank Sinatra his way.
IndigNation 2008, Singapore's 4th annual Pride Season, was held during the month of August. The theme that year was "Building Bridges". It comprised the following events[457],[458],[459]:
Friday, 1 August 2008, 7 pm, at 72-13 During the reception, People Like Us (PLU), organisers of IndigNation, launched a biennial award worth S$2,000 (US$1,500) called the Rascals Prize to recognise the best research work related to LGBT topics in Singapore[460]. The award was so named to commemorate a seminal event on 30 May 1993 when police raided Rascals, a gay-on-Sunday disco.
Ancestors on the beach - an art exhibition by Jimmy Ong
From fag to friend, a forum by the

Queer-Straight Alliance

From classoom to comics, by Otto Fong
ADLUS night hike
Cruising through history
Silence and aching hearts
Tong bu tong 2 - Another tribe
Opening of art exhibition - Jimmy Ong: Ancestors on the Beach
ContraDiction IV
The Unofficial Pink Picnic
Brain surgery - what's inside the heads of homophobes?
Too often ignored: The science of sexual orientation
My wife, my kids...
Heartbreak heroes: Four Malaysians on surviving love, loss and a hostel in Singapore
The Bear Project Charity Art Show
Queer women within feminist Singapore
Is HIV becoming an Asian disease?
During the National Day Rally on 17 August 2008, Prime Minister Lee Hsien Loong announced that Singapore citizens would be allowed to stage outdoor protests without the need for a police permit from 1 September 2008 onwards if the demonstrations were held at Speakers' Corner, Hong Lim Park[461]. Amateur Singapore gay history archivist Roy Tan immediately saw an opportunity to hold Singapore's first LGBT pride parade there but veteran gay activist Alex Au said that he would not organise any protests as "The freedom to demonstrate is meaningless unless it is applicable to all of Singapore...I would not dignify this tokenism by organising anything there. It will have to be at a proper place like here at Raffles Place or down a major street, or nothing."
On Tuesday, 30 September 2008, for the first time in almost 10 years, the controversial subject of gay sexuality education in Singapore schools was discussed in a talk show entitled "Am I Gay?" on Channel News Asia's Blog TV series[462]. Featured on the programme were 2 educators - Otto Fong, a former physics teacher in Raffles Institution who came out oh-so-publicly on his blog in 2007, and Prof. George Bishop, head of the Department of Psychology, National University of Singapore - and 2 teenage girls - Shraddha Ramsundar, 15, and Kohila Priyia, 18.
On Tuesday night, 21 October 2008, for the 4th year running, Fridae was conferred the Friend of the Arts Award for its support and contribution to Singapore's arts scene by the National Arts Council[463]. Choo Lip Sin, editor of Fridae's Chinese-language web sites, received the award at the 2008 Patron of the Arts Award ceremony held at the Esplanade Theatre from guest of honour Lee Boon Yang, Minister for Information, Communications and the Arts. The award was given to companies who contributed $$100,000 to $$299,999 in in cash or in kind in 2007.
On 8 November 2008, the 6th biennial Singapore AIDS Conference themed "Fight the Disease, Fight the Stigma" was held at the Suntec Convention Centre[464]. It was organised by Tan Tock Seng Hospital, the Health Promotion Board and Action for AIDS which recently celebrated its 20th anniversary.
In early November 2008, 3 of the 6 men who brutally punched and kicked a 37-year old man to death after he allegedly offered his attackers oral sex in toilet at Orchard Towers on 23 November 2007 were handed prison terms of only between 4 and 4 1/2 years, and 6 to 8 strokes of the cane[465]. Although the 6 had been charged with the murder shortly after the incident, the charges were downgraded to that of voluntarily causing grievous hurt to which all pleaded guilty in October 2008. It was not known why the charges were reduced. The 3 persons who were thought by the judge to be less responsible than the others were sent to a reformative training centre, where they would be "confined for between 18 months and 3 years and put through a tough regimen of foot drills, counselling, education and vocational training." Gay activist Alex Au argued that the sentences were woefully inadequate[466].
From 20 to 23 November 2008, Buds Theatre Company presented "Death and Dancing" at Play disco, 21 Tanjong Pagar Road[467]. The funny, uplifting play, performed stand-up comedy style, was about 2 friends named Max and Max, a gay man and a lesbian woman (acted by Benjamin Wong and Rebecca Lee respectively) both struggling to define themselves against society's expectations.
On 13 November 2008, The Straits Times published a full page advertisement by DBS Bank declaring that it would contribute up to S$15,000 towards Focus on the Family, "a charity dedicated to helping children and families thrive" when DBS/POSB credit card members spent S$300 on their cards till 21 December 2008 at selected malls[468]. Picking up on the Focus on the Family brand name which was synonymous with the anti-gay, rightwing Christian agenda, some gay and lesbian credit card holders cancelled their cards and sent protest letters to the bank. Writer Ng Yi-Sheng also set up a Facebook page to encourage LGBT-supportive people to boycott DBS Bank.
On 19 December 2008, the Holy See issued a press statement stating that the Vatican "condemn(s) all forms of violence against homosexual persons as well as urg(ing) States to take necessary measures to put an end to all criminal penalties against them."[469] Fridae subsequently contacted the Catholic Archdiocese of Singapore to ask if it would support repeal of Section 377A of the Singapore Penal Code. The Singapore Catholic Church replied that it did not support the repeal of laws that criminalised gay sex acts, and "persons with homosexual tendencies (orientation) should refrain from irresponsible sexual acts."[470]
2009
[
]
Main article:

Singapore gay history: 2009
In early January 2009, Johann S. Lee, author of Singapore's first gay novel Peculiar Chris, held the launch party for his third book "Quiet Time", regarded by some as Singapore's best gay novel to date, at DYMK[471]. Lee had been inspired to write it after witnessing the parliamentary debate on Section 377A in 2007, even including a character modelled after Nominated Member of Parliament, Siew Kum Hong.
On 7 January 2009, Fridae, Shaw Organisation and Crocodile presented the fundraising gala premiere of "Milk" at Shaw Lido 1, Shaw Centre, Scotts Road which raised $14,000 for IndigNation, Singapore's gay pride season[472], Pink Dot SG and Loo Zihan's new short film, "Threshold"[473]. The movie was a biopic about gay rights icon Harvey Milk, played by Sean Penn, who found himself becoming a community leader and drawn to political office as he got tired of being treated as a second-class citizen even in the supposedly liberal city of San Francisco in the 1970s[474]. It garnered 8 Oscar nominations, including Best Picture[475] and won 2 - for Best Original Screenplay (by David Lance Black) and Best Actor (Sean Penn)[476]. During the live telecast of the Academy Awards on Channel 5 on 22 February 2009, Black and Penn made speeches in support of gay marriage. However, viewers who watched the repeat telecast reported that entire chunks from their speeches referencing Black's growing up gay years and gay marriage rights were cut[477].
In early January 2009, the M1 Singapore Fringe Festival commissioned the permanent exhibition, "Raised as a Pack of Wolves"[478] which continued Singaporean lesbian artist Genevieve Chua's explorations of queer visibility and sexuality[479]. The work revolves around a family of youths in the form of androgynous or masculine-presenting females whom the then 24-year-old Lasalle College of the Arts graduate Chua refers to as "wolves" and whom she had met in the wild - on the streets, through blogs or friends, over a period of 2 years. They come together in this inventive photographic series which presents a new, fantastical spin on the awkwardness of adolescence and the hunt for familial ties, and answers.
On 5 February 2009, Singapore's Mandarin-language daily LianHe Zaobao reported that 6 men were charged on 29 January 2009 for sexual acts against the order of nature and gross indecency with the same 15-year-old boy in 2006 and 2007 whom they had met while chatting on the Internet[480]. They were charged under the old Section 377 as the offences occurred before the Penal Code (Amendment) Act took effect on Feb 1, 2008. One of the men, a 42-year-old former travel agent, pleaded guilty to one charge under Section 377A and was sentenced to 4 months' imprisonment. The maximum penalty is two years.
From 13 to 15 March 2009, a popular entertainment icon organised the Lah! Mardi Gras Festival at St. James Power Station's Powerhouse, inspired by the world famous event in Sydney. It featured Singapore's own DJ Big Kid alongside gay circuit favourites - Australian DJ Jake Kilby and American DJ/ Producer Tony Moran[481].
From 19 to 21 March 2009, Dream Academy presented 'Kumar: Stripped Bare and Standing Up' at the Esplanade Theatre. In a Fridae article shortly before the performance run and during the shows themselves, drag icon Kumar came out as a gay man for the very first time after denying the fact several times before[482].
The 22nd Singapore International Film Festival was held from 14 to 25 April 2009, during which Boo Junfeng's short film "Tanjong Rhu" and Kan Lume's "Female Games" premiered[483]. The latter work advertised itself as "the first contemporary Singaporean film to boldly portray female homosexuality," telling the story of a young Singaporean model, Alexia, and her female friend who leave for Kuala Lumpur to meet a casting agent. The two eventually find themselves falling in love after a number of pitfalls on the road. Kan Lume who directed and wrote the screenplay expected the movie to be banned in Singapore for its lengthy, explicit sex scenes between two women.
In April 2009, 5Degrees, Singapore's gay networking and business group launched Pink Month, an initiative to rally the community to support over 60 gay and gay-friendly businesses during the economic downturn[484].
On 18 April 2009, the LGBT community and its allies were urged to come out and be counted at what organisers call "the first-ever official LGBT public gathering in Singapore."[485] Organised by a group of Singaporeans calling themselves Pink Dot SG, a reference to Singapore being frequently referred to as a little red dot, the event was scheduled to take place on May 16 at at the Speakers' Corner in Hong Lim Park, the only locale where outdoor demonstrations were permitted. Pink Dot evolved from an initiative by Roy Tan, who registered with the National Parks Board to stage an LGBT pride parade on 15 November 2008 to set a precedent which would make subsequent such events easier. As part of the grassroots pre-event publicity, acclaimed writer Alfian Sa'at went around Singapore with a Pink Dot placard persuading people to pose with it and shared his thoughts about acceptance, diversity and community in a Fridae article[486].
On Friday 10 April 2009, The Straits Times reported that more than 100 people, the majority of whom had joined only in recent months, challenged and eventually won 9 out of 12 executive committee spots at the annual general meeting of Singapore's main women's advocacy group, the Association of Women for Action and Research (AWARE) held on 28 March 2009. Observers described it as "nothing short of a leadership grab" by anti-gay Christian fundamentalists[487]. Ordinarily, the meeting would be attended by no more than 30 or 40 members. Nearly every position was challenged by new faces who won by wide majorities. The purported reason for the blitzkrieg takeover was the usurping regime's concern that AWARE was becoming a pro-gay organisation[488]. This marked the beginning of the AWARE saga.
In reaction to the coup, AWARE's founding members and former committee members called for a no-confidence vote against the new Exco at an extraordinary general meeting to be held on Saturday, 2 May 2009 from 2 - 5pm at the First Choice Auditorium, 3 Lorong 6 Toa Payoh #01-01 HSR Building[489]. The venue was later changed to Suntec Convention Centre as the Toa Payoh one was deemed not large enough. Towards the end of April 2009, anti-gay Christian lawyer Thio Su Mien, mother of renowned anti-gay NMP Thio Li-ann, came out spectacularly to the media as the motive force behind the takeover[490].
On 2 May 2009, a vote of no confidence was passed after a 7-hour face-off, attended by some 3,000 people, at AWARE's extraordinary general meeting at Suntec Convention Centre. A new committee with diverse representation was elected to lead Singapore's largest women's activist group. It was hailed as a pivotal moment in the history of local civil society[491].
On Thursday, 14 May 2009, in the wake of the AWARE saga, Deputy Prime Minister Wong Kan Seng told the media that the government's position on homosexuality was clear and it would not be pressured into changing it, reiterating Prime Minister Lee Hsien Loong's message in Parliament in October 2007 that Singapore was basically a conservative society and the conventional family, a heterosexual stable family, was the norm and building block of society. However, he warned Singaporeans against mixing religion with politics[492].
The signature local LGBT event of the year took place on Saturday, 16 May 2009, when 2,500 people, straight and gay, turned up at Hong Lim Park to support the "freedom to love" regardless of sexual orientation or gender identity. Not only was it the first-ever public rally to show support for LGBT people in Singapore, the turnout was also the largest since the government eased a ban on public demonstrations in September 2008. Roy Tan, a co-organiser of the event, said the success of the event was a "milestone in the development of civil society in Singapore" and "a testament to the fact that the Government sincerely wants us to be a more open society"[493].
In June 2009, even though figures from the Ministry of Health showed new HIV cases among MSM in Singapore to be at an all time high, Prof. Roy Chan, President Action for AIDS (AfA), told Fridae that the latest 2008/9 MSM community testing project revealed that the prevalence of HIV was 2.6%, down from 3.1% a year earlier[494]. Some 1,200 men were tested in the latest project compared to 960 the year before. The voluntary, free and anonymous testing service was made available at selected MSM frequented venues including bars and saunas in late 2008.
On 12 June 2009, Fridae published the first of a series of 6 articles on living with HIV/AIDS - an intensely personal account of what it was like to be gay and HIV-positive, written by Singaporean SL Yang, who had lived with the virus for more than 10 years[495],[496],[497],[498],[499],[500].
On 20 June 2009, Anthony Yeo, aged 60, widely regarded as Singapore's "Father of Counselling", passed away from complications of leukaemia, leaving behind his brother, wife and two children. He was the founder and clinical director of Counselling and Care Centre. Yeo had numerous letters published in the press on social issues including calling for more understanding and acceptance of lesbians and gays in society. A memorial service was held on Friday, 24 July 2009 to celebrate his life and to honour his contributions and support of the LGBT community[501].
In early July 2009, in the wake of India's Delhi High Court ruling on 2 July 2009 that consensual sex acts between men in private were legal, Law Minister K Shanmugam said Singapore would not repeal its laws criminalising gay sex although the law will not be enforced. The minister was quoted in The Straits Times as saying that the law would remain as the Government "cannot move ahead of public opinion" and has to "be careful of being ahead of public opinion."[502]
Also in early July 2009, a group of gay and lesbian students at New York University's law school sent an e-mail to all students last week drawing attention to the homophobic comments made in Singapore's parliament in 2007 by Dr. Thio Li-ann, a visiting professor from the National University of Singapore[503]. She was slated to teach Human Rights Law in Asia during the Fall 2009 semester. Thio had supported the continued criminalisation of "acts of gross indecency" between males and likened anal sex to "shoving a straw up your nose to drink."
On 22 July 2009, Dean Richard L. Revesz of the NYU School of Law, in a statement published by The New York Times said, "I am writing to let you know that Professor Li-ann Thio informed me today that she is canceling her Fall visit to NYU Law School as a Global Visiting Professor as a result of the controversy surrounding her views regarding homosexuality and gay rights. She explained that she was disappointed by what she called the atmosphere of hostility by some members of our community towards her views and by the low enrollments in her classes. The Law School will therefore cancel the course on Human Rights in Asia and the seminar on Constitutionalism in Asia, which she had been scheduled to teach."[504]
From 8 to 25 July 2009, theatre company Wild Rice staged "Own Time Own Target" a double-bill of comedies at the Drama Centre. They dealt with the Singapore army and included a musical about a gay soldier[505].
From 30 July to 30 August 2009, Singapore's 5th gay pride season, IndigNation, was held. It featured some 32 events including art exhibitions, talks, film screenings, book launches, parties and forums[506].
Singaporean artist Aiman Hakim presented his first solo exhibition "For Ages 4 and Up" on Thursday, 30 July as the preliminary event leading up to Indignation 2009[507].
On Saturday, 1 August 2009, former Nominated Member ofParliament, Siew Kum Hong, was named the winner of the 2009 Dignity Prize, a biennial award presented by LGBT advocacy group People Like Us, at the opening reception of Indignation 2009[508]. The prize served to recognise the contributions of individuals in Singapore who had spoken up for equal rights for LGBT people.
From 6 to 8 August 2009, Leona Lo, possibly Singapore's best known transsexual, performed her one-woman play, "Ah Kua Show" at The Substation. It was directed by Emeric Lau and was based on her 2007 memoir "From Leonard to Leona: A Singapore Transsexual's Journey to Womanhood", written over a course of 11 years. The book traces the major milestones in the 34-year-old PR consultant's life from suffering a nervous breakdown while performing compulsory military service, surviving a suicide attempt at 19 to using his tuition money for her sexual reassignment surgery in Bangkok in 1997 whilst she was a first year student at the University of York in the UK. The play was Lo's latest attempt to bring transgender issues to the forefront[509].
Just days before 2 short films, "Tanjong Rhu" by Boo Junfeng and Loo Zihan's "Threshold", were to have their world premieres on Saturday, 15 August 2009 at the 6th annual Singapore Short Cuts festival, they were withdrawn by the organisers - the National Museum and the Singapore Film Commission[510]. The latter operates under the auspices of the Media Development Authority. Both films were partially funded by Fridae and loosely based on true life incidents of police entrapment of a gay man in one film and 12 gay men in another.
On Tuesday, 11 September 2009, Prof. Roy Chan, President of Action for AIDS was awarded the Queen Elizabeth II Gold Medal for Public Health by the United Kingdom's Royal Society for Public Health in London[511]. The Straits Times reported that he was nominated by Singapore's Ministry of Health for his outstanding work on HIV and STI issues, and where his "dedication has contributed to significant improvements in the prevention, care and control efforts."
In September 2009, Karen Lee, who had Burmese and Chinese ancestry, released her self-published autobiography, "No More Daddy's Little Girl" - the first by a gay person in Singapore[512]. It chronicled her journey coming out as a lesbian and finding acceptance from God, her family and herself. Lee left Singapore for Perth, Australia at the age of 16 to attend pre-college and university. She had just returned home after being away for 14 years.
On Wednesday, 30 September 2009, Fridae held its 7th movie fundraiser - The Taking Woodstock Fundraising Gala Premiere – at the Lido Cineplex on Scotts Road. The event raised S$6,000 for LGBT-related community projects in Singapore. Speakers Dr. Stuart Koe, CEO of Fridae; Alex Au of People Like Us/Indignation; Jack Yong and James Koh of Pink Dot and filmmaker Boo Junfeng addressed a packed house[513].
In early October 2009, openly gay poet, playwright and winner of the Singapore Literature Prize in 2008 for his poetry anthology "Last Boy", Ng Yi-Sheng was dropped by the Ministry of Education as a mentor in the Creative Arts Programme one month into his mentorship. Ng himself believed that it had something to do with "his involvement with political and gay rights activism."[514]
On 10 October 2009, openly gay director Glen Goei's quirky, murder mystery film, "The Blue Mansion" held its world premiere at the Pusan International Film Festival in South Korea[515]. Goei, of "Forever Fever" fame, completed his labour of love after an 11-year hiatus from filmmaking. Goei got his big break playing the title role in the Tony award-winning play M. Butterfly opposite Anthony Hopkins in London's West End. For his role, he was nominated for the Laurence Olivier Award for Best Newcomer in 1990. He soon after established Mu-Lan Arts, the first Asian theatre company to be established in the United Kingdom and was its Artistic Director from 1990 to 1998.
From 9 to 29 November 2009, theatre company Zebra Crossing staged the musical "Victor/Victoria" for the first time in Asia at the Esplanade Theatre. It starred famed jazz singer Laura Fygi in the title role as a woman who impersonates a man to become a female impersonator. It was directed by Loretta Chen, possibly Singapore's most outspoken lesbian and former Young PAP member[516].
In late November 2009, Fridae received the Friend of the Arts award from the National Arts Council for the 2nd consecutive year after having received the lower-tiered Arts Supporter Award for 3 consecutive years[517]. The Friend of the Arts award was bestowed upon companies who contributed S$100,000 to S$299,999 in in cash or in kind in 2008.
On Tuesday, 1 December 2009, Action for AIDS organised the "LOVE: Live.Laugh.Life" special gala event to commemorate World AIDS Day[518]. The event raised over S$100,000 for the NGO and screened the premiere of "Anniversary", a specially commissioned short film directed by Royston Tan and written by Alfian Sa'at. The themes of the film were gay relationships, sex, orgies and drugs and formed part of AfA's safer-sex education programme. It was rated R21 without cuts by the Media Development Authority[519].
In late December 2009, Fridae's 2009 MSM Sex Survey revealed, amongst other things, that 31% of respondents did not using condoms consistently with a regular male partner, and 21% did not use condoms consistently with their casual male partners[520].
See also
[
]
References
[
]
External links
[
]
GlobalGayz

' archive of Singapore news from the year 2000 onwards:[521].
Acknowledgements
[
]
This article was written by Roy Tan based on information from SiGNeL, Fridae, Yawning Bread, Blowing Wind, Trevvy, other Internet news sources and on his personal experiences.