Before the 1990s, homosexual and bisexual men in Singapore had to journey all the way to Bangkok, Thailand to experience the pleasures that gay saunas offered. It became more convenient in the early 90s when an establishment called Ryu, meaning 'dragon' in Japanese, opened in Taman Pelangi near the Pelangi Complex in Johor Bahru, Johor, Malaysia. Hot on the heels of its overwhelming success in attracting huge crowds of both Singaporeans and Malaysians, another gay sauna called New Blue Boys opened at 104 A-B, Jalan Serampang, Taman Pelangi, 80400, Johor Bahru about a year later. Some Singaporean gays would charter taxis in groups to traverse The Causeway and experience what was sorely lacking at home.
Contemporary
Shogun (formerly The Box)
Main article: Shogun (Singapore gay sauna)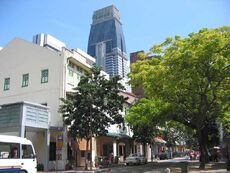 Located on level 2, 51A Pagoda Sreet, telephone number 6221-0367, SMS 9758-7514. This is its third premises in the heart of Chinatown. Shogun started off as The Box at 182 Telok Ayer Street. The Box was a "cruise club" which meant that patrons could cruise for sex indoors, with their clothes on. However, it proved an unpopular concept leading to its rebranding as Shogun, a gay sauna. Entry is gained by heading up the staircase from Trengganu Street, on the corner opposite Absolute. The reception desk is located on level 2 up a flight of steps from the street level entrance. Level 2 has lockers, TV lounge, dark maze, and a very clever glass-enclosed smoking room so that you can still cruise those taking a cigarette break. Level 3 has a large lounge with futons, dark rooms, cabins, outdoor shower and a BJ bench. It is one of the most popular gay saunas because of the reasonable entry charge of $10, welcoming staff and friendly crowd which tends towards the macho, mature, bears and their admirers. it open 24 hours daily and there are theme nights. No membership fee required.
The Box was Singapore's first cruise club. It was located in a shophouse at 182, Telok Ayer Street, near Tanjong Pagar. The cruise club concept whereby patrons could look for hook-ups clothed within its premises, or in various stages of undress according to their comfort level, proved less popular locally. So it was later converted into a gay sauna, using the new name of Shogun spa. In mid-2006, it shifted its location to another shophouse several units away, from 182 to 176 Telok Ayer Street (telephone number 6221-0367). Shogun was one of the last saunas in Singapore to introduce nude nights. No membership was required.
This incarnation at 176 Telok Ayer Street closed down in mid-2007 and moved yet again to 18A Hong Kong Street, across the road from the Central near Clarke Quay MRT station.
10 men's club
[1] Located at its second premises at Pagoda Street, near Chinatown MRT. The entrance is only accesible by a lift beside the "XIANG" barbecue meat shop and beside the overhead bridge of the Chinatown MRT.. It was formerly situated one floor below Mox Bar in the same building, at 21 Tanjong Pagar Road when it opened in mid-2007. Its main attraction there was its central location, smack in the middle of the gay disco district.
Keybox
[2] Initially located at 790 North Bridge Road (at the southwest corner intersection with Jalan Klapa), tel. 6299-4121. The entrance is right at the corner on North Bridge Road. Be careful not to mistake the door with the "Spa" sign right next to it as the entrance (this goes to a two-storey straight spa, not to Keybox). Gay sauna located at the quieter end of North Bridge Rd, a short walk from Bugis and Little India or the Lavendar MRT Station. This secluded and quiet sanctuary for relaxation is attracting a regional crowd (Chinese, Pinoys, Malay, Thai, Indonesian, etc.) as well as locals and international visitors of all ages. Facilities include TV lounge with Net stations, hot tub, steam room, gym, designated smoking room, private cabins and dark areas. Check their website for theme nights.
It later relocated to Upper Circular Road, occupying the same unit occupied by Club One-Seven (see below).
Hook Club
[3] - Taking over the premises of Cruise Club which closed down in late 2019, it opened in January 2020 and advertises itself as a "private gentlemen's club serving the discerning few" with facilities including a gym, lockers, a maze, steam room, networking arena and a cosy cafe.
Historical
Spartacus
Stroke
Rairua
Towel Club
V-club/Sphere
Blue Heaven
Diamond Health Centre
Y Club
Absolute
Club One-Seven
Hercules Club
Queen Resort
See also
References
Acknowledgements
This article was written by Roy Tan.