Obi-Wan Finale - The Loop
Play Sound
Introduction
[
]
Before the relative liberalisation of Singaporean society towards the latter part of the 20th century, local gay culture consisted mainly of activities in venues largely unknown to the mainstream public. Prior to the 1980s, there were no publicly "out" homosexuals, no Singapore gay organisations, no Singapore gay literature, no Singapore gay art, no Singapore gay films or anything remotely "gay" apart from the goings-on in clandestine nocturnal congregation spots. Thus, even though it may not be palatable to some conservative members of the gay community who would prefer to present a whitewashed façade of gay society, the inclusion of a list of nighttime cruising areas in this article forms an integral part of the documentation of Singapore gay history. However, as a concession to these conservatives, they are mentioned after the more "decent" venues like bars and discos, although historically and chronologically speaking, the "seedy" rendezvous preceded and were more heavily patronised than the socially sanctioned ones.
As a counterpoint, it should also be mentioned that perhaps the majority of gay men in Singapore never ventured into any of these cruising areas and that "gay venues" for them meant private spaces in which they indulged in social and sexual intercourse - mostly the homes of their lovers and friends.
It is thought that the first places in early Singapore where homosexual men, especially Chinese coolies, could chance upon each other were the public toilets near the Singapore River, predominantly at Boat Quay (see main article: History of Singapore gay venues). The proximity of Hong Lim Park to Boat Quay may explain why the former became notorious as the first internationally known gay cruising rendezvous in Singapore to be listed in the Spartacus Gay Guide, the most widely read gay tourist publication in the world.
Bars
[
]
Criterion
[
]
As far as locals can remember, but which can only be corroborated by a handful of people, the very first gay bar in Singapore was the Criterion along Orchard Road, not very far from the old Cold Storage building where Centrepoint now stands. It existed in the 1950s but had already ceased functioning by the early 1960s.
Golden Venus
[
]
Next came the Golden Venus bar, on the ground floor of the former Orchard Hotel along Orange Grove Road, as some locals and gay expatriates who lived in Singapore during the 1960s can recall[1]. It flourished from about 1960 until overtaken by Pebbles Bar (see below) in the mid-1960s. The former Orchard Hotel, just a few storeys tall, was much smaller than the currently rebuilt one. The latter occupies the space where a petrol station and terraced shophouses once stood, at the junction of Orchard Road and Orange Grove Road. The entrance to the Golden Venus was located at the rear of the hotel and could be accessed discreetly through the hotel's open-air car park.
It was always a mixed establishment rather than purely a gay venue. The bar area itself was predominantly gay, while in the adjacent larger room, there was a band and dance floor that was completely "straight", being much patronised by heterosexual British and Australian servicemen. It is interesting that the gay and straight areas both co-existed side by side without much evidence of open homophobia. In the bar, there were tables covered with white table cloths and a sprig of orchid in a small vase was placed on every table top. The waiters were mainly Hainanese in their 40s wearing starched white shirts with little bow ties.
Near the time of its closure in the mid-1960s, a Singaporean who visited the bar one night described it as being brightly lit but there was no sign of gay life. In fact, there was no sign of any life apart from the waiters and himself! Pebbles Bar in the Singapura Hotel Inter-Continental with its posh decor and hip, live music complete with androgynous performer was decidedly more upmarket and soon eclipsed The Golden Venus which then faded into the depths of gay history.
Le Bistro
[
]
Main article: Le Bistro
This was one of Singapore's first gay bars and opened in the 1960s. However, even by the late 1960s, it had not yet gained a reputation for being a gay venue. It was really just a hip bar, very conducive for hanging out at. It was located at the basement of a landmark building called Tropicana along Scotts Road. One approached the entrance to Le Bistro by walking along the left side of the building (looking from the main road) and heading towards the back. Tropicana was an exclusive and expensive 4-storey entertainment complex renowned for pioneering topless dancing girl revues and occupied the exact spot where Pacific Plaza now stands. Le Bistro was for those who either could not or did not want to pay the cover charge to see the topless revue in Tropicana upstairs. The appeal of Le Bistro was also the live music provided by an Indian woman singing and playing the piano behind a huge horseshoe bar. She alternated with a male guitarist.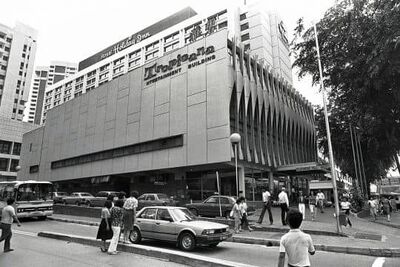 Sometime in the early years of the 1970s, the gay clientele started to come. They never turned the place entirely into a gay bar. Gay and straight clientele would sit round the bar listening to the performers. The bar was well patronized but never chock-a-block full like some gay bars or discos can be nowadays. It had become well known as a chill-out bar, especially amongst English-educated gays and a reputed pick-up haunt for white tourists and local, deeply closeted homosexuals. One could gain entry discreetly via a small side road connecting Claymore Hill and Scotts Road. Gay gatherings began on Sundays, a tradition which grew out of earlier attempts by Singapore food and beverage outlets to copy the American practice of holding Sunday afternoon tea dances, popular during that era. During that time slot, bars and discos were officially closed but Le Bistro's owner would admit his "friends" for a private party. As numbers grew and confidence increased, the afternoon tea parties eventually took over the Sunday nights.
These events were so well attended that they rivalled the iconic Pebble Bar in popularity and jostled for the same clientele, although each venue had its own niche. After Le Bistro eventually closed down, Pebble Bar once again came into its own and continued as THE gay meeting place to be until the Hotel Singapura Inter-Continental was demolished in the mid-1980s.
Pebble Bar
[
]
Main article: Pebble Bar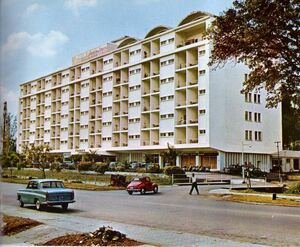 Affectionately referred to simply as "Pebbles", it was located on the ground floor forum of the now-demolished Hotel Singapura Inter-Continental along Orchard Road, adjacent to the Hilton Hotel. The hotel was actually completed in 1965 as part of the Singapore government's plan to turn Orchard Road into a tourist belt. Hotel Singapura Inter-Continental became the Hotel Forum before it was replaced by the present Forum Galleria building. Customers walked into Pebbles Bar predominantly via the main entrance adjacent to the hotel coffee shop fringing the lobby but, very conveniently, there was also a more discreet entrance from the car park at the rear of the hotel.
In the early 1970s, it became patronised largely by the English-educated, upper-strata gays of Singaporean society who formed a nexus which enticed other gays to congregate there. These included foreigners and socialising at the bar spawned many a local-Caucasian pairing. Pebbles' main draw were the live performances of a local band Tania, whose lead singer, Alban de Souza, was decked out in glitz, painted his face a la David Bowie or KISS but with red makeup instead of black-and-white, and entertained with flamboyant, energetic camp.
Although it was the only one of Singapore's first 3 gay bars to have a dance floor, albeit a rather small one, same-sex dancing was strictly prohibited. The bouncers would stop any gay couple from doing so. Today we take same sex dancing for granted but it is important to bear in mind that this was not allowed till the early 1980s. So gay people sat in one half of the bar drinking and listening to the music, while watching the straight couples dance in the other half. However, it was a common sight to behold men embracing and giving each other air kisses, a phenomenon rarely witnessed elsewhere in Singapore but which raised nary an eyebrow at Pebbles.
Pebble Bar became less popular as a gay venue later in the early 1970s when Le Bistro starting to attract more of the gay clientele, although it never completely plunged into oblivion as a meeting place. It experienced a resurgence in popularity when Le Bistro closed down.
Treetops Bar
[
]
Main article:

Treetops Bar
Following Pebble Bar, gays "colonised" Treetops Bar at the Holiday Inn along Scotts Road. The Holiday Inn became the Royal Holiday Inn which was demolished and today's Royal Plaza on Scotts) built on its site. Treetops was located on the right hand side of the lobby as one entered the main entrance. It too had a live band which was popular with its clientele. During that time, the hotel was a hub for gays. Besides having a gay bar, the hotel's coffee house, Café Vienna, was also a gathering place for gays. The café was across the lobby from Treetops, on the left hand side of the hotel front entrance. While Treetops Bar is no longer around, Café Vienna remains and some of the stained glass décor to simulate a Viennese café still forms part of its look today. Café Vienna also had live music. A small orchestra played light classical music, mainly Viennese waltzes. So the whole set-up was rather elegant or pretentious depending on how one looks at it. What is undisputed is that the gay crowd loved going there because if one got tired of sitting in the bar, one could hop across the lobby to have a coffee or a piece of pastry in the café[2].
Unfortunately, the scene did not last. The hotel management decided it did not want Treetops to be a gay venue as it felt it was bad for its image and started refusing to serve people whom they thought were gay. It was not a pleasant experience to be turned down and some gays protested. On one occasion, the hotel PR person backed down. But not enough gay people stood their ground and so Treetops lost its gay reputation quickly. If this were to happen nowadays, the bar would certainly face a howl of protest from the more vocal, contemporary gay community.
The difference in the situation between then and now is stark. During that era, the ambiance of a gay bar was never as comfortable as what it is today, beginning with the act of ordering one's drink from the bartender. In most gay bars today, customers take for granted that the bartenders know they are working in a gay venue probably owned by gay people and have to serve gay people with a welcoming friendly attitude. In the old days, one got a feeling that one was in the bar at somebody's sufferance. There was always a touch of tension or suspicion when one ordered one's drink, very unlike the easy casual relationship that one could have with waiters and bartenders in gay bars today. There was no sense of ownership of a gay venue that today's gay community enjoys.
The reason why a bar became gay was mostly serendipity - for example, a group of gay people chanced upon a chill-out place, then liking the music or the ambience, went back frequently. They told other gays and the word got around that the place was attracting a gay clientele and this trend would grow unless the bar owner put a stop to it, as was the case with Treetops Bar. This was very different from today's bars where the proprietor set up a venue deliberately for a gay clientele.
Chinoiserie
[
]
More wealthy gay socialites would patronise the more exclusive, classy and expensive nightclub, Chinoiserie, situated on the second level of Hyatt Hotel, also along Scotts Road. One could become a member there after paying a hefty membership fee and invite their friends. However, gay men formed only a small minority of the clientele at Chinoiserie.
Babylon
[
]
Main article: Babylon (Singapore gay karaoke lounge)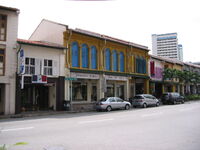 Babylon was Singapore's first exclusively gay karaoke pub at 52 Tanjong Pagar Road, set up during the height of the karaoke craze in the late 1980s; a narrow, miniature version of its legendary namesake in Bangkok and the original Sumerian city.

Main article: Inner Circle
To cash in on the popularity of the seminal Babylon, an enterprising gay Singaporean named Kent Low opened another gay karaoke joint in 1991 with a business partner, just a few units away, at 78 Tanjong Pagar Road. It provided divas with an outlet to show off their vocal skills for almost 10 years before drawing its shutters on 24 July 2004.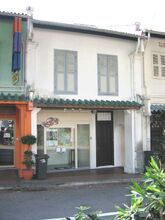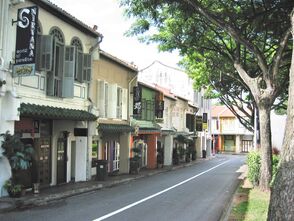 A namesake was later resurrected at 3 Duxton Hill, a stone's throw away from its former location. Its telephone number was 6220-6966. Ample parking space was available just outside or at Craig Place along Craig Road which houses a multi-storey carpark.
Main article: Vincent's Lounge
Opened on 18 May 1989 at #06-05 Lucky Plaza, 304 Orchard Road, former tel: 7361360, it was the first East-meets-West pub where Asian potato queens, a large proportion of whom were Malay, could meet up with their Caucasian aficionados, otherwise known as rice queens. It offered karaoke as well as booze. It relocated many years later, shortly after its 14th anniversary in May 2003, to a street-level shophouse at 15 Duxton Road in Tanjong Pagar, renaming itself "Vincenz."
It contained a handsomely elegant wooden bar which offered a large selection of beers on tap. The establishment was called "Venerable Vincent's" and "The Grand Dame of Singapore" for good reason. The newer outlet closed down on 26 March 2005 after 16 years of promoting East-West relations.
For lesser-known venues which only operated for a short time before closing down, see: [4]
Main article: MOX Bar & Cafe
It was housed in the building at 21 Tanjong Pagar Road which was a growing arts, entertainment and lifestyle block managed by Guan Seng Kee Pte Ltd, just next to Ya Kun Kaya Toast. The lift serving the upper floors had a modern interior but was rickety and painfully slow. The building housed the following establishments in the 2000s:
1)

Space 21
An unrenovated 1950-sq ft art space and multi-function hall situated on level 3, the second home of Utterly Art.
2) MOX Bar & Café website on level 4.
It was a versatile venue which could be transformed into a bar-cum-function space equipped with lights, sound and platforms to hold events like product launches, birthday bashes and cabaret shows. Former tel: 6323-9438, fax: 6227-9647.
On Monday, 31 March 2008, Mox Bar and Cafe, which had been recently voted as Singapore's favourite gay bar at the Fridae ae-List Awards[5], closed its doors, with a garage sale on Thursday, 27 March and a farewell party called "End of the Rainbow" on Saturday, 29 March 2008[6]. Mr. Mok, the co-owner and engineer by profession and his 4 partners including buff-bodied doctor, Toby Hui, also holders of full time jobs, had considered keeping the party going in his absence, but with high rental costs (double what they were when the bar opened) and a generally dwindling nightlife scene, they decided to let it go.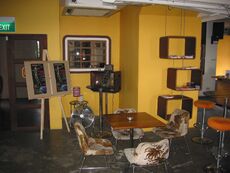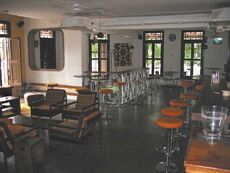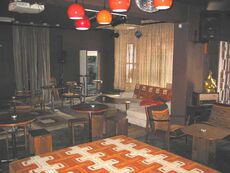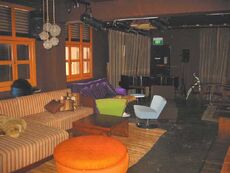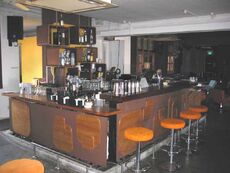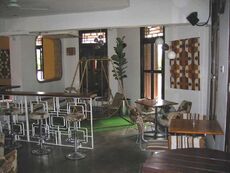 3)

Bianco
(formerly known as The Attic)
The topmost floor is a vault-like loft under the same management as MOX Bar & Cafe. It has a seating capacity of up to 150 people and is suitable for exhibitions, fashion shows and performances. It was the former location of the Sunday services of the Free Community Church [7](from 2002 to 2004) and Toy Factory Theatre Ensemble [8](from 2004 to 2005). Currently, it houses the all-white decor-themed Bianco and contains a small bar, in addition to unique, squarish bed-like seats and a DJ console. Dr. Russell Heng's talk When Queens Ruled! A History of Gay Venues in Singapore was held here on 16 Aug 05 as part of IndigNation, Singapore's first gay pride month. It was the home of Pelangi Pride Centre for several years since mid-2007.
Caprice

[

]
70 Amoy Street. Gay-owned and staffed, the bar offers room to enjoy cocktails, meet people and indulge in chit-chat.
The decor is modern and warm with natural wood flooring and fixtures. Friendly, professional and attractive staff make one very welcome. It is a nice addition to the local club scene and is close to other clubs and discos. It closed in September 2005.
Oso

cafe restaurant

[

]
145 Telok Ayer Street, opposite Thian Hock Keng Temple, tel: 6323-4642, fax: 6836-0266.
A gay-owned and managed bar serving fusion cuisine, beer, wine, and cocktails. A cosy place for friends to gather, sing karaoke, and spend quality time together. Frequented especially by Chinese-educated bears, it spins good music and has a soothing ambience.
Xposé Café, Bar & Restaurant
[
]
Main article: Xposé Bar
208 South Bridge Road, #01-01 (in the same building as Utterly Art), tel: 9842-7849. A gay-owned, second home for anyone seeking Prince Charming or looking for a nice cozy place to dine with their dates.
It served authentic Thai food prepared by Chef Deang, with 20 years' cooking experience, who whipped up home-style dishes with a passion. Karaoke started after 8:30 pm abetted by a great sound system to accompany one's crooning. It especially welcomed bears, chubs and their admirers. Regulars, who tend to be Chinese-educated, chat on EFNET IRC, channel #GAYCHUB@SG.
The management allowed the organisers of IndigNation[9], Singapore's inaugural gay pride month in August 2005, free use of its premises to conduct the historic, first-ever public talk on homosexuality to be held in an indoor venue since Prime Minister Lee Hsien Loong's 2004 liberalisation of the rules governing these events. The lecture was entitled "Same sex love in classical Chinese literature" and was delivered to a capacity audience by Dr. Tan Chong Kee on 2 August 05 [10].
DYMK
[
]
Main article: DYMK
DYMK[11] (Does Your Mother Know?). Located at 41 Neil Road (tel. 6224-3965), it was opened and managed by the old crew from MOX Bar at Tanjong Pagar. The bar was double-storeyed and had a retro-style decor. The crowd was mostly LGBT. The place was chic, cozy and perfect for unwinding after a hard day's work. It also hosted the local SM crowd every last Thursday of the month.

Artistry
[
]
Main article: Artistry
Nestled in a quiet corner of the Kampong Glam heritage district at 17 Jalan Pinang, Artistry is a new art gallery and café in a shophouse run by proprietor Prashant Somosundram. It is his second enterprise and a further development of the now-defunct Pitch Black cafe along Haji Lane. Artistry aims to develop an intimate space for art and creative endeavour, including LGBT issues. They seek to provide emerging artistes with a platform for their debut solo exhibitions and host talks, performances and events in our space. Serving up the locally roasted Liberty Coffee and artisan desserts, Artistry is a space for arts practitioners and patrons to connect and develop the creative community in Singapore.
Lesbian bars
[
]
Main article: Moondance
Not to be outdone by their male counterparts, female entrepreneurs opened a disco for the lesbian community situated between Babylon and Inner Circle and opposite Play disco on the other side of Tajong Pagar Road. It was located at unit numbers 60 to 64. It was managed by a lesbian who later became a popular entertainment icon and the manager of Fly Entertainment. Lesbians who queued up during the weekends to get in were met with the sight of an even longer line of gay men waiting to get into Taboo disco located on the opposite side of Tanjong Pagar Road.
Crocodile Rock
[
]
Main article: Crocodile Rock
It was located at 14 Scotts Road, #05-29, Far East Plaza. Former telephone number: 6738 0535.
More affectionately known as "Croc Rock", Singapore's oldest and longest-running lesbian pub was around for more than 15 years. It was not exclusively for women though, as there were a handful of male regulars who "had mutual respect for the women" assured its lesbian owner. One could expect a mature crowd of working professional women in their late-20s and above. Weekdays were a good bet if one loved to sing as it was quiet and one would not have to arm wrestle anyone for the karaoke mike. Strictly English music.
Alternative Bar

[

]
44A Tras Street, telephone number: 6220 5271. It was one of the few girls' hangouts with a pool table. Week nights were strictly for ladies with Saturday being the only night when male companions were welcome.
It operated from the early 2000s to 2004 and was located on the second floor, accessible from the staircase beside Legend bar. To drive away the Monday blues, it was free pool all night long. Some patrons recall it as having nearly-intimidating butch girls and fancy cocktails. Opening hours were from 9pm onwards on weekdays and Saturdays. It was closed on Sundays and public holidays.
GreyZone Bar
[
]
Located at level 2, 44A Tras Street, Tanjong Pagar. Telephone number: 6220 5271.
Nestled along the Tanjong Pagar belt, which was home to a few other prominent gay bars, GreyZone called its cosy second-storey pared down interior home since 2004, when it was formerly known as Alternative Bar. The name change signalled the owners' intent of catering to a straight crowd as well. However, the girls still monopolised the 50-seater bar, equipped with not much more than a pool table (with free games on Mondays) and an LCD TV. The owner was a soccer fanatic so the bar screened English Premier League matches every Saturday.
Club 95
[
]
Main article: Club 95
95 Club Street, tel: 6325-9595.
Situated in a busy nightlife area in downtown Singapore, this lesbian-owned and managed bar offered a relaxed, cool, modern style, with excellent music and a friendly welcome. Saturdays were theme nights. It was open daily from 7pm till late. Happy hours were from 7-9pm.
Toca Me
[
]
Main article: Toca Me
Toca Me[14] was situated at 95 Club Street, in the same unit as the now-defunct Club 95. It was a small and cozy bar primarily for lesbians, but it was also great for lounge lizards. Opening hours were from 6:30pm to 12am (Mondays to Thursdays), 6:30pm - 2am (Fridays and Saturdays). It was closed on Sundays.
Sky Bar

[

]
47 Neil Road.
A karaoke bar run by lesbian owners, it was patronised by a mixed gay and lesbian crowd. It held soup nights and pool tournaments.
Fuego
[
]
5 Gemmil Lane. Telephone number: 6327 1098. Happy Hour: 6-9pm daily.
Boasting a dance floor specially for dancing, this salsa bar doubled up as a dance studio in the daytime. At night, it was a regular bar where regulars from the nearby offices would come to chill-out and knock back a few. The drinks were good and the DJ played Latin music from 9.30pm everyday. There were free salsa classes on Sundays. This gay-friendly establishment also hosted an occasional pink party.
Bar Empire
[
]
Level 4, 114 Neil Road. Telephone number: 9336 1776 / 94753234.
This rooftop bar may have been a tedious hike up three storeys but it was well worth it for women who loved the bar's zero tolerance policy that refused men onto the premises, even if they were gay. The girls were assured privacy in this intimate, family environment, where they were served by the owners themselves. Besides the indoor area that housed a pool table, there was alfresco seating offering a bird's eye view of the surrounds and street below. There was a mean Martini menu listed from A-Z, with some originals concocted by the owners themselves. On weekends, the tables indoors were pushed to the side, music went up and strobe lights went wild as the girls got their freak on on the makeshift dance floor.
Cow & Coolies
[
]
Main article: Cow & Coolies
30 Mosque Street, tel: 6221 1239.
A pared-down karaoke pub and well loved watering hole in the heart of Chinatown for especially Mandarin-speaking womyn to showcase their vocal prowess, belting out the latest Chinese hits. It contained a bar and pool table, which together with the wooden log wall panelling made it reminiscent of an old western bar and tavern.
It was easy to assimilate into this relaxed, unpretentious ambience as the regulars croon their favourite Chinese pop and love songs or shoot some pool. The girls here were friendly bunch, too.
After a period of time, it became lesbian night only on Wednesdays.
Ladies District
[
]
Main article: Ladies District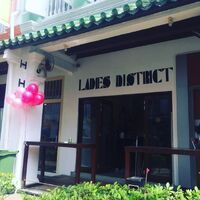 Ladies District was a queer women's organisation that operated an eponymously named lesbian nightspot in late 2016 at level 2, 68 Dunlop Street. The premises incorporated a bar called at Tipsy Bar. The last party at the venue was held on 29 April 2017 on a long weekend with an entry price of $15 with one complementary drink before midnight and $10 after 12am. It consoled its patrons with a message that it was not a permanent closure and that it would be relocating to a new address. A few months later, it reopened at 72 Duxton Road. The bar finally drew its shutters in 2018.

Discos/Clubs
[
]
Originally catering to a gay customer base only once a week, usually on Sundays, newer small establishments have managed to survive on the burgeoning pink market by going full-time, on every night of the week.
The first establisment which held a gay disco night every Sunday in the late 1970s as far as older members of the gay community can recall was a seafood restaurant at the end of the road leading to Punggol (formerly spelt "Ponggol"). It probably had a nondescript Chinese name which is why no one seems to be able to recall it. According to some sources, there were 2 other seafood restaurants out of the handful or so located there which doubled-up as gay discos on Sundays.
One of the reasons why a seafood restaurant at such a peripheral location could transform itself into a gay disco may be the fact that the mindset of the police regarding the taboo on same-sex dancing underwent a sea change in the late 1970s. As a reward for the seafood restaurant's bold experiment in converting its premises into a gay disco on Sunday nights and since their male customers were allowed for the first time to dance with each other, it experienced an upsurge in business as gay men flocked to the place packing it to the brim. One must bear in mind how far the end of Punggol Road was and how much past-midnight taxi fare would have cost. Furthermore, if the place was packing them in on a Sunday night when people had to wake up early the following day to go to work, it demonstrated how starved of a place to dance gay people were. The remoteness of the place could have helped it to evade police detection. Alternatively, the police knew and was prepared to close one eye because being in such a distant corner of Singapore, it disturbed nobody.
The early 1980s was a period of widespread prosperity and new freedoms which saw the opening of clubs like Marmota,Shadows, Legend and Niche which catered to a predominantly gay clientele even though they were not exclusively gay. These discos would be closed by the time of the mid-1980s, for unclear reasons, to be replaced by weekly Sunday Night Gay Parties or "Shadow Nights" run by the former management of Shadows (affectionately known as the "Shadow Management"). These "Shadow Nights" were roving events held at semi-permanent venues which included Rascals (at the Pan Pacific Hotel), Heartthrob (at Melia at Scotts), The Gate (at Orchard Hotel), Music World (in Katong) and Studebaker which later morphed into Venom (at Pacific Plaza). It is interesting to note that men's night parties held since Studebaker were no longer run by the "Shadow Management".
These events were now officially sanctioned and no longer discouraged by their managements. Men were not prevented from dancing with other men as they were in the previous decades, even during slow numbers. No Police raids at these establishments took place. With these weekly gatherings for energetic dancing to let off steam and meet new friends, homosexuals felt the first bonds of a relatively cohesive community- a warm feeling of being welcomed into a new brotherhood, in contradistinction to erstwhile isolation, alienation and loneliness for many.
Main article: The Hangar
Singapore's first gay pub-cum-disco located in a hard-to-find offshoot from Upper East Coast Road near Bedok was operational from the 1970s to the early 1980s. One had to trudge along a length of unpaved road up a mild slope to gain access to the bar, which was housed in a whitewashed, relatively linear, cluster of elongated, small, single-storey bungalows known as The Summit Hotel. However, for those who drove, parking (albeit illegal) was easy to find on the opposite side of Upper East Coast Road as it was then just a patch of undeveloped grassy land and not the complex of condominiums, such as Bayshore Park, which exists today. The Summit Hotel was probably a clump of former colonial bungalows which was converted into a budget hotel to cater to Caucasian and Asian visitors. Today, a condominium called The Summit sits in its place. The patrons of the Sunday-only gay disco were Westerners as well as locals, although its existence was not very widely known. Looking back, some customers presently in their late fifties could not imagine how they could have grooved to the now seemingly uncool hits of that era like 'Beautiful Sunday' by Daniel Boone. Drag queen shows were sometimes held on Sundays.
A Singaporean who visited the place in the 1980s, near the time of its closure, recalls that it had the atmosphere of a cheap disco for the working class where patrons could just buy one drink and sit or dance for a long time. During a change of proprietorship, he was introduced to a couple of shareholders who actually, coincidentally, worked in the hangar or some engineering outfit![16]
Main article: Marmota
Located on the second level of Kallang Leisuredrome above the bowling alley and operating in the early to mid-1980s, it was one of the first to hold regular Sunday gay nights. One would find the dance floor packed with the then-unusual sight of men dancing with each other. However, this happened only during the fast numbers. When the slow songs came on, the dance floor cleared faster than as if a tsunami threatened and only the daring ones irresistibly smitten with their partners were left in tight embrace to be ogled at by those on the sidelines. It was the first disco to organise unofficial masculine Mr. Gay Singapore contests long before Manhunt began. Ironically, the first winner of the contest was a straight boy named Oliver. The disco underwent several renovations and name changes over the years.
Legend

[

]
On the third level of Lucky Plaza, it opened when Shadow at Kallang Leisuredrome closed down. It was in operation for only a couple of years in the early 1980s before the hotspot moved in 1983 to Niche at Far East Plaza (see below).
Niche
[
]
Main article: Niche
Located on level 5 at Far East Plaza), it opened in April 1983 to cash in on the popularity of Marmota and was more patronised by the English-educated crowd. It spawned a popular latter-day namesake at 32 Pagoda Street in Chinatown, exactly where Absolute sauna and later Ten Mens Club now stands. This second incarnation in Chinatown had its liquor license withdrawn in 1989 and was given only a week to close down. No reason was provided for the police action but a person, personally involved in the running of the disco, believed it was a reaction to the first reported case of an AIDS death in Singapore.
Rascals
[
]
Main article: Rascals
Located on the ground floor annexe of the Pan Pacific Hotel in the Marina district, Rascals disco held gay parties every Sunday night in the early 1990s.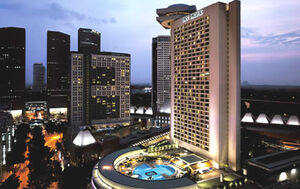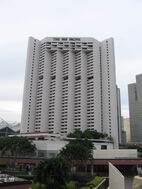 The most infamous incident, which won it a significant place in Singapore's gay history, happened on 30 May 1993 when the police conducted a raid there, on a Sunday gay night (see main article: Rascals incident). When the lights came on, patrons were lined up, shouted at, and asked to show identification. Those who did not have identification with them were taken to the precinct station at Beach Road. However, they were released the following morning without being charged, which indicated that it was an act of intimidation.
A group of 20 people, mostly the same people involved in PLU then and headed by lawyer Wilfred Ong, sent a letter of complaint to the precinct police station about the harassment. Totally unexpectedly, they actually received an apology from the police, not for the raid itself, but for the rudeness of the police officers! This was hitherto unheard of, as far as police raids on homosexual congregations were concerned.
To commemorate the seminal event, the organisers of IndigNation, People Like Us (PLU), launched a biennial award worth S$2,000 (US$1,500) called the Rascals Prize to recognise the best research work related to LGBT topics in Singapore[17] on Friday, 1 August 2008, 7 pm, at 72-13, during the reception of IndigNation 2008.
After the closure of Rascals, Sunday gay parties organised by the Shadow management moved to other discos popular in the early 1990s such as Heartthrob (at Melia at Scotts), The Gate (at Orchard Hotel), Music World (in Katong) and Studebaker which later morphed into Venom (at Pacific Plaza).
Music World

[

]
2-level disco in Katong Shopping Centre along East Coast Road, operational in the early 1990s.
Studebaker

/

Venom

/

Chinablack

[

]
Situated on the top floor (level 12) of the present Royal Plaza on Scotts (formerly called Pacific Plaza) at 9 Scotts Road, Studebaker was the largest and most posh disco that homosexuals had ever experienced in Singapore. It was sprawled over 2 stories and had quality furnishings. Gay men could pay to become members who were given privileged access without having to queue up, and also the use of its private rooms. In the late 1980s, openly gay entrepreneur Max Lim organised his Asian Men's Club (AMC) disco nights there on Sundays. Later, Lim moved the party to New Fire Disco (Friday - Torso Nite) on the 5th level of Orchard Plaza and later, to Dancers - The Club (Sunday - Oscar Nite) at Clarke Quay[18] (see below).
The disco remade its image several times over since the early 1990s to remain fresh and introduced webcams where people could see who was dancing in real time by logging onto the Internet. Needless to say, this raised a howl of protest. In 1998, it changed its name from Studebaker to Venom. In May 2001, rumours circulated that Venom was allegedly refusing entry to several people who were suspected of organising competing gay parties[19].
New Fire Disco
[
]
After organising his initial Asian Men's Club Sunday parties at Studebaker's, Max Lim moved the parties to New Fire Disco, located on the 5th level of Orchard Plaza. They were unusually held on Fridays, from 9 pm to 3 am and called Torso Nite. It was popular in the early 1990s with many teenagers and young adults. Many of them were Malays. Dress code: rugged, singlet and leatherwear. Entrance fees: $13 for members (sign in 1 guest at member's price), $18 for non-members. All prices inclusive of one drink, exchangeable with coupon.
Dancers - The Club
[
]
Located on level 3 of Merchant Court, Clarke Quay, 3A River Valley Road. After New Fire Disco, Max Lim organised Sunday disco parties at Dancers - The Club from 9pm to 3am. These were called Oscar Nite and took place in the early 1990s. Dress code: only in one's best. Entrance fees: $11 for members (sign in 1 guest at member's price), $15 for non-members. All prices inclusive of one drink, exchangeable with coupon.
Centro

[

]
One of Singapore's largest discos on the third level of One Fullerton (opposite Fullerton Hotel), Collyer Quay with gay Sunday Boys' Nights. It opened in 2003 but closed in September 2004[20] to be succeeded by Onyx at the same location but under a new management.
(Main article: Happy: Singapore gay disco)
Happy was a gay disco opened and co-owned by impresario Alan Seah and Glen G. in August 2004. Its official opening was on 23 September 2004[21]. It took over when the former disco, Taboo, vacated the premises. It was located at #01-02/03/04, 21 Tanjong Pagar Road, Singapore 088444 (Tel: +65 6227 7400, Fax: +65 6227 7440).
Main article: Why Not?
56-58 Tras Street, very near the Tanjong Pagar MRT station, tel: 6323-3010. Former karaoke pub which was converted into a disco after the karaoke craze died down. Less posturing and more wild dancing than at Happy. In 2003, its manager was Louie Chang[22]. Despite drawing the young crowd, it closed down in mid-2007.
Waterbar
[
]
This was an interim venue, located along Craig Road, used by proprietor Addie Low during the shift of his disco, Taboo from 21, Tanjong Pagar Road (taken over by Play) to its current location along Neil Road.
Cocconuts

at

Cocco Latte

[

]
Located at 76 Robertson Quay #01-09, along the perimeter of the Gallery Hotel at Mohd Sultan Road, tel: 6735-0402.
2-storey club with an intimate lounge area on the first floor and DJ on the second. Despite unique features like kitschy decor, striptease poles, flashing neon signs, drink specials and date-matching via number tags, the atmosphere is rather sedate. Open Tuesdays to Sundays. Sunday nights is Cocconuts, a boyz party from 7pm-3 am. It closed down towards the end of 2006 but has been reincarnated under the same management at the Home Club at Riverwalk Galleria.
Read Fridae's review of the venue[23]:
"Another contender to the Centro Sunday heritage is Cocconuts (now don't you just love that name) at Cocco Latte? Also fairly new having just opened in June, this club is quirkily housed in its own 2-storey structure just along the perimeter of the Gallery Hotel. Typically funky and intentionally kitsch, the mod-retro-inspired lounge area on the first floor is decorated with furniture and ornaments designed and made by its owners (a candelabra of plastic bangles, anyone?). The clubbing section on the second floor is a fun space designed as a strip bar of sorts with flashing "Live Sex" and "Nude Girls" neon signage, and - get this - stripper poles for the go-go-boy wannabes.
While ultra gay-friendly considering its eccentric and artsy quality, the club does seem to attract a scattered few breeder-types. Perhaps lost (or perhaps still harbouring some unresolved identity issues, ha!), these partygoers tend to be the designer/ fashion-student sort with crazy, psychedelic hair and, occasionally, multiple face piercings. All this abundance of style and personality, while engaging in a curious way, is perhaps not quite what the Sunday Boys are looking for. Despite drink specials and the prospect of date matching (they have a system of tagging customers with number tags so that you can report the one you like to the cupid master, and if it's a mutual match, then voila, you've got yourself a hook-up!), the crowd was weak and rather disappointing. Consisting mostly of small groups of friends sitting and chatting, there wasn't much energy in the air and people certainly didn't look like they were out to party in spite of the thumping hip-hop, house and electronic music. Worst of all, despite its allure, there was no groin-grinding to be seen at all on the poled platforms. What a letdown!"
Club Momo

[

]
5 Magazine Road, Central Mall, tel: 6535-3030. Nearby Clarke Quay MRT station. A huge new dance club launched by the former operators of Venom and Chinablack. Features include drag shows, snooker tables, Sunday gay nights and valet parking.
Chinablack

[

]
The present reincarnation of Studebaker's/Venom occupying the sprawling 2-storey penthouse on level 12 of Pacific Plaza at 9 Scotts Road, tel: 6734-7677. It has 3 bars, a dance floor, an Oriental theme including teak panelling, Indo-Chinese lamps and Chinese calligraphy wall hangings. Features techno beats and gay anthems, ideal for bare-torsoed exhibitionists itching to strut their stuff on platforms.
Read Fridae's review of the venue[24]:
"Finally, harkening back to the fabulous Sunday gay nights of yesteryear at the now-defunct Venom is the newly minted theme night at Chinablack. While occupying the same premises as the former - the top floor of Pacific Plaza - this club has in recent years gained notoriety as a hangout for university kids and - dare I say it? - bengs and lians. Perhaps wanting to regain a stake on the former glory of its predecessor, it's now decided to reintroduce Sunday Boys' Night.
Cavernous and tomb-like, the dark interior of the club leaves little of its decor to be observed, save for the bits of oriental elements (yay for Chinese characters on the wall) strewn about as obvious homage to its name. With three main bars lining the dance floor, getting a drink isn't too much of a tedious process here, unlike how it is at many other clubs where you usually have to jostle and claw your way to the bar counter, after which you're dealt with the bartender acting like he's a circus performer twirling his bottle in the air and pretending to be too busy to take your order. (Damn them.) Maybe gay men don't drink or simply don't understand the concept of drink specials, but there was practically no one ordering, and my bartender (who behaved like one and actually poured drinks) seemed quite happy to service. Hmmm, wonder what else he's happy to do.
Just the atmosphere considered, it would seem that Chinablack bears most resemblance to the former Centro. Pulsating with grooving taut bodies, and yes, showcasing topless show-offs on the platforms, the vibe of this place simply rings 'PARTY'. The music is practically a rip-off of Centro with typical techno beats and gay anthems, and boys snogging and gyrating with each other, legs intertwined. It's great too that there're plush sofas at the VIP section, but considering it's for the Very Important only, one would probably have to slut around a little before landing a spot on the prime seating."
Onyx

[

]
At One Fullerton (opposite Fullerton Hotel), Collyer Quay. Nearby Raffles Place MRT station. Formerly known as Centro, the venue's theme remains the same - shirtless worshippers slaving to the beat and soaking up the sweat, muscle and sexual energy. Sunday is their ONS (One Night Stand) gay party night and women are discouraged from entering by charging them higher entry fees.
Reload @ RAV

[

]
69 Circular Road, #01-01, tel: 9191-4846.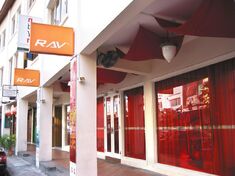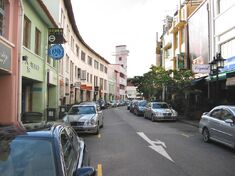 Singapore's first gay after-hours club spinning progressive and tribal house. RAV decks itself out in a vibrant coat of red and a kaleidoscope of enticing lighting. There is a cozy semi-enclosed chill lounge off to the left of the dance floor. Saturdays and Sundays, 3am to 6 am.
Play
[
]
The bar and dance club Play[25],[26],[27], under the management of Ben Ong, took over the units at #01-02/03/04, 21 Tanjong Pagar Road, Singapore 088444 from Happy disco in early 2007 and injected fresh concepts to cater to the younger partygoing segment. Play closed in February 2014.
Rewind
[
]
A chill-out gay bar-restaurant right next to Play disco at #01-05, 21 Tanjong Pagar Road and under the same management. It was advertised as the ideal hideout, classic cocktails done right in a timeless space that takes one's mind back to the days when drinks were made with a passion and the people mixing them remembered one's name. Rewind afforded the visitor a sanctuary from the ordinary. Occupying a private niche between a club and a restaurant on the ground floor, the bar combined a warm, textured indoor space with a cozy outdoor courtyard. Like Play, it also closed in February 2014.
Actors Bar
[
]
Located at 13A to 15A South Bridge Rd (opposite the Riverwalk Apartments, above 7-11), tel. 6533-2436. Actors Bar is a friendly club with a mixed straight, lesbian and gay crowd consisting of people from all walks of life. Happy hours are from 6-9 pm with 3-for-2 pricing. They have a live band Jam Bar where customers can make use of equipment such as bass, congas, drums, guitars and keyboards. Open daily from Monday to Saturday.
Check in
[
]
Check in

- 235 South Bridge Road. Tel: 62244281.
Club 28
[
]
Club 28

- #03-19A, 100 Eu Tong Sen Street, Pearls Centre and 78 Desker Road. Tel. and table reservations: 92371822. A new concept called a 'Flower Boy Club' introduced into Singapore in 2013 where patrons pay a fee (usually $50) for a place at a table where they can chat with a choice of Thai, Vietnamese and mainland Chinese hosts.
Zirca
[
]
A mega disco club situated at #01-02 to 05, Blk. 3C, The Cannery, Clarke Quay, River Valley Road (exactly the same location as the former Ministry Of Sound). Gay nights are on Sundays when the party, often themed, is called "Superstar"[32]. Gay DJ George Leong[33] spins the music. The cover charge is $18, inclusive of 1 drink and doors open at 10 pm.
Velvet Underground
[
]
Situated at 719/21 Jiak Kim St (part of the Zouk disco complex), tel. 6738-2988. Best to go by taxi. Trendy hybrid of high and low design. Great music. More mature crowd than Zouk, flashy and upmarket, mixed ethnically, mixed sexually. Often Thu nights is very happening since it's Crew Night (air crew can bring in a guest for free)! Admission varies, but you also get into adjoining Zouk for free. Best to come here with a friend.
Zouk
[
]
Located at 17 Jiak Kim Street, tel: 6738-2988, Zouk was built inside 3 warehouses along the Singapore River that date back to 1919. Still one of Asia's trendiest clubs, the interior design was influenced by a mish-mash of styles from Moorish North Africa and Gaudi's Park Guell to Aboriginal art and Turkish baths, with a mix of minimalist furniture, mirrored walls, high-tech lighting and plasma screens thrown in. The complex is divided into 4 distinct areas. The flagship Zouk club which is globally renowned with a mainly house and techno policy is a favourite with many gays. It is accompanied by Phuture which covers big beat, drum & bass, down tempo, nu jazz and anything experimental. Meanwhile Velvet Underground aims to achieve an intimate club experience. This is a place for slightly older clubbers with cosy alcoves and comfortable lounge areas as well as a well-stocked champagne cocktail bar. Another section is the Wine Bar, a pre-club bar and chill-out zone with an outdoor seating area and a cafe offering hot dogs and sushi. Zouk club is very organised about who is spinning on which dates. The best time to meet gay folks is when guest DJs are in attendance, so the schedule on their website should be checked. However, because of the upscale, mixed crowd, discretion is warranted. Packed on Fridays and Saturdays. Wednesday is the Retro day, although not really that gay. When big-name international DJs perform, one should arrive between 7-9pm to get cheaper tickets as prices rise after 9 pm.
St. James Power Station
[
]
St. James Power Station

[38]
Only gay in its "Fabulous" section on Sunday nights, it was the place to see and be seen on weekends. However, it had a strict "no topless" policy for gay men, which its bouncers enforced.
Liquid Room
[
]
Its address is #01-05 The Gallery Hotel, 76 Robertson Quay, tel. 6333-8117. Great music in the bar area. Mixed crowd, some gays, predominantly Caucasian/Chinese crowd.
Hyperise
[
]
Hyperise

- A Sunday gay disco night organised by Hypertainment Events held once every few months at 1-Altitude, One Raffles Place, Rooftop. Hypertainment is the dedicated party division of Creative Clinic. For marketing collaborations and advertising opportunities, contact Adrian at info@hyper.com.sg.
Salvation
[
]
The Butter Factory
[
]
The Butter Factory

[41],[42] - 1 Fullerton Road, #02-02/03/04, Singapore 049213. Tel: 6333 8243. E-mail: admin@thebutterfactory.com. Opening hours - Wednesdays: 11pm - 4am; Fridays and Saturdays: 11pm - 6am. The Butter Factory is an imaginative, bold and ground-breaking party blend of urban grooves, cutting-edge electronic music, fashion, design and art. Located at One Fullerton, The Butter Factory offers popular and alternative culture, along with a variety of party music to get down to, spread across two loud rooms.
Saunas
[
]
Before the 1990s, local homosexuals had to journey all the way to Bangkok, Thailand to experience the pleasures that gay saunas offered. It became more convenient in the early 90s when an establishment called Ryu, meaning 'dragon' in Japanese, opened in Taman Pelangi near the Pelangi Complex in Johor Baru, Johor, Malaysia. Hot on the heels of its overwhelming success in attracting huge crowds of both Singaporeans and Malaysians, another gay sauna called New Blue Boys opened at 104 A-B, Jalan Serampang, Taman Pelangi, 80400, Johor Baru about a year later. Some Singaporean gays would charter taxis in groups to traverse the causeway and experience what was sorely lacking at home.
Spartacus
[
]
Main article: Spartacus (Singapore gay sauna)
The first gay sauna in Singapore opened in 1997 by pioneering entrepreneur Max Lim. It was 3 storeys of hedonism, with a daily gay disco on the ground floor fringed by an overhead observation deck, and showers, a gym and sauna above that. It was strict about sex at first, displaying signs which read, "No obscene acts allowed", but the rule was gradually relaxed after everyone realised that the police did not bother to harass its patrons. The sauna could be recognised immediately from its external facade because of its colossal signage and the painted sketches of nude gladiators on its external wall facing South Bridge Road, near its junction with North Canal Road.

It experimented with the novel concept of giving its customers the option of buying shares in the business. It also pioneered services like offering upmarket buffet meals on its premises, but unfortunately, demand for the meals and disco was poor, even though the spa facilities were a resounding success. It closed in late July 1999 due to high rental costs and other factors.

Stroke
[
]
Main article: Stroke
The successor to Spartacus under the same management, located at 22 Ann Siang Road, it had a spell of success from 2000 to 2002 when it was the only gay sauna in Singapore and also the first to open 24 hours a day, all year round. The opening of other gay saunas to break its monopoly forced its owner to move into newer premises to refocus its strategy two years later.
Rairua
[
]
Main article: Rairua
A 4-level sauna along Neil Road, the brainchild of gay activist Alex Au, it opened in 2002 and positioned itself as Singapore's first luxury gay sauna, with prices to match. Its reputation for cleanliness was superlative as employees were tasked to clean the dark rooms every hour and the hot pool was completely drained of water and scrubbed once every few days. The name "Rairua", essentially meaningless, was chosen because it was cheaper to buy a domain name on the Internet for advertisement purposes which was not a popular word or words which would be hotly contested by other entrepreneurs.
It pioneered Singapore's first 'skin nights' touted as 'all nude, all floors, all night', a concept that unexpectedly proved so popular amongst supposedly 'conservative' Singaporean gays that such nude nights spread to all saunas within the span of one year and continue to be the major draw for all local gay saunas today. However, initially, patrons were coy and reluctant to parade in the altogether, so "Sarong Nights" were introduced as an aperitif in which semi-transparent plastic sarongs were handed to customers to wear instead of requiring complete nudity outright. As Singaporeans got used to the idea, it became easier to introduce the classily named "Simply Skin" nights in which nudity on all the upper levels was strictly enforced by an employee stationed at the base of the ground floor staircase. Rairua also organised special events like cultural talks, personalised photography [43] and naturist art sessions, and erotic dancing by showerboys. Unfortunately, due to the expiry of its lease and disagreements with its landlord over maintenance, the proprietor and his business partners decided to close it down without any prior announcement on Monday, 25 April 2005[44].
Main article: Raw
[45] 45 Ann Siang Road #02-02 just behind Maxwell Food Center and a 5-min walk from the Tanjong Pagar MRT station, tel: 6222-2252.
The third sauna established by entrepreneur Max Lim in 2003, its competitive advantages are its budget entry fees, 24-hour opening times and a 'barracks' containing individual rooms for those desiring to stay for prolonged periods. It pioneered the concept of theme nights, which later spread to all saunas. This introduced variety and catered to subsegments of the gay crowd such as chubs, foam party lovers, minority races, foreigners and sun worshippers. It also experimented, for a short period, with an a la carte restaurant on the ground floor, a transvestite cabaret and male undergarment/swimming trunk fashion shows. It was the only sauna to proudly hang a rainbow flag, an LGBT icon signifying diversity, outside its main entrance. It is located next to Ann Siang Hill, already a popular cruising ground. Membership is no longer required.
Towel Club
[
]
Main article: Towel Club
Former website:[46].
Opened in 2005, it was located at 6 Loke Yew Street, easily accessible via the City Hall MRT station. Tel: 6336-6328.
It had private suites, group areas, a steam room, jacuzzi, hydrojet cool pool, cafe and private sun deck. Open Mondays to Fridays from 4pm and on Saturdays and Sundays from noon. The crowd was a mix of locals, expats and visitors. It was billed as Singapore's largest gay sauna and it was also the most expensive. Its monthly, hugely popular nude nights were cheekily called "full moon parties". The latter were held once a month on the 15th day of the Chinese lunar calender during which youthful attractive patrons were the greatest attractions. It was consistently ranked as the most popular gay sauna in Singapore through various polls.
It closed down end 2007. Their website announced that it would open at a new location but never did. One source reported that the owners were negotiating a lease for a unit near Outram Park MRT station but the final outcome was uncertain.
Another gay sauna with the same name of "Towel Club" opened later in Hong Kong at 70-74 Morrison Hill Road on the third floor of Amber Commercial Building, Causeway Bay near the Golden Dragon[47]. Catering to a mixed crowd, it featured high end decor with clean, private rooms, a dark maze and a group room with a flat bed positioned at the right height where lots of action took place. It held theme nights like Speedo nights and tattoo nights. However, it cannot be confirmed if it was run by the same management as its Singapore counterpart.
V-club/Sphere
[
]
Main article: V-Club
7 Mosque Street, near Chinatown, tel: 6221-2729.
V-club was a 3-level sauna appealing to a mainly Chinese-educated clientele which opened in the mid-2000s. It has the most nude nights in a week - on Fridays, Saturdays and Sundays. A unique feature of the sauna was a room next to the showers on the topmost floor which had water-filled mattresses, resembling waterbeds, with a hose nearby, presumably for "water sports". Snacks and drinks could be obtained on the ground floor. After a couple of years of operation, it underwent a facelift and changed its name to Sphere. It closed down on Sunday, 11 March 2007[50] despite a rumoured attempt at keeping the enterprise afloat via an infusion of funds from an investor.
The Box/Shogun
[
]
Main article: Shogun (Singapore gay sauna)
The Box was Singapore's first cruise club. It was located in a shophouse at 182, Telok Ayer Street, near Tanjong Pagar. The cruise club concept whereby patrons could look for hook-ups clothed within its premises, or in various stages of undress according to their comfort level, proved less popular locally. So it was later converted into a gay sauna, using the new name of Shogun spa. In mid-2006, it shifted its location to another shophouse several units away, from 182 to 176 Telok Ayer Street (telephone number 6221-0367). Shogun was one of the last saunas in Singapore to introduce nude nights. No membership was required.
This incarnation at 176 Telok Ayer Street closed down in mid-2007 and moved yet again to 18A Hong Kong Street, across the road from the Central near Clarke Quay MRT station.
Shogun finally settled at its current location at 51A Pagoda Street.
Blue Heaven
[
]
Main article: Blue Heaven
2 Jalan Pinang, near Bugis Junction outside the CBD. Parking is available at the Golden Landmark Hotel. The Bugis MRT station is closest. From here, it is a 5 min walk in the direction of Sultan Mosque. Tel: 6295-5668.
Established by naturalised Frenchman Jacques Marly who was a chef-turned entrepreneur, it had a full gym, a cafe with free Internet access (the first gay sauna to offer such a service), and a large steam room. The entrance fee was inexpensive and no membership was required. It was patronised by a crowd of all nationalities. Nude nights were on Sundays; Thursday nights were for 20-somethings only. Another 4 men were arrested here in April 2005 in a police raid masquerading as a night-time fire-safety inspection. It ceased operating in mid-2005.
Diamond Health Centre
[
]
Main article: Diamond Health Centre
05-01, Sultan Plaza, 100 Jalan Sultan near its junction with Beach Road, tel: 6392-2396. It is unique amongst gay saunas in that it charges a standardised entry fee of $19 and that it closes relatively early even on weekends.
It started as a straight sauna offering massage by women masseuses, but gradually gained a predominantly gay, elderly Chinese-educated clientele. This phenomenon of homosexuals eventually forming the majority of patrons in a previously straight establishment is affectionately locally known as "colonisation". It was the first sauna to have a coin-operated karaoke machine on its premises, free buffets and Hollywood/Hong Kong movie screenings, all of which proved to be very popular. It closed in early 2005 for renovations and reopened for business on 29 May 2005 with a relocated entrance but has, since the latter date, been patronised mainly by elderly straight Chinese customers, making it more of a mixed sauna again. Recently Wednesday nights have been promoted for chubs and their chasers, with this phenomenon spilling over into the weekends.
Y Club
[
]
Main article: Y Club
Website:[52] (now defunct).
Located at 16A, Smith Street in the Tanjong Pagar area, it opened in November 2006, advertising itself mainly through the Trevvy website. It initially billed itself as a no-frills sauna and charged only $6 per entry at all times, with no membership required.
Absolute
[
]
Main article: Absolute
On level 2, 32A Pagoda Street, exactly where the now-defunct disco, Niche, used to be. Tel. 6423-1632. Singapore's first sauna to serve alcohol has a spectacular rooftop bar with gorgeous views of surrounding Chinatown. Protected from weather (and prying eyes on their fully nude nights), this is certainly the city's loftiest vantage for spotting new friends. The 5-floor facility is thoroughly modern with contemporary design touches and plenty of spaces to play. Level 2 contains the reception area, lockers, two Internet stations, TV and reading lounge, plus steam room and showers. The floors above feature plenty of private cabins, dark corners, and a maze, all well-stocked with safety supplies and cleaned at regular intervals. Check their website for operating hours and special theme nights including come-as-you-are martini nights, nude nights and free entry nights for youth. Mixed ages and races. Open until dawn on Fridays, Saturday nights and the eve of public holidays. The entrance fee at $26 is the steepest for any gay sauna in Singapore but it also has the most good-looking crowd.
Club One-Seven
[
]
Main article: Club One-Seven
An upmarket sauna at 17 Upper Circular Road between Boat Quay and Clarke Quay. The Raffles Place MRT station is closest. Tel: 6223-0017.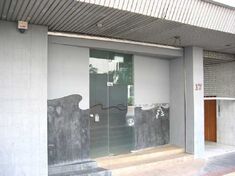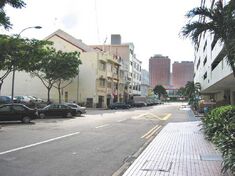 Nude nights start on Friday from 7pm till Saturday morning. Saturdays from 7pm to midnight are 'short towel', and after midnight it is 'skin'." It was the first to have an al fresco swimming pool which later had to be covered up, as office workers in the neighbouring building could have a bird's eye-view of the frequently naked men lounging around the poolside. The floor above, which was formerly occupied by a bank, was acquired and renovated at great expense in 2004 which effectively doubled its cruising space. Two men were arrested here by undercover policemen for homosex in 2003. Their penalty was commuted from a potential 2-year jail sentence under section 377 of the Singapore Penal Code to a mere $600 fine under section 20 of the Miscellaneous Offences Act in what may be a landmark ruling in Singapore legal history, as far as gay rights are concerned.
Hercules Club
[
]
Main article: Hercules Club
Situated at 4 Jln Klapa, tel. 6296-1018. No membership required. Three floors of facilities include a large hot jacuzzi, a steam room, designated smoking room, large play rooms, a mini cinema-style TV room, two Internet stations, dark maze and a small lounge. Theme nights such as chub and chaser, skin night, young night. Mostly Chinese locals, but everyone is welcome at this friendly, comfortable neighborhood sauna. Open from Sundays to Thursdays, 10:30 am till midnight. On Fridays, Saturdays and on the eve of public holidays, it closes at 2 am. It is run be the former Diamond Health Club management. It now attracts a new group of young people below 30s because they offer a 1-for-1 visit if you fall below that age. Tue skin nites have lately been popular with daddies and sons, chubs, cubs, bears and muscular men. Expect a lot of senior people there. During the weekends from Friday to Sunday, there is a mixed crowd who are keen to use the steam room andjacuzzi. The entry fee is S$15.
Queen Resort
[
]
Main article: Queen Resort
Situated at #02-00 325 New Bridge Rd, tel. 6222-2252. It is managed by well known sauna entrepreneur Max Lim and was formerly named Heater Room. It is a large, 5-storey men's complex offering sauna, gym, spa massage. It also includes Queen Resident[57] which provides gay barrack rooms for short- or long-term accommodation. Their "MPG" (Man's Playground) offers two hot jacuzzis, steam, dry sauna, single and sharing bathrooms, event room, private cubicles, "Obstacle Room," resting area, 6 free Net stations, two TV lounges, full-body sun tanning deck, Island Bar serving food and drinks, reading and chat area, and designated smoking areas. CCTV security in locker area. They aim to attract an multi-cultural crowd including western, Chinese, Indian, Malay and Thai men with special event theme nights to match. Max has also set up an online social networking service called Men Meet Men[58],[59] which is a further development from his now-terminated maleculture.com website when he was running his former saunas Stroke and Raw at the Ann Siang area.
Cruise Club
[
]
Main article: Cruise Club
Located at 285 New Bridge Road (just beside Oriental Plaza). Tel: 6224-6334. It held its launch weekend from Thursday, 8 December to Sunday, 11 December 2011. Facilities include a sun tanning machine, a gym, lighted deluxe jacuzzi, Internet station, movie studio, dark maze, meditation rooms, a space cabin steam room and a rooftop cafe. It closed down in late 2019.
Outdoor venues
[
]
Outdoor nocturnal cruising venues were the first places where homosexual men could seek others of a similar orientation in early Singapore.
From the examples listed below, one can discern the factors which made an area popular for gay cruising:
1) it must be a relatively large, open-air space that people could walk around and "go shopping", as it were
2) there must preferably be a place where they could sit and chat up each other before indulging in petting or oral sex
3) the areas in which these activities happen must be shielded from the gaze of passers by by foliage, man-made structures and the relative absence of lighting.
Another important principle which has governed the peculiar locations of contemporary outdoor cruising areas is the "gentrification-induced shift" phenomenon. Older areas which had been patronised in the past had to be abandoned as urban redevelopment caused the destruction of conditions conducive to cruising such as poor lighting, sparse human traffic and the presence of dark, derelict buildings/environs. Thus, the present siting of cruising areas in the Ann Siang area may be explained by the gradual shift of activity from Boat Quay to the China Square vicinity to Ann Siang Hill as these areas were successively gentrified. To some extent, a "shopping centre/public building shift" was likewise induced by redevelopment eg. from Plaza Singapura to the former National Library to Raffles City.
Boat Quay
[
]
Main article:

Boat Quay: gay aspects
The section of the bank of the Singapore River known as Boat Quay and the adjoining back alleys parallel to the Singapore River's west bank were very cruisy at night before the area was rejuvenated with the present row of restaurants in the early 1990s. It was lined by abandoned derelict shophouses and the river had already been cleaned up following Lee Kuan Yew's push in the 1970s. It therefore provided and ideal spot for night time cruising as one could stroll along the bank, the corridors of the abandon buildings or sit along the river's edge without being put off by the foul smell and litter that was present before the 1970s. However, police patrol cars would occasionally drive up and record the IC numbers of gay men who were doing nothing other than chatting with each other, a form of intentional harassment.
Surreptitious sex also took place at the foot and back alley of OCBC building nearby, before bright lighting was installed which serves no real purpose other than to deter nocturnal homosex.
Areas surrounding OCBC building such as the Raffles Place MRT station and the construction sites of buildings on the other side of Philip Street were also popular and gave rise to the novel phenomenon of car-cruising. Unattractive cruisers could increase their chances of picking up handsome gay pedestrians if they drove big flashy cars.
The streets traversing China Square, namely Hokkien Street, Nankin Street and Chin Chew Street were overrun especially on weekend nights by gay men and car-cruisers when the whole area was lined with abandoned, dark, derelict buildings in the 1980s. Many would stand or sit along the corridors of these dilapidated buildings and people-watch, chat, fondle each other or step into passing cars.
Esplanade Park
[
]
Main article:

Esplanade Park: gay aspects
The Esplanade or more accurately, Queen Elizabeth Walk, and not the current arts establishment which inherited its name, was also a popular area for gay men to meet each other from the 1970s to around 2000, when the Theatres on the Bay were built. Today, it is known as Esplanade Park and comprises the whole area between Queen Elizabeth walk and Connaught Drive. Flower pots, painted white and with a more complex shape than those found at Hong Lim Park, were also found there. One difference from those at Hong Lim Park was that they contained a hollow interior, which allowed men to sit inside the pots and indulge in petting or have oral sex whilst being shaded from external view by the shrubbery. The former Esplanade was frequented especially by gay young men who acted more girlishly than usual, or don makeup and earrings, to attract straight partners for the night. Others came looking for South Asian men, of which there were many.
A tunnel underpass located at The Esplanade also saw raunchy cruising activity during the same period. Interestingly, just across the road on the Padang, crowds of straight couples, especially on Saturday nights, could be discerned in the dark, making out on mats which they brough with them to lie on. Other parks which were relatively cruisy but less well known in the 1970s were Central Park, accessible via the long flight of steps up from River Valley swimming pool, Fort Canning Park nearby, Labrador Park, accessible only by car or motorbike, Mount Faber, the Botanic Gardens and MacRitchie Reservoir.
Fort Road beach
[
]
Main article: Fort Road beach: gay aspects
A new experience in open-air cruising afforded itself in the 1980s when a huge stretch of the East Coast was reclaimed by land filling. The minimum period for the earth to settle before the new land could be developed or have structures built upon it was ten years. Therefore, during this time gays would venture there, despite having to brave a long trek through secondary forest, to be able to cruise at the beach in splendid seclusion.
This cruising ground became popularly known as Fort Road Beach by the cognoscienti although there existed no official name for this stretch of beach. There were two main stretches. The moiety on the left, facing the sea, became closed off to the public in the mid-1990s and thus could no longer be used for cruising. This area became overgrown with undergrowth in due course. Gay cruisers had to be content with the right half which was had a slightly different character because of different geographical features.
Fort Road Beach became so popular with gay men using it for skinny dipping and sex, either in the more interior forested area or, the more daring ones right on the beach or in the sea, that it attracted several tabloid articles with titles such as "Homosexuals pollute East Coast". The New Paper and the Chinese-language evening tabloids on several occasions carried blurred pictures of men apparent having sex or walking naked along the beach.
The right half of the beach eventually also became closed to the public in early 2010 as development of the area was ramped up full swing.
Less frequented stretches of beach included the more secluded areas near Changi Point which in the past were occasionally visited by heterosexual Gurkhas and Korean construction workers who served as the draw for local gay men, the segment of East Coast Parkway near Big Splash and the area near the People's Association chalets.
Ann Siang Hill
[
]
Main article: Ann Siang Hill: gay aspects
Cruisy at night since the early 1990s, but much less so since a landscaped sanctuary named Ann Siang Hill Park was built in 2004 with adequate illumination so that clandestine activities are not so convenient.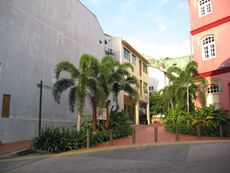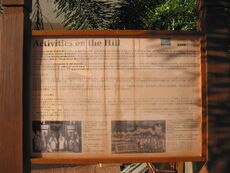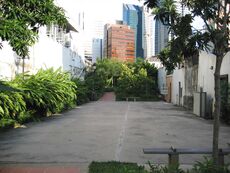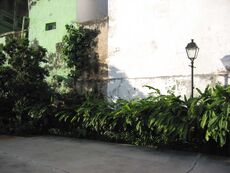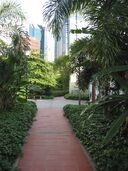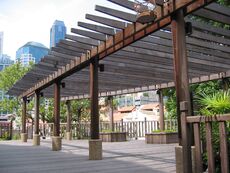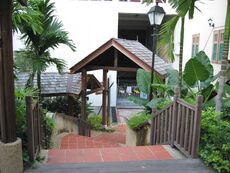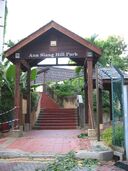 Less popular after the sprouting of numerous gay saunas since the late 1990s and the development of well-lit commercial complexes like China Square which replaced the dark, dank, derelict shophouses where night-time cruising took place.
Indoor public venues
[
]
Toilets
[
]
Main article: Public toilets in Singapore: gay aspects
Public toilets were thought to be the first local venues where gay men could meet others with similar intentions, as and when they felt the urge. This was typified by the especially heavily patronised at Chulia Street, just inland of the Singapore River where the flow of human traffic was the greatest, as the area was the busiest hive of economic activity on the island since its early history. These toilets therefore hold the ignominious distinction of being the cradle of the nascent gay community in Singapore.
Other cruisy roadside toilets included the ones at Clarke Quay, next to Balestier Market and at Merchant Road.
Swimming Pools
[
]
Main article:

Swimming pools in Singapore: gay aspects
The most notorious one no longer extant after its demolition in mid-2011 was River Valley swimming pool. It was one of the few public pools built in the city area, sandwiched between Liang Court and the imposing backdrop of Fort Canning Park. In April 2002, Lianhe Wanbao, a popular Chinese-language evening tabloid published an article entitled "Good husband has rendezvous with lad in public pool" which reported that a 48-year-old married man and his 27-year-old lover of 2 years each received a one-month jail term after confessing in court that they had committed an act of gross indecency at the pool on 11 July 2001 at 4:35pm[62]. The pair had waited until the other swimmers left before they had oral sex in the pool, underwater. It was also one of the few swimming pools where outdoor photography was banned, presumably because the gay men there, who tended to wear skimpy swimming trunks and who loved to sun tan, were very sensitive about having their photographs taken.
Less well known were Yan Kit swimming pool, Jurong swimming pool and Bukit Merah swimming pool.
Shopping centres
[
]
The upper levels and toilets of Plaza Singapura, Peace Centre and Serangoon Shopping Centre were popular cruising grounds during the 1980s.
Miscellaneous
[
]
A favourite cruising area in the late 1950s and into the 1960s was the passageway at Capitol Building that led from the street through to Capitol Theatre, although it was dangerously frequented in those days by hustlers who were not above blackmail.
See also
[
]
References
[
]
William Hoo

, "Has Tanjong Pagar Always Been SO Gay? Yes, According to History", Rice Media, 25 July 2019[63].

Chris K K Tan

, "Rainbow belt: Singapore's gay Chinatown as a Lefebvrian space", Urban Studies 52(12), August 2014[64].
Roy Tan, "Photo Essay: A Brief History of Early Gay Venues in Singapore"[65] in the book "Queer Singapore - Illiberal Citizenship and Mediated Cultures" edited by Audrey Yue and Jun Zubillaga-Pow, Hong Kong University Press, 2012. ISBN 978-988-8139-34-7[66],[67],[68],[69],[70],[71],[72].
Russell Heng's article on Yawning Bread, "Where queens ruled! - a history of gay venues in Singapore", August 2005. [73]
Russell Heng's article archived on Yawning Bread, "Tiptoe out of the closet: the before and after of the increasingly visible gay community in Singapore", June 2001.[74]. This paper was originally published in the Journal of Homosexuality Vol 40 Numbers 3/4 2001 Special Issue - Gay and Lesbian Asia: Culture, Identity and Community, edited by Gerard Sullivan and Peter Jackson, pp 81 – 97.
Alex Au, "Speaking of Bangkok: Thailand in the History of Gay Singapore", Chapter 9 in the book "Queer Bangkok: 21st Century Markets, Media, and Rights", edited by Peter A. Jackson, Hong Kong University Press, April 2011, ISBN 9789888083046[75],[76],[77].
Cruising Gays, City Hookup Guide, Singapore:[86].
External links
[
]
Photo albums of gay cruising venues in Singapore: [87]
General archival photos of Singapore
[
]
Acknowledgements
[
]
This article was written by Roy Tan based on his personal experiences, verbal accounts provided by friends and information on Yawning Bread, Fridae, SiGNeL, Blowing Wind, anonymous contributors and other Internet sources.