Jurassic World: Dominion Dominates Fandom Wikis - The Loop
Play Sound
The lesbian community in Singapore is thought to be smaller than the male gay community but there are no hard statistics available to support this impression. Lesbians have traditionally been more closeted than gay men but since the 1990s, they have become increasingly open about their sexuality and more visible in public.
Before the 1970s
[
]


With the wholesale importation in 1872 of the Indian Penal Code by the British colonial authorities into the Straits Settlements of which Singapore formed a part, the "unnatural sex" law, namely Section 377, came into force.
Chapter XVI (Offences Affecting the Human Body), Section 377 (Cap. 224) of the Singapore Penal Code stated that:
"Whoever voluntarily has carnal intercourse against the order of nature with any man, woman or animals, shall be punished with imprisonment for life, or with imprisonment for a term which may extend to 10 years, and shall also be liable to fine.
Explanation. Penetration is sufficient to constitute the carnal intercourse necessary to the offence described in this Section."
"Carnal intercourse against the order of nature" between individuals (of all sexes - the law being non-gender specific with its use of the word "whoever") was interpreted to include any form of sexual intercourse which did not have the potential for procreation.
Therefore, both heterosexual and homosexual oral and anal sex were criminal offences. In this respect, Section 377 did not discriminate against male homosexuals.
Theoretically, even lesbian sex which involved penetration, eg. of a finger, tongue or sex toy into the vagina or anus, would be covered under the law, although there are no records of any judge in India or Britain's numerous other colonies interpreting the law to include sex between women (see the main article: Section 377A of the Singapore Penal Code).
Prior to the 1970s, there was no known literature which documented lesbian love in Singapore. However, the classical work known as the Hikayat Panji Semirang (Tale of Prince Semirang), which dates from the 14th century and is based on Javanese folklore, was well known and beloved throughout South-East Asia, especially in the Malayo-Indonesian Archipelago. The epic poem tells of the adventures of a semi-divine princess who assumes the identity of a male warrior prince and contains numerous references to same-sex love (see main article: Hikayat Panji Semirang).
In a more local context, some think that Samsui women, who were Cantonese (90%) and Hakka (10%) indentured labourers from 3 districts in Guangdong province's Sanshui county brought to Singapore between the 1920s and the 1940s to augment the work performed by men in construction sites and other forms of hard manual labour, developed emotional and romantic relationships amongst themselves as they lived in all-woman enclaves and did not generally have intimate contact with men. Before coming to Singapore, most took vows never to marry. It is unrealistic to expect that women living under such conditions would have no need for sexual fulfillment. However, as most of them were illiterate, no documentation of their love for each other has been found. Nevertheless, according to a female academic from Hong Kong, it was common knowledge in the past that some of these women formed lifelong lesbian relationships. They could be identified by the fact that they wore matching jade bangles cut from the same piece of jade, just like contemporary Chinese wedding bands. It is interesting to note that many Samsui women lived the now-defunct Tofu Street (豆腐街) in Chinatown and that the Cantonese slang word for lesbian is 'dau fu'.
Academics have noted that Southern China, and subsequently the Chinese diaspora in Southeast Asia, had a tradition of all-female communities or 'sisterhoods', where members eschewed heterosexual marriage, maintaining, instead, close emotional relationships, occasionally spilling over to physical/sexual, with other community members [1].
"A Record of the Customs of All China" by Hu Pu'an, published in 1773, contains accounts of Golden Orchid Associations, women-only associations that practiced marriage-like ceremonies among its members in Guangdong province. Golden Orchid members still existed in immigrant Chinese communities (including Singapore) into the earlier half of the 20th century (see documentation of major episodes of homosexuality throughout Chinese history: [2]).
In a groundbreaking series of 4 newspaper articles on Singapore's lesbian community published in October 1972 (see below), an elderly Chinese woman who was interviewed and who had ties to Cantonese amah or majie groups, long suspected of lesbianism because they formed such a strong sisterhood and relationships, said that the latter were definitely sexual.
She cited in particular the Seven Sisters Association which existed in Guangdong province. The members of this very close-knit association married but tried their best not to consummate their marriages. It was therefore an association of virgins. After marriage these girls arranged a second wife for their husbands, then returned to the association where they paired off. They returned to their homes and their husbands on the first and 15th day of each month. If one partner died, they staged an elaborate "divide the comb" ceremony after which the surviving partner became free to find another sister. It is believed that the relationships were both emotional and sexual, and sexual objects were used by the women for gratification.
In a more local context, Pastor Miak Siew recounts that he was adopted by a majie. Although most women in the majie community took a vow of celibacy, that is not to get married to men and to remain single for life, there were a few who were same-sex couples. Siew's mother reminded him of Feng gu po (grandaunt Feng) and Siew gu po (grandaunt Siew) and pointed out that were a couple[3]. He was stunned at the revelation because they lived 3 doors away from his grandmother in a rental flat in Holland Close. He would spend afternoons sleeping on his grandmother's lap while they chit-chatted and all the time, he never realised. His mother said that they lived together till their deaths. They shared all they had, just like any other couple and they fought like any other couple. Some of them even adopted children together.
Writer Suchen Christine Lim has written a short story entitled "My Two Mothers" based on her experience knowing a friend who was adopted by 2 majies.

The 1970s
[
]

Schoolgirls in the 1970s were increasingly aware of the phenomenon of classmates developing crushes on each other and many had closeted sexual relationships. These were only gossipped about privately and were not mentioned in the press or broadcast media.
Adult women who had found groups of lesbian friends socialised largely in private gatherings, away from the glare of mainstream society.
There was a rumour that one of Singapore's most prominent female sporting icons was involved in a lesbian relationship but there was no public admission nor speculation about the individual's sexual orientation.
The first mention in the media of the existence of lesbians in Singapore was made in a groundbreaking 4-part feature by the English-language tabloid of that era called The New Nation. It was entitled, "They are different..." and was published on 4 consecutive days from Monday, 24 July to Thursday, 27 July 1972. It was the result of 4 months of extensive research by reporters Yeo Toon Joo, Betty L. Khoo and Lee Chiu San.

There was a paucity of information on lesbians as, presumably, they were much less numerous and more closeted than gay men. These are some excerpts which mentioned lesbians:
"Existing within society, but little known to the rest of it, is a group of people different from the rest in their sexual preferences. Those are the people who practise homosexual love, or sex with a partner of the same sex man with man, woman with woman."
"We were unsuccessful in the time at our disposal in penetrating the world of female homosexuals, or lesbians. It is believed that no gay society as such exists among them although groups of female homosexuals do gather. Also, they tend to be more secretive than male homosexuals. We had some measure of success with our survey on male homosexuals."
(For more details and scans, see main article: Singapore's first newspaper articles on the LGBT community).
Undaunted by her initial lack of success in obtaining information about Singapore's lesbian community, Khoo persisted and singlehandedly produced a second eye-opening series of 4 articles entitled "The Outsiders" three months later, in October 1972 (see main article: Singapore's first newspaper articles on the lesbian community).

The first portrayal of Asian lesbians in Singapore cinemas was seen in the 1972 Chinese-language Shaw Brothers production entitled 爱奴 (Aì Nú, literally, "love slave"; also the name of the female protagonist). It is known in English as "Intimate Confessions of a Chinese Courtesan"[4],[5],[6]. It starred actresses Lily Ho and Pei Ti as a lesbian couple in a period setting. In the final scene when Lily Ho wanted to desert Pei Ti to pair off with the male hero, she was asked for a final kiss. Whilst they were kissing, Pei Ti sneaked a poison pill into her mouth which she bit, thus transforming it into a poignant kiss of death.

The 1980s
[
]
Lesbians in the 1980s found opportunities to meet like-minded women in discos and bars which catered primarily to gay men on certain nights, especially Sundays. Later, when the rapidly expanding gay clientele enabled proprietors of these venues to open viable nightspots which served the gay community every single day of the week, lesbians would patronise these joints on days when business was quieter, such as Wednesdays or Thursdays.
The phenomenon of lesbian relationships was widespread and well known in convent schools in Singapore. The girl who was enamoured of her schoolmate was popularly called the "crusher" and the object of her affections, the "crushee".
In 1987, Madeleine Lim, aged 23, escaped persecution by the Singapore government for her organising work as a young lesbian artist-activist[7]. She fled to San Francisco where 10 years later, in 1997, she produced "Sambal Belacan in San Francisco", a film that is still banned in Singapore for its exploration of race, sexuality and nationality (see below).
The 1990s
[
]
The 1990s saw the rapid development of nightspots catering exclusively to the gay crowd. One of these was the disco at which the current Play is located, along Tanjong Pagar Road. On Saturday nights, passers-by could witness a queue of lesbians waiting to gain entry along one side of the entrance while another snaking queue of gay men formed on the other side.
The bar diagonally opposite on the other side of Tanjong Pagar Road, Moondance at unit no. 62, became the first bar which catered mainly to lesbians, in view of the obvious demand across the street. It was also because of the reputation Tanjong Pagar was gaining as the Castro Street of Singapore, with gay karaokes and bars like Babylon, Inner Circle and Why Not? located in the vicinity.
Occasionally, the sharing of common spaces by lesbians and gay men took on comical overtones. The first gay sauna in Singapore, Spartacus, located at 69 South Bridge Road, aimed to be a mini-version of Babylon in Bangkok, offering sauna and gym facilities, a restaurant as well as a disco on the ground floor which catered to lesbians on Thursday nights. People on the dance floor were visible to patrons on the second level as there was no ceiling to completely separate the first from the second level, only a peripheral encircling narrow corridor. So, lesbians dancing on the ground floor could see men clad only in towels walking around on the second level.
Teenage lesbians who had joined Gayteens held periodic get-togethers at EMOH (reverse spelling of HOME) Cafe Restaurant at 9 Circular Road.
Crocodile Rock became a popular lesbian bar in the 1990s. It was located at Lucky Plaza before the shopping centre became a focal point for the expatriate Filipino community. Initially, it was located on the fourth level but later shifted to another unit on the third level. It was subsequently relocated to #05-29, Far East Plaza, 14 Scotts Road.
Other lesbian bars which have sprung up, and closed down or stopped catering to the community since then include Alternative Bar along Tras Street, Sky Bar along Neil Road, Mad Monks Bar at The Riverwalk and Cow and Coolies along Mosque Street.
An interesting incident, which set tongues a-wagging in the lesbian community, was the one in which a prominent female sports icon was involved in a fight with a group of lesbians in the 1990s at Dada, a lesbian karaoke bar along Boat Quay.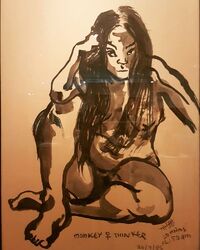 In 1992, pioneering lesbian artist Ho Soon Yeen, together with Dominique Hui staged an exhibition entitled, "We Kissed" at The Substation. One of the paintings on display was, "Monkey + Thinker", a self-portrait of Ho. In January 2017, the painting was again showcased to the public at the NUS Museum's Radio Malaya exhibition.
(Photo of Ho's portrait, on the left, shot by Ng Yi-Sheng in 2017.)

The mainstream availability of the Internet was a godsend to the lesbian community. It enabled them to join online discussion groups, the first of which was SiGNeL, set up by Singapore's most well known gay activist, Alex Au. However, this news list was dominated by gay men and the lesbian voice was a minor and periodic one. To rectify this deficiency, the completely lesbian news list, RedQueen, was set up in the 1990s by Singapore's most recognisable lesbian activist Eileena Lee. Lesbians could then forge a virtual community and discuss personal issues, significant events and plan gatherings in complete anonymity and safety. Membership in this news list was strictly limited to women and male applicants who may have been interested in lesbian issues were rejected.
A similar group, SAMBAL [8],[9], the Singaporean And Malaysian Bisexual women And Lesbian international e-mail list, which catered to queer women both in Singapore and Malaysia was co-founded in the late 1990s by Madeleine Lim, a Singapore-born lesbian producer, director, editor and cinematographer based in San Francisco[10]. Lim was the first local lesbian personality to be featured in a Fridae article.
Along the same vein was Auntie Teck, also known as AuntieTeck.com, a website connecting lesbian and bisexual women in Asia set up in 1997 by an elusive lesbian called "Auntie Teck"[11]. It closed down in the mid-2000s.
One could discern from the strict exclusivity of these groups that lesbians, in general, were more protective of their community spaces than gay men were.
In June 1999, Cary Tan set up Club Herstory[12], a website for grrrls which organised real-world events like the annual Butch Hunt[13],[14],[15] and Femme Quest[16] contests. In December 2002, it rebranded itself as simply "Herstory" with the launch of its new website[17] and its new monthly parties held on the first Sunday of every month at Velvet Underground, a section of the Zouk disco complex[18]. These migrated in 2005 to Gotham Penthouse, #03-01, Blk. 3A, River Valley Road, Clarke Quay. The host of the parties was singer Shirlyn Tan[19]. Other social activities included Grrrls Night Out parties, various sports and dance classes.
The 2000s
[
]
In March 2001, Eileena Lee became the first local lesbian, still living in Singapore to be featured in a Fridae article[20].
Also in March 2001, Cary Tan, founder of Club Herstory, organised a walk by 31 lesbians and gays around the Zouk disco complex in what they believed to be Singapore's first pride parade[21].
On 16 April 2001, two lesbian lovers, Michelle Yong Chumei, aged 20 and Wee May May, 31, committed suicide by jumping off a building[22]. The coroner's court recorded a verdict of suicide on the death of Yong and an open verdict on the death of her older woman lover. The court heard that Yong was torn between her boyfriend and Wee. Yong's body was found on a footpath while Wee's was on the second floor parapet of the block of flats where the pair were living temporarily with Yong's mother. The Police found a note left by Yong which read: "Mother, I'm leaving! Take care." They also found Wee's undated letter to Yong expressing her deep affection for her and asking her not to take her life. In the report, State Coroner John Ng said that while Yong had clearly shown a desire to kill herself, there was no clear evidence that Wee shared a similar intention to commit suicide. Yong was hospitalised for suicidal tendencies and problems deciding her sexuality. Prior to her hospitalisation, Yong had attempted suicide repeatedly between February 2001 and March 2001 because she could not decide between her boyfriend and her girlfriend. The pair who were clad in similar red T-shirts and blue jeans, fell to their deaths four days after Yong was discharged. Both of them had a tattoo on their arms declaring love for the other, and also a red thread tied around their ring fingers when they died. According to Chinese beliefs, it is thought that the thread would unite them in their next lives. Also, the spirit of someone who commited suicide dressed in red would return to haunt its tormentor. Yong's mother, Tan Nong See, 39, who had strongly objected to the pair's relationship wept intermittently in court during the inquiry on 16 July 2001. In previous Straits Times reports, the pair were described as close friends who shared a "stormy friendship full of fights and quarrels." The paper only mentioned their romantic involvement in the 17 July 2001 report. On the other hand, Lianhe Wanbao, the Chinese evening tabloid, which was also owned by Singapore Press Holdings, published, on consecutive days, interviews with Yong's mother about the couple's 6-month lesbian relationship as well as biased and ill-informed stories about lesbianism.
From 21 to 31 March 2002, Livid Room Productions, a feminist theatre company, staged a lesbian play entitled Stop Kiss at Toy Factory, 17A Smith Street[23]. It told the story of Callie (Adelina Ong) and Sara (Esther Yap) who find themselves falling in love after a string of heterosexual relationships. When their courtship culminates in a public kiss, they become victims of a hate crime. While Sara lies in a coma in hospital, Callie's finds herself questioning her identity and her faith in their relationship.
On 17 August 2002, RedQueen!, the social and discussion mailing list for gay, bisexual and questioning women, organised Singapore's first women's safe-sex workshop and potluck party[24].
In April 2003, a month-long trilogy of lesbian plays was performed at the Jubilee Hall, Raffles Hotel. They were penned by acclaimed playwright and academic lawyer Eleanor Wong[25] and produced by W!LD RICE, a professional theatre company founded by well regarded Artistic Director Ivan Heng.
The three plays of Invitation To treat spanned 20 years in the life of their protagonist, Ellen Toh, following her journey towards self-discovery and self-actualisation. She was a smart, ambitious and hardworking lesbian lawyer who married her best friend in a 'marriage of convenience' that presented her with the best of both worlds – a socially respectable position and a husband who accepted her sexual orientation.
The plays swept the audience along a unique and enjoyable journey, an odyssey of insights which recounted the story of one member of an invisible minority who struggled with her sexuality and, over time, grew increasingly confident and self-aware, with more than a little help from her friends. Heng hoped that the LGBT community would relate to the plays which included 'insider' jokes and references that could only be fully appreciated by the gay community, with scripts that were not dumbed down to accommodate a straight audience[26]. Owing to its lesbian theme, the producers experienced great difficulty in securing a corporate sponsor[27].
Mergers & accusations and Wills & secession ran as a double bill from 2 to 6 April 2003.
*Mergers & accusations
examined personal choices and living in transition while dreaming of, hoping for, and wanting, the 'perfect' future.
*Wills & secession
explored the corridors of the past, and unravelled the bonds of family and faith in the face of disease and death.
*Jointly & severably
(world-premiered from 9 to 26 April 2003) laid bare the struggle for commitment, exploded the meaning of family, love and friendship, and the right of a minority to live and love honestly and fearlessly.
Owming to the overwhelming response, W!ld Rice added three extra performances for the double bill, Mergers & Accusations and Wills & Secessions on 13, 19 and 20 April 2003 at 3pm[28].
On Friday, 11 July 2003, singer Shirlyn Tan, best known to Singapore's lesbian community for being the host of the monthly Herstory parties, performed with her band, UnXpected at the Esplanade's Recital Studio[29].
On Thursday, 14 July 2005, Herstory third biennial Butch Hunt finals were held at Gotham Penthouse, #03-01, Blk. 3A, River Valley Road, Clarke Quay[30].
From 1 to 10 June 2007, lesbian artist Genevieve Chua held her first solo exhibition entitled "As Brutal As", which explored themes of psychological horror and sexuality, at La Libreria Gallery, 64A Queen Street, Bugis Village[31].
In early June 2007, the then 25-year old singer-guitarist Iris Judotter became the first out lesbian to launch an album - her self-produced, debut one entitled "The Importance of Being" under her own label. Judotter, a familiar face and voice to regular patrons at the now-defunct Mad Monk's cafe which used to host weekly lesbian parties in 2001. In conjunction with the launch, she performed songs from the CD at Earshot Cafe@The Arts House, 1 Old Parliament Lane on Saturday, June 9, at Toca Me, 95 Club Street on Wednesdays in June and at Play on July 5.
On Saturday, 7 July 2007, Singapore's first lesbian documentary, "Women who Love Women" premiered at Pelangi Pride Centre, Bianco, #04-01, 21 Tanjong Pagar Road at 4:30pm[32]. The 65-minute film was produced by 33-year-old graduate student Ngiam Su-Lin, directed by Lim Mayling and features 3 Singaporean lesbians, Amanda Lee, Sabrina Renee Chong and Gea Swee Jean who share their coming out experiences, and their views on topics such as coming out and relationships. A question-and-answer session with the interviewees and filmmaker followed the screening.
In July 2007, Fridae partnered with LOTL International, a new online lesbian magazine available at http://lotl.fridae.com to present a unique and exciting product that offered readers premium magazine content in a special easy to read format[33]. The premiere issue of LOTL International after Fridae came on board included articles on pop sensation P!nk, Calvin Klein model Jenny Shimizu, Muslim lesbians, girl on girl casual sex, among others. LOTL International was launched in 2006 by the publishers of LOTL, formerly known as "Lesbians on the Loose" and Australia's most widely read monthly lesbian magazine.
In March 2008, LOTL columnist and Singapore dyke-about-town Pat Law pondered the question "Is it acceptable to use a sex toy one had used with an ex on a new shag?" among a myriad of emotional and logistical challenges of being a lesbian player[34].
On Wednesday, 9 April 2008, a media statement issued by the Media Development Authority said that it had fined StarHub Cable Vision S$10,000 (US$7,200) for breaching the TV Advertising Code by showing a commercial of a song that depicted lesbian kissing scenes[35]. The commercial, which promoted a song titled "Silly Child" by pop singer Olivia Yan, was aired on MTV's Mandarin-language channel in November 2007. The MDA's statement also said, "Within the commercial, romanticised scenes of two girls kissing were shown and it portrayed the relationship as acceptable. This is in breach of the TV advertising guidelines, which disallows advertisements that condone homosexuality."
In early January 2009, the M1 Singapore Fringe Festival commissioned the permanent exhibition, "Raised as a Pack of Wolves"[36] which continued Singaporean lesbian artist Genevieve Chua's explorations of queer visibility and sexuality[37]. The work revolves around a family of youths in the form of androgynous or masculine-presenting females whom the then 24-year-old Lasalle College of the Arts graduate Chua refers to as "wolves" and whom she had met in the wild - on the streets, through blogs or friends, over a period of 2 years. They come together in this inventive photographic series which presents a new, fantastical spin on the awkwardness of adolescence and the hunt for familial ties, and answers.
During the 22nd Singapore International Film Festival held in April 2009, the lesbian movie "Female Games" premiered. Advertising itself as "the first contemporary Singaporean film to boldly portray female homosexuality," the film tells the story of a young Singaporean model, Alexia, and her female friend who leave for Kuala Lumpur to meet a casting agent[38]. The two eventually find themselves falling in love after a number of pitfalls on the road. "Through the journey, Alexia grapples with what it means to be pan-Asian and lesbian," said Kan Lume who directed and wrote the screenplay. Kan expected his movie to be banned in Singapore for its lengthy, explicit sex scenes between two women.
In the new millenium, many lesbians were becoming involved in feminism and women's rights. They joined AWARE even though most were not open about their sexual orientation. Jean Chong, one of the founders of Sayoni, became a member of People Like Us (PLU) and attended regional ILGA conferences. She also became an active member of the Conference to Eliminate all forms of Discrimination Against Women (CEDAW).
Lesbians were involved in large numbers during the AWARE saga during which Jean Chong and other prominent members of Sayoni launched a co-ordinated response.
In September 2009, Karen Lee, who had Burmese and Chinese ancestry, released her self-published autobiography, "No More Daddy's Little Girl" - the first by a gay person in Singapore[39]. It chronicled her journey coming out as a lesbian and finding acceptance from God, her family and herself. Lee left Singapore for Perth, Australia at the age of 16 to attend pre-college and university. She had just returned home after being away for 14 years.
From 9 to 29 November 2009, theatre company Zebra Crossing staged the musical "Victor/Victoria" for the first time in Asia at the Esplanade Theatre. It starred famed jazz singer Laura Fygi in the title role as a woman who impersonates a man to become a female impersonator. It was directed by Loretta Chen, possibly Singapore's most outspoken lesbian and former Young PAP member[40].
The 2010s
[
]
On Saturday, 3 April 2010, The Asian Pacific Islander Queer Women & Transgender Community (APIQWTC) honoured Singapore-born filmmaker, community activist and educator Madeleine Lim with the 2010 Phoenix Award in recognition of her outstanding commitment serving the Asian Pacific Islander Community. Lim had fled Singapore when she was 23 years old in 1987 after being persecuted by the Singapore government for for her organising work as a young lesbian artist-activist[41]. She settled in San Francisco where 10 years later, in 1997, she produced the short film "Sambal Belacan in San Francisco". It was accepted at the 1997 Singapore International Film Festival but was banned by government censors just before it screened. The film premiered at the San Francisco International Lesbian and Gay Film Festival in June 1997. It remains banned in Singapore to this very day for its exploration of race, sexuality and nationality.
Lim also co-founded SAMBAL[[42],[43], the Singaporean And Malaysian Bisexual women And Lesbian international e-mail list, which catered to queer women both in Singapore and Malaysia in the late 1990s. Lim holds the distinction of being the first local lesbian personality to be featured in a Fridae article[44].
In August 2011, Jean Chong led a 3-woman team from Sayoni to the Conference to eliminate all forms of discrimination against women (CEDAW) at the United Nations in New York to highlight the discrimination experienced by lesbian, bisexual and transgender women in Singapore. For their efforts, which included years of building goodwill with international women's and LGBT rights experts, they were officially recognised as a CSO (civil society organisation), formerly known as NGO, by the UN.
See also
[
]
External links
[
]
References
[
]
Acknowledgements
[
]
This article was written by Roy Tan based on verbal accounts provided by Jean Chong, information on Fridae, Yawning Bread, SiGNeL, newspaper archives researched and photocopied by Jun Zubillaga-Pow, references by Sylvia Tan and other Internet news sources.