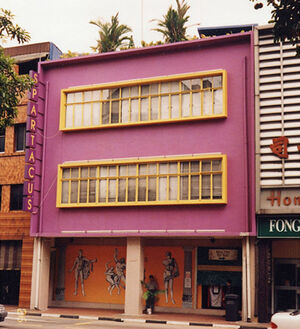 Spartacus was Singapore's first gay sauna. It was set up in 1997 by pioneering, openly gay entrepreneur and impresario Max Lim.
Before the 1990s, local homosexual men had to journey all the way to Bangkok, Thailand to experience the pleasures that gay bathhouses offered. The situation became more convenient in the early 1990s when an establishment called Ryu, meaning "dragon" in Japanese, opened in Taman Pelangi near the Pelangi Complex in Johor Bahru, Malaysia.
Hot on the heels of Ryu's overwhelming success in attracting huge crowds of both Singaporeans and Malaysians, another gay sauna called New Blue Boys opened at 104 A-B, Jalan Serampang, Taman Pelangi, 80400 Johor Bahru about a year later. Needless to say, there was intense rivalry and enmity between the two businesses, both fighting for a lucrative market from both sides of the border. Some Singaporean gay men would charter taxis in groups to traverse the causeway and experience what was sorely lacking at home.
Savvy entrepreneurs like Max Lim realised the strong demand for such a facility locally. In 1997, probably via securing a bank loan for the initial investment outlay, he opened Singapore's first gay sauna and named it Spartacus, after the famous Roman gladiator who was depicted to have a relationship with homosexual undertones in the eponymous Hollywood blockbuster movie starring Kirk Douglas. It was located, amusingly but unintentionally, at 69 South Bridge Road! The address was probably chosen partly because of its proximity to the well known nocturnal cruising areas of Hong Lim Park, the back alleys of Boat Quay and Raffles Place. Indeed, after exiting the sauna at night, patrons could conveniently hop over to one of the nearby open-air cruising hotspots for additional recreation.

The sauna could be recognised immediately from its external façade because of its colossal signage, garish colour scheme and especially the painted sketches of nude gladiators and the mythological Greek figures of Laocoön and his sons on its external wall facing South Bridge Road, near its junction with North Canal Road. One amusing feature was the infamous sign on the front door of the building which read, "Entry by the rear"! This policy was presumably instituted by the proprietor to prevent the ingress of unsuspecting pedestrians who may accidentally wander into the premises and be shocked by what they see. However, when the disco was operational at night, patrons could enter and exit by the front.
Entrance was by membership only, with a card issued upon payment of an annual subscription. In addition, an entrance fee was also required to be paid for each visit even after becoming a member.
Spartacus aimed to be a scaled-down version of the mega-bathhouse complex, Babylon, in Bangkok and comprised three storeys of hedonism with a daily gay disco on the ground floor fringed by an overhead observation deck, showers, a gym and sauna in the levels above it. It had an open space on the rooftop, furnished with several long benches for lying down and lush, large potted plants. Members could sunbathe there and tan in the nude if they wished. There were no structures to completely obscure sunbathers from the outside, but the nearest tall building from which office workers could catch a glimpse of the men was hundreds of metres away so there were no complaints from the public. There was also a rooftop bar which operated only at night because it was too hot during the daytime.
It was strict about sex at first to avoid complaints and harassment by the police who would make periodic visits. Prominent signs were displayed which read "No obscene acts allowed". But the rule was gradually relaxed and the signs removed after everyone realised that the police did not intrude and intentionally seek to nab patrons who indulged in carnal pleasure with one another.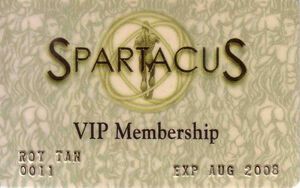 Lim experimented with the innovative concept of giving members the option of buying shares in the business. Spartacus also pioneered services like offering upmarket buffet meals in the lounge on the second floor. Unfortunately, demand for the meals, as well as the disco, was poor and these particular sections had to be closed down after less than a year due to their unprofitability and waste of space and manpower. The spa facilities, however, were a resounding success. Sauna goers were more interested in partaking of the sybaritic activities than in eating the relatively pricey food, even though it was catered and prepared by an experienced cook. To expand its clientele, Lim resorted to holding lesbian nights on the ground-floor disco on Thursdays. This juxtaposition of lesbian and gay men in common spaces occasionally took on comical overtones - people on the second storey were visible to patrons on the dance floor as there was no concrete ceiling to completely separate the first from the second level, only a peripheral, narrow encircling corridor. So, some lesbians dancing on the ground floor were shocked to see men clad only in towels walking around on level 2, a sight they had never encountered before.
Another novelty were the drag shows featuring lip-synching song items and comedy on the ground floor and in the lounge on level 2, held every Friday and Saturday night. Several patrons who would go on to become drag performers themselves in later years made it a point to catch these shows hosted by Max Lim himself. These performances would spur him to organise more such events at Stroke sauna, the successor to Spartacus, in which Lim would sometimes appear in drag himself and, later still, to set up the more official Chinatown Cabaret which advertised its elaborate drag revues online and which was sited on the ground floor of Raw sauna, Lim's third gay spa project.
One particularly intrepid endeavour were the free striptease shows held on the second floor lounge in which Lim hired cute boys to dance and peel off their clothes in a sexy manner while weaving in and out of the seated audience, occasional brushing their bodies lightly against the friendlier-looking members. These were probably the first instances of male striptease acts in Singapore, although the boys only stripped to their underwear to avoid running afoul of the law.
A regular visitor to Spartacus was a Jewish-American, late middle-aged expatriate named Sam Schwartz, who, several years later, opened his own gay sauna called Club One-Seven at nearby Upper Circular Road.
An employee working at the sauna recalls that there was one particular hunky Malay "pakcik" who walked in one day with a crutch, and he saw him walking around in a towel later, he noticed that one of the Malay uncle's legs was very thin and spindly[1]. So he asked him what happened and the pakcik smiled and told him that he had polio as child. This was mind boggling for the employee. One rarely or never (for the much younger generations) saw a polio survivor walking around with a leg brace or crutches then because it was an illness that was eradicated a long time ago. The were also blind middle-aged men who frequented the sauna, guided by friends and despite their disability, did not have much problem finding partners.
Despite its initial popularity, Spartacus' patronage gradually declined. The entire business closed down in late July 1999 due to high rental costs, amongst other factors.
Almost a year later, Lim amassed sufficient resources to open his second gay sauna called Stroke along Ann Siang Road.

See also
[
]
References
[
]
Roy Tan, "Photo Essay: A Brief History of Early Gay Venues in Singapore"[2], Chapter 7 in the book "

Queer Singapore - Illiberal Citizenship and Mediated Cultures

" edited by

Audrey Yue

and Jun Zubillaga-Pow,

Hong Kong University Press

, 2012. ISBN 978-988-8139-34-7[3],[4],[5],[6],[7],[8],[9].
Alex Au, "

Speaking of Bangkok: Thailand in the History of Gay Singapore

", Chapter 9 in the book "Queer Bangkok: 21st Century Markets, Media, and Rights", edited by Peter A. Jackson,

Hong Kong University Press

, April 2011, ISBN 9789888083046[10],[11],[12].
Lungker, "Singapore local gay links", Blowing Wind, 29 May 2005[13].
Acknowledgements
[
]
This article was written by Roy Tan.