We're Getting Mutants in the MCU - The Loop
Play Sound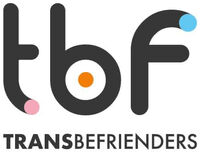 TransBefrienders is a peer support service for transgender youths in Singapore seeking assistance, friendship or mentorship. Its befriending programme matches youths with older trans volunteers who have prior experience with transitioning in Singapore. The group was jointly set up by Bissu, Involve Volunteer Network, The T project and TransgenderSG.
It provides online/offline informational sessions and emotional support. However, it is not made of professional counselors and is only able to provide peer-to-peer guidance. Should interested parties prefer to speak to an affirmative counselor, they can head over to https://www.thetprojectsg.org/professional-counselling. Stakeholders are kindly requested to fill in a form below for the group to know them better and match them with a TransBefriender after their application is processed. It will contact the transgender person via Telegram. The group can also be contacted via email at transbefrienders@gmail.com (subject to availability). All information is kept confidential. Those requiring immediate assistance are urged to contact the following trans-friendly hotlines:
SOS: 1800 221 4444
Emergency helpline: 63892222
Its email address is transbefrienders@gmail.com
Existing professional support systems, such as counselling, focus on medical and mental health and are not accessible to everyone due to cost and time. Mental healthcare providers are also usually not transgender themselves and may face difficulties in fully understanding and empathising with trans youths – hence the need for peer support, where fellow trans people who are older and more experienced can provide help and a listening ear.
The organisation is led by transman Coen Teo, who began his advocacy work by uploading YouTube videos documenting his transitioning journey and providing information to transgender folk seeking to transition. He started TransBefrienders in 2019 to provide peer support for transgender youths. Teo currently sits on the Pink Dot steering committee and has contributed to several other LGBT groups such as Bissu and Heartweavers. He holds a Bachelor of Science (Honours) in Aviation Business Administration.
There are currently 15 volunteer befrienders and another 5 non-operational volunteers under the organisation.
Programmes
[
]
In 2020, TransBefrienders launched two programmes - Project TransAid: Financial Grant and Project TransAid: Challenging Covid - where a total of close to 50 participants benefited from the financial grant and workshops to cushion the impact of COVID-19. It is grateful to Temasek Trust's Oscar@sg fund for actualising the projects.
Its latest programme, started in 2021, is a study support scheme for transgender and gender non-conforming students who are lacking support in schools. A safe space, free of prejudice and discrimination, is essential in a student's learning process. Therefore, the group is offering a face-to-face mentorship programme for transgender and gender non-conforming students who are taking GCE N, O & A levels. Cisgender students are welcome to join (subjected to full tuition rates). Its classes are currently held online to safeguard our students and mentors from COVID-19.
The support scheme includes:
Textbooks and calculators on loan
Face to face mentorship with certified educators
Safe space for studying
Individualised learning plans for every student
Heavily subsidised tuition fees (students are subjected to interviews)
100% subsidised GCE exam fees
The following subjects are in session:
A levels:

Tuesdays (7pm to 9pm) - General Paper
Thursdays (9am to 11am) - H2 Chemistry
Sundays (4pm to 6pm) - H2 Mathematics
The following subjects started in July 2021:
N(A)/O levels:

Thursdays (7pm to 9pm) - Sciences
English - to be announced
Elementary mathematics - to be announced
Featured in Pink Dot 2021
[
]
The TransBefrienders were featured in Pink Dot 2021's (Pink Dot 13) event video[1]:
Publications
[
]
On 8 July 2021, in an attempt to redress the discriminatory treatment of transgender students which had been thrown into the spotlight by the transgender schoolgirl Ashlee saga, the group published a guide entitled Educator's guide to supporting trans students[2]. The document, in PDF format, may be downloaded here:[3].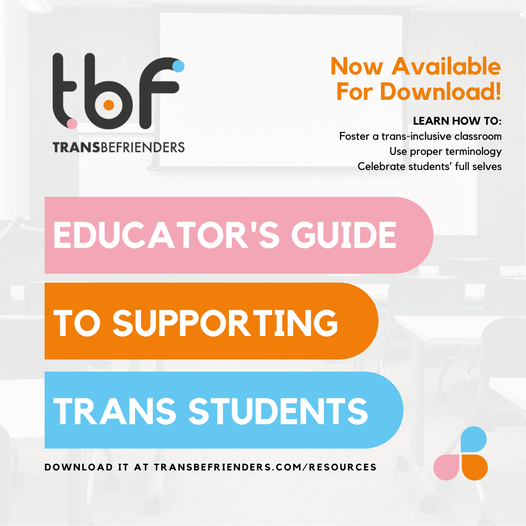 See also
[
]
References
[
]
Acknowledgements
[
]
This article was written by Roy Tan.