Jurassic World: Dominion Dominates Fandom Wikis - The Loop
Play Sound
Transgender people in Singapore have a substantial history and have developed a vibrant subculture. Not immediately apparent to Singapore's mainstream society is the fact that the gay community sees itself as a totally separate entity from the various transgender communities which include cross-dressers, transwomen and transmen. Each constitutes an individual subculture with many different priorities and concerns.
(For scientific and slang words in Singapore's four official and other minority languages used to describe cross-dressers, transgender people and transsexuals, see Singapore gay terminology.)
Mak nyah
[
]

A large body of research on the Malay transgender, cross-dressing and transsexual communities has been published by female sociologist Teh Yik Koon from the School of Social Development, Universiti Utara Malaysia. It is detailed in her groundbreaking and seminal work, "The Mak Nyahs: Malaysian Male to Female Transsexuals" (Singapore: Eastern Universities Press, 2002, viii + 175pp., ISBN 9812102094). Many of the findings are also applicable to local mak nyahs as Singaporean and Malaysian Malays largely share a common culture. (Read a tabloid article about a contemporary mak nyah stage performer:[1]
There is far less information available on transmen, that is, female-to-male transgender people, as they are much less visible. It should also be noted that not all transwomen are engaged in sex work, although it is sometimes the only paid work available to them.
Venues
[
]
Transwomen generally cruise and congregate in different areas from gay men. They seek heterosexual men with whom they socialise, have free sex or perform sexual services for a fee. They also bond socially with each other at these venues.
Historical
[
]
Bugis Street
[
]
One of Singapore's most famous tourist meccas since the 1950s, renowned internationally for its nightly parade of flamboyantly dressed transwomen, Bugis Street attracted hordes of Caucasian gawkers who had never witnessed Asian queens in full regalia.
The latter would tease, cajole and sit on visitors' laps or pose for photographs for a fee. The amount of revenue that they raked in was considerable, providing a booster shot in the arm for the tourism industry. Veterans recall that the notorious drinking section began from Victoria Street west to Queen Street. Halfway between Victoria and Queen Streets, there was an intersecting lane parallel to the main roads, also lined with al fresco bars. There was a well-patronised public toilet with a flat roof of which there are archival photos, complete with jubilant rooftop transwomen. The earliest published description of Bugis Street found by Yawning Bread as a place of great gender diversity was in the book "Eastern Windows" by Ommaney, F.D. (1960. London:Longmans. pp. 39-45). Ommaney did not date specifically his description of the street but his book made clear that he was in Singapore from 1955 to 1960. Read a first-person account of Bugis Street in the 1950s by Bob, a visiting Australian sailor:[2]
In the mid-1980s, Bugis Street underwent major urban redevelopment into a retail complex of modern shopping malls, restaurants and nightspots mixed with regulated back-alley roadside vendors. Underground digging to construct the Bugis MRT station prior to that also caused the upheaval and termination of nightly transgender sex bazaar culture, marking the end of a colourful and unique era in Singapore's history. Tourist and local lamentation of the loss sparked attempts by the Singapore Tourist Promotion Board (STPB) to attempt to recreate some of the old sleazy splendour by staging contrived "Ah Qua shows" on wooden platforms, but these artificial performances fell flat on their faces and failed to pull in the crowds. They were abandoned after a short time.
Bugis Street was immortalised in an English-language film made, ironically, by a Hong Kong film company which did employ some local talent in its production (see main article Bugis Street (the movie)).
Johore Road
[
]
Formerly located between and parallel to Queen Street and Victoria Street, and bisected by Ophir Road, it was the less well-known cousin of its glamourous counterpart, Bugis Street, just a stone's throw away. It was the seedy haunt of transgender prostitutes who solicited sex from locals, away from the glare of Western tourists. No photographs or media attention were focussed on this street of ill-repute; only a no-frills approach to an economic exchange.
It was one of the few roads to be completely erased from the map of Singapore after a fire in the late 90s, to be replaced by an unnamed park next to the Bugis MRT station and the Victoria Street Wholesale Centre.
Boom Boom Room
[
]
Singapore's only drag queen cabaret nightclub and thought by many also to be Singapore's only real national institution in the same uninhibited spirit as the original Bugis Street. It is the namesake of John Lee Hooker's legendary blues club in San Francisco, shooting to international fame when the postmodernist magazine Wallpaper called it "our top pick for a good night out in all of Asia!"
It was created by Dick Lee in 1991[3] and originally established by owner Alan Koh in 1993 at 4 New Bugis Street in Bugis Village, it later relocated on 2 April 2000 to the second floor of the old 2-storey Chui Eng Free School schoolhouse at 130-132 Amoy Street, Far East Square, Singapore 049959 (tel: 6435 0030) (a 10-minute walk from the Raffles Place MRT station)[4]. The new venue, which was reputed to have the best Singapore Sling in town, had a restaurant downstairs for informal and outdoor dining.
Its overwhelming attraction were the risque comedy routines by local drag superstar Kumar who took no-holds-barred digs at topics close to the hearts of Singaporeans. He was aided by his coterie of flamboyant, dazzlingly costumed, cross-dressing backups, nubile toyboys and other straight stand-up comedian/comedienne friends. Other drag queens featured were 'Helda and Liz.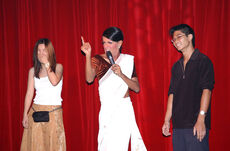 The first performance debuted on 18 August 2000. There were 2 shows each night and outrageous wisecracks, in raw Singlish which made the banter difficult for tourists to understand, were interspersed with DJs playing the latest chart tunes. Members of the audience sitting next to the stage ran the highest risk of being drawn into the performance.
It was patronised by a largely heterosexual audience who danced wildly during the intervals between each show[5], but Tuesday nights were gay with access granted to password holders only.
It closed after 12 years on 15 January 2005 to enable its artistes to move on to fresh creative pursuits. However, many thought other reasons were that the shows were getting stale, the drag queens were getting old (Kumar was 36) with no fresh blood to carry the torch and the existing ones not having what it took, and the club's poor location. It spawned a spoof version called the Bang Bang Room at Changi Village which held late night performances every weekend.
Gold Dust
[
]
Gold Dust opened in July 2005, 6 months after the closure of Boom Boom Room and was located on level 2 of the rear block of Orchard Towers along Orchard Road[6]. Operating hours were from 8pm to 3am on weekdays and 8pm to 4am on weekends. The age restriction for patrons was 25 years and above. The dress code was smart casual - no shorts, singlets or slippers. Entrance charges, inclusive of 1 drink were $22 on weekdays and $28 on weekends. It set up a now-defunct website: thegolddustclub.com.
Gold Dust was Singapore's second drag queen cabaret nightclub and theatre bar, a joint venture between Kumar, then 37, and partner Gwen Koh, 45, who also owned the 3 Monkeys Restaurant in Orchard Towers. Together, they spent $50,000 to open the venue.
Aiming for the high-end market, Gold Dust boasted professional dancers with flamboyant mardi gras-type costumes and real women dancing alongside drag performers. Kumar's trademark provocative jokes were still the main focus, but now framed in a classier and more streamlined show. He aimed to capture the cozy feel and stylish look of New York-style theatre bars. Thus, the 3,000 sq ft club had no dance floor and all the chairs and tables faced the stage. It could hold 180 people, and had the feel of a 1970s glam disco, updated for the new generation. Instead of young National Servicemen and students, who formed a significant part of the Boom Boom Room clientele, Gold Dust intended to target a slightly more upper-crust crowd.
The main aim of the theatre bar was to showcase talent. In addition to the cabaret dances and stand-up comedy staples, it considered expanding the shows to include mime, monologues, plays and singing.
Partner Kumar decided to open the venture because he needed a steady income stream, as well as a home base for his stand-up performances. Although the bar was located in the back block of Orchard Towers where Harry's Bar and Jason's supermarket resided, some felt that the idea of a bar next to the infamous '4 floors of whores' might not appeal to some patrons. However, Kumar felt that Orchard Towers was always known to be a controversial place, and since he was also a controversial performer who pushed the boundaries, it made sense for the bar to be based there.'
For the first time, Kumar's show incorporated 2 female professional dancers, Samantha Kan, 24, and Aslinda, 23. There were only male dancers at the Boom Boom Room. He always felt that the latter was lacking something and now he realised that it was girls.
3 Monkeys
[
]
Contemporary
[
]
Desker Road

vicinity

[

]
A well-known area for men seeking the services of real woman prostitutes in the Serangoon or Little India area for decades, it attracted many of the transgender street-walkers from nearby Johore Road after the latter was erased from the map by a fire in the late 1990s.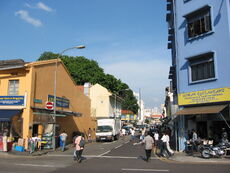 Unlike their genotypically-female government-regulated counterparts who are on display, usually seated on armchairs or sofas in well-lit rooms, reminiscent of a low-class back-lane version of Amsterdam, the trans women of Desker Road, in contrast, cruise while standing or strolling. This is done to render their activities, which are considered illegal, less vulnerable to Vice Squad raids. The seedy atmosphere of the whole vicinity has largely disappeared due to massive redevelopment around Mustafa Centre.
Changi Village

[

]
Popular with trans women since the early 1990s and the straight men who go there to ogle at them, chat them up or use their services.
Woodlands Town Garden

[

]
A "heartland" park smack in the middle of a Housing Development Board satellite town which has recently gained notoriety for the activities of transvestites, some of whom reportedly rather aggressively solicit paid sex from casual passers-by. (Read a report by The New Paper:[7])
Canvas
[
]
Riot!
[
]
History
[
]
National Service
[
]
National Service was implemented in 1967, whereby all 18-year old males were required to train full-time for two or two-and-a-half years, depending on their educational attainment. Being transgender was considered a medical condition in a Singapore Armed Forces (SAF) directive and recruits who outed themselves to the examining doctors at the Central Manpower Base (CMPB) at Dempsey Road had their 'deployability' denied in sensitive positions. They were classified as Category 302 personnel, downgraded to a Physical Employment Status of 3 (PES 3) and assigned only clerical work at army bases.
Nowadays, male-to-female transgender enlistees (in any stage of their transitioning) are treated on the same scale as gay men. One of the purposes of the medical review is to gauge how effeminate the serviceman is. On this (misguided and highly subjective and therefore inaccurate) scale, 'heterosexual men' are on one end of the scale and 'women' are on the other end of the scale. Gay men who are masculine (i.e. who are 'top', and do not cross-dress) are closer to the 'straight men' end of the scale, while if the gay NS man cross-dresses, cross-dresses at home, is a 'bottom' or if the NS wo/man is a male-to-female transgender person, then he is deemed closer to the 'women' end of the scale. It is patently obvious that male-to-female transgender people are not gay men, and gay men are not women.
Transwomen who declare themselves to be transgender before being enlisted, that is, having received psychiatric evaluation and certification and presenting it during the CMPB medical assessment, or simply telling the CMPB medical officer during the aforementioned assessment, will be given a classification of PES E (lowest physical enlistment standard, indicating no physical exercise and only clerical duties) during service[8].
However, if medical or social transition has started, a PES D classification (temporary designation to indicate further processing is necessary) will be given. In the latter case the pre-enlistee will be allowed to continue with her life until an unknown amount of time (word on the street indicates 1 year) has passed on hormones or presenting as female, or both, in which case they will be given a PES F classification (exemption).
A similar policy applies for transgender women who have completed their two years of national service and are categorised under "NSMen". As an NSF in service, it is generally unlikely that one can be discharged midway through service even if one declares one is transgender. SAF policy does not allow exemptions based solely upon the diagnosis of gender dysphoria. Unless a comorbidity that on its own would merit exemption or discharge has been diagnosed, the full two years will have to be served, albeit typically in a clerical capacity (for those who have declared). Transgender persons in service can seek counselling at the SAF counselling centre where they will generally match their case to a counsellor who has experience or can best serve their needs.
Female-to-male transgender individuals who have not legally transitioned but wish to serve NS are not allowed to do so. However, trans men who have legally changed their sex to male as reflected in their identity cards will automatically receive an enlistment letter in the mail. There does not seem to be any consistent protocol concerning what happens next, however. Some trans men were told they should serve, but were allowed a medical exemption if they wished. Others were told they could not serve even if they wanted to. Another trans man was told that if he wanted to serve, he would be using the male barracks and common showers like the other recruits, and the SAF would not be held liable should he experience sexual assault as a result.
Should a trans man decide not to serve, he will be given a medical exemption and a PES F (exemption) classification. This must be settled prior to leaving the country for any reason, or else he may be apprehended at the border.
Early sex reassignment surgery
[
]
Singapore's second President, Benjamin Sheares, was a well known and distinguished O&G surgeon who headed the Department of Obstetrics and Gynaecology at Kandang Kerbau Hospital in the 1940s and 50s. One of his main contributions to medicine was a technique to create an artificial vagina for patients born without one. A modification of the Sheares vaginoplasty technique was later used by pioneering gynaecologists in the same department like Prof. S Shan Ratnam to perform male-to-female sex reassignment surgery (SRS). Ratnam later trained other younger surgeons like Assoc. Prof. Arunachalam Ilancheran and Ratnam's nephew, Dr. C Ananda Kumar to undertake the procedure. The first such operation in Asia took place here in July 1971. However, before patients could go under the knife, they first had to subject themselves to an exhaustive battery of tests and be given a clean psychological bill of health by Singapore's chief academic psychiatrist Prof. Tsoi Wing Foo of the Department of Psychological Medicine, National University of Singapore. Psychiatrists in Singapore required transgender patients to live and dress as a member of the opposite sex for at least a year before certifying them suitable for sex reassignment surgery. Half of those seen by Prof. Tsoi were not deemed suitable for the operation. His counselling sessions also helped to make transsexuals aware of the difficulties they might face after they have had the operation performed.
Straits Times reporter Chua Meng Choo provided an exhaustive account of the first sex-change surgery done in 1971 on patient who later agreed to have her name revealed to the public as Shonna[9]:
"The first sex change surgery in Singapore was successfully performed on 30 July 1971 at the Kandang Kerbau Hospital. The operation involved a 24-year-old man and was the first procedure of its kind performed in Singapore and in Asia. There had been previous "sex change" operations performed in Singapore, but these mostly involved patients who had both male and female genitalia (hermaphrodites) and the removal of one set of genitalia. The 1971 operation was regarded as a first because it involved a surgical conversion aimed at functionally changing a person's sex.
Patient and diagnosis
The patient was a 24-year-old Singaporean citizen of Chinese heritage. Her name was kept secret, but her background was later made public in a book. The eldest son in a family of five with two younger sisters, her father was a dentist who was often physically violent with his wife, which caused the patient psychological trauma. As a child, the patient was raised by her grandmother, who dressed her as a female. In her teenage years, she associated with other cross-dressers before frequenting the transsexual and transvestite scene at Bugis Street as an adult.
From the age of 16, she worked as a sales assistant, a housemaid, in a bank and as a public relations officer. She later won second prize in a beauty contest and became a model. While working as a part-time model, she joined a cabaret and was known as "Mama Chan". She also ran a social escort service.
Having lived as a woman for some time, she first consulted Professor S. S. Ratnam, a senior lecturer in the University of Singapore's Department of Obstetrics and Gynaecology, in 1969. She had been suffering sexual and emotional problems, which had led to two suicide attempts. Ratnam explained to her that he had no experience in sex change surgery, but she continued to visit his clinic weekly. After researching the subject of transsexualism and sex reassignment surgeries, Ratnam familiarised himself with the surgical techniques by practising on cadavers.
The patient underwent a psychological analysis by a team of psychiatrists who confirmed that she was a transsexual who required surgery. A diagnosis of transsexualism requires that the patient possesses a continuous sense of inappropriateness about his or her anatomic sex, a desire to discard his or her genitalia and live as a member of the opposite sex, and the absence of physical intersex symptoms or genetic abnormalities. As well, his or her gender confusion (gender dysphoria) must not be caused by other disorders such as schizophrenia. The patient was also cautioned that the surgery would be irreversible, potentially involved a number of complications and required a prolonged follow-up period.
Legal clearance for the operation was then sought from the Ministry of Health and granted. After consideration of the patient's psychological profile, the medical expertise involved and the approval of the Ministry, the decision was taken to proceed with the operation.
Operation and impact
The operation was performed by Ratnam and two other surgeons from the University of Singapore's Department of Obstetrics and Gynaecology, Associate Professor Khew Khoon Shin and plastic surgeon R. Sundarason. Photography of the operation was not permitted. Ratnam later described the three-hour operation as a success, with an uneventful post-surgery recovery. He later founded the Gender Identity Clinic specialising in sex change surgeries at the National University Hospital.
After her successful operation, the patient went on hormone treatments and was functionally a woman, with the exception of being unable to conceive or menstruate. She later married a French man and owned a travel agency in Paris, before moving to England.
The July 1971 operation paved the way for sex change surgeries in Singapore and in the region. Singapore's first sex change operation on a woman took place three years later, between August 1974 to October 1977 (female-to-male conversions are a more complex process and involve several surgical stages). In the 1970s and 1980s, hospitals in Singapore accepted numerous sex change patients from other Southeast Asian countries, with foreigners making up around half of all surgeries performed."
Documentary
[
]
In a groundbreaking and extremely graphic documentary entitled "Shocking Asia" produced in 1974, transgender women in Singapore revealed the most intimate details about their lives and sex reassignment surgery done by pioneering surgeon, Prof. S Shan Ratnam who also granted an exclusive interview. The operation itself was shown in great detail[10]:
Increasing visibility in mainstream media
[
]
The first substantial mention of Singapore's transgender community was a groundbreaking 4-part feature by The New Nation entitled, "They are different..." It was published on 4 consecutive days from Monday, 24 July to Thursday, 27 July 1972 (see main article Singapore's first newspaper articles on the LGBT community).
In the 1970s, two well known transsexual models were occasionally featured in Her World magazine. The first was Shonna, the first Singaporean to undergo a sex change operation in 1971 (see main article: Sex reassignment surgery in Singapore). Another was named Christine. Both emigrated out of Singapore several years later. Iconic transgender model Amy Tashiana was too overbooked with appointments to accept the projects.
Legal reform
[
]
National Registration Identity Cards
[
]
In the years following Singapore's first sex reassignment operations, a number of legal issues arose for transgender individuals who had undergone a sex change. In 1973, Singapore legalised sex reassignment surgery. Thanks to the efforts of Prof. Shan S Ratnam who lobbied the government behind the scenes on compassionate grounds, a policy directive was instituted at the National Registration Department to enable post-operative transgender people to change the legal gender on their national registration identity cards (NRIC) (but not their birth certificates) and other documents which flowed from that, such as their passports.
This lobbying by Prof. Ratnam for transgender rights was revealed by his protege, Assoc. Prof. Arunachalam Ilancheran during a television discussion forum on thirunangai, or Tamil male-to-female transgender people in 2012[11]:
To change one's name and gender stated on one's identity card, one requires:
The deed poll is a legal document which must be prepared by a lawyer. The cost ranges from SGD$60 to $100. There are many lawyers who will do this and a popular site which lists them is www.deedpoll.sg. Other lawyers may provide higher or lower rates so if one is really strapped for cash, one can consider cheaper options.
After obtaining the deed poll, one must go down to the Immigration and Checkpoints Authority (ICA) building currently located next to Lavender MRT station. There, one must go to the NRIC (Identity card) level and approach the counter. One must tell the staff that one is there to change one's name. After queueing up, the new identity card should be ready within the hour.
There are stiff penalties in Singapore for providing false information on the NRIC. So if one is unfortunate enough to receive a new card with incorrect information on it, the onus is on oneself to point out the mistake. Of course, one can also accept the mistake at one's own risk. One may regard it as fortunate to have one's sex changed on one's IC without the SRS letter of certification.
Marriage certificates
[
]
The Registry of Marriages implicitly recognised marriages involving a sex change patient, as it required only an identity card to prove the different genders of the couple. There was no specific provision in the statutes which allowed the Registrar to do this, so it existed probably only at the level of a policy directive. However, for over 20 years, this policy seemed to have operated smoothly.
However, on 13 June 1991, a female Malaysian babysitter named Lim Ying, then aged 30, created legal history when her application to the High Court to have her marriage annulled succeeded. Lim claimed that she did not know her husband had undergone a sex-change operation. Judicial commissioner K S Rajah declared her marriage to Eric Hiok Kian Ming null and void. Lim discovered her husband's secret, that he was assigned female at birth, only on their wedding night when they attempted to have sex. Hiok, who appeared very masculine, disagreed, arguing that Lim knew beforehand that he was a transman. They could not have penetrative sexual intercourse because he had not been fitted with a penile implant. Judicial commissioner Rajah ruled that a person's sex was fixed at birth in the eyes of the law. The legal poser that the High Court had to tackle was whether the marriage was void right from the start, or whether it was just voidable. Rajah's judgment declared that the marriage was void from the very beginning.
It was only in 1996 that the Government amended the Women's Charter to allow transsexuals to legally marry (see below).
First transgender character in a local TV production
[
]
In 1991, a Singapore Broadcasting Corporation (SBC) Channel 8 Mandarin fantasy period TV serial entitled "最后一个大侠" (literally "The last knight") featured a man named Sima Qinyun who could transform his gender to become an evil villain named 紫罗刹 (the purple killer) and also revert back at will (see YouTube video of theme song[12]). This was groundbreaking, even though the storyline is thought to have been adapted from a wuxia novel by Jin Yong (Louis Cha), and even pre-dated the well known Dongfang Bubai (东方不败) played by Lin Qingxia in the eponymous hit Taiwanese film.

Further developments in sex reassignment institutions
[
]
Later, the more technically demanding female-to-male sex reassignment surgery was also offered at Kandang Kerbau Hospital and at Alexandra Hospital, performed by gynaecologists such as Dr. Arunachalam Ilancheran. A Gender Identity Clinic (GIC) and Gender Reassignment Surgery Clinic were set up at the National University Hospital two decades later, in the early 1990s. It was headed by Prof. S Shan Ratnam until his retirement in 1995, after which leadership passed to his nephew, Dr. C Anandakumar. In fact, for 30 years, Singapore was one of the world leaders in SRS, performing more than 500 such operations. This gave a new lease of life to the many transgender individuals whose bodies did not match their gender identity. As one consequence of this, Bugis Street and Johore Road started to become populated with a range of transgender people from transvestites to iatrogenic intersex individuals to fully transitioned women.
In the 1970s, a well known transsexual model was occasionally featured in Her World magazine.
Legalisation of transgender marriage
[
]
Since the mid-1970s, post-operative transsexuals, aided by Prof. S Shan Ratnam, had been discreetly lobbying to be given the right to get married to opposite-sex spouses. In 1996, a Bill was presented before Parliament to amend the Women's Charter to read[13],[14]:
(Under Part III: SOLEMNIZATION OF MARRIAGES)[15]
Avoidance of marriages between persons of same sex.[16]

12.-(1) A marriage solemnized in Singapore or elsewhere between persons who, at the date of the marriage, are not respectively male and female shall be void. [30/96]

(2) It is hereby declared that, subject to sections 5, 9, 10, 11 and 22, a marriage solemnized in Singapore or elsewhere between a person who has undergone a sex re-assignment procedure and any person of the opposite sex is and shall be deemed always to have been a valid marriage.

(3) For the purpose of this section

(4) Nothing in subsection (2) shall validate any such marriage which had been declared by the High Court before 1st May 1997 to be null and void on the ground that the parties were of the same sex.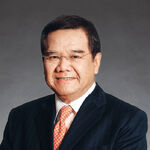 Minister for Community Development, Abdullah Tarmugi, who moved the bill argued that since 1973, the Government's intention was for people who had changed gender/sex to live a life according to their new gender, including the right to marry. Through an oversight, the law relating to marriage had not been re-aligned with the official policy to recognise sex reassignment surgery. Now that the courts had illuminated this inconsistency after a landmark case in which a wife sought and won the annulment of her marriage to a transman (Lim Ying v Hiok Kian Ming Eric), it was necessary to amend the Women's Charter to ensure that the original intention was not undermined. Transgender people were officially granted their wish on 24 January 1996. On 2 May 1996, during the debate following the second reading of the amendment Bill, Abdullah Tarmugi made the following announcement in Parliament which did not give rise to much public fanfare or opposition[17]. He said:
"The Government's stand is very clear: it is not a move to encourage or promote lesbianism, homosexuality, transvestism or sex reassignment among our people. We do not believe the amendments will result in our people reassigning their sex in droves. The Bill basically seeks a practical and humane approach to address the problems faced by this group of people and the families they have set up. It is to allow these individuals to lead a life according to their new status, as recorded in their identity cards, as we have all along used the NRIC to verify identity. It is practical. It is sensible."
Closure and reopening of the Gender Identity Clinic
[
]
In the early 2000s, the National University Hospital's Gender Identity Clinic (GIC), the offshoot of the Department of Obstetrics and Gynaecology at Kandang Kerbau Hospital formed a decade ago, was the only facility for sex change operations in Singapore. Although it had helped to build Singapore's reputation as a top destination for sex reassignment surgery over the preceding 30 thirty years[18], its exact location within NUH and the services it provided were kept confidential because of the sensitivity of the more vocal religious fundamentalist segments of Singapore's population to sex reassignment surgery. Since 1971, when the late Prof. S Shan Ratnam performed Singapore's first sex change operation, there had been 500 such procedures, an average of 17 a year. But the GIC had done no male-to-female operations since 2001. Since September 2001, it had performed only four female-to-male operations.
This was because the Ministry of Health had asked hospitals to phase out sex-change surgery in the late 1980s for fear that hospital staff might be exposed to HIV. It was also reported then that the Ministry had not considered sex-change surgery as a life-saving procedure. These objections were lifted in 2001.
The general public could not find any information on the GIC on NUH's website and it was extremely difficult to interview its then consultant, Dr. Arunachalam Ilancheran. Dr. C Anandakumar, who was the specialist-in-charge at the GIC from 1995 to 2001, recounted how, during his time, consultations with transgender patients could only be done on Saturdays and after office hours, as NUH had very little interest in encouraging sex reassignment surgery. Transsexuals would also need to book themselves into single-bed wards after the operation as Dr. Anandakumar claimed "the hospital did not want the transsexuals to mix with other patients". This would push up the cost of the operation, prompting many transsexuals to head to Bangkok for more affordable treatment. However, he conceded that the situation might have changed and added that the clinic had served its purpose well.
In reply to queries from The New Paper, an NUH spokesman said, "All our patients are important to us and we care for them with respect and sensitivity due to any individual. The Gender Identity Clinic operates at the usual hours, as per all other hospital clinics. Patients stay in single room as per MOH regulation since the seventies."
Transwoman Leona Lo completed her psychiatric assessment in Singapore but elected to have her surgery performed in Bangkok. She felt that the lack of information about the GIC deterred transsexuals like herself from having the operation done here. She said, "Many of us can't be bothered to find out more about the GIC as it's so secretive about its services. It signals the clinic is not interested in helping and is ashamed of us. There's always Bangkok and the surgeons there have done so many operations. The more operations they perform, the better they get. So we're happy to go there." But not all transgender patients were flocking to Thailand. Transwomen were still seeking help from the GIC.
In April 2001, the Gender Identity Clinic at the National University Hospital, which was the last hospital in Singapore where sex change operations were performed, closed without any fanfare. The official explanation was that the gynaecologist in charge, Dr. C Anandakumar, had left for private practice, and without him, the clinic did not have the skills to perform SRS. However, as early as 1987, the Ministry of Health had been directing hospitals to stop doing such operations on foreigners. It also discouraged them for Singaporeans, saying, "the increased danger of AIDS with such patients poses unnecessary risk to hospital staff". However, some believe that the increasing number of Christian doctors filling the administrative ranks of Singapore hospitals over the past decades had a part to play in its shutting down as cross-dressing and sex reassignment are proscribed in the Bible.
This dismayed transgender people seeking to have their operations performed locally. The online edition of the now-defunct newspaper Project Eyeball carried out a survey in June 2001 asking, "Should sex change operations be resumed in Singapore?" 39% of respondents said, "Yes, they are people with valid medical needs, like infertile couples" and 35% said, "Why not? It is legal here, as are transsexual marriages". The results showed that Singaporeans were generally quite supportive.
In June 2001, a petition organised by Jael[19], the founder of the transgender group "FTMs in Asia", urging the re-opening of the Gender Identity Clinic garnered 60 signatures[20]. When asked by The New Paper about the GIC's services, an NUH spokesman replied: 'The NUH Gender Identity Clinic reopened in September 2001 to provide a service to those who request it."
The transgender community's petition was successful, with the clinic discreetly and fully resuming it services in 2003, helmed by Dr. Arunachalam Ilancheran. However, owing to the discrimination against transgender people in Singapore even within some segments of the medical community, the high financial outlay involved and the necessity for psychological clearance, many preferred to have their operations performed sans the hassles in Bangkok, which had by then become the premiere centre for sex reassignment surgery (SRS).
In early August 2001, Singapore's pioneer sex reassignment surgeon and co-author of the book "Cries from within", Prof. S. Shan Ratnam, passed away from pneumonia[21].
Beautiful boxer
[
]
In November 2001, Singapore-based Thai director Ekachai Uekrongtham announced his intention to produce a film entitled "Beautiful boxer" on the life of Thai male-to-female transsexual kick boxer, Parinya Charoenphol[22].
Evidence of British sailors' visits to Bugis Street in the 1960s
[
]
In November 2002, newly declassified UK naval documents revealed that possibly 50% of its servicemen had indulged in homosexual sex at some time in their naval service life and many had visited brothels in Singapore's then legendary Bugis Street in the 1960s as soon as their ship docked. A document written by the navy's medical director general in 1969, described Singapore's transwoman prostitutes as "very beautiful" and who "dress well and smell delicious" He added, "They perfect the female walk, stance and mannerisms and some even undergo surgery to complete the illusion"[23].
First pictorial documentary on trans women
[
]
In April 2003, Select Books released Singapore's first pictorial documentary on transsexuals in Singapore and Thailand entitled, "My Sisters, their Stories", written by male-to-female transsexual, Leona Lo[24],[25].
First TV programme featuring local transwoman

[

]
On Friday, 7 January 2005 at 8:30pm Channel U broadcast Singapore's first television programme to feature a local transwoman entitled "Sense of Being". It interviewed 38-year old post-operative Malay male-to-female transsexual Amy Tashiana[26]. Tashiana talked about her life as a former model with Carrie Models and performer at the defunct cabaret club Boom Boom Room.
Decline in number of transgender patients seeking counselling
[
]
In November 2005, The New Paper reported that an increasing number of transgender patients were avoiding psychiatric counselling by heading to Bangkok to have their operations done.
Singapore psychiatrist Prof. Tsoi Wing Foo had counselled 1,000 transgender patients since 1973 to see if they were ready for sex change operations. From 1995 to 2005, however, he had not counselled any female-to-male transgender patients. And he saw an average of only one transwoman patient a month. He was not alone in his concern. Psychiatrist Lionel Lim had seen only four transgender patients from 2001 to 2005, compared to one to two a month previously. And Dr. Simon Siew, also a psychiatrist, had not seen any from 2004 to 2005.
There were a few reasons. One was that many transwomen went to Bangkok for the operation, where it was often "pay up, few questions asked, snip, and take the flight home". It was cheaper by half and faster. Transsexuals said a male-to-female operation in Bangkok would cost between SGD$3,000 and $6,000, while the same operation here would cost double that figure.
Final closure of the Gender Identity Clinic
[
]
The Gender Identity Clinic at the National University Hospital finally closed its doors for good in 2008. When asked by The Straits Times in 2014 about the Ministry of Health's stance on sex change surgery, its role in overseeing the procedure, and why public hospitals had stopped offering it, an MOH spokesman would only say that "sex reassignment operations are not subsidised and are performed with...safeguards".
Demand, however, had not shrunk, according to private psychiatrist Prof. Tsoi Wing Foo. Since 1971, Tsoi had seen over 2,000 transgender patients, half of whom went for surgery. A psychological assessment is needed before sexual reassignment surgery here. During the 1970s and 1980s, he had roughly 30 cases a year. From 2007 to 2014, he had seen an average of 40. He did not know why surgery options here were dwindling, but speculated that it could be due to public policy changes or the personal preferences of the few doctors who had undertaken such surgery. Dr. C Anandakumar, who was the gynaecologist in charge of the GIC until 2001, declined to speak to press when queried.
Despite the fact that many male-to-female transgender patients were flocking to Thailand for their surgeries because of the lower cost and less stringent psychological requirements, female-to-male transsexuals were still seeking help from the GIC. Such operations are more complex and cost SGD$15,000 or more here. But psychiatrist Prof. Tsoi Wing Foo believed that many female transsexuals would head to Bangkok as well once the operation was available there.
Regrets about sex reassignment surgery
[
]
Some post-operative transsexuals like Nur Sarafina Mustafa, a 29-year old (in 2014) make-up artist who went to Bangkok for her operation regretted it but went on with life. She reckoned that there was no point wallowing in regret. She did not feel she needed a psychiatric assessment before the operation. Neither did the Thai surgeon who performed her operation require one of her. But Ms Sarafina has found that life can be quite daunting after the operation.
Her relationships with men have not been smooth sailing so far. She broke up with her first boyfriend as she could not bear to see him fight with his parents over her. His parents never approved the relationship even though the pair had known each other since secondary school. He also paid for her sex-change operation in 1995. She broke up with her second boyfriend in 2013 as the latter wanted a woman who could bear him children. Such bitter experiences had left her questioning the operation she had, especially when her own parents could not accept her as she was now.
'My parents disowned me after I told them I went for the operation. They thought I had disgraced them,' she said. She's tried calling her parents since then but their reply is always a terse 'We don't have a child like you' before the line goes dead. Asked whether going for counselling sessions would have prepared her for the difficulties she has encountered after the operation, Ms. Sarafina replied: 'I didn't think of that.'
Transgender organisations
[
]
SgButterfly [27],[28] - Singapore's first and largest transgender web portal and support group founded by a heterosexual man,

Daniel Kaw

.
Sisters In Solidarity

[31] - a transwoman support group formed by Marla Bendini and Tricia Leong in 2009 to combat discrimination against transgender women in Singapore.
Transgender Alliance

- an amalgamation of the 2 transgender social and info networks, SgGurls and SgButterfly, and a sister group, Project X, an advocacy group for transgender people working in the sex industry.
Forgot To Mention

[34] - Singapore's first female-to-male transgender group. It was formed in 2013.
Transgender Pride

[35] - a transgender Facebook page started on 18 July 2013.
SgCrossDressers

[36] - a closed Facebook group created only for Singapore male-to-female cross dressers in 2013. It promotes and encourages like-minded individuals to interact and exchange ideas, share the journey of the cross dressing life and provide support in this very special community. The founders strive to make the group grow in a clean and secure environment. People with fake profiles and undesirable admirers are not welcome. To join, one needs to have a genuine face picture in one's profile. Its first administrator was Jamie Lee.
Personalities
[
]
Transwomen
[
]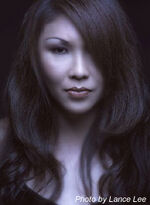 Cassandra Thng

Lune Loh

Wany
Trans men
[
]
Shan Menon

Coen Teo

Ilyas Ahmad

Rafa

Seth Tjia

Kaeden Lim
Cross-dressing gay artistes/drag queens
[
]
Heterosexual part-time cross-dressing artistes
[
]
Books
[
]
Sisterhood

by Leona Lo (Select Books, 2003, ISBN: 981047198X)- a personalised emotional expose of the local transvestite and transsexual community by an intellectual transwoman herself.

My Sisters: Their Stories

by Leona Lo and

Lance Lee

(

Viscom Editions Pte Ltd

)

Cries from Within

by S. Shan Ratnam; Victor H. H. Goh and Tsoi Wing Foo- a tome on sex-reassignment surgery and its attendant psychological considerations by two eminent gynaecologists and a psychiatrist.
See also
[
]
External links and references
[
]
Acknowledgements
[
]
This article was started by Roy Tan based on his personal experiences, verbal accounts provided by friends, and information on Yawning Bread, Fridae, SiGNeL and other Internet sources. Additional information was also contributed by transgender users of Wikipedia and SgWiki.