We're Getting Mutants in the MCU - The Loop
Play Sound
Dr Vincent Wijeysingha (born 1970) is an academic, civil activist and politician from Singapore. He was a member of the opposition Singapore Democratic Party (SDP) from 2010 to 2013. He served as the party's Treasurer and stood as its parliamentary candidate in the 2011 General Elections. He holds the distinction of being Singapore's first openly gay politician[1].
Wijeysingha has served as the Executive Director of Transient Workers Count Too (TWC2), a non-governmental organisation advocating the rights of low-wage migrant workers. He also publishes scholarly papers on social work[2] and has worked as a lecturer in social work at SIM University (UniSIM). He left Singapore for New Zealand in mid-2015 after his teaching contract at UniSIM was not renewed.
He is currently employed as a Senior Lecturer in Social Work and Social Policy at Massey University, New Zealand which he joined in February 2020.
Early life and education
[
]
Wijeysingha attended Victoria School in Singapore, before heading to the United Kingdom where he studied at the University of Lincoln and earned a doctorate in social policy at the University of Sheffield. He lived in England for almost 16 years before moving back to Singapore.
Personal life and family
[
]
Wijeysingha's father was the educator Eugene Wijeysingha, a celebrated former principal of Temasek Junior College (1980-1985) and Raffles Institution (1986-1994)[3].
Political career
[
]
Wijeysingha stated that he joined the SDP because he realised he had a responsibility as a Singaporean to work for change, saying that "I cannot look the other way as more and more people experience the adverse effects of current PAP policies."[4]
Section 377A forum
[
]
Wijeysingha was one of the speakers who gave a speech[5] during a public forum on the Section 377A Constitutional challenge initiated by human rights lawyer M Ravi on behalf of his client, Tan Eng Hong. It was held at Public House, near Boat Quay on Saturday, 27 November 2010. All the speeches during the forum were recorded on video by Roy Tan but only the one delivered by M Ravi was initially uploaded to YouTube. In the video, Ravi referred to Wijeysingha as "Singapore's first gay MP".
2011 general elections
[
]
Prior to the 2011 general elections, Channel NewsAsia invited the main political parties in Singapore to record an hour-long televised pre-election forum (the first forum of this nature in Singapore since the 1988 general elections). The programme, in English entitled, "A political forum on Singapore's future", brought together the ruling People's Action Party (PAP) and four opposition parties to discuss long and short-term challenges for the country. Dr Wijeysingha represented the SDP in the discussion[6].
Just days before Nomination Day on 27 April 2011, the PAP team in the Holland-Bukit Timah Group Representation Constituency (GRC) led by Dr Vivian Balakrishnan, told the press that the SDP was "suppressing" a video which would "raise some awkward questions" about the party's agenda[8]. Dr Wijeysingha's response was that he was unsure about which video Dr Balakrishnan was referring to and that the SDP was "an open party".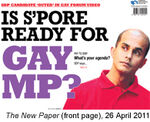 The issue of the video was clarified on 25 April 2011, two days before Nomination Day, with both the PAP and the SDP issuing statements regarding the matter[9]. The New Paper ran a cover story on 26 April 2011, the eve of Nomination Day, with the heading "Is Singapore ready for a gay MP?" (in reference to Dr Wijeysingha and the comments he had made in the video)[10],[11].
At the general elections, the SDP team led by Wijeysingha polled 39.92% of the valid votes cast in Holland-Bukit Timah GRC, losing to the PAP team which polled 60.08%[12].

Coming out
[
]
In June 2013, Wijeysingha became the first Singaporean politician to openly declare that he was gay in a public forum when he made a post on Facebook ahead of the annual Pink Dot SG event in which he stated "yes, I am gay", and "no, I don't have a gay agenda".[13].
IndigNation 2013
[
]
On 3 August 2013, Wijeysingha delivered a speech[14] during the opening event of IndigNation 2013, Singapore's 9th annual LGBT pride month. It was held at 72-13, the home of Theatreworks along Mohamed Sultan Road.
Resignation from SDP
[
]
In late August 2013, Wijeysingha announced that he was resigning from the SDP, stating that he wished to focus his efforts on pursuing his work in civil society[15].
"To Russia with love" petition
[
]
At 11am on Friday, 30 August 2013, Wijeysingha led a delegation from Singapore's LGBT community comprising himself, Jolovan Wham and Leow Yangfa, plus straight ally, Zan Thang, to pay a visit to the Russian Embassy located at 51 Nassim Road[16]. They presented a petition calling for President Vladimir Putin to repeal anti-gay legislation in his country and hold the perpetrators of homophobic violence to account. The petition was a follow-up to an IndigNation event entitled, "To Russia with love" which was held at Hong Lim Park on Saturday, 24 August 2013 to express solidarity and support for the community's LGBT comrades who had been experiencing a widespread increase in the number of violent incidents, assault, harassment and bullying[17],[18]. The Russian Embassy staff phoned the police and 14 uniformed officers in 8 patrol cars rushed to the scene. The police took down the names of the representatives and left. The episode was documented on video[19] by Roy Tan who accompanied them:
Leaving Singapore for New Zealand
[
]
In mid-2015, Wijeysingha left Singapore to teach at the Waiariki Institute of Technology in Rotorua, New Zealand because his contract at UniSIM was not renewed.
See also
[
]
References
[
]
Acknowledgements
[
]
This article was written by Roy Tan.