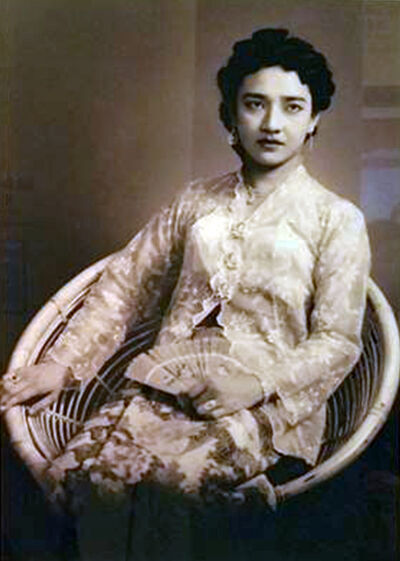 William Tan Wee Liam (陈威廉) (1928-2009) was a pioneer Peranakan actor, playwright, director and producer. He was well known for his roles in Peranakan drama (Wayang Peranakan) during the 1950s and 60s, often playing female roles. He acted in several famous shows, including Satu Darah, Janda Kaya, Tidak Berdosa and Air Mata Ibu.
Tan specialised in dondang sayang, a traditional Malay verbal art that draws on pantun (traditional four-line verse) and uses Malay and Western musical instruments. He was trained by Gwee Peng Kwee in the art of pantun singing, and was so good that he could improvise on the spot. He was a leading member of the Gunung Sayang Association, a Peranakan group dedicated to the preservation of dondang sayang. Founded in 1910 and still active, it was originally an all-male social club, but admitted woman from the late 1980s.
The Peranakan Museum has honoured him by framing the above photo accompanied by a short biography.
Dondang sayang performances
[
]

In the above video, William Tan performs with Jessie Chiang and GT Lye, another well known cross-dressing Peranakan performer.
See also
[
]
References
[
]
Acknowledgements
[
]
This article was written by Roy Tan.